Wall Street Deception, Political Quest for Remedy Positives for Gold Safehaven
Stock-Markets
/
Credit Crisis 2009
Jan 29, 2009 - 02:47 PM GMT

What an interesting time we live in! By now, anyone who feels burned by the establishment, whether the Wall Street banksters (fraud kings) or US Congressional representatives (paid lobbyist clients), or US Congress banking committees (bribed Wall Street tools), or a private hedge fund con man (protected by regulators), or financial markets (victims of naked shorting), or an employer (from foreign plant & equipment investments), beware. More deception and betrayal and smokescreens and outright lies lie directly ahead.


The next TARP disbursal will be much better disguised, more of the same welfare for the elite. The next stimulus plan will be loaded down by pork, earmarks, and clever disguises to enable continued bank aid with unenforceable clauses to protect the public, and namby pamby thin oversight. The tragedy is that Jack Daniels cannot take a handoff in any reconstruction from a strawman dressed as John Maynard Keynes. The other tragedy is that the US does not have adequate labor workforce to do reconstruction, nor does the US have factory capacity to fill orders on reconstruction.
OIL CONTRACT DISPARITY
Texas crude oil (44+) versus Brent crude (41+) oil prices show a vast distortion, the biggest ever recorded. The authorities would like you to believe that oil demand has fallen considerably in the US Economy, more so than in the European Union. That is not the overriding factor to explain the discrepancy. The real reason is that the Wall Street firms have amplified their attacks against US-based hedge funds that hold commodity contracts of all types, mainly crude oil. The oil price is artificially low therefore in the US markets. The motive is to make energy cheaper inside the Untied States, but in disguised fashion to undermine both the Saudis and Russians who are pursuing a US Dollar alternative.
PAIN FROM HIGH US DOLLAR
The parade finally has begun. The multi-national firms one by one have mentioned the impact of the higher US Dollar on their foreign operations. That is, in translating its foreign business into US$ terms for accounting on the quarter and fiscal year. So as exports slip, imports will slip even more, sure to cause a lower national trade gap. That is hardly great news! A narrower trade gap is a positive factor for the US Dollar, but more like the least harmful insult.
GOLD & SILVER STEALTH REVERSAL
The gold chart looks tremendous, the best of any commodity. Its long-term uptrend channel is clear, with base support, parallel upper rail, notable middle beltline. All cyclical's are in bullish mode, with relative strength gathering steam since November, with stochastix strong, as the MACD remains in up mode. The Head & Shoulders inverse pattern is a clear reversal with an actual upward bias tilt. The 870 level is key, since it is the shoulder support line. It seems gold reacts to 900 like a magnet, unwilling to remain much below 900. Watch for the next signal of a continued crossover of the 20-week moving average above the 50-week MA, which is in progress. The lower end of the channel has been tested. Next is a penetration on the upper end. No greater motive for investing in gold & silver can be found than the global initiatives to pull the many economies out of the stagnation, disruption, breakdowns, and insolvency.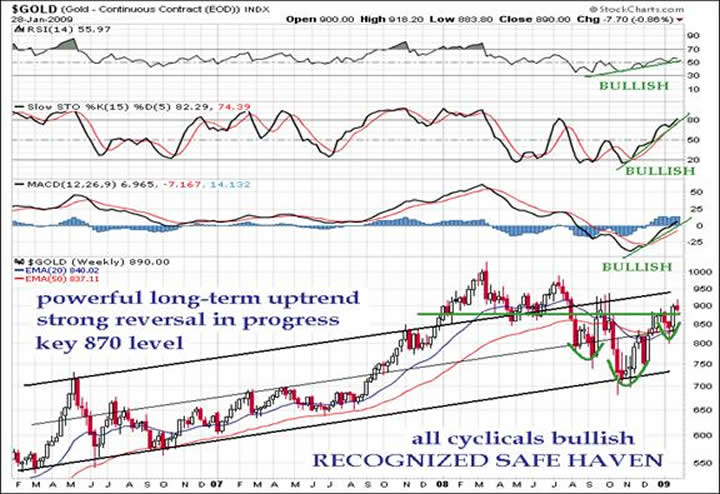 THE COLOR CHANGE FOR OBAMA TEAM
The Obama team is more of the same, with blue jackets instead of red jackets, whose bow ties to the corrupt power centers are just as firm as the last team. To their credit, they do deliver public addresses with better command of the English language and far less contempt for the unwashed masses. The utterly stupid message made by Geithner before Congressional questioners about Chinese Govt manipulation of their yuan currency is added proof of no changes to failed policy, and ratcheting toward full-blown trade war. The Chinese are really angry, and have heaped insults across the Pacific in return. Can anyone in a position of authority recall that the USGovt needs good relations from creditor nations, since absolute and total recklessness is required to purchase USTreasury Bonds in the current climate of failed systems. The US suffers from failure of an extraordinarily complex system. It needs an overhaul, not greater pressure applied to the same broken connections, channels, and imbalances. The Obama moves so far are more of the same with a banner of hope attached. Hope is a device used by failures who had no plan.
The Ethics Guidelines are a public relations stunt, visible already, akin to promises by pedophile priests not to touch the children. Note the exemption for William Lynn, appointed to be deputy Defense Secretary. Lynn was the Pentagon comptroller who oversaw $2 trillion in missing defense contractor funds years back, but is now a registered Raytheon lobbyist. He is the selection? He is on the rear pages of the news. And also Mark Patterson runs aground, appointed as chief of staff to Treasury Secy Geithner, but a high level Goldman Sachs lobbyist.
Patterson will continue in his newly named post as long as he pledges to avoid all conflicts of interest. Whew! What a relief! This reminds me of the Microsoft Chinese Wall between application developers and operating system wonks, where the Sherman Antitrust Act forbids all communications. The Obama Admin is showing some peculiar exceptions, all certain favors to the Powerz. Recall that Defense Secy Gates is the first ever to continue during a transition of presidents. That is how important the clandestine war revenues are to the big banks and syndicates. Nothing changes. If real meaningful change was desired, then 90% of the lobbyist organizations would be forcibly disbanded, tax structures would be overhauled, manufacturing would return to US shores, and much more.
THE HIGH COST OF HOPE
The maxim goes "burn me once, shame on you, burn me twice, shame on me" applies. The public is about to be burned again, then later in the spring, burned a third time. They do not learn. They prefer, as many friends and family of mine do, to continue to give the benefit of the doubt to the bank officials and Congressional leaders, and to cling to hope.
The Hat Trick Letter has not granted any trust to such charlatans, elite syndicate heads, and compromised public reps for years. Correct forecasts are easier that way. Some wonder in private exchanges to me why corruption is such a regular theme in my articles and work. My answer is simple. Corruption is reaching a climax in proportions, the dominant theme behind the failure of the US banking system, the co-opted USGovt, as well as the national charade that has taken root nationwide, the war on terrorism. Bernie Madoff is not an isolated case. An entire cluster of Wall Street and other major financial fraud-ridden institutions is plain in view, like AIG and Fannie Mae, even Citigroup, Goldman Sachs, and JPMorgan. The nation reveres the very fraud kings that ruined the national financial structure. Numerous hedge funds operate scams of various shades. Before long, if justice finds a little luck on some upcoming twists, the Madoff Scheme might reveal a broad US Dept of Treasury involvement spanning two decades, centered in London. The four major trillion$ syndicates have strangled the nation. It is in a death spiral. Delusion of a recovery is pure propaganda. Talk of recovery is politically necessary. Was there song on the Titanic, or mere rearrangement of chairs?
The hope in my view stands as a cloud that must cover the other cloud that permeates policy decisions regarding banks and mortgage. The major motive behind most solutions today is to administer aggregate solutions, from the top down, so as to eliminate the scrutiny at the grassroots level. The level that deals with individual loans is ripe with pervasive fraud in bond securitization, as in poor perfection of titles, which means mortgage bonds do not have proper links to actual home loans. Change of loans would force change in mortgage bond values, the start of the discovery process. The issue of colossal counterfeit of Fannie Mae bonds is a topic that eludes the entire press corps. It reached over $1 trillion by many accounts. Any solution other than aggregates must enter the fraud and counterfeit quicksand. The public is unaware. So the nation will continue to sink while the elite are redeemed.
FAILED REGULATORS WITH GREATER POWER
The next changes for regulatory bodies will grant them more powers, when they failed to exercise their current powers in protecting the public investment community. The gaggle of agencies will next have powers to enable even greater corruption, control of your assets, access to private position data, integration with markets, and likely price controls much broader than today. Geithner has warned that extraordinary measures will be taken and implemented in order to sustain the system. The problem is that the system is broken, firms are deeply insolvent, and conditions are actually growing worse. Almost all efforts at this point will be to produce more climax events in the corrupt vein, leading to a crescendo like bank holidays. Such an event would be a perfect backdrop for a missing cool $1 trillion in private brokerage accounts, bank accounts, and insurance accounts. They will probably do it because they can, since they have already paved the way with consolidations and removal of legal obstacles. They require more confusion though.
BIG BANKS, BAD BANKS, PEYTON PLACE, HUSH MONEY
Could it be that the hidden JPMorgan garbage has grown too big to manage, and that the USGovt strives to create an official 'Bad Bank' to contain worthless toxic bonds and related securities? Surely, the JPMorgan garbage can continue with a foundation of toxic credit default swap and interest rate swap contracts. A Bad Bank would enable JPMorgan to shuffle tens of billion$ in the dead of night on a regular basis, putting the entire collection of swill under the USGovt roof. The entire issue of nationalization of the major components of the US bank system in my view would constitute a grand embrace of a totally destroyed enterprise laced with fraud , giving ownership of the broken pieces, fraudulent lattice work, and acidic flow to the American people.
The entire concept of a Big Bad Bank is ludicrous. If its foundation is based upon reality, then the banks that unload toxic assets will receive next to nothing in return, rendering the banks themselves deeper into insolvency. If the foundation is based upon mythical models, then the USGovt will pay 3x or 5x or 7x too much for them, in yet another bankster welfare theft program whose price tag could easily reach a few $trillion after the dust clears. Banks will be reluctant to lend in either case, since they will either be insolvent and unable OR view borrowers as unqualified and unable to repay. In such a horrible setting with bleak outlook, staggering rescues and stimulus ensure that gold & silver shine!
The last question: Could another bigger motive be at work in granting $450 million in retention bonuses to the credit derivative group at AIG? The more sinister reality might be that such a large sum was necessary within AIG to reward deep failure in order to keep them silent on colossal corruption in the machinations among the USTreasurys, Wall Street, and COMEX regarding illegal market controls, interference, and interventions. The same argument holds for the hire of numerous failed traders in key roles at Lehman Brothers. The failed fellows followed the path back through Wall Street doorways, fully hired, totally locked in, and thus motivated not to speak to the press or write damaging articles in key publications. The same argument holds for appointing Tim Geithner as Treasury Secretary. He knows too much, and could easily pull a thread that would unravel the entire tapestry that conceals vast corruption. The system remains firmly in place.
Just a footnote in my objection to a theme. During the Geithner confirmation hearings, a theme arose that although he was at the center of the failures within the financial system, he was familiar with how the system works. The nation could not afford to engage in 'On the Job Training' for someone unfamiliar, an outsider. In other words, the corruption continues since an outsider would require training!!! Is that precisely what is needed, an outsider who would not be trained on how the system currently operates, but rather on how the system should be set up in order to function properly???
FEATURED ITEMS
The upcoming February Hat Trick Letter will feature the usual fare of analysis. However, a few highlight items will be shared next month. They relate to foreign boycott of USTreasury Bonds , not in the news. Creditor nations have stepped back. Their nations must contend with their own budget deficits and deep stimulus programs, even massive bailouts. Little or no funds remain to assist the constantly demanding Americans, who should put a tin cup in Uncle Sam's hand in national posters. The need of the 50 states must be tended to before they suffer collapse. The USGovt is pre-occupied by elite banker welfare, and by saving giant corporations, as the state insolvency turns rapidly into illiquidity, also known as bankruptcy. See California, which is in a constant crisis condition, now ready to cut thousands of jobs rather than face court challenges for layoffs, now unable to fund prisons, now unwilling to pay welfare checks, soon unable to pay pension checks. Curiously, the big stimulus package in the process of passage has nothing for the states, but the Senate wants a state aid inclusion.
The US Economy continues to deteriorate during the disintegration process that is evident only to those not paid to close their eyes. The housing decline continues, as new data is out. Consumer confidence is rock bottom, plumbing lower levels than ever. Job losses are the mushroom cloud, badly understated. Despite criticism of European high unemployment, the US has a very high jobless rate right now, when the novel approach is used, COUNTING PEOPLE WITHOUT JOBS. Even the broader U6 jobless rate published by the Bureau of Labor Statistics is at 13.5%, which counts the discouraged workers dropped from state insurance. The Shadow Govt Statistics folks go further, and ferret out other jobless who are typically ignored in a systematic fashion by the BLS. The SGS jobless rate is estimated at 17.4% alarmingly. It could be close to 30% for minority groups. The next stories to grab headlines will include the extreme supply chain constipation, from port facilities to chemical plants to refined energy products like gasoline to food items. Word comes to my desk that the plastics industry has a horrendous backup in the chemical pipelines, due to lack of end product demand. Soon a large slice of US industry will come to a halt, in a land where not much has the lights turned on. In such a horrible setting with greatly disrupted systems, staggering rescues and stimulus ensure that gold & silver shine!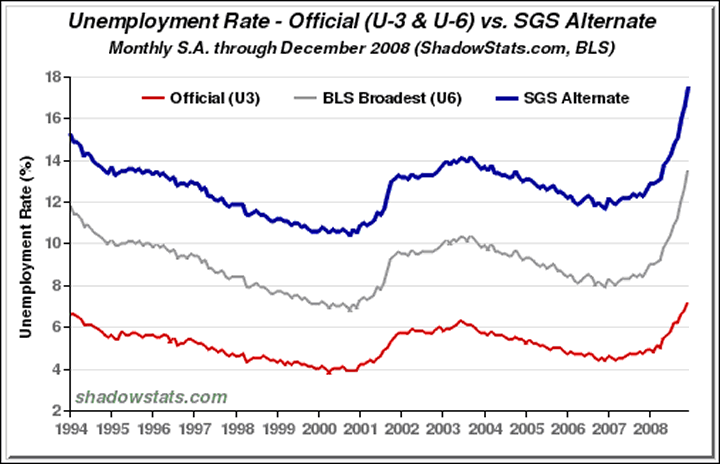 Also, details are given on martial law preparations that have become very loud, from numerous corners, whose order for mercenary troops comes from a very surprising place. That would sidestep the Posse Comitatus Act. Agreements have been struck to provide foreign mercenaries on US soil, an incredible development. Also, murmurs from international groups raise objections to US banks operating with ties to narco war funds. People in high positions are talking. Then there is Russia, which is pushing toward a review of the Afghan region and prosecution of the war. Sounds like Putin wants his cut, his leverage being airbase canceled contracts in the Chaos-stan nations. Worse, the Untied States, being a nation whose leaders do not read, respect, or learn from history, are committed to a disastrous path. Putin has blocked the USMilitary in both Krygystan and Uzbekistan. Next, in the words of a well connected contact, "[The Russians] have the West cornered in Afghanistan, and they will stand by to see them being slaughtered as has happened many times before in Afghanistan." It seems the planned Surge might just lead to a climax of destruction and failure to match that of the US Economy Nature does force balance. In such a horrible setting with civil liberties soon to be sidelined, the ensured refuge of gold & silver thrives!
DECEPTIVE PITCHES
Deception by Wall Street firms, fund managers, and equity management firms continues. They tout endless wrong loose forecasts about '2nd Half Forecasts' that have become tiresome. When in doubt, promote a silly recovery several months from now. They talk about cheap valuations, meaning Price/Earnings Ratios, when their estimates of earnings have been consistently wrong high, and the US Economy is faltering badly. All that cash on the sidelines is another promotional pitch. The cash is avoiding a fire pit, an acid pit, a near certain decimation. The primary safe ground is gold & silver, no longer USTreasury Bonds. In fact, the USTBonds have begun to be recognized as fraught with risk, now on the decline. All that stimulus working through the system is another promotional pitch. It would be a positive factor for the US Economy if not for two things. a) So far the stimulus to Main Street has been hand to mouth, in very small doses, to encourage consumer spending, in what can be called 'rice & bean money' in its effect. b) So far the stimulus to Wall Street has been to redeem fraud and hardly to prime the lending machinery. The stimulus does not address either bank insolvency or household insolvency, the root problems. The low rate stimulus having been at work for four months is another promotional pitch. However, low rates actually depress the US Economy in the final analysis.
A very serious shortcoming must be stated on official policy response. For a full year, the banking and government officials have set up woefully inadequate volumes in policy responses, like legislative packages. Whether for mortgage loan aid or household handouts or down payments to big banks for rescue or Detroit carmaker aid or whatever, the amounts are 5x too small, maybe 10x too small. The $850 billion stimulus plan just approved by the US Congress is yet another package that is 5x too small, badly designed, and way off the mark. It appeals to those who fail to recognize the problems. The new economic stimulus package does not lower the tax structure, a badly needed item in order to provide incentive for job creation. Is that not what this president has talked incessantly about? Worse, it is a hodgepodge without clear focus, the result of pork add-ons and careful calculations not to make its magnitude too large. My belief is that a huge price tag on the stimulus package would give the wrong message of a broken system. The stimulus package seems more like a soup kitchen array of filled bowls of the needy, making sure to cover all the sectors. The United States Economy must be rebuilt from the ground up. That is the key fact, starting with the manufacturing industry, as resources must be redirected away from the housing sector and financial sector toward actual value added activity. The nation lacks industry.
LOW RATE WET BLANKET
The 0% environment is a boon to Wall Street but a bane to Main Street. Savers are being crucified, denied their rightful return on investments. The paradox never mentioned by Wall Street carnival barkers is that the ratio of savings income to interest payout in the US Economy usually runs between 11:10 to 13:10 in its ratio, favoring income. So the low interest rates actually slow the US Economy in money flow, while offering favor to the stock market in cheap funds. Less money goes in reward to the successful at home and business, while more money is lent to the failed borrowers and speculators. The pathetic return to the same cause for the numerous bubbles and credit market fiasco is yet another subsidy to the elite at the expense of the masses. The US monetary policy is back toward 0% again, the proximal cause to the current problems. Jack Daniels is called upon to fix problems created by Jack Daniels! Further damage is certain to all systems. In such a horrible setting with heavier flow of monetary booze, staggering rescues and stimulus down the road ensure that gold & silver shine!
When will this end? Probably only with the collapse of the US Economy, which is very much in the cards. For those who believe such words are mere hyperbole, just wait. The current programs are redemption of fraud and more life rafts in a powerful storm. The secondary feedback loop effects have begun to hit, the VICIOUS CYCLES. What are such effects? They are foreclosures from job layoff (not mortgage rate reset). They are retail chains shutting down and reducing outlet store counts. They are wreckage of the car industry, all the way down the vertically integrated chain. A rescue package for Detroit carmakers is absolutely futile without a rescue of their entire vertical supply chain, since their neglect would result in complete disruption to the input doorways. They are job losses to the retail industry, from stores to restaurants to shopping malls. They are ruin of medium and small insurance companies, not just the large. They are big cuts to pension payout's, from severe declines in the full spectrum of their investments in stocks, non-govt bonds, and commercial property. They are major pullbacks to state jobs and projects, from their basic insolvency.
FALL OF ICONS
Check out the icon giants Microsoft, General Electric, even Cisco. The financial sector has numerous victims, given substantial cuts of over 50%, even 80% in the last couple years. But the untouchable Softie and GE are the shockers. The MSFT stock fell below 25 this autumn, and now is breaking down below support at 20. Giant GE could not successfully defend the 25 level this autumn, and now is half that value. The fall from grace on valuation for these two icons testifies to the profound economic decline. Giant networker CSCO could not hold above 22 this autumn, and now struggles to remain above the 15 level. Berkshire Hathaway has also shed tremendous value, which is heavily tilted toward the crushed financial sector. Maybe these corporate giants should invest in gold & silver bullion, for a good rate of return on their investment.
THE HAT TRICK LETTER PROFITS IN THE CURRENT CRISIS.
From subscribers and readers:
At least 30 recently on correct forecasts regarding the bailout parade, numerous nationalization deals such as for Fannie Mae and the grand Mortgage Rescue.
"You seem to have it nailed. I used to think you were paranoid. Now I think you are psychic!" (ShawnU in Ontario)
"Your analysis is of outstanding quality, the best I have read. In particular, as a person on the spot, I can confirm the accuracy of your bleak assessment of our prospects in the UK." (JanB in England)
"Your unmatched ability to find and unmask a string of significant nuggets, and to wrap them into a meaningful mosaic of the treachery-*****-stupidity which comprise our current financial system, make yours the most informative and valuable of investment letters. You have refined the 'bits-and-pieces' approach into an awesome intellectual tool." (RobertN in Texas)
"Your reports scare the hell out of me every month, probably more so over time, since so many of your predictions have turned out to be very accurate. I am afraid you might be right that by the end of 2008, we are in a pretty severe situation, with civil unrest and severe financial stress on Main Street." (GeorgeC in Minnesota)
by Jim Willie CB
Editor of the "HAT TRICK LETTER"
Home: Golden Jackass website
Subscribe: Hat Trick Letter
Use the above link to subscribe to the paid research reports, which include coverage of several smallcap companies positioned to rise during the ongoing panicky attempt to sustain an unsustainable system burdened by numerous imbalances aggravated by global village forces. An historically unprecedented mess has been created by compromised central bankers and inept economic advisors, whose interference has irreversibly altered and damaged the world financial system, urgently pushed after the removed anchor of money to gold. Analysis features Gold, Crude Oil, USDollar, Treasury bonds, and inter-market dynamics with the US Economy and US Federal Reserve monetary policy.
Jim Willie CB is a statistical analyst in marketing research and retail forecasting. He holds a PhD in Statistics. His career has stretched over 25 years. He aspires to thrive in the financial editor world, unencumbered by the limitations of economic credentials. Visit his free website to find articles from topflight authors at www.GoldenJackass.com . For personal questions about subscriptions, contact him at JimWillieCB@aol.com
© 2005-2019 http://www.MarketOracle.co.uk - The Market Oracle is a FREE Daily Financial Markets Analysis & Forecasting online publication.

Only logged in users are allowed to post comments.
Register/ Log in