Financials XLF and Transports IYT Sectors Win the Day for Stock Indices
Stock-Markets
/
Stock Index Trading
Feb 07, 2009 - 05:50 PM GMT


Thursday night I wrote about how we had a stand off in the making with the Financial Select Sector ETF (XLF) and the iShares Dow Jones Transportation ETF (IYT) flashing strong positive divergences on their daily charts versus strong price resistance based on the proximity of the 20 and 50 day moving averages. I felt fairly confident the divergences would win out because it was the first time in quite a long time that both of these critically important sectors had those divergences and they did so compressed far below the 0 line. This is when positive divergences have the best chance of playing out in a bullish fashion.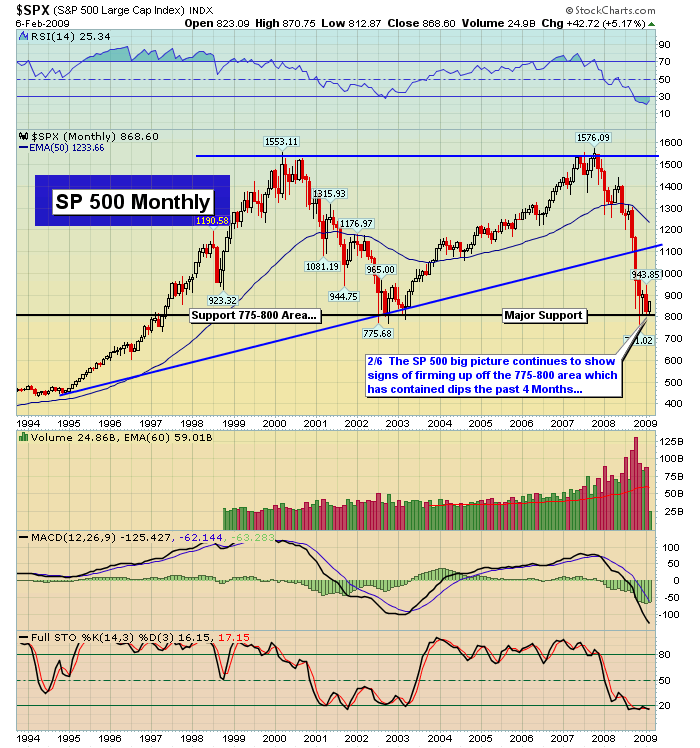 The moving averages had no chance this despite the fact that the jobs report was nothing short of horrific. 598,000 jobs lost versus 525.000 expected. An unemployment rate of 7.6% versus expectations of 7.5%. There is nothing one can play spin doctor with when dealing with misses and bad news like that. Instead of the market futures spiraling out of control they hung tough and actually began to rise as the morning went on allowing for a flat open. It took only minutes before the buying started in earnest and the moving averages were wiped out with ease. The Nas took out its 50 day exponential moving average although the Sp has yet to make that move and neither has the Dow.
The Sp was able to take out its 20 day moving averages (849/847) and did this with no hesitation at all. Solid action. No churning. Just getting the job done quickly and efficiently. The Nas 50 day exponential moving average was at 1556 and put up absolutely no fight whatsoever. The Dow blew through its 20 day moving averages at 8208/8209 and thus every major index took out key resistance levels. Exactly what you want to see from a bullish perspective. A knockout for the bulls today. Doesn't mean all is safe and clear but the bulls would not be denied their day.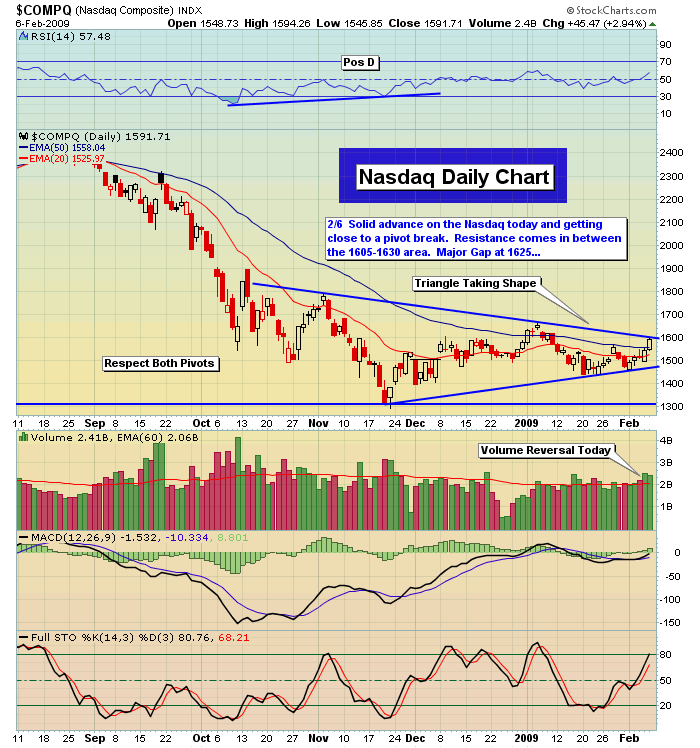 Now we look inside the numbers to see if the breakouts above all those key resistance levels took place on confirming oscillators. When we look at the advance decline line we see nearly four to one advancers over those decliners and on the Nas it was basically three to one winners over losers. Perfect action. In addition, volume increased with across the board by a few hundred million over the recent selling episodes. Once again nothing but solid action for the bulls. New lows are almost non existent and of course, so are new fifty two week highs but that's 100% appropriate since we just are coming off a selling period where we tested that Sp 805 pivot multiple times. The only near term negative which is actually longer term positive is how overbought we are on the short term charts. That can be worked off with a simple pullback that shouldn't go down too deeply at all. The breakouts and clearing of the moving averages were undeniably confirmed.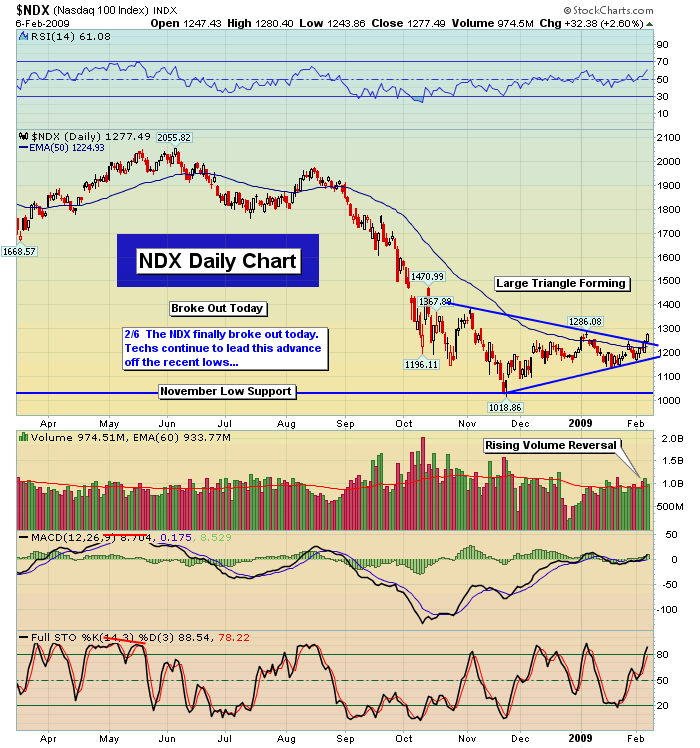 What's missing now to get the whole market on the same playing field of bullishness is for the Dow and Sp to clear their highest fifty moving average. For the Dow that number is 8485 and for the Sp that number is 877. Without all three major indexes trading above their fifty day moving averages you must not get too excited since every time the Dow and Sp have gotten to these levels they have failed miserably. Now it's clear that with the Nas easily clearing the 50's today the odds are increasing the rest of the major indexes will join in at some time soon. However, that has yet to happen so please reign in your excessive bullishness until all the averages are trading in concert over their 50's. If the bulls do pull this off the bears will look to cover on any and all pullbacks and this will allow the markets to move gradually higher over time. Three is still a lot of work to do so again, please take it easy until we have all the pieces in place.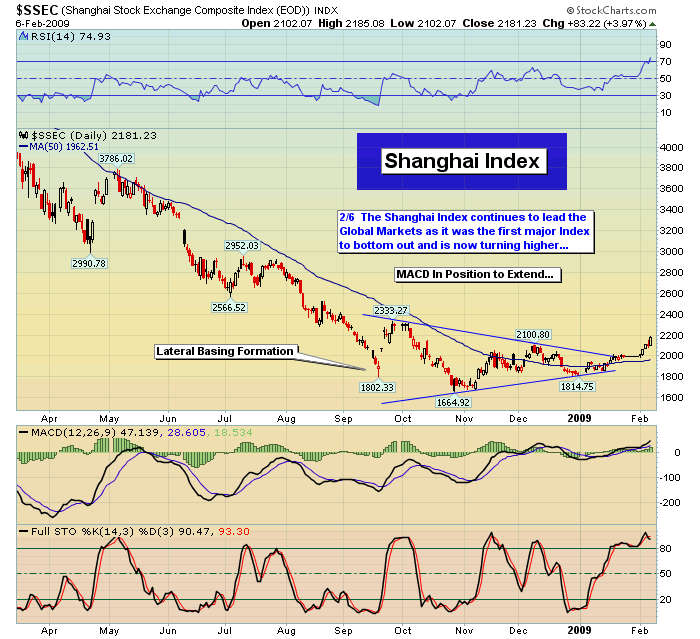 There are some superb patterns setting up. Many stocks have cleared their 50's and retested them with bullish hollow candles that then allowed for a gap up thus giving these stocks multiple levels of support for the future which keeps those 50's safe from being lost. There are also lots of stocks well below their 50's but they are forming positive divergences at the bottom of their Macd cycle which gives them a lot of hope as well. Things are certainly looking better but again, we are nowhere near an all clear bullish signal. That would occur with a strong move over the 50's across the board and a run up from there. Eventually a pullback takes place that tests those 50's and if it's done on light volume and with appropriate oscillator unwinding, you can then get very aggressive to the long side. We can hope that day comes but for now it's only hope and we don't play that way. Our success throughout the entire bear market has been to play things with a safety first approach and that won't be changing any time soon.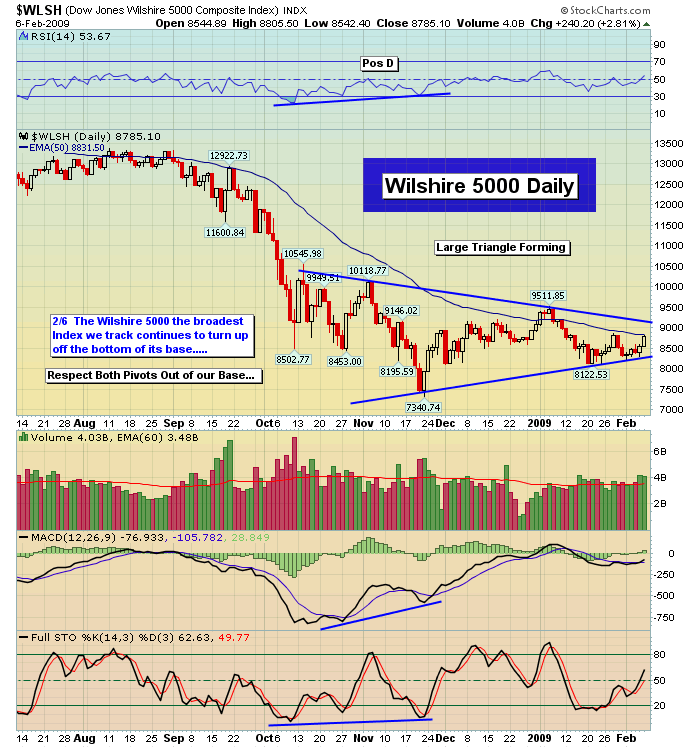 As far as support on pullbacks are concerned, it would be nice if the Sp held close to 847 while the Dow would be best if it held close to 8200. For the Nas, because it has taken out that 50 day exponential moving average at 1556, it would be great if the 1550 area can hold all selling attempts in the near term. 1625 is strong gap resistance and that level should stop this advance before some type of attempt is made to retest the 50's. Let's hope we can get there soon after a bit of selling to unwind the overbought 60's. If the Nas can ever cleanly takes out 1625 then 1700 would be next. 1625 will be very difficult, trust me. If the Sp can get through its 50's at 877, 900 is next. That is the top of the triangle. One day at a time here. The bulls made a statement that needs to be listened to but you can;t get ahead of things and get too aggressive. That's for later on down the road.
Peace
By Jack Steiman
Jack Steiman is author of SwingTradeOnline.com ( www.swingtradeonline.com ). Former columnist for TheStreet.com, Jack is renowned for calling major shifts in the market, including the market bottom in mid-2002 and the market top in October 2007.
Sign up for a Free 30-Day Trial to SwingTradeOnline.com!
© 2009 SwingTradeOnline.com
Mr. Steiman's commentaries and index analysis represent his own opinions and should not be relied upon for purposes of effecting securities transactions or other investing strategies, nor should they be construed as an offer or solicitation of an offer to sell or buy any security. You should not interpret Mr. Steiman's opinions as constituting investment advice. Trades mentioned on the site are hypothetical, not actual, positions.
© 2005-2019 http://www.MarketOracle.co.uk - The Market Oracle is a FREE Daily Financial Markets Analysis & Forecasting online publication.

Only logged in users are allowed to post comments.
Register/ Log in