Financial Markets Judgment Day on Obama, Geithner Credit Crisis Rescue Plan
Stock-Markets
/
Credit Crisis 2009
Feb 10, 2009 - 09:05 AM GMT


A moment the market has been waiting for ... The Troubled Asset Relief Program (TARP) has not gone well. Unaccountability for funds was a major issue. Lack of effectiveness was another issue. As a result, opinions and emotions surrounding TARP have grown to be negative.


So, what should the government do?
How about "hocus-pocus" and poof, they rename it? That should fix the negative perception. This morning at 11 AM, Geithner will announce that the new name will be: "The Financial Stability Plan".
On a more serious note , Geithner's announced strategy better be good, and on the mark ... or Institutional Investors could react very negatively with a drop in confidence.
The big issue and the big problem is how to solve the "toxic asset" problem at the banks. From early feedback we are getting, analyst are saying that the toxic assets need to be directly addressed . That means that they get fixed "once and for all".
What analyst are discouraged about, is that they think Geithner will be "moving" the toxic assets away from the banks to a "new location". Its kind of like moving your living room chair with a hole in it, to another room. The living room "looks better", but the chair still has a hole in it.
The big issue: Wall Street analysts want to KNOW HOW the chair is going to get fixed. They want to know the odds of the chair being permanently fixed versus "just a bad mending job" that needs to be re-mended in the future. This is what Geithner will be judged on this morning.
Just moving the toxic assets helps the banks, but still presents a problem for another bail out being needed later. That is a big issue, because then, Washington politicians will say that Obama has "failed", and hope could turn to despair.
The fact is, that before the new Financial Stability Plan will be able to show signs of delivering any improvements, the current schedule of major corporate layoffs will make things look like they are getting worse for some time.
The cycle time between layoffs and economic stimulation are out of sync , and we will have to wait for months before we can actually start to measure any amounts of economic improvements coming from the stimulus strategy.
So today , Geithner's plan must be solid and defensible. There are too many smart people listening that won't be fooled by a "good story" ... they want a "good plan" with "good execution", and with a "good chance of really getting the job done".
____________________________________________
What to watch today ...
One thing to keep an eye on today will be the Banking Index (symbol: BKX). Actually, keeping an eye on it all week would be smart.
Most Wall Street analyst are in agreement that the Banks need to be fixed ... for lending to open up ... for the economy to stop tanking ... for the housing market to start repairing itself ... for consumer confidence to return ... for consumer spending to be rekindled ... for corporate sales to start increasing ... for profits to rise ... for investors to start feeling bullish.
Notice, that it starts with the banks and lending. This is why Geithner has to get it right, and will be under pressure today.
Below, is the Banking Index. You have to go back to 1993 in order to find when the Banking Index was trading as low as seen on the chart below ... If we go below the 1993 levels, then Geithner's plan will have been deemed a failure and a lot more trouble be ahead. By the same token, if the Banking Index can hold and move up, then that would be a "confidence vote" that Geithner's plan could work.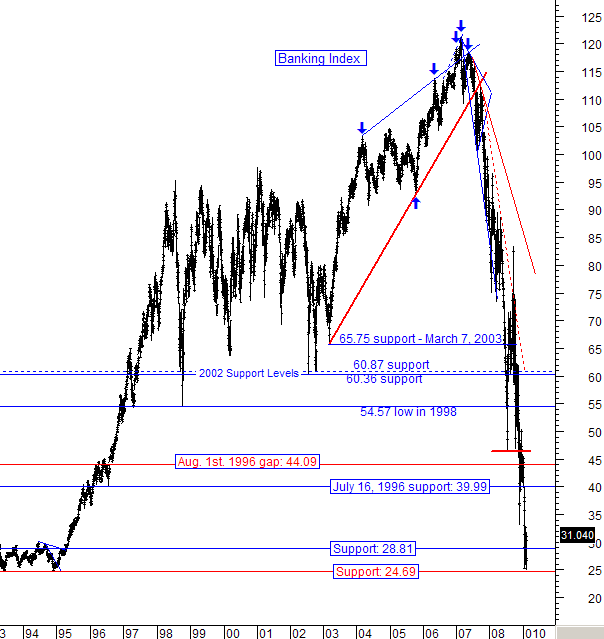 ________________________________________________
*** Feel free to share this page with others by using the "Send this Page to a Friend" link below.
By Marty Chenard
http://www.stocktiming.com/
Please Note: We do not issue Buy or Sell timing recommendations on these Free daily update pages . I hope you understand, that in fairness, our Buy/Sell recommendations and advanced market Models are only available to our paid subscribers on a password required basis. Membership information
Marty Chenard is the Author and Teacher of two Seminar Courses on "Advanced Technical Analysis Investing", Mr. Chenard has been investing for over 30 years. In 2001 when the NASDAQ dropped 24.5%, his personal investment performance for the year was a gain of 57.428%. He is an Advanced Stock Market Technical Analyst that has developed his own proprietary analytical tools. As a result, he was out of the market two weeks before the 1987 Crash in the most recent Bear Market he faxed his Members in March 2000 telling them all to SELL. He is an advanced technical analyst and not an investment advisor, nor a securities broker.
© 2005-2019 http://www.MarketOracle.co.uk - The Market Oracle is a FREE Daily Financial Markets Analysis & Forecasting online publication.

Only logged in users are allowed to post comments.
Register/ Log in