U.S. Dollar Reverses From Resistance Will Gold Follow Suit?
Commodities
/
Gold & Silver 2009
Feb 22, 2009 - 07:28 AM GMT


The US $ broke through resistance but quickly dropped. A false break-out?? In the mean time gold just keeps on trucking. A very little more upside and it will be in new all time high territory.


U.S. Dollar - Just a quick note on the $ as it did break above that resistance level I mentioned last week. Although the price broke through, the momentum indicator continues to give us warnings of under performance versus earlier moves. The volume action on the move was also very low. At the present time I believe that the $ made a false move last week. This is to be confirmed in the next few days/weeks of trading.
GOLD - VERY LONG TERM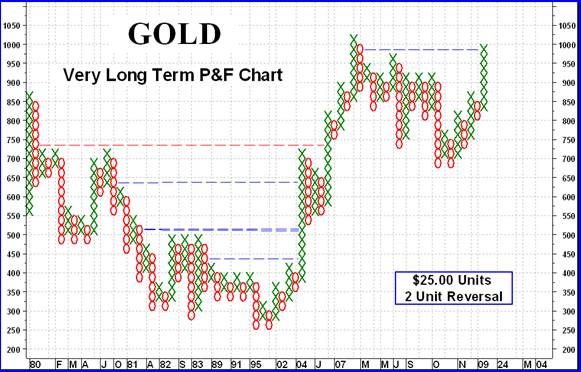 As gold just keeps on moving higher and higher it might be instructive from a technician's point of view to show where we get some of our very long term projections from. The best chart that I know of for evaluating a projection for a move is the point and figure (P&F) chart. You can have a variety of P&F charts just by changing the units you use and/or changing the unit reversal. What you see today is my very long term P&F chart using $25 units and a 2 unit reversal criteria. For simplicity I have taken off the trend lines.
There are two ways of calculating a price projection, once a move has started . The most common is the horizontal count and the other, less common, is the vertical count. What we have here are some examples of the horizontal count. Only those still not reached are shown. For the horizontal count one counts the number of columns from the right hand "wall" of X s to the left hand "wall" of O s, multiplies this value by the value of the units and then multiplies this result by the value of the reversal criteria. This resulting value is added to the lowest price during the consolidation period being counted and you get the projection. The initial projection is expected to be met probably 80% of the time. Subsequent projections have a lower and lower accuracy.
Although there may be some differences of opinion as to what one actually counts my technique counts the columns from the right hand break-out X over to the left hand O which is the left hand "wall". Shown as dashed lines are five such areas. The three important ones are the initial very long term break-out at the $450 level. The next important count is from the break-out at the $525 level and finally there is the break-out at the $750 level. The other counts shown are more for confirmation of the primary ones.
The initial very long term projection, at the $450 level, was due to the 16 consolidation columns multiplied by the $25 units and multiplied again by the 2 unit reversal. This gave us a value of $800. Add this to the lowest value during the consolidation ($275) and we get an initial very long term projection of $1075. Although we came close over a year ago, technically we have not quite made it yet.
The projection you hear so much about is the next one, on the $525 break. This consolidation period has 26 columns which would then give us a projection to the $1575 level. As there were further projections possible just above this level everyone simply calls this the $1600 projection. The latest break out at the $1000 level gives us a projection to $1700 but I think I'll stick with the $1600 projection.
The third projection, at the $750 level gave us a consolidation period of 46 columns. This then gives us a very, very, long term projection of $2575 (let's just call it $2600).
So, this is what all you gold bugs (me included) have to look forward to. The trip will not be all smiles and roses but I do believe that we will get there eventually (although maybe not in my life time as far as the $2600 price is concerned, but who knows).
LONG TERM
Having taken too much time on the "P&F count tutorial" I'll just breeze through the normal indicators to see where we are after the Friday close. Gold price remains above its long term positive sloping moving average line and the momentum indicator continues to move higher inside its positive zone. The indicator is also above its positive trigger line. As for the volume indicator, it is also moving higher and remains above its positive trigger line. Both the momentum and volume indicators are, however, underperforming the price of gold and this may end up to be a problem if it continues much longer. For now the long term rating remains BULLISH.
INTERMEDIATE TERM
On the intermediate term everything remains positive. The price of gold remains well above its positive moving average line and the momentum indicator remains in its positive zone above its positive trigger line. Here too the momentum is heading higher but not in a robust manner. The volume indicator is also heading higher and is above its positive sloping trigger line, however, it is lagging the price relative to previous action, which is somewhat troubling. All in all, one must go with the indicators and they remain BULLISH.
SHORT TERM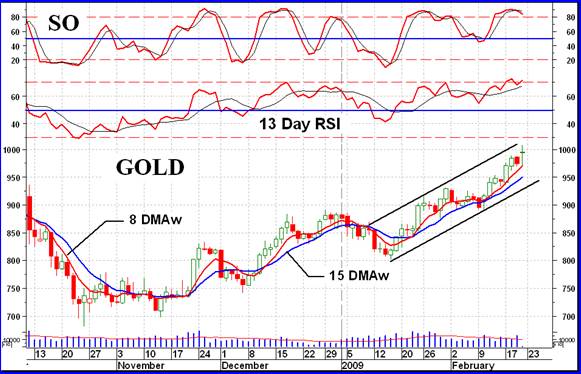 You would think that the short term looked very bright after the week's action in gold. Well, as far as its present position is concerned you would be right. The price of gold keeps climbing above its positive sloping moving average line (15 DMAw), the momentum indicator (13 Day RSI) remains in its positive zone above its positive trigger line and all that action remains inside an up trending channel. Now the cautionary news. The momentum indicator is in its overbought zone and could quickly turn from these levels. From a short term perspective it has previously turned down from this level. Although the action is in its up trending channel it is at the upper end of the channel. This means that there is greater chance of some down side action, or at least sideways action, than further upside. The daily volume, although improving, is no great shakes and not much of a positive. All in all, the short term rating continues to be BULLISH although the odds are getting bigger for some change in the trend.
As for the immediate direction of least resistance, that's a tough call. The existing direction is to the up side. However, the Stochastic Oscillator is in its overbought zone and turning downward. It has crossed below its trigger line and the trigger has turned downward. I would go with the down side as being the most probable direction starting in the next day or two.
SILVER
The latest silver action continues to out perform gold. Looking at the P&F charts for silver I can easily calculate three projections for this move. The initial projection, which I expect to have an 80% probability of meeting, is to the $18.50 level. The next projection is to $24.40 followed by one to the $32.50 price. If gold should reach its $1600 target then silver should reach its $24.50 target. The same goes if gold gets to $2600 silver should then get to $32.50.
Silver broke through that $14.00 resistance shown last week and looks like it might move a lot higher. However, do not be too surprised is silver takes a rest and may even move somewhat lower before continuing.
PRECIOUS METAL STOCKS
Last week it was the speculative stocks moving, this week it was more of the quality that moved. There were many of the speculative stocks making good double digit gains but overall there were enough moving lower during the week that nullified the effect as far as an overall trend was concerned. In fact, the really speculative stocks were more losers than gainers with my Merv's Gamb-Gold Index and the Merv's Spec-Silver Index closing in the negative column.
There is still no real indication to an end for this rally but the trend has been going on for some time with Indices up over 100% since the trend started. A good rest period for the move is in order and one should not be surprised when it comes, but one should not panic either. A rest period would allow the Indices to gain strength for their next moves. At this point in the move one might be advised to hold off on new purchases and wait for the rest period to come. Of course without knowing when that would be one might wait for weeks yet, or only until tomorrow.
You makes your move and takes your chances.
Merv's Precious Metals Indices Table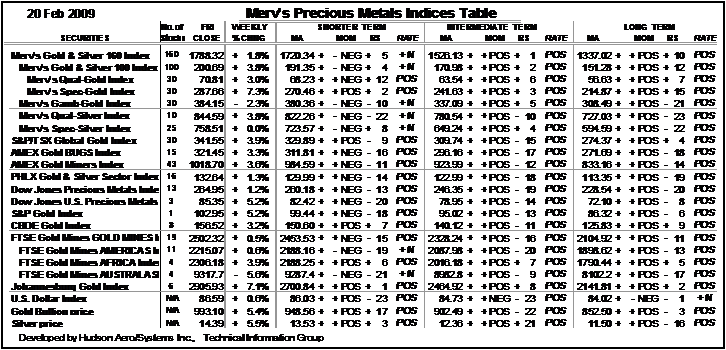 Let's call it another week
By Merv Burak, CMT
Hudson Aero/Systems Inc.
Technical Information Group
for Merv's Precious Metals Central
For DAILY Uranium stock commentary and WEEKLY Uranium market update check out my new Technically Uranium with Merv blog at http://techuranium.blogspot.com .
During the day Merv practices his engineering profession as a Consulting Aerospace Engineer. Once the sun goes down and night descends upon the earth Merv dons his other hat as a Chartered Market Technician ( CMT ) and tries to decipher what's going on in the securities markets. As an underground surveyor in the gold mines of Canada 's Northwest Territories in his youth, Merv has a soft spot for the gold industry and has developed several Gold Indices reflecting different aspects of the industry. As a basically lazy individual Merv's driving focus is to KEEP IT SIMPLE .
To find out more about Merv's various Gold Indices and component stocks, please visit http://preciousmetalscentral.com . There you will find samples of the Indices and their component stocks plus other publications of interest to gold investors.
Before you invest, Always check your market timing with a Qualified Professional Market Technician
© 2005-2019 http://www.MarketOracle.co.uk - The Market Oracle is a FREE Daily Financial Markets Analysis & Forecasting online publication.
Comments
mohamed
02 Mar 09, 10:11
what are the periods references?


Dear Sir;

Is there anyway we can find out from Mr. Merv Burak what does he mean by short term, medium term and long term?

many people have different definitions, especially when it comes to technical analysis,

is it 1-2 weeks, 1-2 months and 1-2 years ?

or 1 month, 6 months and 3-5 years ?

Thank very much for incredibly valuable analysis




Only logged in users are allowed to post comments.
Register/ Log in