Dow Theory Points to Further Stocks Bear Market Lows
Stock-Markets
/
Stocks Bear Market
Feb 22, 2009 - 07:36 AM GMT

Is This March 2003? Dow Theory Says NO -

Of late I have heard the argument made that the November 2008 to February 2009 period is like the October 2002 to March 2003 time period. Of course, the basis for drawing this alleged parallel is that the market has bottomed. Well, according to Dow theory, this is not like March 2003.


Ever since the short-term non-confirmation was first born on January 20, 2009, when the Transports closed below their November 20, 2008 closing low, there has been talk of the potential bullishness of that non-confirmation. As explained in my last posting here on February 7th , non-confirmations are mere warnings of a possible trend change and in accordance to traditional Dow theory the previously established trend must be considered to still be in force until it is authoritatively reversed.
In the current case, the previously established primary trend change occurred on November 21, 2007 when both the Industrials and the Transports jointly closed below their previous secondary low point. In spite of many misrepresented or misunderstood views on Dow theory, nothing has occurred to invalidate the now 15-month old primary bear market. In fact, the price action on February 19, 2009 carried both the Industrials and the Transports down to new joint closing lows. In doing so, the Industrials closed below their November 20, 2008 secondary low point. As a result, the primary bear market has been reconfirmed once again.
Now I want to turn to the charts. In the first chart below I have included a chart of the 2002/2003 bottom. Note that the averages both made a joint low at the October 2002 secondary low point. From that low the averages rallied into their November/January secondary high points. From these high points the averages moved down into the joint March secondary low points. At that time the Industrials held above their November low as the March secondary lows were formed. As a result, a non-confirmation was born. Then, from that non-confirmation price moved up and in June both averages bettered their previous secondary high points. In doing so, a new primary bullish trend was authoritatively established.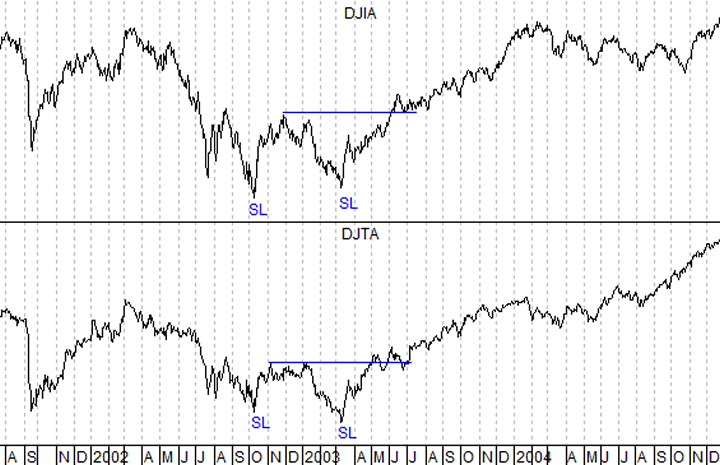 Now let's turn to the current chart that I have included below. As you can see the non-confirmation that was born on January 20 th was blown out of the water this past Thursday with the new joint closing low that carried the Industrials below their November secondary low point. Thus, the current Dow theory picture is not even remotely similar to that of the 2002/2003 bottom. Now, this is not to say that short-term bounces aren't possible because they are and I am watching my indicators very closely to tell me when such a bounce takes root. Once this occurs we will hear talk of a double bottom and that the Dow theory gave us a "false" signal. But, once my short-term indicators turn back down triggering another sell signal, that is assuming we get a short-term bounce along in here, then the stage will be set to clobber the unsuspecting "double bottom we have a false Dow theory signal it's all going to be okay" crowd.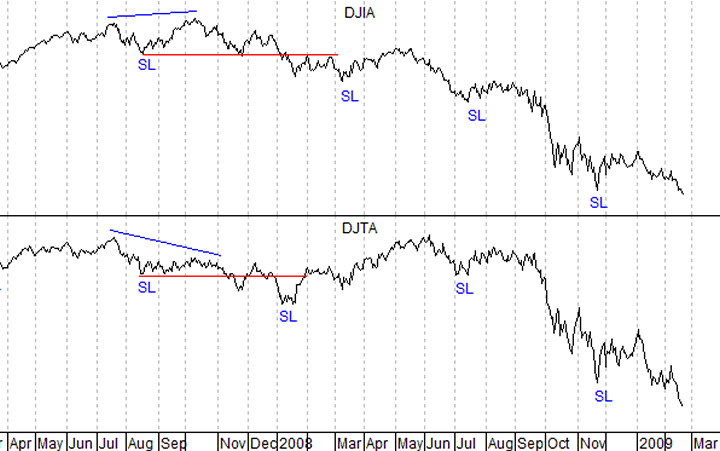 Here are a few quotes from the last great depression.
November 1929 - Some reassuring utterance by the President of the United States would do much to restore the confidence of the public. William Randolph Hurst
November 1929 - Any lack of confidence in the economic future of the basic strength of business in the United States is foolish. President Hoover
June 1930 - The worst is over without a doubt. James J. Davis, Secretary of Labor
September 12, 1930 - "We have hit bottom and are on the upswing." – James J. Davis, Secretary of Labor.
October 1930 - Looking to the future I see in the further acceleration of science continuous jobs for our workers, Science will cure unemployment. Charles M. Schwab
October 1930 - I see now reason why 1931 should not be an extremely good year. Alfred P Sloan, Jr. General Motors Corporation
December 1930 - Economic depression cannot be cured by legislative action or executive pronouncement. President Hoover
July 21, 1932 - "I believe July 8, 1932 was the end of the great bear market." – Dow Theorist, Robert Rhea.
It is important to understand that Wall Street and the politicians are the ones that created the economic mess we are in. The politicians did not see this coming, they do not understand this problem and they are not going to be able to fix it. From my seat, it is actually comical, but sad, to watch these guys in action. I honestly believe they are clueless. For the record, I warned about the extended 4-year cycle advance all throughout 2005, 2006 and 2007. It was then at the 2007 New Orleans Investor Conference that I first revealed the possibility of a 1930 to 1932 style setup occurring following that extended 4-year cycle advance. Don't buy the current hype.
I have begun doing free Friday market commentary that is available at www.cyclesman.info/Articles.htm so please begin joining me there. Should you be interested in more in depth analysis that provides intermediate-term turn points utilizing the Cycle Turn Indicator, which has done a fabulous job, on stock market, the dollar, bonds, gold, silver, oil, gasoline, and more, those details are available in the monthly research letter and short-term updates. We have called every turn in commodities, the dollar and the stock market. I have covering the details as to what's next with the stock market, the dollar and commodities with the latest in the October research letter and the short-term updates. Don't be fooled by the hype. A subscription includes access to the monthly issues of Cycles News & Views covering the Dow theory, and very detailed statistical based analysis plus updates 3 times a week. Also see www.cyclesman.info/testimonials.htm
By Tim Wood
Cyclesman.com
© 2009 Cycles News & Views; All Rights Reserved
Tim Wood specialises in Dow Theory and Cycles Analysis - Should you be interested in analysis that provides intermediate-term turn points utilizing the Cycle Turn Indicator as well as coverage on the Dow theory, other price quantification methods and all the statistical data surrounding the 4-year cycle, then please visit www.cyclesman.com for more details. A subscription includes access to the monthly issues of Cycles News & Views covering the stock market, the dollar, bonds and gold. I also cover other areas of interest at important turn points such as gasoline, oil, silver, the XAU and recently I have even covered corn. I also provide updates 3 times a week plus additional weekend updates on the Cycle Turn Indicator on most all areas of concern. I also give specific expectations for turn points of the short, intermediate and longer-term cycles based on historical quantification.
© 2005-2019 http://www.MarketOracle.co.uk - The Market Oracle is a FREE Daily Financial Markets Analysis & Forecasting online publication.

Only logged in users are allowed to post comments.
Register/ Log in