Stock Market Twelve-Year Weekly Breakdown....Close Below 741
Stock-Markets
/
Stocks Bear Market
Feb 28, 2009 - 12:51 PM GMT


We have spent time below 775, but never did we close below 775 on a Friday, meaning the weekly charts were able to defend that area from 12 years back. Today it became official as we closed dynamically below this level, leaving no doubt as to the markets intentions. Citigroup (C) was basically nationalized today and Bank Of America (BAC) isn't far behind. Behind that train is Wells Fargo (WFC). On top of that we saw General Electric (GE) cut their dividend to 10 cents from 33 cents quarterly. Not a bad day's worth of action. Bad news from just about every direction.


The market made many attempts once it gapped this morning to come all the way back. It did go green briefly during the afternoon, but it just couldn't hold on, finishing off the lows but not far from them. Just horrible action, and it may take a much deeper flush to get this market to set what would be at least a near term bottom. We had the gap down necessary for a flush out, but as the session wore on you could see there would be no major reversal because even though we came back to near flat in price, the advance-decline line would not spike positive.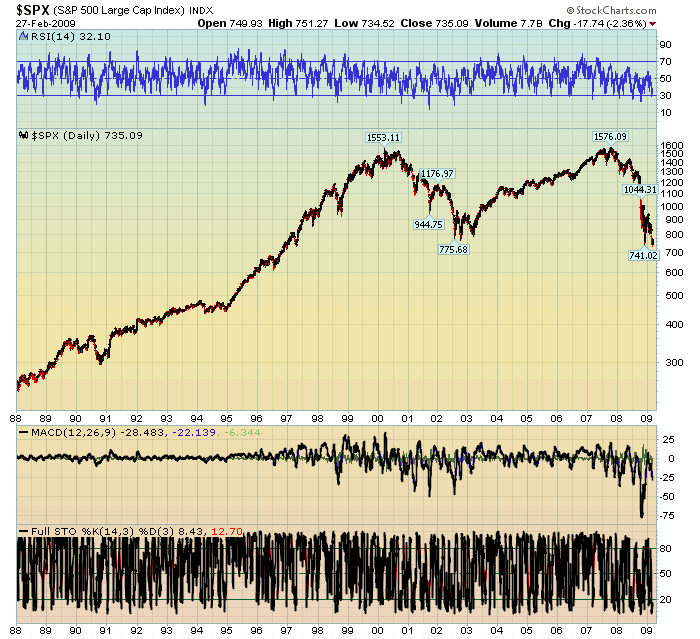 A key ingredient as you all know by now and it just wasn't there. In addition, there was no real spike in the put-call ratio. Not enough fear. As long as we're not getting the proper ingredients you just shouldn't be going long, even if the price reversal is decent. When all was said and done we saw a weak advance decline line with the SPX closing below the most critical support line of all, 741. It's not a deep close below, but one that must be respected for the simple fact that anything on a close below 741, even if it's just 6 points, is bearish.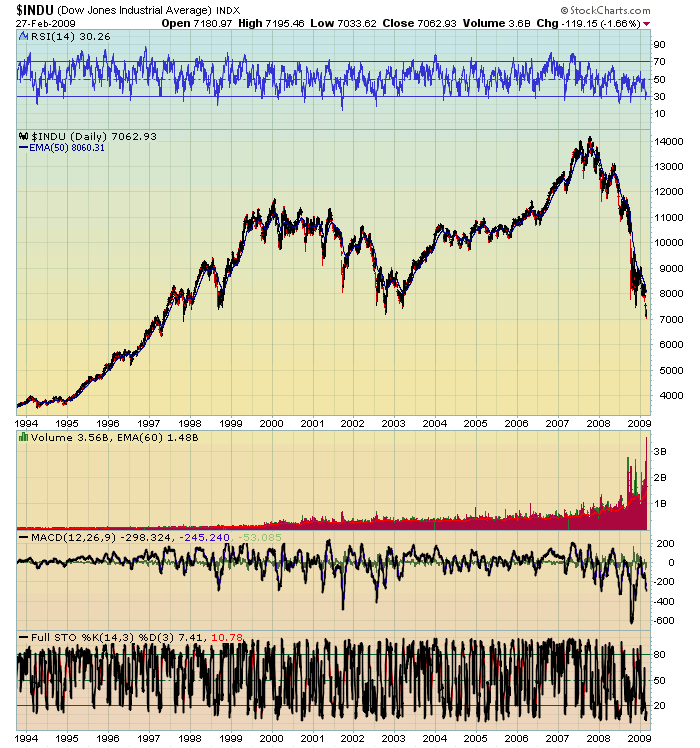 The old lows taken out now on the Dow and S&P. The Dow keeps sinking into oblivion. Most of the companies there aren't worth much any more. It shouldn't even be watched as an index any more. Bottom line we can take from today is two things. We lost 775 on the weekly chart and we lost 741 on the daily chart on a closing basis.
The banks had their heads handed to them today after their brief countertrend rally from deeply oversold levels. The bad news from Citigroup took the wind out of the sails of that rally. Every stock was affected adversely in the sector. It went from loved to hated overnight. That's the nature of this bear market. Nothing holds and things reverse with little and quite frequently, no warning whatsoever. Hope to despair in a moment's time. The bears just allow things to unwind some and then they attack their favorite area which is the banks and financial's. Today was no different. It's where the bear started and where it will end a long time from now.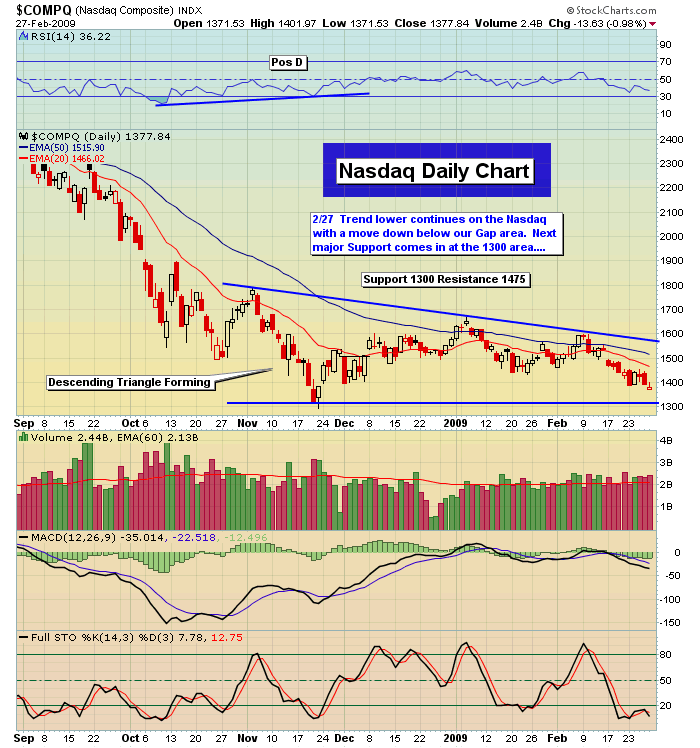 The Nasdaq held up better and actually printed a hollow candle by one point, but that's not very exciting when all else around you is collapsing. A hollow candle meaning on balance buying after the gap down but not much to get excited about here. The S&P and Dow stunk and thus the Nasdaq may continue to outperform a bit longer, but it was exactly a good day for the Nasdaq now, was it. The advance-decline there was negative so please don't get excited about that type of out performance. Five hundred more losers than gainers there so nothing good at all, even if we get a small rally early next week.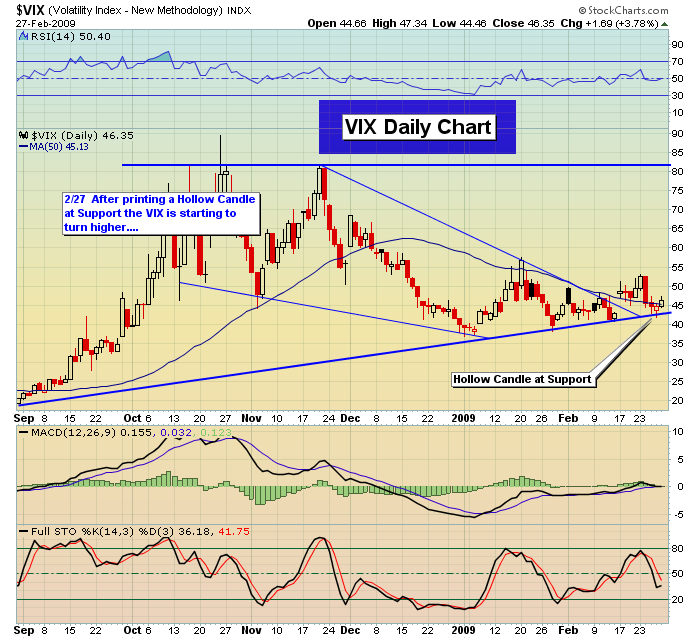 The Vix held its 42 gap level yesterday and bounced nicely back up today off the 50 day simple moving average. Just when it looked there was some possible hope for the bulls that the Vix was about to break down below the 42 gap level and test massive support at 38, it bounced right back up today above 46. It looks like over time it's going to need to spike up much higher in order for this market to put in a meaningful bottom. On top of that there has been some decent unwinding on the daily oscillators meaning it has a lot of room to run higher if it wants to. Again, more bearish red flags for the market.
I know we keep hearing about how scared everyone is and how things can't keep going down because we're just too fearful and when the masses get too fearful the market has to go up. Unfortunately for the bulls, that's not the case. The small retail investor is heavily long this market and you see it in those very complacent put call readings. They are at levels where market tops often occur let alone market bottoms. They aren't one bit fearful. they are complacent. I know that seems impossible to believe but it's reality for now so expecting the market to blast off just isn't the most likely outcome. There can and will be rallies but don't expect things to truly explode higher until we see more fear.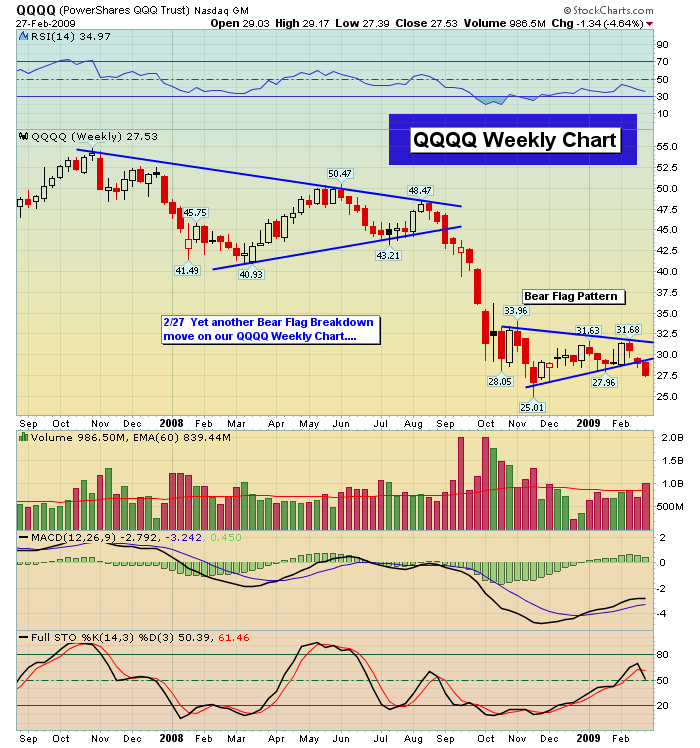 So the internals stink. Price action stinks. Complacency is still around. We're breaking down all over the place. Index by index. Sector by sector. Twelve year lows going away with ease. All of this and we're oversold but for now oversold is just not mattering very much. When the short term charts such as the 60's on down through the 15's get oversold with the daily's we get a little rally. Nothing major and then things roll right back over. We are oversold here once again and thus bounces can occur at any moment but you never go long just because we're oversold. When a market is on breakdown you only want to go long when you get the right hammer off a gap down with you know what else by this point. That's the next real buy signal and when it happens we will blast off for some days and you won't want to miss it. Until then please relax. Go slow and easy. Keep it light and play some of those shorts that have been working out real nicely overall. Less is more and let's just continue to respect the markets message and not play on hope just because we'd all love a great counter trend bounce.
By Jack Steiman
Jack Steiman is author of SwingTradeOnline.com ( www.swingtradeonline.com ). Former columnist for TheStreet.com, Jack is renowned for calling major shifts in the market, including the market bottom in mid-2002 and the market top in October 2007.
Sign up for a Free 30-Day Trial to SwingTradeOnline.com!
© 2009 SwingTradeOnline.com
Mr. Steiman's commentaries and index analysis represent his own opinions and should not be relied upon for purposes of effecting securities transactions or other investing strategies, nor should they be construed as an offer or solicitation of an offer to sell or buy any security. You should not interpret Mr. Steiman's opinions as constituting investment advice. Trades mentioned on the site are hypothetical, not actual, positions.
© 2005-2019 http://www.MarketOracle.co.uk - The Market Oracle is a FREE Daily Financial Markets Analysis & Forecasting online publication.

Only logged in users are allowed to post comments.
Register/ Log in