U.S. Dollar Bears: Be Very Careful
Currencies
/
US Dollar
Feb 28, 2009 - 05:08 PM GMT


Jack Crooks writes: The rest of the world cannot yet decouple from the United States' economy. Excessive deleveraging of U.S. dollar-based credit is the sure sign that investors have come to understand this fact. They've pulled in extreme amounts of capital in search of a safe place to stash their cash.


In past Money and Markets columns, I've tried to make it clear that the U.S. dollar has been the huge beneficiary of these unwinding investments. I expect this trend to continue.
I wrote in my Money and Markets column last week about how the dollar should continue to rally and the European Monetary System is in jeopardy. But now, it's not just me saying this …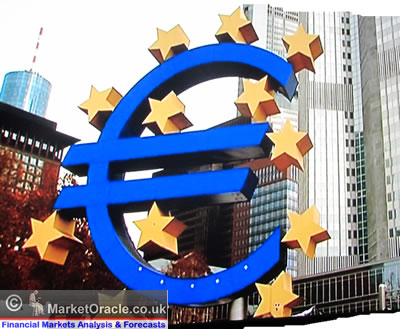 I'm not the only one saying that the European Monetary System is in jeopardy.
Here are excerpts from two different stories appearing on Bloomberg News yesterday morning [my emphasis]:
Feb. 27 (Bloomberg) — The dollar is approaching a three-year high against the currencies of major U.S. trading partners as the plunge in the yen and Swiss franc leaves the world's reserve currency the only refuge from economic turmoil.
Japan's crumbling economy, combined with an end to the unwinding of the carry trade weakened the yen, last year's best performing currency, by 7.2 percent this year, even after a 0.9 percent gain today. The franc suffered from a deteriorating Swiss financial system and threats of intervention by the central bank to push the currency lower against the euro.
" There are no alternatives to the dollar right now ," said Geoffrey Yu, London-based strategist at UBS AG, the world's second-biggest currency trader. "Investors see the rest of the world collapsing, and the yen is no longer a safe haven."
Feb. 27 (Bloomberg) — Hayman Advisors LP, the firm that earned $500 million betting on the U.S. subprime mortgage-market collapse, says Europe's monetary union is about to fall apart .
Richard Howard, a managing director for global markets at Dallas-based Hayman, said Germany may opt to shore up its own economy, Europe's biggest, rather than bail out fellow euro nations such as Austria, Italy and Spain as their banks sag under the weight of bad debts. That might lead to defaults and compel Germany to renounce the euro, he said.
"People said subprime could never blow up but it did and now they're saying the exact same thing about the eurozone," said Howard. "There's no stopping what is now a downward spiral." He declined to discuss his investments.
Hayman joins a growing number of investors seeing the possibility of a breakup of the $12 trillion euro bloc, conceived more than 10 years ago to cut unemployment, tame inflation and create a rival to the dollar. Societe Generale SA said this week Germany may refuse a bailout in an election year. ABN Amro Holding NV said Feb. 17 the crisis is "Europe's subprime."
But even as much as investors may now understand why the environment is changing, they have trouble accepting it . And they have bigger trouble accepting the fact that the dollar has rallied in such a lousy environment!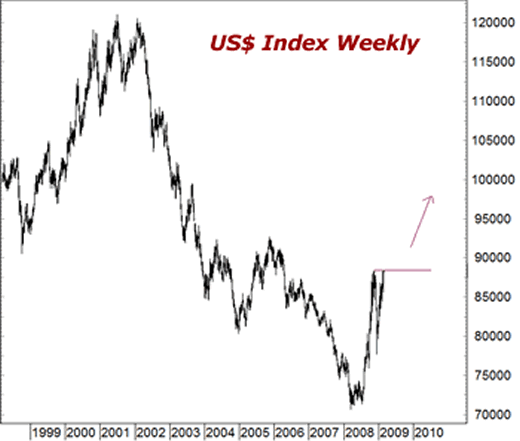 For example, they might look at numbers like the just released U.S. Federal Budget Deficit estimates for 2009 — $1.75 trillion — and think 'run', even though the better part of them says 'Stay put; you have nowhere else to go.'
I've got to admit … it makes my blood boil when I see the spending these clowns in Washington have gotten away with and will continue to try to slip past the public.
But I've said this before, and I'll say it again: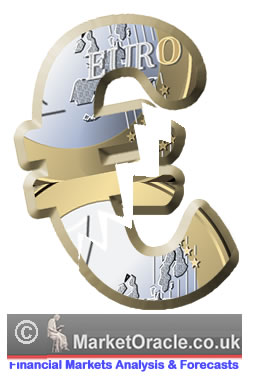 With big trouble brewing in the European Monetary System, it would be no surprise to see the dollar surge in the weeks or months ahead.
Currency prices are not driven by headline news; they are driven by global money flow.
And if money is flowing to the world's reserve currency in greater proportion than it is to competing major currencies, the dollar rises.
What's more … if you factor in growing expectations of big trouble brewing in the European Monetary System, a system that was supposed to displace the U.S. dollar's world reserve currency status, it would be no surprise to see the dollar surge in a huge flight to quality in the weeks or months ahead.
So, to any dollar bears out there: You have been warned by me — yet again!
Best wishes,
Jack
P.S. Are you hungry for the latest on what's going on in the currency markets? Then be sure to check out my blog .
This investment news is brought to you by Money and Markets . Money and Markets is a free daily investment newsletter from Martin D. Weiss and Weiss Research analysts offering the latest investing news and financial insights for the stock market, including tips and advice on investing in gold, energy and oil. Dr. Weiss is a leader in the fields of investing, interest rates, financial safety and economic forecasting. To view archives or subscribe, visit http://www.moneyandmarkets.com .
© 2005-2019 http://www.MarketOracle.co.uk - The Market Oracle is a FREE Daily Financial Markets Analysis & Forecasting online publication.

Only logged in users are allowed to post comments.
Register/ Log in