Global Market Forecasts 2014 for Stocks, Bonds, Currencies and Commodities
News_Letter
/
Financial Markets 2014
Feb 22, 2014 - 09:07 PM GMT

The Market Oracle Newsletter

Janaury 28th , 2014 Issue # 3 Vol. 8


The Market Oracle Newsletter
Janaury 28th , 2014 Issue # 3 Vol. 8

Global Market Forecasts 2014 for Stocks, Bonds, Currencies and Commodities
Dear Reader,
Consider yourself warned.
The global market outlook is far less rosy than the so-called experts would have you believe.
Global stocks have set record highs, yet sentiment readings have hit off-the-charts extremes.
Gold, silver and bonds are in multi-year bear markets.
Investors in major markets around the world are exposing their money to unprecedented (and mostly unknown) risks.
Regional economies recently said to be "recovering" are slipping back into recession.
And despite widespread excitement for stocks, Main Street is still struggling.
You will not get this reasonable and objective outlook on the global markets from any other source. EWI's new report, The State of the Global Markets -- 2014 Edition, is a one-of-a-kind resource. I guarantee that you will read nothing like it anywhere.
Packed with timely charts and analysis, this new report tears down the popular investment myths of today and replaces them with hardcore reality allowing you to navigate the year ahead with confidence via a blend of hard facts, analysis and unique commentary – plus dozens of eye-opening charts and insights culled from this new 50-page subscriber report ($199 value) made available over the next 7 days. You will also get video presentations from EWI's top U.S., European and Asian-Pacific analysts as well as Robert Prechter's latest big-picture global outlook, plus intensive special sections titled:
Staying Safe
Nothing Common about These Stocks
Back to the Vanishing Point for Tech
The Long-Term Declining Trend in Personal Consumption
Emerging Markets Reflect Social Mood
The Great European Value Play
Europe's Monetary Magicians are Out of Tricks
And a lot more!
EWI subscribers pay more than $500 annually for this level of analysis – and they consider it a bargain. But for a limited time, you can get this exclusive Club EWI report 100% FREE.
It will:
Tell you what's really going on in the global marketplace.
Reveal dangerous market pitfalls no one else sees coming.
Uncover once-in-a-lifetime investment opportunities that could serve you well beyond 2014.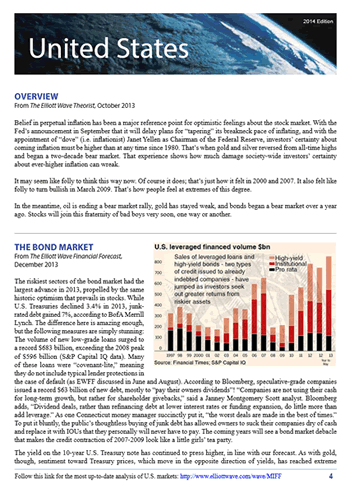 Get The State of the Global Markets Report -- 2014 Edition now (for FREE), and enjoy dozens of independent global market insights that will prepare you to survive and prosper in 2014 and beyond.
Follow this link to get your free report, The State of the Global Markets -- 2014 Edition, now >>
IMPORTANT: Please do not buy or sell a single share of stock -- anywhere in the world -- without reading this report first.
Excerpt:
Belief in perpetual inflation has been a major reference point for optimistic feelings about the stock market. With the Fed's announcement in September that it will delay plans for "tapering" its breakneck pace of inflating, and with the appointment of "dove" (i.e. Inflationists) Janet Yellen as Chairman of the Federal Reserve, investors' certainty about coming inflation must be higher than at any time since 1980. That's when gold and silver reversed from all-time highs and began a two-decade bear market. That experience shows how much damage society-wide investors' certainty about ever-higher inflation can wreak.
It may seem like folly to think this way now. Of course it does; that's just how it felt in 2000 and 2007. It also felt like folly to turn bullish in March 2009. That's how people feel at extremes of this degree.
With our best wishes for a prosperous New Year,
EWI
P.S. This report is available to you for free for a limited time, exclusively from EWI. Please get access to it now while its valuable year-in-preview advice can help your portfolio in the New Year. Get the free report now.
About the Publisher, Elliott Wave International
Founded in 1979 by Robert R. Prechter Jr., Elliott Wave International (EWI) is the world's largest market forecasting firm. Its staff of full-time analysts provides 24-hour-a-day market analysis to institutional and private investors around the world.
You're receiving this Email because you've registered with our website.
How to Subscribe
Click here to register and get our FREE Newsletter
To access the Newsletter archive this link
Forward a Message to Someone [FORWARD]
To update your preferences [PREFERENCES]
How to Unsubscribe - [UNSUBSCRIBE]
About: The Market Oracle Newsletter
The Market Oracle is a FREE Financial Markets Forecasting & Analysis Newsletter and online publication.
(c) 2005-2014 MarketOracle.co.uk (Market Oracle Ltd) - The Market Oracle asserts copyright on all articles authored by our editorial team. Any and all information provided within this newsletter is for general information purposes only and Market Oracle do not warrant the accuracy, timeliness or suitability of any information provided in this newsletter. nor is or shall be deemed to constitute, financial or any other advice or recommendation by us. and are also not meant to be investment advice or solicitation or recommendation to establish market positions. We recommend that independent professional advice is obtained before you make any investment or trading decisions. ( Market Oracle Ltd , Registered in England and Wales, Company no 6387055. Registered office: International House, 124 Cromwell Road, Kensington, London, SW7 4ET, UK )
Copyright 2014 MarketOracle.co.uk
© 2005-2019 http://www.MarketOracle.co.uk - The Market Oracle is a FREE Daily Financial Markets Analysis & Forecasting online publication.

Only logged in users are allowed to post comments.
Register/ Log in