Category: Asian Economies
The analysis published under this category are as follows.

Monday, April 18, 2022
In 2017, Forbes reported that President Duterte will force Philippines into China's debt slavery and bankrupt the economy by 2022. The fake story was promoted heavily by international and Philippine media. The question is, why?
In May 2017,
Forbes
released a column that claimed that "New Philippine Debt of $167 Billion Could Balloon To $452 Billion: China Will Benefit." It was written by Anders Corr, who was portrayed as an "independent" geopolitical risk analyst.
"Over 10 years," Corr boldly predicted, "that could balloon Philippines' debt-to-GDP ratio as high as 296%, the highest in the world." Fueled by expensive loans from China," he said, "Dutertenomics will put the Philippines into virtual debt bondage."
At the time, I argued that Corr's prediction was idiotic and up to 240-250 percentage points off. Yet, it was quoted widely both internationally and in the Philippines.
Read full article...

Read full article...
---

Monday, September 27, 2021
Dear Reader,
Today, both China and India are very different countries than 10 years ago. In so many ways, they are wealthier, safer and better.
But will these trends continue?
Our friends at Elliott Wave International are inviting you to get well-researched answers when you read this free excerpt ($59 value) from their September Asian-Pacific Financial Forecast.
See where China and India are in their Elliott wave patterns – and what that means for business and life in general.
Read full article...

Read full article...
---

Friday, November 20, 2020
After four long years of diminished prospects, stagnation and divisive geopolitics, four summits could show the way toward a better future.
Recently, Moscow hosted the 12th BRICS Summit. Malaysia is hosting the APEC Summit. And Riyadh will welcome the world leaders into the highly-anticipated G20 conference.
Importantly, these high-level events followed the signing of the Regional Comprehensive Economic Partnership (RCEP), the world's largest free-trade pact, which could help build multiple new paths toward a shared future.
The global economy is expected to shrink by 5 percent in 2020. World trade is likely to plummet by 20 percent. After misguided trade wars and the pandemic, global cooperation across all differences is vital to defeat the pandemic and facilitate economic recovery.
Read full article...

Read full article...
---

Friday, October 23, 2020
In 2021, the return to growth in major ASEAN economies rests on the containment of COVID-19, structural growth and global outlook. Due to rising deficits, debt and political volatility, the recovery will be bumpy.
Recently, the WHO stated that 1 in 10 people worldwide may have been infected by the coronavirus. Since the current world population is 7.8 billion, real infections would total 780 million rather than the 40 million confirmed cases today.
Among Southeast Asia's major economies – ASEAN-6 - Indonesia and the Philippines have currently almost 360,000 confirmed cases each. According to WHO's models, the real number could be 3.5 million or more.
Read full article...

Read full article...
---

Thursday, June 25, 2020
The Hainan Free Trade Port plan is aligned with China's new Silk Road initiatives, the Greater Bay Area plan and deeper ties with Southeast Asia. Hong Kong's real threats are closer and farther.
On June 1, the Chinese government published its Hainan masterplan. It seeks to transform the southernmost province, separated from Guangdong's Peninsula by the Qiongzhou Strait, into a Free Trade Port (FTP). The plan will turn China's largest and most populous island to its biggest special economic zone (SEZ).
The initiative stems from the early days of Chinese economic reforms. Following the first special economic zones in Guangdong and the opening of further 14 coastal megacities to overseas investment, the government disclosed its plan to transform Hainan into China's largest SEZ in 1988.
Read full article...

Read full article...
---

Thursday, June 04, 2020
In conversation with Maurice Jackson of Proven and Probable, Jayant Bhandari of Capitalism and Morality offers his take on what the post-COVID-19 world will look like.
Maurice Jackson: Joining us for a conversation is Jayant Bhandari, the founder of Capitalism & Morality, and a highly sought-out advisor to institutional investors.
Jayant, there are a lot of mixed, contentious emotions regarding COVID-19. Irrespective of one's position, it's incumbent for us all to prepare for how the world will function going forward. Let's discover which parts of the world, and how readers may thrive in a post coronavirus world.
Sir, you recently wrote a musing entitled "What the Post Coronavirus World Looks Like." In this piece, you outlined a number of distinctions that may create a great divide between East Asia, the West and Third World countries. From a 30,000-foot perspective, who do you see coming out as the winners, when and if the world returns to some aspect of normalcy, and why?
Read full article...

Read full article...
---

Monday, November 25, 2019

In the postwar and post-Cold War era, the Philippines could have been an economic success story. Yet, the opportunity was missed between the mid-'60s and mid-2010s. In the Duterte era, the country is back on track, but BRIC-style growth is needed to overcome the legacy of past policy mistakes.
In the postwar era, the Philippines was one of the expected economic success stories in Southeast Asia. The country was positioned for rapid growth.
Or so it was thought.
Read full article...

Read full article...
---

Wednesday, June 12, 2019

In the Shangri-La Summit, the Trump administration introduced a new, muscular Indo-Pacific strategy. It is fueled by private interests of corporations, defense contractors and foreign governments - not by the interests of the United States, China or emerging Asia.
Recently, the Pentagon and State Department informally notified Congress of a potential $2 billion deal with Taiwan, which includes the first-time sale of one of the US Army's top tanks, drawing protests from China.
In the Shangri-La Dialogue, which took place only days before, Acting Defense Secretary Patrick Shanahan pledged the United States would no longer "tiptoe" around Chinese behavior in Asia and warned about the new US "toolkit of coercion."
Here's the real key to the new Indo-Pacific stance, however: While emphasizing US commitment to the region, Shanahan urged US allies and partners to increase defense spending. What the Trump administration calls "burden sharing" is predicated on the idea that Asian economies should increasingly "buy American" military hardware from Pentagon contractors, even if it would split the region and undermine the promise of the Asian Century.
Read full article...

Read full article...
---

Monday, January 21, 2019

In Africa, the Trump administration is setting a precedent by replacing economic development with militarization. In Asia, it seeks to couple "rebalancing" in trade with a rearmament drive.
In a recent editorial, The Manila Times expressed concern that relatively benign economic conditions may lead to a false sense of security as "the United States-China trade war may be starting to inflict collateral damage on the economy."
In the short-term, it is a valid concern for the Philippines and other ASEAN economies that currently benefit relatively benign economic conditions.
But even if the worst excesses of the trade war could be deterred, there are darker clouds in the longer-term horizon. The Trump administration's new trade protectionism is accompanied by increasingly military stance. The new US Africa strategy heralds changes in other regions as well, particularly Asia.
Read full article...

Read full article...
---

Thursday, January 03, 2019

Sri Lanka 2019-2020 Outlook: Neutral Outlook for the Equity Market/Looking Elsewhere
The recent political crisis in Sri Lanka, coupled with its less favorable external position, has resulted in the depreciation of its currency and sell off in the stock market this year. Moody's downgraded Sri Lanka's sovereign credit to B2, while other countries funding Sri Lanka previously announced concerns due to the rising political risks. These issues all came at a time when Sri Lanka's economy was beginning to rebound somewhat from the lows of 2017, though growth has still not been able to break 4% in recent quarters. Poor Q3 performance further exacerbates economic concern for the market, which should now not see a meaningful rebound until 2020. Sri Lanka's external debt still remains a looming issue, and foreign exchange reserves have also been depleted somewhat in recent months compared to historical norms. FX reserves currently only cover around 3.8 months of imports and 54% of the country's short term external debt. Notably, the increased political clarity seen in recent weeks will result in a gradual release of funding that was put on hold due to the political uncertainty, and paints a brighter economic picture. This would include funding from Japan, Millenium Challenge Corporation, and the IMF.
Read full article...

Read full article...
---

Monday, December 03, 2018

The continued efforts of our research team to identify and quantify the possibility that the capital shift which has taken place over the past 18+ months may be shifting to other assets is in the interest of all global investors. Is there a new, more opportunistic investment that will take away from the capital that has been rushing into the US equity markets over the past 2+ years or is the capital shift towards the US equity markets still intact? These are the questions before us and these are the questions that will determine if the US equity markets continue to rally or continue to top out.
Read full article...

Read full article...
---

Friday, November 16, 2018

Amid trade wars, the outcome of the APEC meeting matters. As globalization is at crossroads, trade in Asia today will shape world trade tomorrow.
As the 21 member countries of the Asia Pacific Economic Cooperation (APEC) meet during the weekend in Papua New Guinea, there is an elevated international concern about the future of global trade amid the tide of nationalism and protectionism.
APEC member economies represent some 40% of global population, the region's combined GDP is more than 60% of global GDP and it accounts for almost 50% of global trade in goods and services. What APEC leaders decide matters.
Read full article...

Read full article...
---

Thursday, August 16, 2018

The Trump administration's Indo-Pacific Vision is not an alternative to Chinese and other development initiatives in the Asia Pacific. It is a geopolitical play that is likely to benefit mainly advanced economies. What the Asia Pacific needs is a sustainable, long-term plan for accelerated economic development – not new geopolitical divisions.
On July 30, U.S. Secretary of State Mike Pompeo gave a highly-anticipated speech on "America's Indo-Pacific Economic Vision":
The Indo-Pacific, which stretches from the United States west coast to the west coast of India, is a subject of great importance to American foreign policy. This region is one of the greatest engines … of the future global economy, and it already is today. And the American people and the whole world have a stake in the Indo-Pacific's peace and prosperity. It's why the Indo-Pacific must be free and open.
Read full article...

Read full article...
---

Tuesday, May 29, 2018

According to the 2018 IMD World Competitiveness report, Philippines ranking plunged nine notches. In reality, competitiveness indexes often fail to capture disruptive change.
According to the IMD report, executed in cooperation with the Asian Institute of Management, Philippines fell by nine places to 50th among 63 countries.
Nevertheless, Socioeconomic Planning Secretary Ernesto Pernia called the findings a "misobservation" - and rightly so.
Read full article...

Read full article...
---

Wednesday, March 21, 2018

As the Philippines is withdrawing from the International Criminal Court, ICC is blaming the Duterte government. In reality, the withdrawal is still another example of the erosion of the ICC's credibility, its failure at judicial independence and gross bias against the emerging world.
In February, the ICC said it was investigating allegations that the Philippines president had committed "crimes against humanity" by facilitating extrajudicial killings and other rights abuses in the war against drugs. These charges, which have often relied on flawed data, have been pushed by two Duterte critics. Known for his coup efforts, controversial senator Antonio Trillanes has spent much time in Washington and Europe to gain support, while the obscure Jude Sabio has gained notoriety as a hit man lawyer. What's not known is who funds the two and why leading Western media companies have bought their stories with hardly any source scrutiny.
Read full article...

Read full article...
---

Monday, November 27, 2017

Since the 1980s, economic success in Asia has often relied on foreign investment, at least initially. Last week, President Duterte took a decisive step toward that direction. Why has the change taken so long? And why is the devil in the details?
In the third quarter, the Philippine economy grew 6.9%, which made it Asia's second fastest-growing economy after Vietnam. But unlike Vietnam, which has reaped many benefits of foreign direct investment (FDI), the Philippines has not.
Again and again, former President Benigno Aquino III acknowledged the need to boost FDI during his reign. Yet, the main challenge to attract FDI has been the 60/40 foreign ownership law, which Aquino neglected to confront between 2010 and 2016.
Read full article...

Read full article...
---

Monday, October 09, 2017

Despite opposition, President Duterte's Anti-Corruption Commission is vital in light of Philippine history and international experience. To be effective, the anti-corruption agency must be independent.

On October 4, President Duterte signed Executive Order 4 creating the Presidential Anti-Corruption Commission (PACC). The Commission is mandated "to directly assist the President in investigating and/or hearing administrative cases primarily involving graft and or corruption against all presidential appointees.""

Read full article...

Read full article...
---

Monday, August 14, 2017

The ASEAN faces old and new challenges, and a huge long-term opportunity. The next three decades could witness the shift of global economic momentum from the Trans-Atlantic axis to the Trans-Asian axis.
Recently, the Association of Southeast Asian Nations (ASEAN) marked its 50th anniversary in Manila with President Duterte hosting the celebrations. Despite its importance, the Summit's international coverage remains unacceptably marginal. But times are changing.
Read full article...

Read full article...
---

Tuesday, August 01, 2017

A huge upgrade of infrastructure is vital for Philippines economic future. That's why it is contested by entrenched interests, including foreign powers. This is the first in a series of occasional commentaries about the Philippines transformation from an international viewpoint.
In the past year, President Duterte has initiated a series of economic reforms to accelerate economic development. Despite much "political noise," the government seeks sustained growth around 6.5- 7% in 2017, by banking on multiple initiatives, especially higher infrastructure spending.
Read full article...

Read full article...
---

Tuesday, May 16, 2017
The conventional military narratives highlight aggregate expenditures and downplay per capita spending. Realities are more nuanced, both globally and in Southeast Asia.
The conventional narrative is that China has become assertive, while the West is ignoring its defense needs. According to SIPRI research, in the past decade military spending in China and Russia increased 118% and 87%, respectively, while US spending plunged almost 5%.
Read full article...

Read full article...
---

Monday, April 03, 2017
Forecast
Challenges to Philippine President Rodrigo Duterte's hold on power, whether in the form of an impeachment or a coup, are unlikely to gain momentum while he remains broadly popular.
But China's unrelenting attempts to extend its maritime boundaries will complicate its detente with the Philippines and undermine Duterte's political support at home.
Meanwhile, the president's contentious domestic agenda will test the mettle of his ruling coalition.
Read full article...

Read full article...
---

Wednesday, March 01, 2017

After a stunning growth performance, all four dragons are slowing and aging. In the absence of drastic policy changes, they are facing relative stagnation, says Dan Steinbock.

In The Four Little Dragons (1992), U.S. academic Ezra Vogel argued that the four little dragons—Taiwan, South Korea, Hong Kong, and Singapore—were the newly-industrialized economies, which had followed Japan's export-led growth model to prosperity. Unlike major advanced economies, which established their position in a century or two, the four dragons made their mark in just a few decades.
Read full article...

Read full article...
---

Tuesday, January 31, 2017

From Regime Change Ploys to Accelerated Economic Development
While the Obama White House prepared plans for regime change in the Philippines, President Trump is working on an assertive strategy in Asia. Meanwhile, President Duterte is accelerating the country's economic growth – dramatically.

After the election triumph of President Rodrigo Duterte, the Philippines has initiated a series of economic reforms to accelerate development, decentralise governance and a tough but controversial struggle against corruption and drugs.
Read full article...

Read full article...
---

Friday, January 06, 2017

As President Duterte is rebalancing the Philippines' economic and strategic policies, Washington is preparing plans for regime change. What the country needs is economic development, says Dan Steinbock – not Cold War.

After the election triumph of President Rodrigo Duterte, the Philippines has initiated a series of economic reforms to accelerate development, decentralise governance and a tough but controversial struggle against corruption and drugs.
Read full article...

Read full article...
---

Tuesday, November 08, 2016

Premier Li's Eurasian tour heralds the new future of Eurasia that will be based on regional economic integration.
Last Wednesday, Premier Li Keqiang began a week-long trip in Kyrgyzstan, Kazakhstan, Russia and Latvia seeking to promote China's relations with the four countries, and boosting regional development and cooperation.
Read full article...

Read full article...
---

Wednesday, November 02, 2016

In the coming years, China and India must decide whether their bilateral ties will be based on economic cooperation, political facilitation and strategic trust - or economic walls, political barriers and strategic containment.

In early October, militants attacked an Indian army camp in Indian-administered Kashmir, killing a soldier. In this contested region, the two nuclear powers, India and Pakistan, have occasionally been close to devastating military friction. In the mid-October BRICS Summit, India's Prime Minister Narendra Modi called Pakistan "mother-ship of terrorism."
Read full article...

Read full article...
---

Friday, October 21, 2016
The concept of the "Fortune at the Bottom of the Pyramid" was introduced by CK Prahalad, and it describes business strategies used to profit from selling products to the poorest populations in the world. This approach can also be applied to frontier market investing. Frontier market investing often requires an asset-based approach (viewing opportunities presented from less developed populations/countries/industries, rather than focusing on the challenges), as well as a futuristic view of growth trends. Select frontier markets have the potential to economically be on par with other emerging markets in the next 20-30 years.
Read full article...

Read full article...
---

Sunday, May 29, 2016
font-weight:400; ">

Mongolia, which can be considered one of Asia's most vulnerable frontier markets, has been through a flurry of ups and downs during the past five years. Once praised as the world's fastest growing economy, economic growth has recently approached recession levels amid the commodity bear market, China's economic slowdown, and the rapid drop in FDI experienced from the delay of Oyu Tolgoi, and other mining disputes. Mongolia is a strong commodity export economy, and approximately 90% of these exports go to China, making it most vulnerable to the current commodity bear market and China's economic slowdown. Furthermore, its economic performance has been hindered by the unpredictable actions of the government, which has been another strong factor for driving away FDI. The current economic landscape necessitates a shift in this previous anti-FDI attitude to avoid a recession, and notable improvements have already taken place this year, which will help improve Mongolia's reputation for foreign investment. Mongolia is heading in the right direction, based on events that have taken place in recent months, and now is a strong time to consider stocks that are in a bottoming out phase.
Read full article...

Read full article...
---

Friday, April 29, 2016

The stock market discount and comparatively stronger trends of growth present in frontier Asia is intriguing, and a buy frontier, sell emerging approach is one of the most clear cut ways to prosper when investing in Asia. These trends, coupled with noteworthy political improvements, can be combined to create a strong value investing case. Sri Lanka is a strong frontier market in Asia that meets all of these requirements, yet is being relegated by many foreign investors. Sri Lanka has been benefiting from the end of the country's 26 year civil war that ended in 2009, which has resulted in an improved political landscape. This improvement has been coupled with Sri Lanka's new government, which was elected in January 2015.
Read full article...

Read full article...
---

Tuesday, December 15, 2015

Dylan Waller writes: While the gloom faced in commodity prices has created slowed economic growth throughout frontier and emerging markets, there is one global market in Asia in particular that has not been deterred: Vietnam. Low commodity prices have been gruesome for some companies, and on a much larger scale has led to a global economic slowdown for commodity based economies. While the current environment has created a flurry of buy opportunities in commodity based economies, investment in Vietnam provides a similar opportunity with substantially lower risk. Vietnam's economy, driven by its strategic advantage of low cost manufacturing, is continuing to maintain its position as one of the fastest growing economies in Asia, and is poised for stronger economic growth throughout 2025.
Read full article...

Read full article...
---

Friday, November 06, 2015
Analyst Spotlight: Mark Galasiewski
Learn a bit about EWI's big-picture from our Asian-Pacific markets expert
Mark Galasiewski is the editor of our monthly Asian-Pacific Financial Forecast. Mark's a big-picture guy -- he loves analyzing the longer-term chart patterns, because they have the most significance to human social history.
Read full article...

Read full article...
---

Sunday, April 05, 2015

For the second time in three years, I'm fortunate enough to spend some time in New Zealand (or Aotearoa). In 2012, it was all mostly a pretty crazy touring schedule, but this time is a bit quieter. Still get to meet tons of people though, in between the relentless Automatic Earth publishing schedule. And of course people want to ask, once they know what I do, how I think their country is doing.
My answer is I think New Zealand is much better off than most other countries, but not because they're presently richer (disappointing for many). They're better off because of the potential here. Which isn't being used much at all right now. In fact, New Zealand does about everything wrong on a political and macro-economic scale. More about that below.
Read full article...

Read full article...
---

Tuesday, December 23, 2014
If any of you can remember for the past few months our government has been engaging on a propaganda spree claiming that our economy is doing excellent and our budget deficit is on track hitting the 3% target. In addition it is also reported that our household sector is supported by sustained income growth and hence consumption. Our high level of international reserves, current account surplus, resilient domestic financial system and low level of external debt helps reinforce the strength of our economy. Bank Negara even forecast a GDP growth between 5.0 to 5.5% for fiscal 2015? Is our economy really that resilient and solid? This article aims to dissect the reported facts above and also at the same time gauge the performance of the Malaysian economy.
Read full article...

Read full article...
---

Saturday, November 22, 2014
In reality, running a Government is similar to running a company in many respects. Both have revenues and spending to adhere to. When a Government runs a deficit then it needs to sell Treasury bills, notes and bonds to raise funds. Similarly when a company is short of cash, it can raise funds by selling securities. In a way it can be said that the total debt incurred by the Government is the total outstanding government securities. Thus the total or national debt at any point of time is the sum of all prior deficits. Hence, when a Government runs a deficit, the national debt will be increased by the amount of the deficit.
Read full article...

Read full article...
---

Monday, September 22, 2014
The leader of the People's Republic of China Xi Jinping arrived on a visit to India, where he had a meeting with Prime Minister Narendra Modi. The goal of the Chinese side, apparently, is to strengthen both diplomatic and economic relations with its neighbor, despite unresolved territorial disputes between China and India.
Read full article...

Read full article...
---

Thursday, September 11, 2014
By Grant Williams
Before we kick things off this week, I want to give you a quick update on Real Vision Television in response to a ton of emails I have received on the subject.
(If you missed my recent piece on Real Vision (Vision Quest, TTMYGH, July 7, 2014) you can read it by clicking on the link.)
Real Vision will launch on September 8th, and if you have already signed up and registered your interest, you will soon be receiving an invitation to become one of our Founder Members. The opening will be staggered to ensure that the site is robust, so don't panic if you aren't among the first to receive your invite. We will be rolling the red carpet out as fast as we can whilst ensuring that the heavy traffic doesn't crash the website.
Read full article...

Read full article...
---

Thursday, June 05, 2014
Malaysia's debt fuelled economy on steroids was the result of Bank Negara's policy of low interest rates causing abundant availability of credit. To avert the economy from free falling credit expansion measures are taken to stabilize the economy. Economic growth as measured by the GDP is now a function of Government and private consumer spending financed by the credit expansion or put it simply 'debts'. In the short run this might help mitigate the pain associated with a slowing economy such as a recession. Preventing a recession also means preventing the economy from performing its natural task on rebalancing such as getting rid of excesses accumulated along the way. One of the side effects of excesses is the inflating of assets prices to bubble levels. As a result we have various bubbles blown in the stock market, real estate, bonds and futures market in Malaysia.
Read full article...

Read full article...
---

Wednesday, June 04, 2014

In the latest Squawkonomics interview with Marc Faber, Marc offered insights and direction about the future of the Vietnamese economy. Marc laid out that Vietnamese stocks are essentially in a bottoming out phase, and valuations of Vietnamese equities are looking particularly attractive at this point. Marc also explained to us how Vietnamese have different economic habits unfamiliar to many Western countries such as buying houses with gold outright, and how different metrics are required to understand the value of the Vietnamese economy. Check out the video below for more investment insight from Marc Faber on Vietnam. Marc will be speaking at the upcoming Vietnam Investment Forum in Ho Chi Minh on June 19 to inform investors how to invest in Vietnam and find opportunity and value amid the current South China Sea tensions. For those interested in attending, be sure to contact Vicente Nguyen at support@vietnaminvestmentforum.vn for more information.
Read full article...

Read full article...
---

Tuesday, March 18, 2014

China's slower economic data points and a surplus in copper and iron ore drove many commodities lower this week, while gold rose. In the short term, until the copper and iron ore surplus is liquidated, or absorbed at a slower pace, the base metals market will likely be sloppy.
As the second-largest economy in the world and a huge driver of commodities demand, it's not surprising China provoked such a significant response from world markets. Interestingly, most of the media thought it was geopolitical fears from Ukraine that chopped up the market and lifted gold.
Read full article...

Read full article...
---

Sunday, December 29, 2013
Indonesia is the fifth largest economy in Asia and the fourth most populous country in the world. Thanks to the strong macro-economic reform and liberalization of its international trade. As a result a strong economic growth to the tune of 6-8% is achievable for the past few years. Since the last Asian Financial Crisis, Indonesia has made much stride in poverty eradication, economic growth and human capital development. To stabilize prices, Monetary Policy tools such as interest rates, liquidity management and macro-prudential measures are used. Other measures taken to ensure sustainable economic growth includes raising minimum wage, reduction in fuel subsidies, electricity and other essential items, increase cash payment to low income group and broaden the tax base.
Read full article...

Read full article...
---

Sunday, November 24, 2013

Keith Hilden, Georgi Ivanov, and Dylan Waller write: Developments of tidal proportions have occurred in Myanmar in recent years, as the country adopted a pivot in its domestic and foreign policy to re-engage with the world. This polar shift occurred after 50 years of isolation under the rule of a military junta that seized power in 1962. Navigating in Myanmar's quickly evolving position is a challenge, because of the dynamically developing environment in which the country finds itself. Myanmar is emerging from a situation similar to the newly independent post-colonial states in the mid-1900s, as well as the flux in which the post-Soviet space found itself after the collapse of the socialist bloc system and the USSR in 1989-91. Myanmar is developing while straddling two parallel realities.
Read full article...

Read full article...
---

Thursday, August 29, 2013
Which are the world's worst performing currencies over six months losing between 20+% to 8+% against the US dollar? 1. Indian Rupee; 2. Brazilian Real; 3. South African Rand; 4. Indonesian Rupiah; 5. Turkish Lira; and 6. Russian Rouble -- in that order. So whose left amongst the 'Emerging Market' majors including the BRIC nations save China? How long before the Chinese fortune cookie crumbles given a multi-trillion dollar black hole of local government debt which nobody really wants to talk about?
Read full article...

Read full article...
---

Wednesday, August 21, 2013

I don't know whether you recalled how the last Asian Financial Crisis in 1997-98 affected us all. Our stock market dropped from 1385 to 295 points while our ringgit went down to as low as RM4.80 to the dollar. At the height of the crisis our interest rates went up to as high as 18%. After a break of 15 years are we going to see the same scenario again? I do not know the answer but one thing for sure is that it does have some resemblances such as depreciating currencies and interest rates hike across the region. The last time the Financial Crisis was started in Thailand and this time I reckon it will be in India.
Read full article...

Read full article...
---

Tuesday, August 20, 2013
Since 2004, the World Bank has produced the annual Doing Business report, which ranks countries on ten factors reflecting the ease with which entrepreneurs and businesses may conduct economic activity in a given country.
At first glance, such a survey would hardly seem controversial. After all, with so much unreliable data coming out of official government statistics offices these days, one would think that an unbiased system for ranking the ease of doing business would be a useful tool — not only for businesses, but for governments as well. Indeed, since 2005, a total of 1,940 reforms have been implemented by countries to improve their rankings. And, several prominent heads of state, such as Russia's Valdimir Putin have made public pledges to improve their countries' Doing Business rankings.
Read full article...

Read full article...
---

Tuesday, October 02, 2012

Mike Rogers writes: I was at my son's school the other day and got into a conversation with a friend who is the chief of Japan operations for Korea's electronics giant, Samsung corporation. His son and my son are in the same class again this year and so it was very pleasant to see him and talk. During that talk, we came to the subject of how Samsung is dominating the market in flat screen TVs and moving that direction in the hand held computers and cellphones field too.
Read full article...

Read full article...
---

Thursday, August 02, 2012
The Income Inequality have always been a thorny issue for the past few thousand years. During the middle ages in Europe, they have the bourgeois (higher class) and the proletariats (ordinary folds). In ancient China they too have different class like the Merchants, artisans, court officials, laborers and etc. Needless to say the bourgeois and the merchants controlled most of the wealth.
Read full article...

Read full article...
---

Friday, June 22, 2012

Martin Hutchinson writes: Having lived in Singapore as a child I've always been fond of Southeast Asia.
Fifty years later, though, I like it for a slightly different reason. It's become a place where I like to invest.
In fact, I believe the region is the world's newest "sweet spot" for investors.
Read full article...

Read full article...
---

Tuesday, March 13, 2012

Check out what Australia's largest exchange operator(ASX) had to say about the Asian century.
"Australia will only truly advance its long-term position in the Asian region and fully participate in the Asian century by developing deeper partnerships and true integration with the region."
Read full article...

Read full article...
---

Thursday, February 09, 2012

Chris Mayer writes: "It's like Thailand was 50 years ago," Alexandre de Lesseps told me.

We were talking about the next big emerging market to bloom in Asia. It may surprise you, but it is one heck of a story... and opportunity. It's also the subject of my upcoming book, World Right Side Up. The country I'm talking about is Myanmar (or Burma, as most people still seem to call it).
Read full article...

Read full article...
---

Tuesday, January 17, 2012

What If Its Thanksgiving But You Are The Turkey?
HOPING FOR GROWTH
Called the only rational strategy, but impossible in the current context, restoring economic growth in the debt-strapped OECD countries remains a religious-type hope for political and corporate leaders.
Read full article...

Read full article...
---

Tuesday, December 27, 2011

In interview with Lelde Smits of Australia's Finance News Network Jim Rogers said he is proud his two children speak Mandarin so well they can ask for a Big Mac in Pekin and not get a Donald Duck flashlight or a knockoff designer T shirt instead. Rogers said that Asia is weathering the storm and told Lelde Smits he has voted with his feet and set up shop in Singapore (because air pollution is so out of sight in mainland China's cities) but feared that Asia's going to suffer, all the same, for sure and certain, because Europe and the USA are going down the tube.
Read full article...

Read full article...
---

Thursday, December 15, 2011

With most of the industrialized world focusing on all things European, we thought it might be worthwhile to see just what was happening on the other side of the Ural Mountains. Asia has not become embroiled in the debt problems sweeping through the likes of Greece and Italy, and its exposure to the euro is contained. However, what happens in Europe will inevitably drift into Asia, so a look at its major economies might provide insight into what awaits the region in 2012. In particular, we are focusing on the two most populous countries in the world – China and India.
Read full article...

Read full article...
---

Tuesday, October 11, 2011
The developed world seems to be focused on Europe, and while the next crisis in indeed brewing there, we must not forget that Asia is a large part of the future and major contributor to world GDP. My friends at GaveKal are based in Hong Kong and have staff in most Asian countries or are in them on a regular basis, so I read their Asian views with interest. Today's Outside the Box is their latest Five Corners – Asia edition, where they look at China, Thailand, and Vietnam, as well as Asian growth, contrasting it to that of the "developed world."
Read full article...

Read full article...
---

Wednesday, September 28, 2011

Martin Hutchinson writes: Gloom has enveloped most of the investment landscape these days, but there is still one region that offers strong growth and serious returns.
I'm talking about Southeast Asia.
There was a time when investors scoffed at the likes of Singapore, Thailand, Malaysia and Indonesia. But no one's laughing now. The naysayers currently are all too busy pulling their money out of the regions they always assumed were safe - the United States, Europe, and even the trendy BRICs (Brazil, Russia, India, and China).
Read full article...

Read full article...
---

Wednesday, September 15, 2010
Jon D. Markman writes: Last week we talked about Singapore and Thailand - two Asian economies that are quietly taking off. Today I want to add to those thoughts with a few more key points that opportunistic U.S. investors should know about Thailand, in particular.
Read full article...

Read full article...
---

Wednesday, September 08, 2010

Jon D. Markman writes: You know about China, India, and maybe even Korea, but there are two other Asian economies making waves in the South China Sea.
I'm talking about Singapore and Thailand.
Read full article...

Read full article...
---

Thursday, September 02, 2010

Tony Daltorio writes: The United States is fretting about the possibility of a double-dip recession. Europe is looking for signs of the next sovereign debt default crisis. And Asia…
Well, Asia has no such worries. This year, economies from the Indian subcontinent to Australia – though not Japan – will expand by 8.6%, their fastest pace in 20 years!
Read full article...

Read full article...
---

Thursday, August 12, 2010

As you know, I'm a fan of emerging markets and a big proponent of exchange trades funds (ETFs). They fit together almost perfectly.
Today I want to focus on one fast-growing region that is getting more and more attention as Western economies crumble: Southeast Asia. As you'll see, ETFs give you some exciting new ways to get involved in this booming part of the world.
Read full article...

Read full article...
---

Tuesday, July 20, 2010
This week we turn our eyes to Asia as my friend Louis Gave of GaveKal gives us a very thought-provoking piece on the problems of investing in Asia, with a focus on China. While there are real opportunities, Louis also sees some speed bumps. Those Asian ETFs may not be the winners a lot of people think for structural reasons.
I was to thank the team at GaveKal for letting me reproduce their research as typically it is only available to their clients who pay a rather hefty sum.
Read full article...

Read full article...
---

Monday, June 21, 2010

Kavaljit Singh writes: Within three days of South Korea imposing currency controls, Indonesia (a member of G-20) unveiled several policy measures to regulate potentially destabilizing capital flows. The policy announcement by Indonesia is the latest initiative by emerging markets to tame speculative money which could pose a threat to their economies and financial systems.
Read full article...

Read full article...
---

Thursday, May 06, 2010

The International Monetary Fund is an international organization that oversees the global financial situation of its 186 member countries. The IMF was formed with the goal of stabilizing international exchange rates and to provide financial assistance to countries that experience serious financial and economic difficulties with loans and other forms of financial aid.
Read full article...

Read full article...
---

Wednesday, April 21, 2010

Martin Hutchinson writes: China's economic model has been extraordinarily successful. But the Asian giant didn't create it out of thin air.
It had a role model.
Read full article...

Read full article...
---

Tuesday, April 20, 2010
Jon D. Markman writes: Several readers who know of my affinity for Indonesian stocks have sent me articles reporting that one of the country's bank officials had expressed discomfort over the Jakarta's rising stock market and raised the specter of new capital controls.
Read full article...

Read full article...
---

Thursday, March 18, 2010
Business analysts predict an economic rise for Asian corporations. The current conditions work towards the success of Asian giants. Their success is presumably based on the low cost of products which it its turn is based on the use of cheap labor force. The prospering Asian companies can not be good at everything. Their weak point is the spheres of communications and branding.
Read full article...

Read full article...
---

Friday, December 04, 2009

[Editor's Note: This interview was adapted from a recent issue of the McKinsey Quarterly, the business Journal of McKinsey & Co. It is reprinted with McKinsey's permission.]
Asia has proven comparatively resilient against the current downturn, but hurdles still lie ahead. In order to maintain robust growth rates in the face of weak U.S. demand, the region's dynamic economies must stoke domestic consumption and embrace environmentally sustainable development policies, says Stephen Roach, chairman of Morgan Stanley Asia (NYSE: MS) and author of "The Next Asia: Opportunities and Challenges for a New Globalization."
Read full article...

Read full article...
---

Saturday, November 07, 2009

Before I arrived in Jakarta, my pre-trip research unearthed a little known Indonesian construction supply company. Everything looked good on paper — but then a lot of companies look good on paper … such as Enron … so I made arrangements to do some of my unorthodox-but-enriching, boots-on-the-ground research.
Read full article...

Read full article...
---

Thursday, October 08, 2009

Question: China, China, China — when are you going to tell us about something other than the Chinese economy and Chinese stocks?
Answer: Today!
Read full article...

Read full article...
---

Thursday, July 02, 2009

Tony Sagami writes: The World Bank is a global financial institution that makes loans to developing countries for the stated purpose of reducing poverty.
It provides low-interest loans and interest-free grants for investments in education, health, public administration, infrastructure, financial and private-sector development, agriculture, and environmental and natural-resource management.
Read full article...

Read full article...
---

Tuesday, May 26, 2009

I spent last week in Asia at the Corporate Access Forum in Singapore sponsored by CLSA Asia-Pacific Markets, which produces some of the most detailed and insightful investment research available.
Read full article...

Read full article...
---

Saturday, February 14, 2009

Inquiring minds are looking into details of
Asia's Export Economies
.
Staggering falls in exports across Asia have shocked economic analysts and ended all claims that the global slump may be nearing its bottom. The IMF's growth forecast for Asia this year is just 2.7 percent—less than a third of the 9 percent growth rate of 2007. The prediction is a full percentage point less than during the 1997-98 Asian financial crisis.
Read full article...

Read full article...
---

Saturday, December 27, 2008

Asia Economic Crisis: Spotlight on Japan, China, Korea, Vietnam. Decoupling, an idea that never made any sense, is talking another beating. Bad news is coming from multiple places in Asia, with Japan and China leading the way. Let's take a look starting with
Japan's Recession Deepens as Factory Output Plummets
.
Read full article...

Read full article...
---

Friday, September 05, 2008

Martin Hutchinson
writes: have been much more positive about the Japanese economy than most other analysts in recent months, largely because I believed that many of the problems from the Japanese recession of 1990-2003 were finally in the country's rearview mirror. In particular, I believed that the Japanese budget deficit – which, by 2003, had become quite acute – was well on the way to being solved through public spending restraint. That, in turn, would allow Japan to pay down its excessive public debt, giving its private sector room to expand.
Read full article...

Read full article...
---

Sunday, May 18, 2008

Chinese President Hu Jintao and Japanese Prime Minister Yauo Fukuda met recently and signed some modest cooperation agreements. That doesn't sound much to get excited about, until you consider how well the Chinese and Japanese economies fit together.
Think of it this way: With China's boundless supply of low-cost labor and Japan's superb education system - and an ability to work together that's clearly founded on considerable commonality of thinking - these two countries, as a pair, will be world-beaters.
Read full article...

Read full article...
---

Tuesday, March 25, 2008

With the U.S. dollar reaching new lows versus hard currencies, many are waiting for Asian currencies to catch up. Why hasn't this happened, and will it happen? The short answer is: it might, but be patient and don't bet your farm on it.
To understand Asian dynamics, let's first look at Europe. Remember how many ridiculed European growth earlier this decade? A key factor was the European Central Bank's (ECB's) refusal to jump on the growth bandwagon. As a result, consumer savings went up in Europe, while it headed down in the U.S. While the U.S. economy became increasingly dependent on credit expansion, consumer spending and inflows of money from abroad to support its current account deficit , the euro-zone was far more balanced.
Read full article...

Read full article...
---

Friday, March 14, 2008

Larry Edelson writes: It's 3:30 AM here in Bangkok as I write this edition of Money and Markets . Across the street from my apartment, four towers are rising toward the sky. A 52-story luxury condo development is under construction with crews working 24 hours a day, seven days a week.
It's hard to believe that the crane operators, now perched over the 22nd floor, can see what they are doing as they hoist up tons of rebar, bins full of cement, rolls of steel sheathing and stacks of glass.
Read full article...

Read full article...
---

Thursday, December 06, 2007

Sean Brodrick writes:The term "nouveau riche," or "new money," refers to people who, through rapid acquisition of wealth, now have the ability to buy things that were previously out of their reach.
In the U.S., it applies to individuals. But in Asia, it applies to entire nations .
So today, I want to talk about how people in India and China are going nuts for high-end consumer goods, especially jewelry.
Read full article...

Read full article...
---

Sunday, November 04, 2007

OVERVIEW
As one bubble deflates, so another forms - or so it would appear as Asian stock markets surge to lifetime highs even while the US mortgage-driven asset bubble collapses. Does this mean that Asian markets (including Australia 's commodity-fuelled bourse) are dangerous places to invest just now? At first sight it seems so, but experts gathered together by The Business Times for an Investment
Read full article...

Read full article...
---

Monday, October 15, 2007

There are facts and then there are facts. Take the case of the recent mass protests in Burma or Myanmar depending on which name you prefer to call the former British colony. First it's a fact which few will argue that the present military dictatorship of the reclusive General Than Shwe is right up there when it comes to world-class tyrannies. It's also a fact that Burma enjoys one of the world's lowest general living standards. Partly as a result of the ill-conceived 100% to 500% price hikes in gasoline and other fuels in August, inflation, the nominal trigger for the mass protests led by Saffron-robed Buddhist monks, is unofficially estimated to have risen by 35%. Ironically the demand to establish "market" energy prices came from the IMF and World Bank.
Read full article...

Read full article...
---

Thursday, July 19, 2007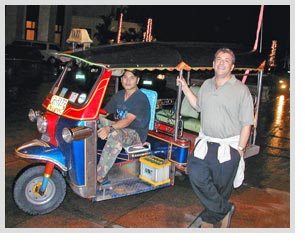 I'm in Asia right now. And I can tell you first hand that things here are as vibrant as ever.
There's been no change in the spectacular fundamentals underlying this region. With the exception of Thailand, almost all Asian countries are exploding with economic growth. For example, Singapore's second-quarter economic stats just blew away expectations, with GDP rising 8.5%.
All this growth has two important results:
Read full article...

Read full article...
---