MP's Blame Greedy NHS GP's for Expense Claims Abuse
Politics
/
UK Politics
May 18, 2009 - 04:14 AM GMT


Humiliated MP's across all parties that have been drowned out by the public chorus of outrage and indignation of the abuse of the MP expenses system have repeatedly stated how MP pay has failed to keep pace with that of NHS GP's which is one of the key reasons as to why they have resorted to what amounts to legalised theft from the electorate.
MP - NHS GP Pay Comparison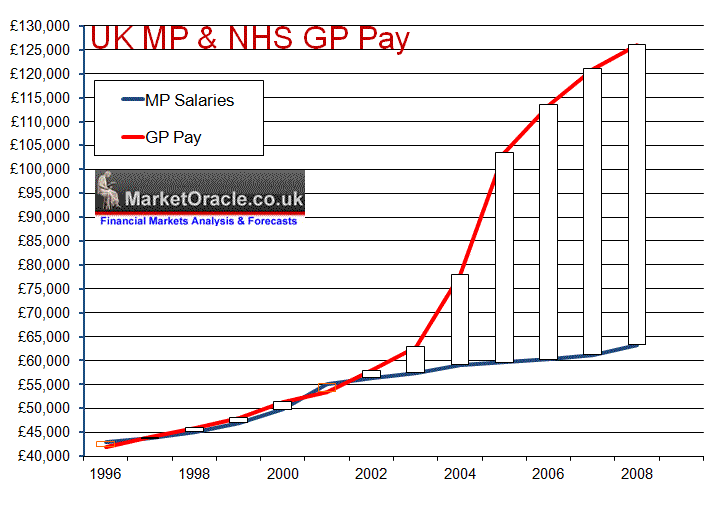 When Labour came to power in 1997 average MP pay was £43,722 against average NHS GP pay of £44,000, so both were inline with one another at that time. However as the above graph clearly illustrates in 2003 something started to go seriously wrong with GP Pay which took off into the stratosphere as GP's decided to award themselves pay hikes of more than 30% per annum at tax payers expense that has lifted average GP pay to £126,000 per annum against £64,000 for MP's.
How could this happen, unfortunately this was as a consequence of the now infamous GP contracts where basically devious greedy GP's hoodwinked gullible incompetent Labour government health ministers into signing upto contracts which were meant to deliver greater value for money for the tax payer but were designed to do the opposite and resulted in GP's pay doubling whilst at the same time cutting back on hours worked. This was not only a total fiasco for the nations health and finances but also ignited jealousy amongst MP's that directly led to the adoption of the policy of claiming expenses to the maximum so as to fill the ever widening gap between MP's and NHS GP's, as MP's could NOT get away with awarding themselves pay hikes of 30% per annum without losing their seats at the next general election in response to voter outcry, therefore across the board systematic abuse of expenses started to take place which basically means real average MP pay is currently approx £98,000 per annum.
MP Pay Solution
The best solution to the current crisis would be if MP's were paid NO second home allowances but instead their salary was raised to £98,000 per annum and GP pay was CUT to £98,000 per annum and thereafter BOTH groups pay is indexed. This will both ensure that a. GP's cannot so easily get away with conning the tax payer, and b. that MP's no longer feel the urge to defraud the system due to a significant pay disparity against GP's.
This measure will also result a huge saving to the tax payers as 650 MP's would cost the tax payer an extra £15.6 million a year, against 30,000 GP's pay reduction to £98,000 saving the tax payers £840 million a year. Therefore everyone but the greedy GP's that in monetary terms were far more culpable and devious than the less competent greedy MP's that obviously were not intelligent enough to get away with their own version of fraud on the tax payer.
Though I am surprised that NONE of the mainstream press despite the apparent huge sums available to pay for copies of MP receipts have so far failed to pick up on this clear pay disparity.
Super Surgeries Solution to Greedy NHS GP's
According to the National Audit Office, the number of NHS GP's has increased by 15% from 26,833 to 30,931 since 2003, this is as a consequence of the GP contracts debacle, at the same time GP's are working on average 7 hours per week less, therefore a cut in productivity of 18% on a normal working week and thus on balance resulting in little improvement in patient healthcare despite a tripling in costs, with the National Audit office reporting am actual continuous year on year loss of overall productivity.
The government has attempted to address the impact of over payment and reduction in services to the public by the implementation of Super Surgeries, which is an attempt to by-pass traditional GP surgeries that have proved inflexible and resistant to change by means of delivering health care through Poly Clinics or Super Surgeries that aim to provide all in one centre's with better management of GP's so as to deliver an improved standard of diagnoses and preventative care which is lacking under the existing system. An additional major improvement will be in the offering of longer opening times so as to meet the needs of the working population that tends to be ignored by the present GP system where working patients are required to usually take half a day or a full day off work that's IF they are able to get an appointment in the first place.
Super Surgeries aim to give the patients the real choice of GP's amongst a number of professionals under strong management guidance, rather than the current system where the GP's are left to their own devices which usually results in diffusion of responsibility amongst GP's within small family surgeries and therefore putting of competent diagnoses to the next GP, with firm management procedures in place to prevent a lax working environment from developing.
The British Medical Association (BMA) (Representing GP's) during much of 2008 fought against the implementation of super surgeries by compiling and presenting a petition of more than 1 million signatures to Downing Street against the implementation of 150 'Super Surgeries' and for existing GP Surgeries to be protected.
The Health Minister, Ben Bradshaw in response lashed out at the scare tactics accusing the BMA of "misleading and mendacious" behaviour in getting patients to sign up to the petition.
"I am not surprised the BMA has collected so many signatures, given the misleading and mendacious nature of its campaign.
"If I were to run a campaign making false claims that something terrible was about to happen, a lot of people would sign my petition too.
"We have received widespread anecdotal evidence of patients feeling pressurised to sign the petition as well as practices telling their patients blatant inaccuracies about local plans." he said.
By Nadeem Walayat
http://www.marketoracle.co.uk
Copyright © 2005-09 Marketoracle.co.uk (Market Oracle Ltd). All rights reserved.
Nadeem Walayat has over 20 years experience of trading derivatives, portfolio management and analysing the financial markets, including one of few who both anticipated and Beat the 1987 Crash. Nadeem's forward looking analysis specialises on the housing market and interest rates. Nadeem is the Editor of The Market Oracle, a FREE Daily Financial Markets Analysis & Forecasting online publication. We present in-depth analysis from over 250 experienced analysts on a range of views of the probable direction of the financial markets. Thus enabling our readers to arrive at an informed opinion on future market direction. http://www.marketoracle.co.uk
Disclaimer: The above is a matter of opinion provided for general information purposes only and is not intended as investment advice. Information and analysis above are derived from sources and utilising methods believed to be reliable, but we cannot accept responsibility for any trading losses you may incur as a result of this analysis. Individuals should consult with their personal financial advisors before engaging in any trading activities.
© 2005-2022 http://www.MarketOracle.co.uk - The Market Oracle is a FREE Daily Financial Markets Analysis & Forecasting online publication.
Comments
Stu
18 May 09, 14:32
Expenses


Giving the money back is the least we should demand from these MP's. They have dragged this out now for over 6 months, trying to normalise the situation, the FACT is MR CAMERON some of the MP's have made a killing off our backs, the rules clearly stated that these MP's should be beyond REPROACH (beyond reproach

So good as to preclude any possibility of criticism) and should claim for things which are ESSENTIAL to MP's. People claiming social security benefits go to prison for less. FACT



jo cohen
18 May 09, 16:30
Gp and hospital medicine


Dear Nadeem

I am usually a fan of your work but this was way off mark. I talk as a hospital consultant with a GP wife and GP daughter.

To talk of GP's being greedy is nonsense, when the contracts were negotiated they were based on the assumption that GP's wouldn't meet certain health targets. The fact is that they did and the government felt miffed at this. Trust me there was plenty of jealousy within hospital consultants towards their GP colleagues, and there are no shortage of hospital consultants who have a very cushy life for their pay eg. most general medicine 'specialists'. However public health delivery depends on a functioning primary care system not on expensive but necessary tertiary care.

The introduction of super surgeries will allow greater management control. It will also destroy the quality of care and leave general practice in the same position hospital care is after 12 years of labour: lots of money spent but decline in many areas of real care. For example the next time you or your relative are in hospital how many different doctors are involved in their care. The loss of continuity of care has been so destructive.

We have surgeons appointed according to tick box criteria and therefore no longer recruit the best trainees into surgery. The best junior surgeons I've seen in the past 10 years have usually ended up in General Practice or emigrated.

I feel your article really does miss several points and trying to draw a parallel between parliamentary shenanigans and important health care issues is incongruous.

Another major point is that it is only GP partners who have made good money recently and typically they have been those well established ( the older and possibly past their sell by types) and newer GP's have been salaried ( newer and usually more knowledgeable in my experience).

I am a fan of the usual high quality of your work and its a shame you've dipped below its usual standard of analysis.



mab
18 May 09, 17:23
Increase MP Pay


MP's pay should be increased to over half a million per year.

I want the VERY best leading our country NOT these clowns currently in charge.

Blears, J Smith, Darling please stand up.

This is why our best and brightest work in the private sector for more money.

ie Branson, Sugar etc.

The poor pay MP's live on compared to the best our country can make in business.



Steven Forde
18 May 09, 17:26
Doctors Slam MP Pay deal


An influential committee of doctors has slammed the pay deal granted to MPs as offering poor value to the taxpayer. MPs earn 250000 a year* yet constituents cannot visit them in their surgeries on a Saturday morning or in the evening. Despite record pay rises (voted for by themselves) they have failed to make themselves more available. Changes to their contract in recent years have seen a dramatic reduction in OOH (out of hours) sittings in the Commons yet their salaries have risen at the same time. The committee was dismissive of claims that the reduction in OOH was to make the job more family friendly.

The doctors were also highly critical of the long holidays that MPs take. They sit in parliament for only 208 days a year, and don't work weekends. A spokesman for the BMA (British MPs' Association) claimed that much of the remaining time was spent dealing with "administrative" duties in their constituencies, but the committee suspected that it was more likely that they spent it doing private practice as paid advisors and company directors. The gold plated pension scheme, which sees MPs retiring on full pensions after only 20 years' service, was also felt to be a further unnecessary contribution to their excessive remuneration.



JohNW
19 May 09, 00:26
NHS Docs and MPs Heads in the Trough


Mab,

Well then, if we're going to increase MPs pay by 6x then we must have a commensurate decrease in the number of MPs claiming that figure. No net increased expenditure on MPs should be the watchword.

I'm all for paying for quality - we need MANAGERS who can run GB PLC as a business, turning a profit.

As for doctors. as a consumer, I'm all for the idea of polyclinics as suggested. I'm also for the idea that patients are charged a fee to see a GP - with no exemptions for benefit claimants and the like. The only exemption I would give would be to pensioners who have paid their taxes in the past. GPs pay is a whole new ball game that deserves serious renegotiation to give the taxpayer better value for money.



Mary Hawking
19 May 09, 01:04
Comparing apples and pears - let alone your figures are wrong.


I'm not sure where you get your figures from - but as far as GPs go, they seem to be different from everyone else's!

Let's clear up a few misconceptions: GP pay - and this is the pay of GP partners, corrected, I think, to WTEs - comes from tax returns - i.e. income from all sources, NHS - practice and other - and private: and all GPs have some private income, if only from insurance reports.

Tax is paid on everything - and any expenses - both private and for the practice (business) ruthlessly scrutinised by the Inland Revenue.

The 2003 nGMS contract was *intended* to increase GP pay and give the opportunity to reduce the 24/7 commitment (at a price of 6% of basic income) previously in place to a more manageable practice cover of 52.5 hrs per week. The previous system(take Average Intended Income, add expenses and multiply by the number of GPs in post - and then claw back any overspend the following year) had resulted in a workforce crisis with rapidly falling numbers of GPs - and therefore reduction in the funding of general practice.

I agree with the surgeon - the government insisted - despite advice from the BMA - on restricting the funding of the basic practice expenses and putting most of the funding into performance related pay.

I'm not sure why they are so surprised that GPs performed so well.

Despite this (and the statement that GPs are in a position to "award" themselves anything - we're not MPs!) GP income has been level since 2006 and now is falling slightly: hardly surprising after 3 years of no increases and rising costs.

Where do the MP income figures come from? Do they include income from all sources?

And what hours do they work?

I highly recommend reading "How to lie with statistics" and listening to "More and less" on Radio 4!



Nadeem_Walayat
19 May 09, 05:57
GP Pay
Hi Mary / Jo The data is from various reports from the National Audit Office - http://www.nao.org.uk

I.e. a direct excerpt below -

In the first three years, pre-tax take home pay for GPs in England (including income from NHS and private sources) increased by 58 per cent (from 72,011 in 2002-03 to 113,614 in 2005-06). The average pay for a GMS partner increased to 110,054 and a PMS partner to 121,375. This excludes the amount of money surrendered in opting out of providing out of hours care. Practice nurses and salaried GPs, who form part of the practice team, have not benefited to the same extent with pay rises largely in line or indeed below inflation. [Footnote 6]

many salaried GPs work only part-time hours. The results of a workload survey published in July 2007 by the Information Centre for Health and Social Care indicated that the average salaried GP works 23.8 hours per week. The Departments Business case suggested there would be an increase in NHS productivity (1.5 per cent gain year-on-year). The Office of National Statistics (ONS) has subsequently developed new quality-adjusted productivity measures for health. These estimates suggest productivity has fallen in the NHS since 2003 even when quality adjustments are made to the output measure. The ONS has separated this measure to approximate for GP services and estimates that productivity has fallen by an average of 2.5 per cent per year in 2004 and 2005. Whilst this is only an approximation, this result is supported by our finding that the number of consultations carried out in GP practices has increased but at a much lower rate than the increase in costs.

As I said many, many docs on the NAO website

heres one from which the above is taken - http://www.nao.org.uk/publications/0708/new_contracts_for_general_prac.aspx

basically the facts are that GP's did increase their wages by the amounts stated in my article whilst at the same time cutting back on hours worked - That IS a FACT.

Anon
19 May 09, 23:47
Untouchable and overpaid Greedy GP's


The problem we've got is that GP's are basically untouchable. If you have a complaint against them, then unless you let it go, you are more than likely to be deregistered for your pains. The Trusts don't seem to give a fig about a patient's complaint(s) and as for the GMC who believes or trusts in them - I don't. The impression I also get is that the GP's are holding the NHS to ransom, obscenely high wages, ridiculous hours with the threat of doing what the greedy and dispicable Dentists did when they chucked everybody off their NHS lists and went after the big money in the private sector and not giving a damn about those effected by their actions.That's what I think is the cause of our current problems greedy and untouchable GP's who can basically do what they want, because the Government is terrified that the Gp's follow the actions of the Dentists and by doing so bring the entire NHS into complete and utter meltdown. To which the Gp's are well aware of.



Sarah
20 May 09, 00:29
Untouchable and overpaid GP's


This is just to say thank you to my GP who diagnosed me as being completely infertile last year only for me to find that it was not my seriously polycistic ovaries he was refering to. We are now looking forward to the birth of our fourth child and have understndably changed doctors. Overpaid - most certainly, Untouchable - said doc gave a small smile and said god works in mysterious ways. I suppose that answers that then.



Liam
20 May 09, 02:12
doctors pay


They earn £500 per hour,only work office hours,are often little better than useless and retire early with fat pensions.



chris johnstone
20 May 09, 05:10
expenses


I had heard that it was the massive amounts of money that the financial marlkets were maiking and the huge bonuses paid to company directors and traders which had sparked the greed of MPs. The expense scandal started in the 80s under Thatcher when the Pariamentary rules were relaxed as were the strictures on the money markets. MPs allowed the markets to go mad under deregulation and thought they deserved some as well.



Helen
20 May 09, 13:22
Corrupt Banks, MP's and NHS


The Bankers are corrupt

The politicians are corrupt

The NHS doctors are corrupt

Get rid of the lot of them!



Gary
24 May 09, 17:56
GPs


GPs are greedy, but not all NHS doctors are corrupted.

Many underdogs, like staff grade, associated specialists and hospital consultants (i.e. Consultant Physicians) got paid between 30,000 - 68,000 pounds. Many hospital consultants work privately to supplement their income and yet, most of them will rarely get more than 90,000 (Despite working almost every other weekend).



Martyn
25 May 09, 06:01
Crap GP Service


I work as a Technician in the Home Counties.

My colleague and I went to a GPs practice where the GP stated that she suspected that this man was having an MI. The genlemen was a 52 year old male, overweight and former heavy smoker - so it was quite possible.

My colleague then asked her if she had done an ECG. "No." she replied "I was too busy with my other patients!

We looked around and the practice was closed - there was no one else about other than the receptionist.

Again the patient had no O2, no aspirin and no GTN.

When I asked my colleague about our options or reporting the GP (I asked him as I'm new to this and he's not) he told me that there is little that we can do. GPs are way higher up the chain than we are and who are we to question their medical treatment.

As others have said - if that were one of my loved ones I would be livid with the care that was given.



Whisky
25 May 09, 06:03
Gp's Not doing their jobs!


Ooo i recently went to hospital after suffering abdominal pain and vomiting for over three weeks. I regualarl visisted two different GPs fo this problem and was told it was nothing to worry about. The Consultant at A'n'E diagnosed peritonitus within 5 mins and from the scans and bloods estimated that i had been suffering from peritonitus for two weeks. Both the Consultant and I were well pissed with my useless GPs.



Sally
25 May 09, 19:48
Gp's over paid


In rather the same way that Gordon Brown has dug his own hole on the economy - and now doesn't have a clue how to get out, successive Labour Health Secretaries have dug a hole on the issue of GPS and now don't know what to do about it!

Undoubtedly "something" needs doing - GPs are apparently paid over £100k pa. I haven't met one yet who I would pay anything like this much, and since the deal that gave them this princely sum ours has shut up shop on Saturday mornings. It takes a fortnight to get a non-urgent appointment and then results in an argument if one of the (hordes of) receptionist type persons has "forgotten" to enter the appointment on the computer.

Patients are treated in a very cavalier manner - as if they have all the time in the world and their time is worthless. The GP I am registered is currently on a 6 month sabbatical and when he returns it will not be to the surgery nearest (circa 4 miles) to my home but to one 4 or 5 times further away. How did I find out about this? By accident when I "happened" to see the notice pinned up alongside the reception window.

The service may well be "free at the point of use" but we patients are a captive audience - we pay whether or not we are satisfied with the service!!!!

No other country has copied our scheme indeed many in the US, whilst considering what scheme they should have, are counselling very strongly against copying ours.

Something similar to Holland and France would seem to be the way to go.



Andrew Mimnagh
01 Jun 09, 11:56
GP pay linkage


Dear Nadeem,do your homework an old idea. At the onset of the NHS GP pay was determined by the "Pilkington Pay commision" which linked GP pay against the mean value of 3 similar professions based on historical tax returns- Baristers Actuaries and Bankers. It was abandoned in 1969 as the state could not afford to match the pay rises of tyhjose index professions for a so called "independant Salary review body" ever since then there has been an annual rsecommendation which has only been implemented in full ie the full ammount at the right time on a handfull of occasions.

The "new GP Contract2is a public sector productivity deal and until you get NALGO and UNison agreeing the same for their members do not knock it!



Robin Meadows
02 Jun 09, 10:24
Thank God for the NHS and Its Staff


We have an excellent practice near us, The staff there are always friendly and my GP has been an immense support to me, ever since my daughter died of leukaemia.

If as i understand it, these doctors are on performancerelated pay, i ahve no problem with them being rewarded for doing a good job. I certainly wouldnt want to go back to the dank and dark days of the NHS and British Leyland attitudes of the 1970' where a minority of idealogical people enforced their beliefs on public services.

Well done NHS. Its only a shame MP's and nurses dont get performance related pay too.



Graham
02 Jun 09, 10:43
NHS Britsh Leyland


Yes the NHS is just like British Leyland, a funding black hole.

The point is that GP's are getting paid double for doing LESS work, so I guess they have rigged the system just as MP's have, unfortunately GP's have their snouts in the trough for life!



Dan
02 Jun 09, 11:03
Brilliant Article


Dear Nadeem

Thank you for your article.

I am a GP and I nearly wet myself laughing, especially at how many commenters were taken in by it.

A brilliant pastiche of New Labour doublethink and a fantastic example of how many people are happy to believe whatever they read if it supports their own prejudices.

I take my hat off to you sir.



Sally
21 Nov 09, 09:28
GP Pay


This really is such a load of nonsense and demonstrates that commentators have no idea how NHS General Practice works.

OK - what is a reasonable salary for a salaried GP?

OK..now what about for a partner, owning the business, taking on all the managerial and employer hassles as well as being a doctor?

OK..add to that buying your own building, being legally liable for all the actions of your employees?

Now what do you get?

NHS GP is a BARGAIN for the taxpayer. Don't believe me? OK Make us all salaried! I will be only too happy to work 37.5 hours a week and start taking sick leave and all the other perks of being an employee...oh and the taxpayer can buy my building and employ exepensive managers to do the management that I've been doing in my spare time.

Only then will you realise what you have demolished. NHS GP is a high quality, publically orientated (generally acting well as a gatekeeper to expensive hospital services) and, all things considered cheap service.

No long summer recesses, grandiose lunches, gross expenses or lack of public access for us.

But the damage is done with a generation of doctors planning their retirement and telling their children to think of anything but medicine!

The reality is that GPs are appropriately paid for their workload, MPs are probably underpaid. They should stop attacking us and sort out their own salaries/expenses.




10 Mar 11, 09:15
GPs way overpaid


Nowadays, GPs are nothing more than receptionists for specialists. They should be paid accordingly i.e. no nore than £30,000 year. This is actually a very good salary for a receptionist working for 20 hrs/week. If they feel unsatisfied with such a salary then they can go into a medical speciality which is actually useful for the public such as accident and emergency or orthopaedic surgery.




Only logged in users are allowed to post comments.
Register/ Log in