D-Day for Gordon Brown Following Labour European Elections Crash
ElectionOracle
/
European Elections
Jun 06, 2009 - 07:29 PM GMT


Gordon Brown having survived Friday's reshuffle by the aid of Lord Mandelson's arm twisting persuasion of the remaining Cabinet Blairites to not bring the Prime Minister down after Mandelson himself was bribed or awarded with the new title of First Secretary of State, but revelation of the content of his emails shows Mandelson's loyalties are just skin deep.
Resigning Ministers, James Purnell and Caroline Flint stuck their daggers into Gordon Brown on Thursday and Friday with the expectation that they had delivered a fatal blow to the PM. However Carlone Flint's actions illustrated how Labour MP's especially in the cabinet have lost touch with reality in that they believe that it is their god given right to have a seat at the cabinet regardless of the fact that they have increasingly shown themselves to be incompetent in their posts. For instance Carline Flint as Minister of Europe is about to deliver the Labour Government its worst European Election results EVER!, despite gross incompetence she felt anger that she had not been promoted to the cabinet and cried foul of an inner circle, perhaps Gordon Brown is maintaining an inner circle of those that are more competent in their jobs whilst trying to keep the incompetent hangers on a little further distant.
The plotters comprising, Hazel Blears, John Hutton, James Purnell and Caroline Flint had hoped cabinet heavy weights such as David Milliband, and Alan Johnson would have followed suit and thus brought down Gordon Brown on Friday, but the promoted / bribed Lord Mandelson out manoeuvred the plotters and prevented a mass resignation of cabinet members on Friday.
Gordon Brown shown himself to be an extremely weak Prime Minister as despite alluding to all week, in the final act he was incapable of getting rid of Britains incompetent Chancellor of the Exchequer, Alistair Darling who basically refused to go from his post and forced Gordon Brown to keep him on for another 12months, unless the expenses scandal does not claim him first. Clearly Gordon Brown was never meant to be the Prime Minister as he has repeatedly shown himself to lack the capability to make decisions, this was never more evident than during October 2007 when he bottled out of calling a general election. I warned that he had blown his chances of winning the next election and given that the economy was on the crest of the wave of a housing market crash which implied that the next election could not take place until May 2010.
The statement clearly indicates that there will be no election during 2007 or 2008, and given the economic circumstances of expectations for sharply lower growth during 2008 and 2009, it is highly likely that Gordon Brown will now postpone an election until the full five year term is over. Which now suggests the next UK general election will be in April or May 2010.
As things look today, Gordon Brown appears to have well and truly blown his chances of getting re-elected at the next Election in 2010. - Nadeem Walayat - October 2007.
Will Gordon Brown Stay or Go ?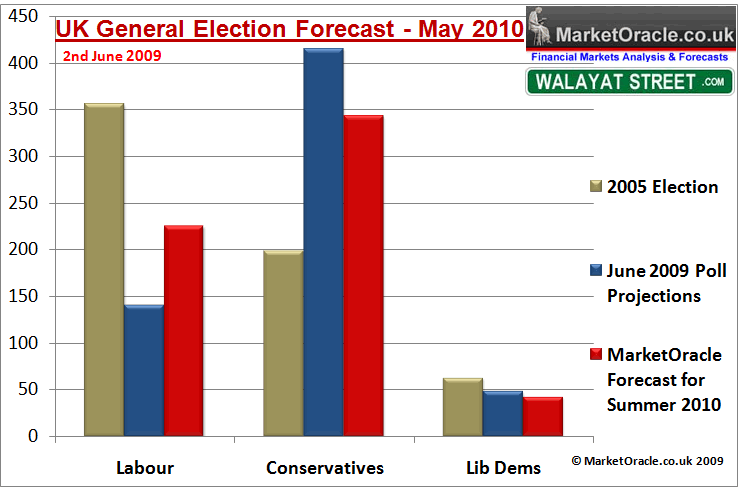 My recent in depth analysis of the UK economy concluded that a debt fuelled bounce in the economy is underway that will to large extent prevent a total wipeout of Labour MP's at the next election as long as it was delayed until May 2010 Election, which projected a Labour parliamentary party on 225 seats, Conservatives on 343, which is significantly less than the landslide of 414 seats being bandied about in the Tory press this week (The Sun). By May 2010, the expenses crisis will be old news as people will be starting to feel the impact of the economic recovery in areas such as house prices, unemployment, earnings and off course a reluctant mainstream tory press having to write articles acknowledging the recovery, though will the press be able to make the connection between the deficit spending debt of £500+ billion to generate £67 billion of electioneering growth or not?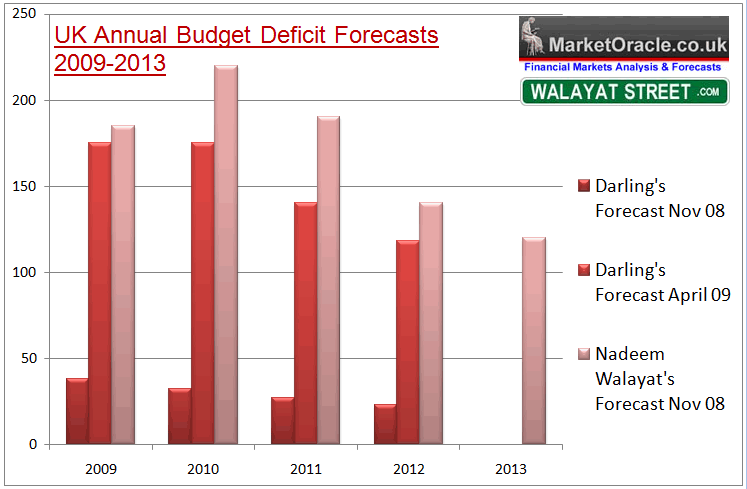 Therefore for Labour to change their leader now would be literally political suicide, as they would be forced to go for an early general election with in a matter of months, long before the full impact of the debt fuelled economic recovery has kicked in.
The Conservatives are off course desperate for an election sooner rather than later for each month passes will diminish the size of their eventual majority, which by 2010 will result in a pretty weak government that will not be able to restructure the economy i.e. implement deep cuts in public sector spending black holes, which therefore implies continuing large budget deficits and hence Labour will have succeeded in delivering a scorched earth economy to the Conservatives which would set Labour up for a strong win and perhaps a landslide victory in 2014-2015 election, off course under a David Milliband Leadership that could usher in another multi-term Labour government.
All in all, from a political perspective the strategy of a scorched earth economy is the only option remaining for Labour as long as the rebel wing of the party does not press the self-destruct button on Monday and thus deliver the Conservatives a landslide victory. Which I doubt that they will do as the vast majority of the Labour party back bench MP's are socialist in nature even if the expenses scandal has shown socialism to have become a catch phrase to bleat at voters than carry's any real fundamental meaning. Therefore the purging of right wing Blairites from he Cabinet that we have seen this week will have the effect of marginally strengthening Gordon Browns position, though he most definitely has become a bankrupt Prime Minister who after a decade of ramming the word Prudence down the British electorates throats is hell bent on bankrupting the country to maximise the number of Labour MP's. Which given the selfish nature of most if not all MP's looks set to ensure that Labour MP's will stick by Gordon Brown despite despising his leadership.
Public perceptions of the Prime Minister hit a new low when in an unprecedented and highly embarrassing manner Gordon Brown was booed by the crowds at the D-Day event in France, it is still not clear who did the booing and exactly why, but snippets in the media are suggestive of it being from British Veterans for turning up late.
By Tuesday 9th of June we will know if the above analysis is accurate or not, or whether Labour MP's have decided to take a gamble on a David Milliband premiership by grasping at straws that they may actually stand a chance of wining the next election, something that I see as a near impossibility as there are far too many ex-ministers on the Labour back benches who have nothing to lose and much ego to prostrate in front of the media to criticise the front bench, much as happened during the dieing years of the Thatcher Premiership with a long line of egotistical ex-minister's taking pleasure in the havoc they rained down on their Leader resulting in a crippled John Major government, therefore 5 years in opposition will do the Labour party a great deal of good, as it will allow time for all the bitter and twisted ex-ministers to leave parliament and new enthusiastic fresh blood to enter who do not have an axe to grind.
By Nadeem Walayat
http://www.marketoracle.co.uk
Copyright © 2005-09 Marketoracle.co.uk (Market Oracle Ltd). All rights reserved.
Nadeem Walayat has over 20 years experience of trading derivatives, portfolio management and analysing the financial markets, including one of few who both anticipated and Beat the 1987 Crash. Nadeem's forward looking analysis specialises on the housing market and interest rates. Nadeem is the Editor of The Market Oracle, a FREE Daily Financial Markets Analysis & Forecasting online publication. We present in-depth analysis from over 250 experienced analysts on a range of views of the probable direction of the financial markets. Thus enabling our readers to arrive at an informed opinion on future market direction. http://www.marketoracle.co.uk
Disclaimer: The above is a matter of opinion provided for general information purposes only and is not intended as investment advice. Information and analysis above are derived from sources and utilising methods believed to be reliable, but we cannot accept responsibility for any trading losses you may incur as a result of this analysis. Individuals should consult with their personal financial advisors before engaging in any trading activities.
© 2005-2022 http://www.MarketOracle.co.uk - The Market Oracle is a FREE Daily Financial Markets Analysis & Forecasting online publication.
Comments
John G.
07 Jun 09, 04:13
Brown a disaster


Gordon "end to boom & bust" Brown was an utter disaster as Chancellor & as Prime Minister. Despite high economic growth he failed to paydown the Nat Debt but instead inreased it to £2 Trillion. He continuously puts self before country & party which is why I expect him to cling on.



Trigger
07 Jun 09, 04:33
election


Changing the leader will not help save the party from losing the next election, the electorate does not elcet a Prime Minister it elects a local MP and it is the MP's that will lose the election not Gordon Brown. The Labour MP's were in favour of open door immigration the electorate were not.



Steve
07 Jun 09, 04:45
Voted for Blair


Changing the leader won't help. It all went wrong when too many Labour MPs and party activists started to convince themselves that people had been voting for the Labour Party since 1997. They hadn't. They had been voting for a Labour Party led by Tony Blair.



Marvel
07 Jun 09, 05:08
Blair / Gordon


If Gordon Brown and his cronies hadn't pushed Blair out earlier, he would now be in prime position (pardon the pun) to take over as PM just when Labour is in dire straits and in need of fresh leadership. The economy and the rest of the world would be in the exact same situation it is today because Brown's Chancellorship is what made Britain so "well placed" to survive the economic crisis anyway. Darling's task has essentially been to continue Brown's legacy, so it's as makes no difference.

If Blair was still in charge and Brown was still the promised PM-in-waiting, today would have been Gordon Brown's chance to take over in triumph and lead New Labour to glory at the next election. His mantra of "we will take real action in order to take the necessary actions" wouldn't sound so tiresome as it does now, and his back-benchers wouldn't have to struggle so hard to appear sincere in their support for him as they were running for the hills.

Too bad lust for power caused a premature premiership, Mr. Brown. If you and your thralls didn't think you could win an election last time, what makes you think you can do it next year?



James M
07 Jun 09, 06:09
Flint is pretty


Wonder
07 Jun 09, 10:10
Blair back?


If I were a Labour MP seeking re-election I'd want a caretaker leader to take charge up until the General Election who was likely to optimise the Labour vote. I'd look around and despair until a wild thought crosses my mind - T. Blair. Brown could resign on health grounds and it would be necessary to replace him with a really experienced PM who could navigate the country through the economic trouble ahead. No time for an amateur and all that.

I don't think that even Blair could win the next election for Labour but my guess is that he'd save the bacon of quite a few Labour MPs in marginal and not so marginal seats.

Campbell and Mandelson could spin the whole thing in their sleep. Blair rules the roost for nine months or so then resigns after calling an election having 'saved' the Country. Next stop - European Emperor.

Don't forget you read it here first.



TM
07 Jun 09, 13:11
Brown better than Cameron


Now is not the time to be putting the trust in a bunch of tory novices, who's only understanding of British life is public schools, red brick universities and country clubs.

The real people of Britain will stick by Gordon Brown, and our PM is showing incredible backbone and resilience.

Brown is also making the right moves to pull us out of recession and sorting out parliament. On two fronts he's succeeding. He will need a bit more time, but he'll pull it off. He's weeded out the backstabbers and his cabinet is actually stronger for it.

With a political genius such as Mandelson behind him, Brown will come through this and win the next general election.



kim downie
08 Nov 09, 16:20
glencraft jobs


To mr brown i am writing to ask you to help with the 35 jobs for the blind and disabled for glencraft.

There is 35 men and women who have devoted 20 30 maybe 40 or more years to the company and now have lost all hope for finding a job my father is one of them.

It is hard enough for able bodys in there 20's to find a job at at any time of the year and even harder to find 1 at christmas so what hope do the blind and disabled men and women have.

So please try and do all you can to help them and there family's as it has been a real strain on my family and cant even to begin to no what other family's are going threw with young children and christmas just round the corner so please please can you try and get some help thanks




Only logged in users are allowed to post comments.
Register/ Log in