British Motorists Fronting Young Drivers on Car Insurance to Cut Premiums
Personal_Finance
/
Insurance
Jun 10, 2009 - 02:43 AM GMT


Money conscious Brits are breaking the law by "fronting" on their car insurance to save cash, according to research from moneysupermarket.com.
Research1 shows one in five drivers (19 per cent) have or would consider fronting on their motor insurance policy to save money
Confusion rife with one in three (31 per cent) saying fronting is legal
The UK's leading price comparison site found a fifth of drivers (19 per cent) have, or are considering, insuring their child's car in their name and then adding the child as a second named driver even if they will be the main driver of that vehicle; a practice known as fronting (see Q&A in notes). The research reveals motorists are split as to whether the practice is legal or not, with 31 per cent thinking it is allowed, 34 per cent arguing that it is against the law, and 35 per cent admitting they don't know.
Steve Sweeney, head of motor insurance at moneysupermarket.com said: "Fronting is illegal and will be classified as fraud by an insurer. Those considering lying to their insurer to save money are playing a very risky game. A motorist claiming to be the main driver - when this isn't the case - is a dangerous move. It may save you some money but if caught, your insurance will be invalidated and a younger driver could face court, charged with driving without insurance.
"It's staggering to see the lack of awareness around the practice of fronting - how worrying that such a large percentage of motorists think it is either legal to do so or don't even know."
The research also reveals there are honest drivers getting behind the wheel, with 22 per cent of motorists stating they would not run the risk of fronting - 12 per cent of those acknowledging their insurance claim might not pay out if caught doing so. Those living in Northern Ireland and East Anglia were the most honest drivers, with 36 and 33 per cent respectively stating they would not insure their child's car in their name. It's a different story in London and Wales though, where only 15 per cent and 17 per cent respectively would tell the truth to their motor insurance provider.
Steve Sweeney said: "I am glad to see there are motorists out there with a clear conscience who are wise to the dangers of fronting. Driving is expensive, and younger drivers will find they need to dig deeper into their pockets to cover themselves, with insurance for an 18 year old male starting at around £2,6002. However, it's not worth skimping on this cost to find your insurance not paying out in the event of an accident. Having your own insurance policy will also allow you to build up your own 'no claims discount' which will help reduce the cost of your policy in the future. I would urge anyone thinking about fronting on their motor insurance policy to think twice as it really isn't worth the risk."
moneysupermarket.com offers the following tips to younger drivers to cut motor insurance costs:
Shop around - The Association of British Insurers says you can save 35 per cent by comparing as few as five insurance providers.
Buy online - Many car insurance providers offer discounts to customers that buy online.
Mileage limit - Consider a mileage limit or to only drive at certain hours of the day.
Car security - Make sure you have an alarm and immobiliser.
Drive a car with a smaller engine - A newer, more reliable car that is less likely to be used by 'boy racers' will have a cheaper premium. Aim to drive a car like this for at least two years after passing your test - and forget about turbo-charged cars, with big spoilers, fat tyres, alloy rims and other "sexy" extras.
Parents - If at all possible, avoid being added to a parent's insurance policy. It prevents you from building up your own no-claims bonus. And if you are the main driver or registered keeper of the car, DO NOT insure it in your parents' name and put yourself down as a named driver. This is known as "fronting" and in the event of an accident it could mean the claim is not paid. Moreover, the younger driver can be charged with driving without insurance.
Pass Plus - This is a certificate where a young driver who has already passed his or her driving test receives specific lessons in night, motorway and town traffic driving; achieving Pass Plus can earn significant discounts (as much as 35%) on your car insurance.
Payment method - Drivers looking to keep the cost of their car insurance manageable may opt for the convenience of paying by monthly instalments, rather than in an annual lump sum. Those who decide on monthly repayments can expect to pay an additional APR for this option though, so shopping around for the best deal is crucial.
Notes:
1 Research undertaken by Opinium Research based on an online poll of 2,009 British adults between 21st April and 24th April 2009. Results have been weighted to nationally representative criteria. http://www.opiniumresearch.com/
2 Insurance premiums for a young driver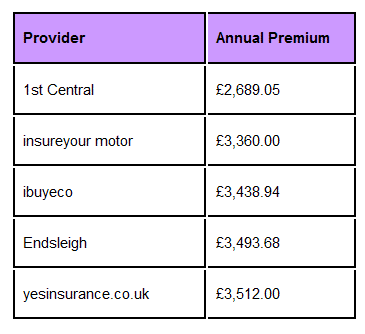 Sourced by www.moneysupermarket.com
Based on 18 year old male (Student) driving a Ford Fiesta Flight 1.3, Living in ME15, 10,000 miles a year with 0 years NCD, car parked on drive.
"Fronting" Q&A
What is "fronting" in terms of motor insurance?
When the main driver of a car falsely informs his or her insurance company that another driver is the main driver. For example, when a young driver is the main driver of a car but falsely informs his or her insurance company that a parent is the main driver.
This can reduce premiums by hundreds of pounds but can also result in claims being rejected and criminal charges.
How can I tell if I / my family is "fronting"?
Insurance for a young driver without any no-claims bonus can be very expensive (c. £3000 per annum). As a result vehicles that are in reality owned by young drivers are being registered in parents' names and insurance policies completed with a parent as the main driver.
If a parent takes out motor insurance as the main driver on someone else's (their child's) behalf to reduce the premium, that is classed as fronting,
If you are unsure of exactly what your insurer would class as "fronting", i.e. how often a parent drives the car versus how often the child drives it, the speak to your insurer to clarify its individual rules.
How can my insurer catch me?
If, when a motor insurance claim is made, and the insurer suspects "fronting" may be involved, it will launch an investigation into the case, i.e. to find out who exactly is the main driver of the car.
For example, if an accident occurred at university hall of residence, this may cause the insurer to suspect fronting.
What will my insurer do if I am caught?
Those caught 'fronting', can be charged the correct premium as a lump sum, or could have their policy cancelled altogether. Cancellation, which has to be declared on future policies, also raises the price of future car insurance as many prospective insurers will refuse cover.
Insurers can refuse to pay-out for any claims or can settle a third-party claim and recover the cost from the parent if caught out.
Furthermore, if the insurer declines a claim, the young driver could be seen to be driving without insurance - amounting to fraud. This could lead to high fines and six penalty points (an automatic ban for new drivers).
By moneysavingsupermarket.com
The Price Comparison Site
Disclaimer: The above is a matter of opinion provided for general information purposes only and is not intended as investment advice. Information and analysis above are derived from sources and utilising methods believed to be reliable, but we cannot accept responsibility for any losses you may incur as a result of this analysis. Individuals should consult with their personal financial advisors.
© 2005-2019 http://www.MarketOracle.co.uk - The Market Oracle is a FREE Daily Financial Markets Analysis & Forecasting online publication.

Only logged in users are allowed to post comments.
Register/ Log in