Price is Everything in Today's Housing Market!
Housing-Market
/
US Housing
Jun 01, 2007 - 10:03 AM GMT

Mike Larson writes : There is demand for housing out there. Yes, you heard me right — people are willing to buy homes.
There's just one catch: The prices have to be low!
That's one message from the April housing data. The other is that we are literally swimming in homes for sale — condos, town houses, single-family homes, you name it!
Let me tell you what this means …
New Home Builders Are Finally Starting to Get Something Right
For a long time, the home builders acted like deer in the headlights. They saw sales slow, but kept churning out homes. And even when they started cutting production, they kept staffing levels up under the assumption that any dip in home demand would be short-lived.
But lately, they've started to get the message. They realize the market still stinks so they're taking drastic measures:
We've seen several builders take large write-downs on the value of land and options to buy land.
We've seen builders lay workers off and drive tougher and tougher bargains with subcontractors. For example, Pulte Homes just said it would eliminate 16% of its workforce, or about 1,900 jobs.
And we've seen builders apply for fewer and fewer permits to construct new homes. Permit issuance plunged 8.9% in April, the largest one-month decline since 1990. At 1.429 million units, the seasonally adjusted annual rate (SAAR) of permit issuance was the lowest in almost a decade.

Cutting production is one way to get inventories in line with sales. Another way is cutting PRICES. And that's exactly what new home builders did in April …
The median price of a new home plunged 10.9% year-over-year to $229,100. That was the biggest drop in almost 37 years!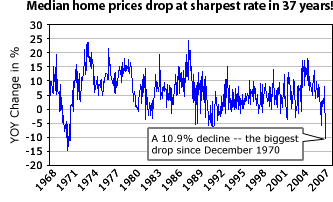 A hefty 16% rise in sales volume to 981,000 units (thanks to those price cuts) helped bring for-sale inventory down to 538,000 units, almost 5% less than a year ago. But that doesn't mean new home builders are out of the woods — not by a long shot. After all, we're still sitting on a mountain of inventory.
Heck, throughout the 1980s and 1990s, it was customary to have about 300,000 to 320,000 homes for sale, with a couple of peaks in the 370,000 range. That means inventory, at 538,000 units, is still a couple hundred thousand units above anything you can consider normal. Bottom line: We'll likely see more pressure on new home prices.
Meanwhile, People Selling Existing Homes Still Aren't Seeing the Big Picture …
The existing home market represents about 85% of all sales in a typical month, so it's much larger than the new home market. But people trying to sell their current homes either can't or won't cut their prices enough to draw buyers back into the fold.
Just look at the April numbers:
Median prices fell 0.8% year-over-year to $220,900. That was a record ninth month in a row of declining prices, but it just wasn't enough to boost demand …
Sales dropped 2.6% from March to a 5.99 million seasonally-adjusted annual rate. That was was the worst reading since June 2003.
The supply of homes for sale shot up 23% year-over-year to a record high of 4.2 million properties.
Want to get a sense of just how big that 4.2 million number is? Well, up until the boom started going bust, we typically had anywhere from 2 million to 2.5 million existing homes on the market. That means we're oversupplied to the tune of 1.7 million to 2.2 million homes. Yikes!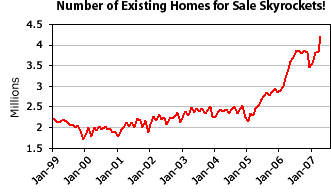 In terms of how many months it would take to sell all the homes on the market, we're at the highest level since 1992.
What This Means for The Housing Market
If you're a buyer, the world is your oyster right now. Home builders are throwing everything but the kitchen sink — and sometimes even that — at people willing to sign purchase contracts.
And sellers of existing homes will come around sooner or later. Until they do, drive a hard bargain. If they won't meet your price, consider walking away.
Another tip: Foreclosures are starting to ramp up. Unlike normal sellers, banks usually don't mess around. They price aggressively to move properties off their books. So you may find some good deals if you're willing to do the legwork.
If you're selling, I have one piece of advice: Get realistic! This isn't the market we had last month, last quarter, or last year. It's a whole different ballgame. You're competing against aggressive builders. And you're trying to sell into a market with the largest number of homes for sale in U.S. history. So you have to price your property right if you want to get serious buyer traffic, to say nothing of a sale.
And I haven't changed my longer-term housing forecast one bit: With so much supply on the market, we're likely to have an extended period of weakness — relatively lackluster sales, elevated supply, and stagnant or slumping prices. A lasting recovery is not likely until later in 2008, if then.
Until next time,
By Mike Larson
This investment news is brought to you by Money and Markets . Money and Markets is a free daily investment newsletter from Martin D. Weiss and Weiss Research analysts offering the latest investing news and financial insights for the stock market, including tips and advice on investing in gold, energy and oil. Dr. Weiss is a leader in the fields of investing, interest rates, financial safety and economic forecasting. To view archives or subscribe, visit http://www.moneyandmarkets.com .
© 2005-2019 http://www.MarketOracle.co.uk - The Market Oracle is a FREE Daily Financial Markets Analysis & Forecasting online publication.
Comments
badari
11 Jun 07, 14:15
Nice article


Informative and Nice article. As a buyer it helps me in taking a position on the price of the house i buy, knowing the overall picture.

Thanks for the article.




Only logged in users are allowed to post comments.
Register/ Log in