The Greenspan Experiement and Gold
Commodities
/
Gold & Silver
Jun 12, 2007 - 12:07 PM GMT

Apparently that's what we are unfortunately destined to continue living in, the Frankenstein economy he largely created during his tenure at the Fed, and continues to influence to this day. To this, whether intentional or not, and like his most famous irrational exuberance warning from 1996, his comments have the effect of getting people to react, which in the end is to the Fed's benefit. That is to say, if more people run out over the next couple of days and short the stock markets around the world because of this most recent warning on Chinese stocks , then the Fed's mandate will be aided considerably with the floor that will put under prices, that being the maintenance of price stability. So you see, this is just Al the egomaniac extending his influence throughout the world, along with that of the Fed, and the US effectively of course.
Is that the only thing Al and his buddies are attempting to do here? Heck no. If they can, I'm sure they would like to take advantage of the precarious technical position gold is facing at the moment and break it down a bit further if possible. Not only would such an accomplishment possibly help out Christmas bonuses for his buddies this year, which is a large part of the over all (hybrid) wage picture you should know, no doubt Al's ego is still at work in hoping his legacy will be preserved. And how appropriate – a Frankenstein economy for a guy who looks like Mr. Magoo. One thing is for certain – it's getting more difficult to separate reality from fiction these days. That's for sure.
Be that as it may, and based on what we know about the solid floor under the larger equity complex due to all the short positions discussed in our last meeting , at this point it appears unlikely stocks, or gold, will tumble as a result of this jawboning episode, where as I write Chinese stocks are only down marginally, and are in fact poised to close higher. As mentioned above, no doubt many speculators are shorting stocks all around the world these days because of this warning, establishing a higher floor price for stocks at current levels. So like the post 1996 experience, Greenspan's warning should have an opposite effect, at least for a while. What's more, attempts to push gold lower should also be thwarted if this assumption proves correct. Again however, such an observation does not mean gold will be able to overcome technical drag associated with monthly influences indefinitely (on an intermediate basis throughout the summer months), but never the less, a short-term bounce here would be encouraging, at a minimum.
Let me explain this further. If one were to have the benefit of only a monthly gold chart in assessing future prospects for gold, where technical indicators are precariously poised, the logical conclusion would be prices are more likely to head lower. Here is a detailed look of the monthly for those of you without StockCharts.com memberships, and for this reason unable to view such images. (See Figure 1)
Figure 1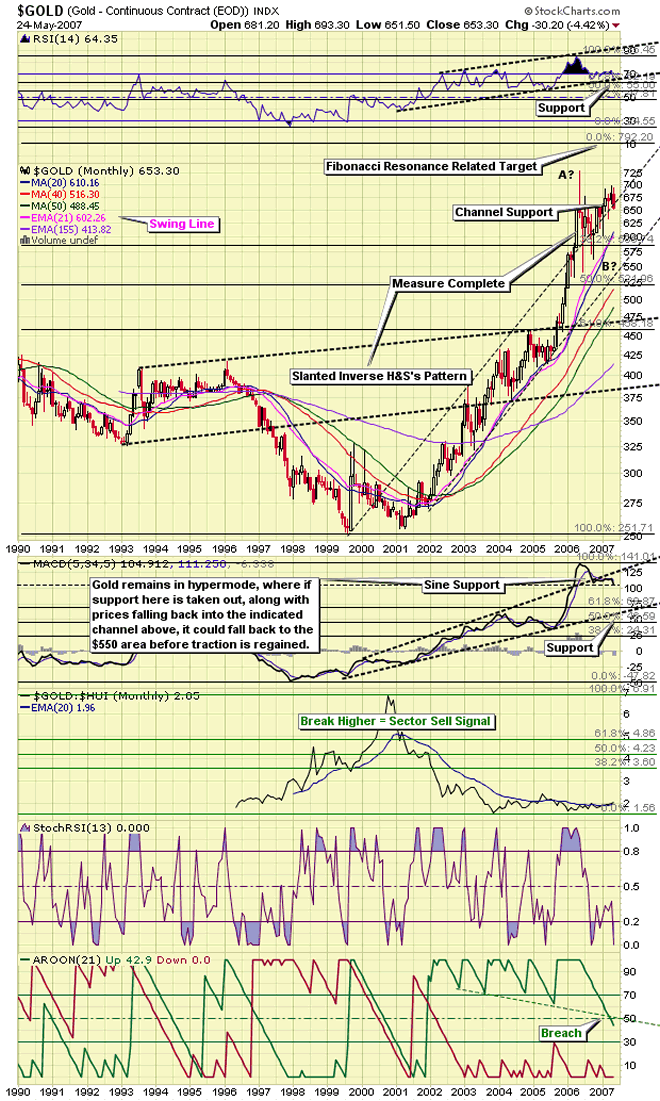 Based strictly on technical evidence displayed in the above then, if channel related support for gold was to fail here, with $650 'key' in this regard, the implication is a fall to $550 would be in order. This is undoubtedly what the banking community would like to see because this would mean they continue to hide inflation effectively. Again however, and with the benefit of other technical information, along with fundamental knowledge that does not show up in the charts, gold would be trading much higher if allowed to fully reflect the monetary largesse imposed upon us, so on this basis a break must be viewed as unlikely at this point. Furthermore, and in relation to this understanding, we also have pictures like this daily gold plot, which again, shows critical support being 650, but for a different reason. Here, the fact we have 'multidimensional support' for gold at $650, the implication is it's very strong. (See Figure 2)
Figure 2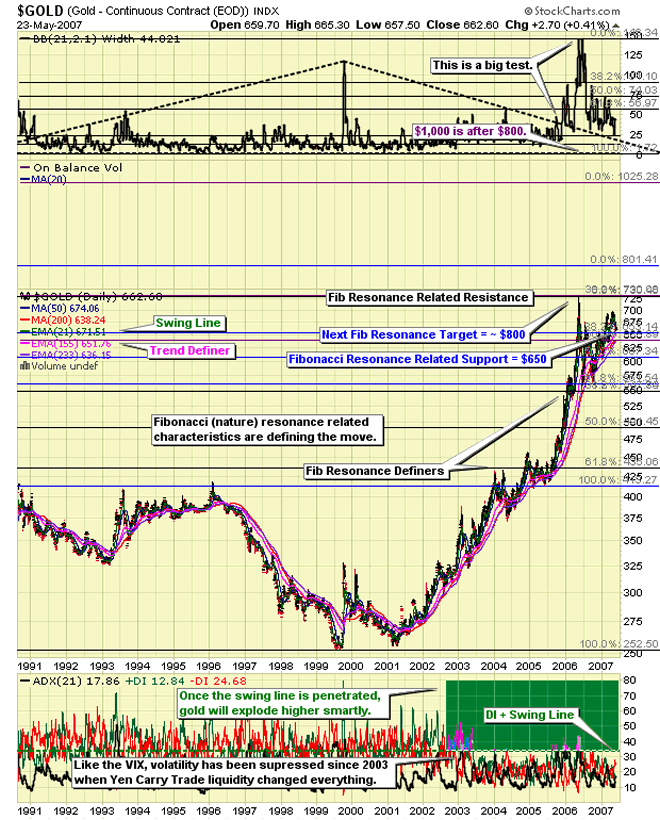 Additionally, and in terms of looking the other way in knowing this, if prices were in fact to shake off the threat of a rising dollar, along with the negative factors outlined above (think bankers stop selling gold as fast as they have been), it should be noted with Fibonacci resonance related characteristics continuing to define the move predominantly, the next upside target of significance is approximately $800. So, once gold gets past the large round number at $700, which coincides with Grand Super-Cycle sine resistance seen here in Figures 2 and 3, it should head up to $800 quickly, perhaps test $700, and then head up to the $1000 barrier. Once there, based on Figure 3 in the attached directly above, I would expect gold to consolidate between $800 and $1,000 before heading well into four-digit territory as hyperinflation grips macro conditions.
And we apologize, but we must reserve the rest for subscribers. This is of course not a problem if you like what you read below.
If this is the kind of analysis you are looking for, we invite you to visit our new and improved web site and discover more about how our service can further aid you in achieving your financial goals. For your information, our new site includes such improvements as automated subscriptions, improvements to trend identifying / professionally annotated charts , to the more detailed quote pages exclusively designed for independent investors who like to stay on top of things. Here, in addition to improving our advisory service, our aim is to also provide a resource center, one where you have access to well presented 'key' information concerning the markets we cover.
On top of this, and in relation to identifying value based opportunities in the energy, base metals, and precious metals sectors, all of which should benefit handsomely as increasing numbers of investors recognize their present investments are not keeping pace with actual inflation, we are currently covering 61 stocks within our portfolios . Again, this is another good reason to drop by and check us out.
And if you have any questions, comments, or criticisms regarding the above, please feel free to drop us a line . We very much enjoy hearing from you on these matters.
Good investing all.
By Captain Hook
http://www.treasurechestsinfo.com/
Special Note: Apologies for the restricted links but there is no way we can open them up just for this article.
Treasure Chests is a market timing service specializing in value-based position trading in the precious metals and equity markets with an orientation geared to identifying intermediate-term swing trading opportunities. Specific opportunities are identified utilizing a combination of fundamental, technical, and inter-market analysis. This style of investing has proven very successful for wealthy and sophisticated investors, as it reduces risk and enhances returns when the methodology is applied effectively. Those interested in discovering more about how the strategies described above can enhance your wealth should visit our web site at Treasure Chests
Disclaimer: The above is a matter of opinion and is not intended as investment advice. Information and analysis above are derived from sources and utilizing methods believed reliable, but we cannot accept responsibility for any trading losses you may incur as a result of this analysis. Comments within the text should not be construed as specific recommendations to buy or sell securities. Individuals should consult with their broker and personal financial advisors before engaging in any trading activities, as we are not registered brokers or advisors. Certain statements included herein may constitute "forward-looking statements" with the meaning of certain securities legislative measures. Such forward-looking statements involve known and unknown risks, uncertainties and other factors that may cause the actual results, performance or achievements of the above mentioned companies, and / or industry results, to be materially different from any future results, performance or achievements expressed or implied by such forward-looking statements. Do your own due diligence.
Copyright © 2007 treasurechests.info Inc. All rights reserved.
Unless otherwise indicated, all materials on these pages are copyrighted by treasurechests.info Inc. No part of these pages, either text or image may be used for any purpose other than personal use. Therefore, reproduction, modification, storage in a retrieval system or retransmission, in any form or by any means, electronic, mechanical or otherwise, for reasons other than personal use, is strictly prohibited without prior written permission.
© 2005-2019 http://www.MarketOracle.co.uk - The Market Oracle is a FREE Daily Financial Markets Analysis & Forecasting online publication.

Only logged in users are allowed to post comments.
Register/ Log in