Dispute between Biscit CSP (V21 V Two One) and Netservices leaves thousands of internet users disconnected and in limbo
ConsumerWatch
/
Strategic News
Nov 16, 2006 - 08:26 PM GMT

As of 15th November, thousands of internet users across the UK, woke up to find their internet service with V21 has been disabled with a message on screen informing them that due to a legal dispute V21, which has recently been acquired by Biscit, would no longer be supplying their broadband service. Instead, customers had the option of moving their account to a company called ezeeDSL, or waiting until 24 November to have their service terminated so they could get broadband from a different provider.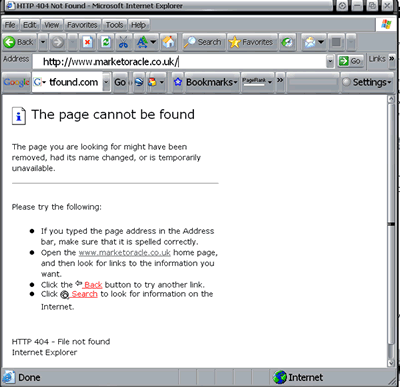 Many users had signed by to V21's £14.99 (Biscit CSP) a month package. were now presented with a screen offering them an equivalent alternative package at a cost of £24.99 per month ! A 66% higher cost !
The reason given by Netservices (the broadband supplier to v21 / Biscit CSP) for the change in ISP, is is that Biscit CSP is a reseller of broadband and had allegedly not paid their bill to Netservices hence the service had been discontinued as per the statement by Netservices
Nov 2006 - Biscit CSP Limited (Formerly called v21.co.uk Limited and trading as "V Two One") Customers

"V Two One receive wholesale broadband services from a number of suppliers, one of which is NetServices. These services are sold to end user customers both directly from V Two One and via a number of their reseller organisations.

NetServices has today terminated its contract with V Two One for the provision of wholesale DSL services. This is a decision which has not been taken lightly, and during the months since Biscit Internet Limited acquired V Two One, NetServices has sought to identify an acceptable basis under which the supply of services to V Two One might be maintained, but without success. We are advised by our solicitors that it would be inappropriate for Netservices to make further comment at this stage.
On visiting the Biscit CSP V21 web-site , an announcement states that all disgruntled users should email netservices representative requesting their MAC code (which allows users to transfer services) and to sign up to an alternative package with v21 costing £14.99
November 16, 2006 - We regret the inconvenience you have experienced, which is not of our making.
We are seeking substantial damages from NetServices.
V21 strongly recommeds that affected customers contact NetServices directly on 0870 753 0900 , or by email XXXXXX@netservicesplc.com , and ask for their MAC codes.
Armed with a MAC code, V21 customer ID and telephone number for the broadband service, users can log on to www.v21.co.uk/migration to be reconnected to its superfast broadband services and receive 1 months free broadband compensation.
V21 customers affected by this dispute will no longer be billed.
Unfortunately should users send an email to Netservices, they will receive an automated response that they cannot issue MAC codes to V21 customers as they can only deal with V21, and hence NO MAC codes will be released until V21 effectively PAYS THEIR BILL !!!
This leaves thousands of users in internet limbo, where they cannot get their MAC codes to escape the dispute between the two companies, and the only option available is for customers to sign up to netservices offer of internet access at an increased cost of 66% to their previous service. If the users go to a company with out a MAC transfer code then they will have to pay installation fees which range upwards of £60. Although users should wait before doing so, as likely a resolution to the MAC code release problem is likely within the next 2 weeks, Afterwhich probably the the best option available is for customers to seek new alternative service to that offered by these two companies.
V21 also announced plans to sue NetServices, not for the disruption to the service, but for NetServices decision to attempt to move some of V21's customers to another service provider.
This case highlights the problems of low cost internet broadband providers, and that cheapest (initially) is not always the best option, sticking to large tried and tested providers for reliable and consistent internet access maybe the best option for the UK's broad band users.
© 2005-2019 http://www.MarketOracle.co.uk - The Market Oracle is a FREE Daily Financial Markets Analysis & Forecasting online publication.
Comments

16 Nov 06, 21:00
Re: Dispute between Biscit CSP (V21 V Two One) and Netservices leaves thousands of in


With regards the MAC codes, NetServices is refusing to transfer the accounts to V21, meaning that V21 have nothing to do with it; at least not unless and until customers have their lines made available by a MAC or a 'ceasing' and then choose a new supplier




19 Nov 06, 15:30
Re: V21 / Netservices dispute and MAC Codes
I have terminated my contract with v21 and with BT and am having cable installed.
BT perhaps you also need to sue netservices for a permanent loss of at least 1 customer.
It also makes me wonder about a government that uses as protection for consumers toothless watchdogs



12 Dec 06, 22:14
Dump Biscit and go with Sky broadband
Being disconnected from biscit / v21 was a blessing in disguise !

I am now a happy customer with Sky broadband at just £5 per month for 40 gigs of bandwidth, enough for my browsing. Compare that to the £25+ that netservices wanted !!!

Glad to be shot of a rubbish unreliable service !




15 Dec 06, 23:29
Re: Difficulties of terminating broadband service with Biscit (V21 V Two One)


I have been with v21 as a dial up customer for approx 4 years with no real problems. However only a couple of months ago I decided to upgrade to a broadband package with them, completely unaware of the Biscit takeover that was about to take place. After receiving the modem package and installing it, I was still unable to gain a connection over four weeks later. Despite numerous phone calls to Biscit's automated call centre and email's that were not replied to, I still had no joy. I did recieve a couple of return calls some 5 days later but no-one was able to help. So upon the last call received I told them to forget it and give me the address to write to so as to confirm this. Another month on and still no reply to my letter. These people are virtually impossible to communicate with. I am having to write this from work as I obviously have no internet service at home now and can't get connected with anyone else as they have the their marker on my line. I think a letter to Watchdog to highlight this and expose their incompetence is worth considering.




Only logged in users are allowed to post comments.
Register/ Log in