Gold's Inflation Bogey and Prechter's Stock Market 50 Point Crash
Stock-Markets
/
Gold and Silver 2010
Jan 27, 2010 - 02:33 PM GMT


This time IS different for gold. Different from how everyone sees it, that is...
STOCK-MARKET BULLS are so dumb, apparently they need Bob Prechter to tell them to sell.
Blamed for causing a further 50-point plunge in the Dow on Tuesday – precisely the kind of news-driven move that Prechter's Elliott Wave International says just can't happen – he also told CNBC viewers that gold is "over owned" and over exposed.
Thanks to the "non-confirmation" in silver, in fact, after gold hit a new record high in March 2008 – only to...well...hit a series of new records throughout late 2009 – the metal is now fated to fall.
Gold's real bogey man however, says Prechter, is inflation. Or rather the lack of it. You need to quit everything except "cash and near-cash", in fact, because deflation now looms. Which would be disastrous advice if inflation took hold. But the death of inflation, long forecast by Prechter...and even longer forecast by market historian Roger Bootle here in London...is now upon us, apparently, and will see consumer prices fall, the value of dollars and debt increase, and the ultimate inflation-hedge, gold, sink without trace.
Which could come to pass. But it hardly explains the last 10 years...let alone the 20 before that...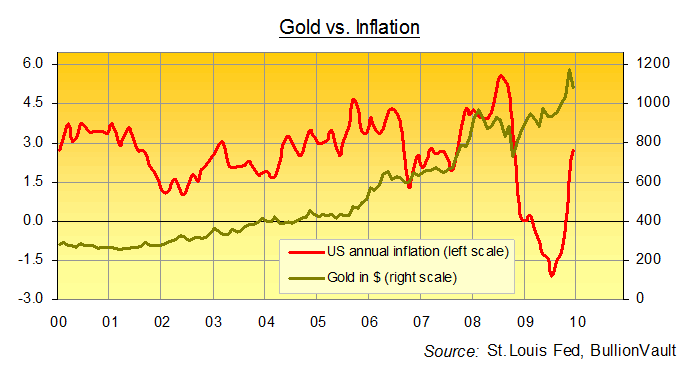 From Aug. '08 to Aug. '09, year-on-year inflation in the CPI decelerated at its fastest pace in 60 years, dropping by almost eight percentage points to turn negative for the first time since 1949.
Gold, in contrast, rose almost 15% against the US Dollar...gaining more than a fifth vs. the Euro and adding 31% for UK Sterling investors.
A blip? Perhaps. Or perhaps not...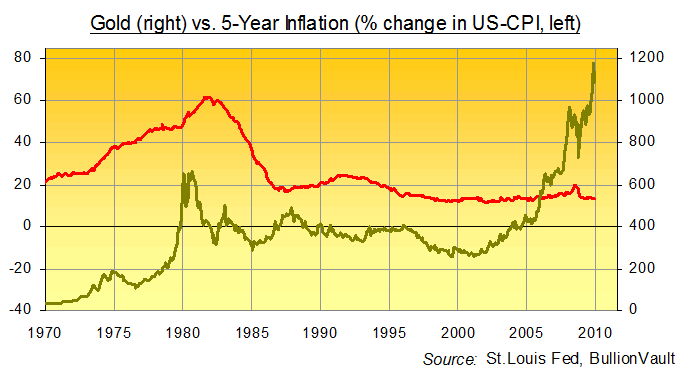 From the fall of 2004 to late-autumn 2009, the cost of living in the United States – as measured by the officially compiled Consumer Price Index – rose by just less than 14% all told.
Accepting those tweaks the bean-counters made to keep the CPI cool, that rate was pretty much half the 5-year pace averaged during gold's two-decade bear market of 1980-2000, back when gold fell from a month-end peak of $666 to $255 an ounce. Yet in the back-half of the Noughties, however, and with underlying consumer-price inflation little changed from the late '90s...at pretty much its lowest level since the mid-60s...the gold price somehow trebled for US savers, as well as for everyone else in the world.
Indeed, gold's decade-beating bull run to date – longer than ever the US stock market has managed – came against the lowest official US inflation since the 1960s.
No, gold's quadrupling last decade didn't quite match the 1970s' twenty-four-fold gains. But that doesn't say squat for the myth that gold can only rise when inflation soars. Indeed, "Gold is a poor inflation hedge" as Ivy League economists such as Martin Feldstein are finally bothering to note.
Big shocker, right? Father Christmas, by the way, might not really exist.
Fact is, if you need such a thing, gold was a poor hedge against the inflation of the 1980s and '90s. Whereas it worked wonders against the even angrier price rises of the 1970s, and yet somehow beat all other assets once more during the ongoing – but muted – destruction of money's value so far this century.
Seeking guaranteed inflation protection in gold is a forlorn hope, therefore. But only if, like Harvard professors and gold infomercials, you think guaranteed inflation protection is what you need most.
Part II to follow...
By Adrian Ash
BullionVault.com
Gold price chart, no delay | Free Report: 5 Myths of the Gold Market
Formerly City correspondent for The Daily Reckoning in London and a regular contributor to MoneyWeek magazine, Adrian Ash is the editor of Gold News and head of research at www.BullionVault.com , giving you direct access to investment gold, vaulted in Zurich , on $3 spreads and 0.8% dealing fees.
(c) BullionVault 2010
Please Note: This article is to inform your thinking, not lead it. Only you can decide the best place for your money, and any decision you make will put your money at risk. Information or data included here may have already been overtaken by events – and must be verified elsewhere – should you choose to act on it.
© 2005-2019 http://www.MarketOracle.co.uk - The Market Oracle is a FREE Daily Financial Markets Analysis & Forecasting online publication.

Only logged in users are allowed to post comments.
Register/ Log in