United States Heavy Snowfall Impact on Agri-Food's Harvest and Planting
Commodities
/
Agricultural Commodities
Feb 16, 2010 - 01:45 AM GMT


We admit to having been gullible at points in our life. Yes, we have believed stories that on reflection made very little real sense. That is the human part of us, a tendency to believe that others would not intentional mislead us. Perhaps we have leaned from our mistakes. We are not ready to listen to those telling us that the cold weather all around the Northern Hemisphere is due to global warming. We are beginning to suspect that Climate Evangelists and Keynesian economists have a common belief. They both think pigs can fly.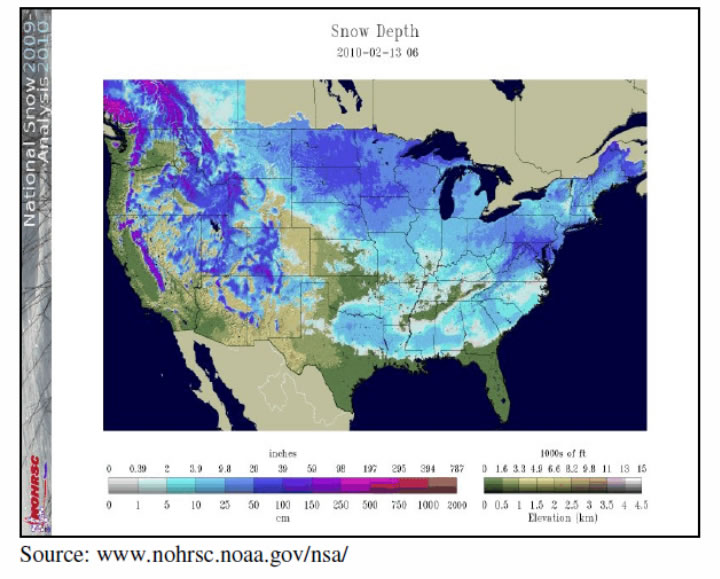 Our first chart this week, above, comes from the U.S. National Oceanic and Atmospheric Administration(NOAA). That map is of the current snow coverage of the U.S. Darker and harsher the color, the deeper is the snow on the ground. We will let you decide whether to use inches or metric. As is readily apparent, a goodly part of the Midwestern United States is covered with snow, thanks to global warming.
We did check the calendar, and the second half of February has arrived. Soon March will be here. Sometime after that, farmers would like to busy preparing their fields for spring planting. In some places, however, they will be trying to harvest corn left in the fields in the Fall due to wet weather. The optimal time for planting corn in Iowa, for example, is mid April to mid May.
Ultimately, that snow will melt. While it takes many inches of snow, about 10, to create an inch of water, melting snow soaks the earth well. Rather than run off like rain, that water is absorbed into the dirt. The heavy snow coverage will likely mean that fields will start Spring well soaked with water. Assuming an average amount of Spring rains, the fields of the Midwestern U.S. could be quite wet this Spring. A reasonable assumption, given the heavy snow coverage, would be that farmers may again have difficulty getting into the fields to plant.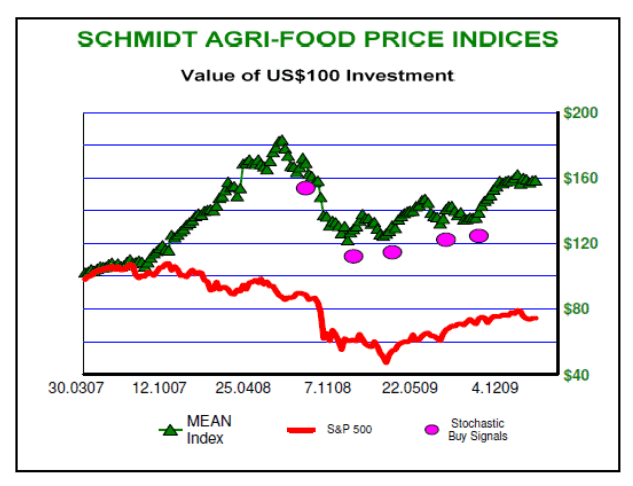 The world's consumers have generally been lucky. North America's 2009 harvest was good, and the South American harvest now in process appears to also be so. Luck and chance have played a role in keeping the world from being hungrier than it might have been, at least for a few more months. Deep snow coverage of the Midwestern U.S. may mean that luck is reverting to just being normal from good. World could be far hungrier in 2010 than was the case in previous year. Remember, the world has only about 2.5 months of corn in storage, and less than a month of vegetable oil set aside.
As our second graph, above, shows, Agri-Food commodity prices have been rising for more than a year. Importantly, Agri-Food commodity prices remain above the level that existed in years prior to the beginning of the Agri-Food price super cycle. The expansion of demand for Agri-Foods brought on by economic growth in China and India has been in process for a number of years.
While prices rose to exaggerated levels during the hedge fund mania, that influence is now a historical note. Today Agri-Food prices are being driven by, one, demand, and, two, a general global shortage of food. That combination should lead to a continuing pattern of higher lows and higher highs, already evident in that chart.
Our final chart, below, looks closer at the undulating rise of Agri-Food prices over the past year or so. With the North American harvest complete and South America well on the way to being completed, no further supply will come from those regions till the Fall of this year. The global supply of Agri-Food commodities is as good as it will be until October. We should all hope that nature plays no tricks on the coming season, like leaving too much snow on the ground in the Midwestern U.S.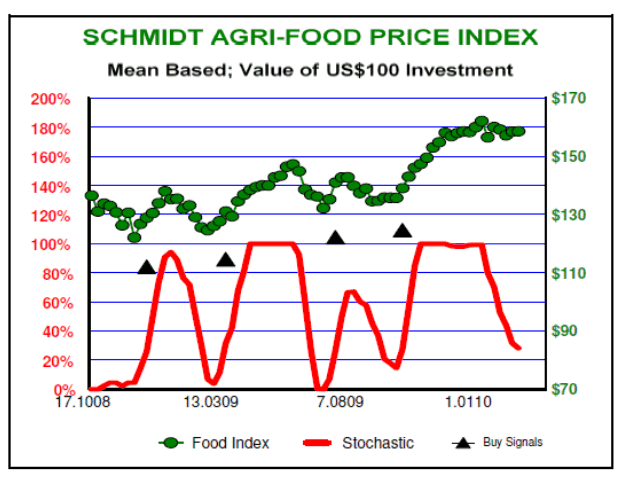 Two factors make the outlook excellent for Agri-Food prices, and those that are involved in producing Agri-Foods. While China and India are both moving to slow the rate of economic expansion, citizens of both nations will continue to eat. Economic slowdowns may cause consumers to defer purchases of televisions, but they are unlikely to defer eating. Further, the Chinese government has the money with which to feed them.
Second, the world is now operating on the portion of the long-run supply curve for Agri-Foods that exhibits price inelasticity. That simply means that to achieve a 1% increase in supply requires prices to rise by more than 1%. In short, prices for Agri-Food prices will rise more than the percentage increase in global supply. That situation is just the opposite of consumer electronics.
While Steve Jobs probably enjoys the creative process, Apple must have that continuing flow of new ideas for two reasons. Those are demand satiation and falling prices. Prices on those cool electronic toys keep going down. Imagine instead, a company facing rising prices for the foreseeable future. Such is the future for Agri-Food producers. Not only will they benefit, but those companies selling products and services to them will prosper. The Agri-Food accumulators, those buying from the farmer to sell to others, should also do well. Perhaps that situation might benefit you. To begin your investigation of Agri-Food get our most recent writings from this link: www.agrifoodvalueview.com
By Ned W Schmidt CFA, CEBS
AGRI-FOOD THOUGHTS is from Ned W. Schmidt,CFA,CEBS, publisher of The Agri-Food Value View , a monthly exploration of the Agri-Food grand cycle being created by China, India, and Eco-energy. To receive the most recent issue of this publication, use this link: http://home.att.net/~nwschmidt/Order_AgriValue.html
Copyright © 2010 Ned W. Schmidt - All Rights Reserved
© 2005-2019 http://www.MarketOracle.co.uk - The Market Oracle is a FREE Daily Financial Markets Analysis & Forecasting online publication.

Only logged in users are allowed to post comments.
Register/ Log in