UK Unemployment Forecast 2010 to 2015
Economics
/
UK Economy
Jul 01, 2010 - 04:03 AM GMT

The latest set of figures from the coalition ConLib government forecast that 600,000 public sector jobs will be lost over the next 5 years at the rate of 120,000 per year as a consequence of spending cuts and tax rises of £113 billion per year by 2015-16, that will directly result in loss of private sector jobs of an additional 700,000 to total of 1.3 million. However at the same time the Prime Minister, David Cameron announced that the economy by some miracle would create 2.5 million private sector jobs to more than off-set the 1.3 million expected to be lost as a consequence of spending cuts.
So the new government backed up by the Office For Budgetary Responsibility is forecasting 1.3 million job losses as a consequence of public spending cuts (public+private) offset by 2.5 million jobs created for a net gain of 1.2 million jobs over the next 5 years ? A truly remarkable forecast as even during Labours boom years public sector spending splurge was NOT able to create as many jobs, i.e. the Labour boom job creation total came in at about 2 million. Perhaps the Office For Budget Responsibility will eventually come to be seen as the Office for ConLIb Government propaganda?
UK Unemployment Forecast - 2008 to 2010
My long standing UK unemployment forecast as of October 2008 (July 08 data) that forecast UK unemployment to hit 2.6 million by the time of the expected May 2010 General Election is now complete and proved remarkably accurate as illustrated by the below graph, which is set against consensus forecasts by mainstream press and academic economists that ranged to between 3-3.4 million i.e. nearly a whole million off target!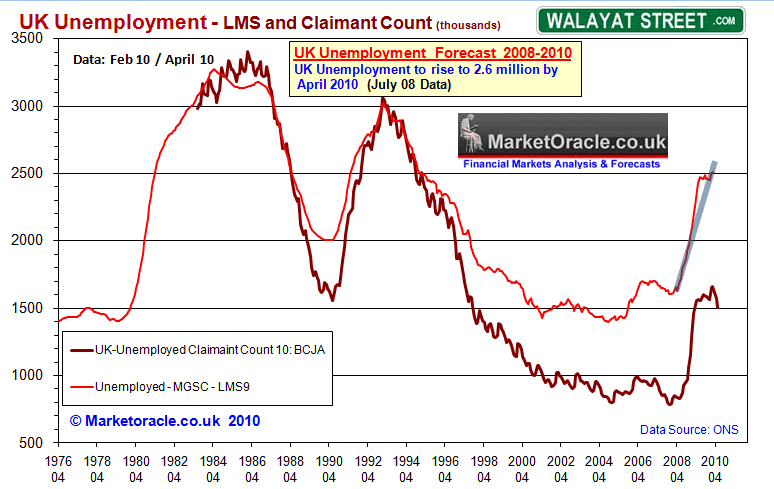 Why Are Academic Economists Forecasts Consistently Wrong ?
Academic economists that populate the mainstream press had collectively converged during 2009 into the consensus view that UK unemployment would soar to between 3 and 3.4 million by the time of the next general election (May 2010). Therefore they have proved to be wrong by nearly 1 million, and as usual without any consequences as illustrated by the persistent deflation mantra for the past year in the face soaring UK inflation to a 19 year high (RPI) and busting through the 3% CPI limit.
Academic economists producing models in ivory towers detached from the real world FAILED to realise or comprehend the consequences of both the Labour governments employment measures such as the 1/2 million of public sector jobs created during the recession, student and quango run training programme's and the change in employer and employee behaviour where employees agreed to pay freezes, pay cuts and 4 day weeks so as to enable the maximum number of workers to be retained in employment that explains the 1 million disparity between academic economic models and the real world.
Despite clear evidence of the above during early 2009, academic economist still stuck to theoretical models that failed abysmally as the following illustrates.
European Commission - May 2009 - It expects UK unemployment to rise to 9.4pc by 2010 leaving 3m workers jobless.
British Chambers of Commerce - April 2009 - Last month, data confirmed that the total number of people out of work surpassed the 2m mark in the three months to January, taking the official unemployment rate to 6.5pc – the highest since 1997. The BCC believes the total could hit 3.2m by the third quarter of next year.
Bank of England - Blanchflower - April 2009 - Warned unemployment was likely to top 3 million by the end of the year and there was a 'good chance it could go much higher still'.
CBI - Feb 2009 - The UK's leading business group predicts the recession, which began in the third quarter of 2008, will last throughout 2009. The economy is expected to contract by 3.3 per cent and unemployment will reach close to 2.9 million by the end of the year.
Why does the mainstream press have gold fish memory ?
Here we are on the evening of 30th June 2010, with David Blanchflower back on Newsnight with yet more 'authoritative' commentary as to why the new governments budget is going to send UK unemployment soaring for the next 5 years, what is missing from the commentary is that David Blanchflower in April 2009 forecast that UK unemployment was going to top 3 million by the end of 2009. Actual saw a rise from 2.215 million to just 2.45 million, something that is important to know when listening to someone purporting to push Keynesian solutions on the basis of UK unemployment forecasts!
UK Budget Deficit Reduction Measures Impact on Unemployment
As my recent analysis concluded (29 Jun 2010 - UK ConLib Government to Use INFLATION Stealth Tax to Erode Value of Public Debt )
It is difficult to see how the government will be able to achieve its stated budget reduction target of getting the annual deficit down to just £20 billion by 2015-16. Whilst the government is expected to trend close to target for the next 3 years, however thereafter the governments (OFBR) and my deficit forecasts diverge as the coalition governments primary focus will be towards getting re-elected in May 2015. In all likelihood this means that total debt will be over £100 billion higher than that which the government is forecasting as illustrated by the annual budget deficits forecast graph below-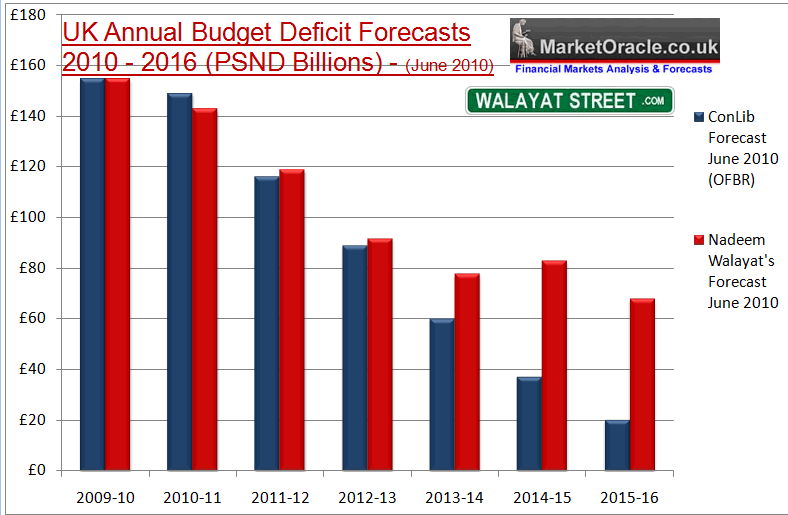 The deficit reduction analysis suggests that the government will only follow its tough deficit reduction strategy for the next 3 years, and start to deviate from the targets during 2014 in the lead up to the May 2015 General Election. Which basically means that the governments job losses of 1.3 million as a consequence of spending cuts is probably over stating actual cuts by 1/3rd, which therefore implies upward pressure on unemployment of about 850,000 job losses or 400,000 public sector plus linked 450,000 private sector jobs.
UK Government Economic Growth Projections
The Governments forecasts (OFBR) UK economic growth during the next 5 years are:
2010-11 : 1.8%
2011-12 : 2.4%
2012-13 : 2.9%
2013-14 : 2.8%
2014-15 : 2.7%
2015-16 : 2.7%
Again on the basis of the deficit reduction analysis, the growth expectations for 2010 to 2013 look overly optimistic, however the growth expectations for 2014 to 2015 look more probable given my higher deficit expectations. This suggests an unemployment trend change to kick in during 2013-2014, i.e. when the level of unemployment starts to fall which implies an upward trend for UK unemployment into 2013 before unemployment starts to fall.
The actual impact on unemployment statistics is difficult to gauge as it is at the mercy of the behaviour of european migrant workers as under Labour 80% of the increase in jobs went to migrant workers. Even a more immigration strict Coalition government is not going to significantly impact on this, perhaps a reduction to 70% of new jobs to migrant workers, which means average economic growth won't make much of a dent in the unemployment statistics, especially as each year some 600,000 school and university leavers join the job seeker lines which implies actual unemployment may only start to decrease during the anticipated election boom years of 2014 and 2015.
On the positive side are the new governments business friendly policies which implies many new businesses will be started up during the next 4 years resulting in a significant rise in the number self-employed by at least 1 million and possibly double that during the next 5 years, that ensures that unemployment is unlikely to break above 3 million as many now conclude to be a near certainty.
UK Real Unemployment Rate is 5 million
Whilst the headline UK Unemployment data of 2.51 million at 8% of the workforce is remarkably low when one considers that past milder recessions had seen UK unemployment peak at much higher levels i.e. in the 1980's at 12% and in 1990 at 10.8%, therefore on face value the Labour government appeared to have achieved a minor miracle by UK unemployment peaking at only 8% in the midst of the worst recession since the Great Depression.
However, I have long questioned the accuracy and validity of the official unemployment data which over several decades and much manipulation by successive governments has been tweaked many hundreds of times to under report true unemployment for political purposes. Current official unemployment stands at 2.51 million which is against the total recorded as economically inactive of working age that stands at a new all time high of 8.19 million which illustrates the true extent of failure of the Labour government to manage the potential of the work force during the boom years as illustrated by the fact that 80% of the 2.1 million jobs created under Labour went to foreign workers and therefore did nothing to address the true level of UK unemployment that contained a hidden ticking social security financing time bomb that has exploded as a £40 billion extra deficit.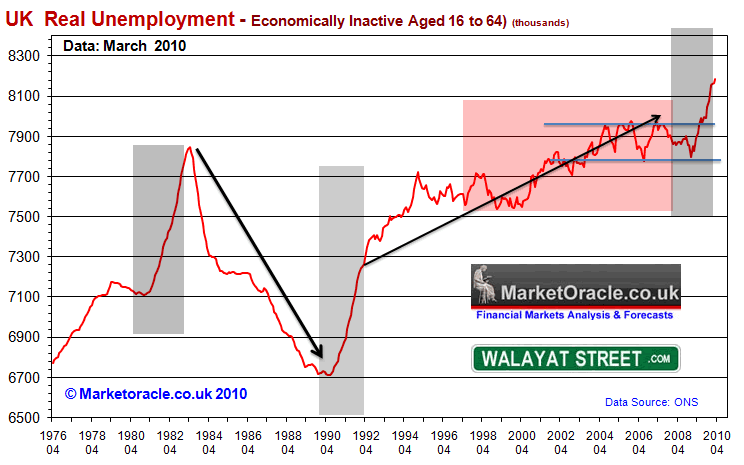 During the Conservative boom cycle, real unemployment fell from the 1983 crisis high. However the same did not take place following the early 1990's recession where real unemployment failed to not only fall but steadily rose under Labours boom years as the benefits culture took hold and hundreds of thousands of foreign workers performed the jobs that unemployed Britain's were not prepared to do as they were far more comfortable living off the tax payer in Labours benefits culture.
Whilst not all of the 8.19 million economically inactive should be seeking work, however the figure does imply that at least 3 million of the 8 million form the core of the the benefits culture.
Therefore the 3 million that choose not to work but instead prefer to rely on tax payer funded benefits added to the official 2.5 million unemployed results in a total UK unemployment count of 5.5 million. Which is more in line with the recession experience of other similarly in-debted and structured European countries such as Spain that has an unemployment rate of 20%.
The coalitions governments intention is to cut the benefits culture, it remains to be seen if the government can do so especially as a significant number of the 850k public+private sector workers losing their jobs will end up not as unemployed by economically inactive, which suggests that the headline unemployment rate could rise LESS than the 850k of public+private job cuts implies, whilst at the same time the real rate of unemployment may continue to rise higher despite severe government measures to try and get those that can work off benefits.
Spare Capacity
As mentioned earlier, many workers are being kept under-employed i.e. working 4 day weeks, this means as the economy recovers the slack will be taken up by existing workers for at least the next year, which therefore suggests a spike higher in unemployment following implementation of government spending cuts from September 2010 onwards following the Government departments spending reviews.
UK Unemployment Forecast Conclusion
The clear conclusion is that despite economic recovery underway, UK unemployment looks set to remain on an upward trajectory for the next 3 years, after which it should feel the effects of the election boom. However against these positives there will be the impact of European Migrant workers that could take up as much as 70% of the new jobs created, which suggests that even if the government is able to create its forecast 2.5 million jobs (which I doubt), then at least 60% of these jobs will go to migrant workers, leaving less than 1 million new UK jobs for British citizens. This does not paint a very rosy picture for the governments expectations for UK unemployment to fall to below 2 million.
Final conclusion - UK unemployment looks set to gradually rise to a peak of just over 2.9 million by mid 2013 before stabilising and starting to decline into a May 2015 General Election of just below 2.7 million against the governments forecast for UK unemployment to fall to 2 million by 2015 (OFBR - Peak at 8.1% this year before falling to 6.1%).
The benefit claimant count can also be expected to rise, though is much more difficult to forecast as it is far easier for the government to manage claimant numbers by moving recipients onto other benefits, OFBR forecast a claimant count of 1.17 million by May 2015.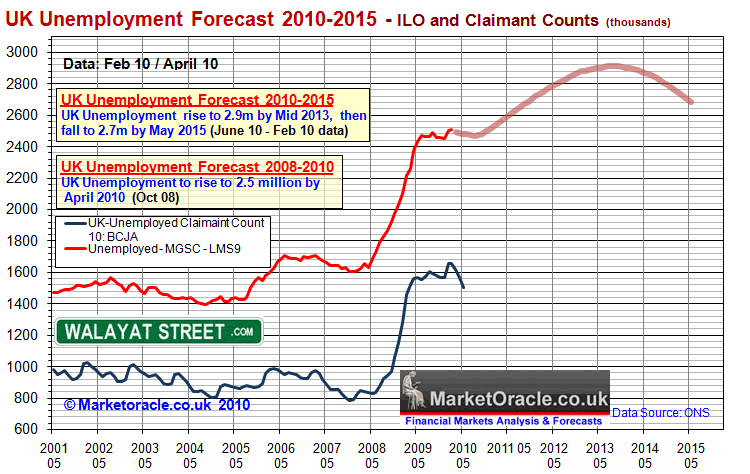 This unemployment forecast analysis will feed into my next in depth analysis that will seek to update the UK interest rates forecast for at least the next 12 months (ensure you are subscribed to my always free newsletter to get this in your email in box).
Comments and Source : http://www.marketoracle.co.uk/Article20757.html
By Nadeem Walayat
Copyright © 2005-10 Marketoracle.co.uk (Market Oracle Ltd). All rights reserved.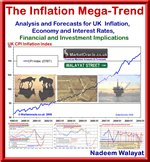 Nadeem Walayat has over 20 years experience of trading derivatives, portfolio management and analysing the financial markets, including one of few who both anticipated and Beat the 1987 Crash. Nadeem's forward looking analysis specialises on UK inflation, economy, interest rates and the housing market and he is the author of the NEW Inflation Mega-Trend ebook that can be downloaded for Free. Nadeem is the Editor of The Market Oracle, a FREE Daily Financial Markets Analysis & Forecasting online publication. We present in-depth analysis from over 500 experienced analysts on a range of views of the probable direction of the financial markets. Thus enabling our readers to arrive at an informed opinion on future market direction. http://www.marketoracle.co.uk
Disclaimer: The above is a matter of opinion provided for general information purposes only and is not intended as investment advice. Information and analysis above are derived from sources and utilising methods believed to be reliable, but we cannot accept responsibility for any trading losses you may incur as a result of this analysis. Individuals should consult with their personal financial advisors before engaging in any trading activities.
© 2005-2022 http://www.MarketOracle.co.uk - The Market Oracle is a FREE Daily Financial Markets Analysis & Forecasting online publication.
Comments
Paul
01 Jul 10, 13:00
RE: Am a bit confused


Nadeem

How do you feel about the latest stock market swoon? Perhaps it's unfortunate timing that this has come about at the exact same moment you decided to step aside from commentary for a couple of weeks. We don't appear to have followed your projection to mid July.

I'm sitting on my hands to now - not throwing the baby out with the bath water but still, it's not easy when all around negativity comes relentlessly at you and whilst your first point of rational analysis goes awol! But of course that last part is written tongue in cheek. It's just that when you see even the likes of - albeit a purely technical guy - Chris Vermeulen begin talking in terms of new bear markets it's hard not to look over your shoulder and wonder.

Regards

Paul



Nadeem_Walayat
01 Jul 10, 18:59
Stock trends & Weekend commentaries


The price action requires in depth analysis else I would just be guessing that its forming an ABC bottom before advancing.

But look, stocks rose more than 70% from March 2009 low and are now correcting, what ? 10% or so ? I am looking for bargains.

The weekend commentaries consume too much time that is better spent on in depth analysis and forecasts.

My current focus is on digesting the emergency budget implications for the UK economy, debt, unemployment, GDP, interest rates, inflation, house prices, the conclusions of which are a necessary component to gain insight into stock trends.

Best.

NW



ProfBob
10 Jul 10, 04:08
Unemployment causes


Is it conceivable that there are too many people in the world for the jobs available? Migration, both legal and illegal, indicates that a number of underdeveloped countries can't provide jobs for their people. Zimbabwe has a 90% unemployment rate. Much of Europe is in the 10% range. So the workers are taxed so that the unemployed can become consumers of the goods that the workers produced. Is it time to start looking seriously at overpopulation, or maybe a more extensive worldwide education that might allow for more workers. But in Europe and the US a high-level education doesn't guarantee a job today. For those interested in the problems of overpopulation , you might want to read "In Search of Utopia" (htttp://andgulliverreturns.info)



Shelby Moore
10 Jul 10, 11:10
Overpopulation is not causing unemployment


We could produce enough food for the 7 billion in a land area smaller than Texas. Overpopulation is not a problem, not even close.

What is causing unemployment is the mis-allocation of capital due to over use of debt for decades.

http://www.marketoracle.co.uk/Article20857.html#comment92402

Debt is socialism and theft as I have explained at above link.

http://www.marketoracle.co.uk/Article16212.html

To restore full employment, we need to restore the gold and silver money system, as explain in above link, savers were 33,900% more wealthy in the 1800s than 1900s.

As automation and technology has increased, it should be fostering many new jobs, but the problem is the mis-allocation has retarted everything. For one thing, the west wouldn't have been so lopsidedly more wealthy than the developing world, without the fraud of debt fiat system that has enslaved the world.



Peter Jones
30 Aug 10, 15:30
Benefits culture


Unemployment could fall through increases in part-time work and a greater number of people in education and some kind of training.

Please will you explain why you think people on benefits prefer to live on them rather than work? Maybe a few do - most people have barriers that prevent them getting work

- age discrimination, health problems, criminal record, being overqualified (graduates for example). How would lesser or no benefits help people get work? Are we all to be budding entrepreneurs like my namesake?




Only logged in users are allowed to post comments.
Register/ Log in