Will Google's Android Kill Apples iPhone?
Companies
/
Google
Aug 05, 2010 - 05:29 AM GMT

Don Miller writes: The struggle for dominance in the smartphone market is heating up and Google Inc.'s (NASDAQ: GOOG) Android operating system for handsets appears to be winning the war against Apple Inc.'s (Nasdaq: AAPL) iPhone system.
When Apple debuted the iPhone 4 on June 24 it broke sales records. In the first three days, the company sold 1.7 million devices in the United States, the United Kingdom, Japan, France and Germany, the most for any version of its top-selling product.
But the popular device has been plagued by misfortune - including the suicide of a Chinese worker, lost prototypes, reception problems, and an inauspicious introduction to the press and public when Chief Executive Steve Jobs could not get the phone to connect to the Internet.
Now comes word that the innovative iPhone and its operating system software package, known as iOS, has been knocked from its lofty perch among U.S. technophobes by Google's Android handset software.
Android had 27% of the U.S. market in the second quarter among new U.S. smartphone users, compared with 23% for iOS, market research firm Nielsen Co. said on its website Tuesday.
And while the iPhone retained a higher share than Android among existing smartphone users in the United States, when you look at global sales, the news just gets worse for Apple.

Android Sales Soar
The global smart phone market grew by 64% annually in the second quarter of 2010, according to Canalys, a provider of market analysis for the hi-tech marketplace.
Nokia Corp. (NYSE ADR: NOK) retained a substantial lead in the worldwide smart phone market, achieving a 38% market share, shipping a record 23.8 million smart phones based on the Symbian operating system during the quarter. At the same time, shipments of Research In Motion Ltd.'s (Nasdaq: RIMM) BlackBerry smart phones grew by 41%.
But the two big players' lost some of their market dominance, as their performance was outpaced by growth in the smart phone market as a whole. And the reason is clear: the market is under attack from Android.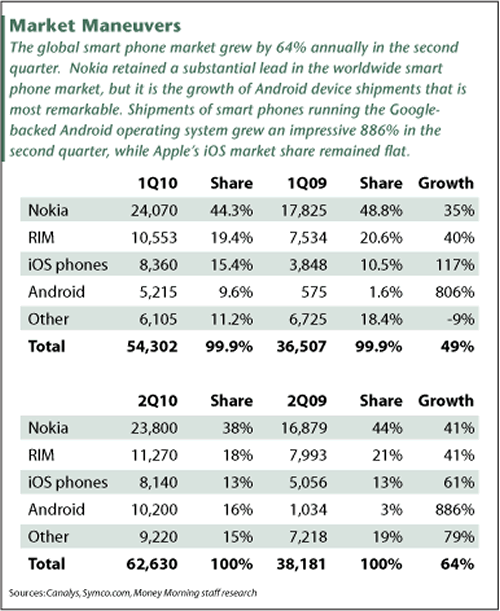 With key products from HTC Corp., Motorola Inc. (NYSE: MOT), Samsung Electronics, Telefonaktiebolaget LM Ericsson (Nasdaq ADR: ERIC) and LG Electronics giving new smartphone purchasers more options, shipments of smart phones running the Android operating system have soared.
In fact, even though the original Droid didn't hit the market until November 2008, second quarter sales were up a whopping 886% year-over-year.
"There's a massive hunger for smartphones, and the Android universe came out not just with one blockbuster device but with a whole series of blockbuster devices," Roger Entner, head of telecom research at Nielsen, said in an interview with Bloomberg News.
And in the United States, the largest smart phone market in the world by a significant margin with 14.7 million units accounting for 23% of global shipments, Android devices collectively chalked up growth of 851%, according to Canalys.
Android is also flourishing in China, the world's second largest smart phone market with shipments of 6.9 million units representing 11% of the worldwide total. Some 475,000 Android devices were sold in the second quarter, from no presence in the country a year earlier.
"The story in the Asia Pacific region is similarly optimistic around Android," Canalys Senior Analyst, TY Lau wrote in a research report. "Android devices are gaining good traction in markets such as mainland China and South Korea, with growing numbers of consumers wanting more sophisticated smart phones."

Missteps Haunt iPhone 4
Apple has released an updated version of the iPhone each year since the first model made its debut, including the iPhone 3G in 2008, and the speedier iPhone 3GS in 2009. The iPhone was Apple's biggest moneymaker last quarter, outselling the Macintosh computer and accounting for 40% of sales.
But Apple, which has built its brand on delivering cool, meticulously crafted designs, was plagued by bad luck during the development of the iPhone 4. Moreover, it's been shooting itself in the foot at almost every juncture since it released the device to the market.
On July 16, 2009, a 25-year-old Chinese factory worker leaped from the window of his apartment building and fell 12 stories to his death. He had been accused by his superiors of losing an iPhone 4 prototype.
Months after the incident in China, an Apple engineer out drinking at a pub in Silicon Valley lost track of the iPhone 4 prototype he was testing. It was subsequently sold to a technology blog that dismantled it.
Then, when Steve Jobs introduced the new phone in front of a huge audience of reporters and Apple developers, it failed to connect to the Internet.
And since the phone's release, it's been plagued by reception problems, even though one of its top engineers warned the company that the antenna design might lead to dropped signals and customer dissatisfaction.
Apple then committed a series of public relations gaffes by placing blame on everyone but itself. The lack of sensitivity has alienated customers and irritated its competitors and critics.
Apple's handling of the antenna revelations has been "uncharacteristically sloppy," Andy Hargreaves, an analyst at Pacific Crest Securities told the Los Angeles Times. "And [it shows] maybe even how little they really understood the depth or breadth of the problem."
The company's work-in-progress response "points out how much they were caught off guard by this," Hargreaves said.
Apple initially recommended that users avoid holding the phone in a way that could affect the antenna's performance. The company also said that a software error, dating to the June 2007 release of the first iPhone, has resulted in overstated signal strength, leading users to believe they had better reception than they did.
In defending the iPhone, Jobs showed videos of the BlackBerry Bold 9700, the HTC Droid Eris and the Samsung Omnia II losing signal strength when held in certain ways. And he offered free rubber cases, called bumpers, to all customers who bought or will buy the iPhone 4 by the end of September.
Still, Consumer Reports said it won't recommend the iPhone 4 following tests confirming the handset has a hardware shortcoming that causes signal quality to degrade. The publication had recommended the three previous iPhone models.

User Restrictions Could Hamper Future Sales
Buying an iPhone isn't the same as buying a car or a toaster. The iPhone comes with a complicated list of rules about what users can and can't do with it.
Apple products are heavily infested with Digital Restrictions Management (DRM) that prevents users from installing unapproved third-party applications.
iPhone owners can't unlock it and use it with the cell phone carrier of their choice - they are exclusively married to AT&T as the airtime provider. And Apple is unapologetic about these rules: A software update released in September 2007 erased unauthorized software and rendered hundreds of unlocked phones unusable.
Some iPhone owners have rebelled.
According to Toni Sacconaghi of Sanford C. Bernstein & Co., the top-ranked computer analyst by Institutional Investor magazine, users may have unlocked as many as 1 million handsets to run on unauthorized wireless networks, costing Apple between $300 million and $400 million in revenue.
Whether it's bad luck or bad management, surging Android sales represent a real threat to Apple's future, as Android dealers gear up to sell even more of the devices.
Handsets such as the Motorola's Droid and Droid Eris, which is sold through Verizon Wireless, the largest U.S. mobile-phone service provider, have been especially strong.
"Prior to launch of Droid, there had not been a lot of modern, touch-optimized smart phones available at Verizon," NPD analyst Ross Rubin told MarketWatch. Rubin added that the majority of smart-phone sales at a carrier typically come from customers who are already signed up to that carrier.
Verizon is expected to put heavy promotion behind the latest Android device - the Droid Incredible from HTC - for the next several months.
The latest data has also put pressure on Apple to expand its base of carriers for the iPhone. The device is still exclusive to AT&T in the U.S. market, with recent reports that it will expand to Verizon in January 2011.
Apple's European partners include Vodafone Group PLC, France Telecom SA (NYSE ADR: FTE) and Deutsche Telekom AG (PINK: DTEGY). Softbank Corp. carries the iPhone 4 in Japan
Android's startling success may mean Google will overtake Apple's iOS globally earlier than previously expected, Will Stofega, program director at research firm Interactive Data Corp. (NYSE: IDC) in Framingham, Massachusetts told Bloomberg. Earlier this year, IDC said it expected Android to overtake iOS globally in 2011.
"It could happen sooner," Stofega said.

Source : http://moneymorning.com/2010/08/05/android/

Money Morning/The Money Map Report
©2010 Monument Street Publishing. All Rights Reserved. Protected by copyright laws of the United States and international treaties. Any reproduction, copying, or redistribution (electronic or otherwise, including on the world wide web), of content from this website, in whole or in part, is strictly prohibited without the express written permission of Monument Street Publishing. 105 West Monument Street, Baltimore MD 21201, Email: customerservice@moneymorning.com
Disclaimer: Nothing published by Money Morning should be considered personalized investment advice. Although our employees may answer your general customer service questions, they are not licensed under securities laws to address your particular investment situation. No communication by our employees to you should be deemed as personalized investent advice. We expressly forbid our writers from having a financial interest in any security recommended to our readers. All of our employees and agents must wait 24 hours after on-line publication, or 72 hours after the mailing of printed-only publication prior to following an initial recommendation. Any investments recommended by Money Morning should be made only after consulting with your investment advisor and only after reviewing the prospectus or financial statements of the company.
© 2005-2019 http://www.MarketOracle.co.uk - The Market Oracle is a FREE Daily Financial Markets Analysis & Forecasting online publication.
Comments
Phillip Siden
07 Aug 10, 09:42
Android vs. iphone


It's the common mistake of believing they have reached the heights of being untouchable. In apple's case they have made the biggest mistake a company can make and that's alienating the costumer. Apple can put out a good product but eventually competition will release an on par or even better product - decisions, decisions, actually not really! For a costumer has little loyalty to a brand that has branded themselves as arrogant towards costumer satisfaction. Lets face it! How many people have tried without success to return their malfunctioning apple products that were still under the company's warranty - I know of dozens just amongst my friends and family. Even the electronic shops suggest you buy their warranty to avoid the headache of going through apple. I thought Steve Jobs was smarter than that but then again I guess when your on top for so long your arrogance increases while losing touch with the costumer. Android will win the battle as Apple has been far to restrictive in it's products, as a result costumers are breaking free from Apple's shackles to experience the freedom that these new products offer.

Lesson learned? Maybe! But as usual it's almost always too late!

My 2 bits



srhardy
10 Aug 10, 00:38
Andriod is good but suffers the same shortcommings


Andriod has its problems too. Ive had a driod, i am getting an iphone4 for the first time because of the problems with how the OS is implemented, distributed & secured.

Driod phones are all locked to the handset, its just like iOS, it has to be rooted to allow you to install your own homebrew OS upgared or mix. This is way more dangerous to do than the jailbreak/network unlock of iOS!

So its as nailed down by SAMSUNG or HTC as the iPhoneX.

Next is the huge lead time for software upgrades, many DRIODS will never get 2.2 & will be stuck with 1.6 unless someone brews there own hacked version & you can unlock.

Cracking an apple iphone is childs play compred to a driod. If you dont know how to create a GOLDCARD your screwed & it will never be unlocked, mess up the updated OS or its just not a good OS and you own a brick...

Most DRIODS (Andriod) phones that are legmit have MARKETPLACE but not all... 3rd party stores exist if you can run unsigned code (marketplace from google are all signed apps that need MARKETPLACE to install) Tough if you dont have marketplace, its NOT something you can just add.

Now all the different form factors, screen sizes ect... well its a programers nightmare. You may get an app you bought to work & look correct but no garantee...

I went back to the iPone4, i will put on the free bumper and thats the reception problem solved. Next iTunes just works, standard apps run & its all good... I love DRIODs but i wont make that mistake again. I love old westerns (and thats the andriod culture of free for all) but i wouldnt want to live there unless i was an expert gunslinger!



Mr D
07 Sep 10, 10:17
Many droids will never get 2.2?


My Droid is running 2.2 Right now as I write this, with live wallpapers, with a Home replacement app that I downloaded from the market right now as we speak. Not to mention Rooting a phone is not illegal in fact you can purchase a root right off the marketplace for 1$. All rooting a phone does is voids the manufactures warranty. Also, unlike the iphone, you can change your settings to allow your android phone to download 3rd party applications right off your mobile web, instead of the marketplace.

I've used iphones, i've played with iphones, there is nothing fun, nor special about an iphone. You have icons on a screen that lead to your applications, OH and guess what apple did for you dedicated iphone users? They installed folders? Awesome.

Where as with my droid, I have widget support, I have a home replacement application called adw, I have a the live wallpaper that comes normally with the samsung galexy s. Not to mention I run adobe flash 10.1 on my phone as well, so I can go to my favorite game sites, or music sites such as playlist.com and play my music.

You are one of those fools who looks a droid, and looks at the iOS without actually looking at how you can play with it, how you can edit it, how you can personalize it.

Android phones are all about personalization, Where as with your iphone4 you have walls, you have rules, and you have many restrictions.

You have no widget support, you have no live wallpapers, you cant change your lockscreen to a pattern, or letters, or numbers. You cannot wifi tether. I can.

So enjoy your iphone 4, and your pour Reception.

and your pour choice.

Before you critisize a phone that tops yours without a doubt, maybe you should go to your local verizon store, and ask to see a android phone running 2.2 and ask them, why is it better then the iphone 4?

They will tell you everything that makes it supperior to the iphone 4.

And if your going to say that android copies apple, then maybe you should look at apples iPAD, do you think that was original? No. Take a look at the eee pad, for example.



Shelby Moore
08 Sep 10, 00:21
Telcos co-opt Android, kill iPhone?


The more relevant question is perhaps will the telcos oligarchy co-opt Android while destroying the iPhone?

http://esr.ibiblio.org/?p=2512#comment-277590



Mr Doogan
12 Feb 11, 03:10
Android updates


The Android updates comment is a valid one. Many android phones are still running 1.6 and 2.1. Whether a device can get 2.2 or 2.3 depends lately on the manufacturer, and the method of update varies from one manufacturer to the next. just because you have 2.2 doesn't mean that everyone else does. Sony Ericsson users had to practically beg for. 2.1 update for their x10 device which is kinda weird because I thought Android was cross platform? Or does that mean each company has it's own flavor of Android? Oh the joys of fragmentation,




Only logged in users are allowed to post comments.
Register/ Log in