The Shock Doctrine: The Rise of Disaster Capitalism
Politics
/
Global Financial System
Sep 21, 2007 - 12:27 AM GMT

Reviewing Naomi Klein's "The Shock Doctrine" - Naomi Klein is an award-winning Canadian journalist, author, documentary filmmaker and activist. She writes a regular column for The Nation magazine and London Guardian that's syndicated internationally by the New York Times Syndicate that gives people worldwide access to her work but not its own readers at home.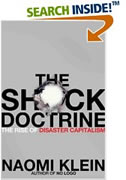 In 2004, she and her husband and co-producer Avi Lewis released their first feature documentary - "The Take." It covered the explosion of activism in the wake of Argentina's 2001 economic crisis. People responded with neighborhood assemblies, barter clubs, mass movements of the unemployed and workers taking over bankrupt companies and reopening them under their own management.

Klein is also the author of three books. Her first was "No Logo - Taking Aim at the Brand Bullies" (2000) that analyzes the destructive forces of globalization. Next came "Fences and Windows - Dispatches from the Front Lines of the Globalization Debate" (2002) covering the global revolt against corporate power.

Her newest book just out is "The Shock Doctrine: The Rise of Disaster Capitalism" (Amazon.com) that explodes the myth of "free market" democracy. It shows how neoliberal Washington Consensus fundamentalism dominates the world with America its lead exponent exploiting security threats, terror attacks, economic meltdowns, competing ideologies, tectonic political or economic shifts, and natural disasters to impose its will everywhere. Wars are waged, social services cut, and freedom sacrificed when people are too distracted, cowed or bludgeoned to object. Klein describes a worldwide process of social and economic engineering she calls "disaster capitalism" with torture along for the ride to reinforce the message - no "New World Order" alternatives are tolerated.

"Free market" triumphalism is everywhere - from Canada to Brazil, China to Bulgaria, Russia to South Africa, Vietnam to Iraq. In all cases, the results are the same. People are sacrificed for profits and Margaret Thatcher's dictum applies - "there is no alternative."

"The Shock Doctrine" is a powerful tour de force, four years of on-the-ground research in the making and well worth the wait. In an age of corporatism partnered with corrupted political elites, it's must reading by an author now firmly established as a major intellectual figure on the left and champion of social justice. Naomi Klein is all that and more. Even for those familiar with her topics, the book is stunning, revealing, unforgetable and essential to know. This review will cover a healthy sample of what's in store for readers in the full equisitely written text. It's in seven parts with a concluding section. Each will be discussed below starting with a brief introduction.

Introduction - Blank Is Beautiful: Three Decades of Erasing and Remaking the World (into Hell)

New Orleans, post-Katrina, is a metaphor for an American-style "New World Order" with unfettered capitalism unleashed in its most savage form. Klein quotes Republican congressman Richard Baker telling lobbyists: "We finally cleaned up public housing in New Orleans. We couldn't do it but God did." And New Orleans developer Joseph Canizaro added: "I think we have a clean sheet to start again (and take advantage of) big opportunities." Their scheme is erasing communities and replacing them with upscale condos and other high-profit projects on choice city real estate at the expense of the poor mother nature forced out and government won't allow back.

Enter the "grand guru" of free-wheeling capitalism, then age 93 and in failing health. This was conservative/libertarian economist Milton Friedman's moment that he first articulated in his 1962 book "Capitalism and Freedom." His thesis: "only a crisis - actual or perceived - produces real change. When a crisis occurs, the actions that are taken depend on the ideas that are lying around....our basic function (is) to develop alternatives to existing policies (ones Friedman rejects, and have them ready to roll out when the) the impossible becomes politically inevitable." Klein calls crises "democracy-free zones," and Friedman's thesis "the shock doctrine." For New Orleans it means "permanent reforms" like destroying public housing and issuing vouchers for privatized schools in lieu of rebuilding public ones with government reconstruction funds.

For Friedman, government's sole function is "to protect our freedom both from (outside) enemies....and from our fellow-citizens." It's to "preserve law and order (as well as) enforce private contracts, (and) foster competitive markets." In his view, anything else in public hands is socialism that for "free market" fundamentalists like Friedman is blasphemy.

Until 1973, Friedman's radical doctrine stayed in his classroom, but all that changed on an earlier September 11. Following General Augusto Pinochet's bloody ascent to power, he had a real life laboratory as advisor to the new Chilean dictator. His prescription came to be known as the "Chicago School" revolution of rapid-fire economic transformation he called "shock treatment," now known as "shock therapy." It's an economic version of "destroy(ing) the village (and country) to save it" from the Vietnam era and nearly as harsh.

Millions know its lessons, but Friedman's not their hero. It's central tenets are structurally adjusted mass-privatizations, government deregulation, unrestricted free market access for foreign corporations, and deep cuts in social spending with repressive laws, harsh crackdowns and torture along for the ride to reinforce the core tenet Reaganites call "trickle down" and Brits call "Thatcherism."

Its recipients call it hell, and Klein explains why - in Chile, Argentina, Uruguay, Bolivia, Brazil, China, Russia, the Falklands, Poland, South Africa, Sri Lanka, New Orleans, Israel, and coming to a neocon-occupied homeland neighborhood near you. It's "disaster capitalism" unleashed, and business is booming. Klein cites insiders saying opportunities are on a par with a thriving "emerging market...."the deals are even better than the dot-com days, and the 'the security bubble' picked up the slack when those earlier bubbles popped."

Reaganomics adherents are today's neoconservatives with the "full force of the US military machine (serving their unfettered) corporate agenda" of greed writ large. Its holy policy trinity is: "elimination of the public sphere, total liberation for corporations and skeletal social spending (if any at all)." But instead of lifting all boats as promised, it's mirror opposite. It creates a powerful ruling corporatist class partnered with corrupted political elites - "with hazy and ever-shifting lines between the two groups." Russia got billionaire "oligarchs," China "the princelings," Chile "the piranhas," and America the Bush-Cheney "Pioneers."

Everywhere, the scheme is the same: huge public wealth transfers to private hands, exploding public debt most often, "an ever-widening chasm between the dazzling rich and disposable poor, and an aggressive nationalism (like George Bush's permanent "war on terrorism" and the world) that justifies bottomless spending on security." "Inside the bubble" is paradise. Outside, however, is hell with "aggressive surveillance, mass incarceration, shrinking civil liberties," a declining standard of living, and repression and torture reinforcing the message to non-believers.

Klein calls the harshness "a metaphor of the shock doctrine's underlying logic." When applied, it induces a state of "deep disorientation," and shock to force targets "to make concessions against their will." The "shock doctrine" works the same way on a mass scale, and the 9/11 experience proved it. It exploded the "familiar world" and created a period of disorientation and regression the Bush administration jumped on abroad and at home. As Klein put it: "Suddenly we found ourselves living in a kind of Year Zero (with) everything we knew of the world before (now) dismissed as 'pre-9/11' thinking." We became a "blank slate, a clean sheet of paper," and the administration did what was impossible before. It's how the "shock doctrine" works: "the original disaster (terror attack, war, hurricane, market meltdown) puts the entire population into a state of collective shock" enabling policy manipulators to move in for the kill to remake the world in their image and get it done before the shock wears off.
Part 2 and Part 3 of this review to follow shortly.

By Stephen Lendman
Stephen Lendman lives in Chicago and can be reached in Chicago at lendmanstephen@sbcglobal.net.

Also visit his blog site at sjlendman.blogspot.com and listen to The Steve Lendman News and Information Hour on TheMicroEffect.com Saturdays at noon US central time.
© 2005-2019 http://www.MarketOracle.co.uk - The Market Oracle is a FREE Daily Financial Markets Analysis & Forecasting online publication.

Only logged in users are allowed to post comments.
Register/ Log in