How High Will Gold Climb?
Commodities
/
Gold & Silver
Sep 21, 2007 - 03:22 PM GMT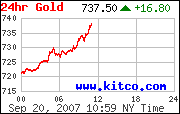 Well, what do the doom sayers say now? Any idiot, yes idiot, can recognize gold is settling above 700 an ounce. I have no idea in the short term where gold is headed, but I do feel that 700 is becoming the established floor price for gold.
While I personally have no idea how high gold will climb to I know how high the vast majority of the masses that follow gold believe it will climb to. To the masses gold has come to represent a giant oscillating pendulum. And a pendulum swings so low and it swings so high. And for the most part a pendulum swing back and forth will maintain within a predetermined range its lows and highs.
So with this frame of thought what is the mass reaction as gold swings back and forth? When gold bottoms around 640 to 650 people are excited and they buy, buy, buy. When gold comes close to 700 or even surpasses this height it is thought to have reached its peak and the masses sell into its strength.
And in all truthfulness this would be a pretty good strategy if you were correct in your thinking and gold always peaked only within 5% of 700 dollars an ounce. Here though I believe you are wrong. I know by the emails that I receive that many gold investors are selling in mass right now thinking gold has reached its peak and is now ready to sail back to its distant shore around 640 an ounce. But what if gold does not drop precipitously back now?
``This is a global bull market in gold,'' Dennis Gartman, economist and editor of the Suffolk, Virginia-based Gartman Letter, said in a report before the Fed announcement. ``Weakness is to be bought rather strength being sold.'' Click
What if gold continues to rise further or even remained from now on firmly planted above 700 an ounce? Well, a lot of people adhering to the earlier strategy I explained would be up the creek and that is what I believe is happening now. John, below, hits on an important question that everyone is asking and deserves to have an answer on.
"A very interesting article indeed. Gold stocks went up a bit, however many of the juniors with good properties and drill results did not budge. Is there a reason for that? Are we in for a big correction from an overbought state? John F"
Listen to the following and you will understand. Right now multitudes of gold investors are selling their gold assets up the creek. And when gold climbs even further their positions will be non existent. To invest in gold correctly it really does take nerves of steel and an intuition where the gold price is heading. Really, you can discern these movements if you learn who to listen to.
If you learn who to listen to and properly follow their advice you will make money instead of constantly playing chicken on the highway. Playing chicken to me merely means you trust in your own judgment before studying the fundamentals driving gold. Playing chicken means you close your ears to any sound advice and "go it alone." And these are the reasons I say over and over that few people will ever really make money off of gold equities…they don't open their ears to listen.
"But what explains the apparent disconnect between the spot price of gold and gold equities?" "If this assumption is in the ballpark then we suggest investors rethink this approach as holding gold equities, in our view, is not a bad hedge at all against the risks within the broad market, and in particular, the risks associated with the potential for further declines in the U.S. dollar…" "Meanwhile, Dundee Securities analyst Jean-Francois Gagnon thinks the recent rally for gold stock has more staying power than those that came earlier in the year. One reason is because gold has historically proven to outperform most commodities in times of liquidity and credit crunches." Click
Death is so ignoble. Spending a lot of work acquiring gold equities and selling them at the wrong time is equivalent to death. Now as gold climbs higher still through the remainder of this year there will be a lot of tears shed for opportunities lost.
"Will this affect my paycheck? " "Yes, in the sense that a weaker dollar can't stretch as far to buy foreign-made products." It reduces purchasing power by raising the cost of imported goods…" Click
Today we are witnessing in the flesh the disintegration of a financial economic system. That change and death is occurring all around us even as we speak these words. Dare to accept change head on - and prepare for it. That really is what living is all about. Life is about change, accepting it, and maybe even profiting from it.
"Gold Rises to Highest Since 1980 as Dollar Slumps on Fed's Cut" "Gold futures rose to a 27-year high after the Federal Reserve cut interest rates, sending the dollar to a record low against the Euro and boosting the appeal of the precious metal as a currency hedge." ``Investors are scared,'' said Ron Goodis, futures trading director at Equidex Brokerage Group Inc. in Closter, New Jersey. ``The rate cut is inflationary, and money is flowing into gold as a hedge.'' Click
Hey! How about that half a point rate drop last Tuesday? That was an exciting day. Haven't seen the cable news forecasters jumping with that much excitement in a long time. I suppose part of the excitement is that they know now our economy is saved. Yeah, right. I think for a mortgage holder in arrears he or she saves 20 or 30 bucks a month now. That's just enough money to go to the Outback once a month.
The saddest thing about this rate cut is that the Fed in one sweep used up their heavy guns too soon. Now what will they produce in 6 months and this crisis has only grown larger. There are no more lifeboats – except for golden ones.
``Investors are scared,'' said Ron Goodis, futures trading director at Equidex Brokerage Group Inc. in Closter, New Jersey. ``The rate cut is inflationary, and money is flowing into gold as a hedge.'' ``This is the most aggressive move they could have made,'' said William O'Neill, a partner at Logic Advisors in Upper Saddle River , New Jersey . ``It's bullish for gold.'' Click
I am simply serious when I repeat that since gold has risen above 700 an ounce everyone is sitting on pins and needles waiting for it to come crashing back down. No enthusiasm except among professional fund managers who are doing most of the gold equity buying now. The mass of small time investors are selling.
Gold may stay close to 700 for a while but make no mistake when I tell you that 700 has become the floor price for gold. And it will climb higher still. Too much crap going on in the world presently. Economic systems every where around the world are having major contractions – they're falling apart at the seams. I guess what I am trying to say is not to sell your junior gold stocks now unless you just need to engage in simple house cleaning to clear out a bug or so. But hang on to those quality gold shares!
Gold Letter, Inc. reviews gold and other resource stocks under valued and poised to rise in this time of increased demand. Natural resources and related contrarian stocks will only escalate in value as the world continues to experience unprecedented population growth. Gold Letter's 10 best performing stocks are up over 2,000% and GL's top 55 performing stocks are over 400%. Close to 90% of all Gold Letter's recommendations since inception in January, 2003 are close to 200%. GL charts are computer generated and updated every hour while markets are open. Click here to order Gold Letter
Send me an email and your comments on the half a point rate cut. What do you think? Are you confident now that our economy is safe and has been rescued?
By David Vaughn
Gold Letter, Inc.
David4054@charter.net
"The Worldwatch Institute, an organization that focuses on environmental, social and economic trends, says the current rate of global demand for resources is unsustainable."
The publisher and its affiliates, officers, directors and owner may actively trade in investments discussed in this newsletter. They may have positions in the securities recommended and may increase or decrease such positions without notice. The publisher is not a registered investment advisor. Subscribers should not view this publication as offering personalized legal, tax, accounting or investment-related advice. The news and editorial viewpoints, and other information on the investments discussed herein are obtained from sources deemed reliable, but their accuracy is not guaranteed. © Copyright 2007, Gold Letter Inc.
© 2005-2019 http://www.MarketOracle.co.uk - The Market Oracle is a FREE Daily Financial Markets Analysis & Forecasting online publication.

Only logged in users are allowed to post comments.
Register/ Log in