Is David Cameron a Socialist? Time for a Tea Party for Britain ?
Politics
/
UK Politics
Nov 11, 2010 - 12:57 PM GMT


The Tea party movement in America spontaneously grew throughout 2009 in response to both Bush and Obama laws that have squandered trillions and sought to increase the size of the Federal government which culiminated in many tea party candidates winning seats under the Republican banner in the November Mid-term elections.
Whilst the Tea party in America is seen by many as a simplistic right wing movement that has not properly thought out what it wants because of apparent contradictions in wanting to both cut taxes and and the federal budget deficit. The Tea party mostly comprising republican leaning voters also suffers from amnesia as pumped out by its propaganda TV station Fox News with its UK counterpart Sky News to hide the responsibility of the Republican Bush administration for the crisis that the United States now finds itself in as President Obama was handed an economy in literal free fall that was losing 600,000 jobs a month, a fact that has been conveniently forgotten by tea partiers as the job loss trend continued for the first few months of Obama's administration before his policies were implemented.
Instead in the UK, the current debt crisis that Britain find itself facing is near uniformly accepted to be 100% the fault of the preceding Labour Government (ignoring Labour party members), that the Coalition Government is being forced to address.
Labour's Debt Crisis Legacy Continues
As mentioned in the June analysis (29 Jun 2010 - UK ConLib Government to Use INFLATION Stealth Tax to Erode Value of Public Debt ) the spending cuts will not prevent total UK debt from rising over the next 4 years by 50%. This is as a consequence of the budget deficit that will persist into the 3rd year of the cuts programme as illustrated below, which anticipates the abandonment of the cuts programme during 2013 as the Coalition government gears itself up towards generating an election boom into May 2015.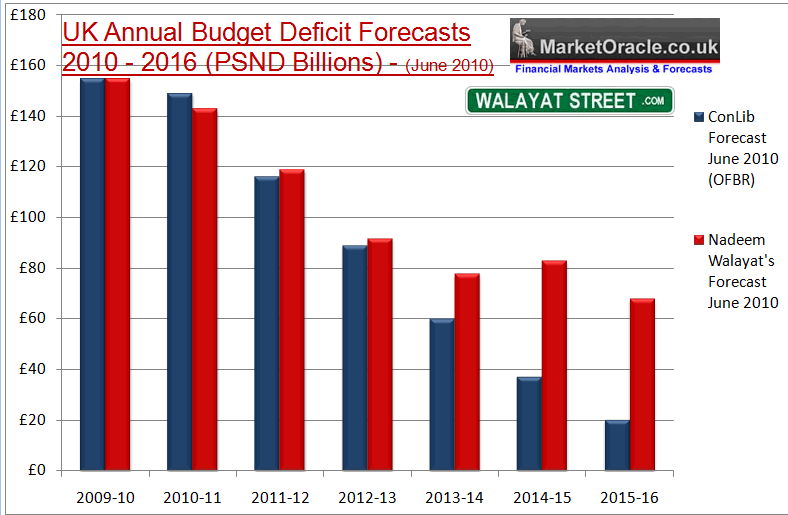 Therefore the spending review did not alter Britains' path towards a debt mountain total of £1,262 billion for 2013-14, an increase of 50% on the 2009-10 total of £784 billion (as per original analysis of June 2010).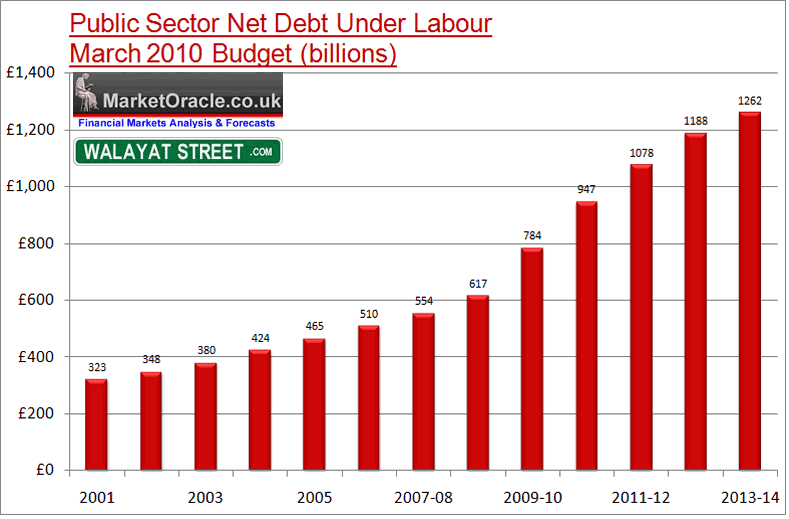 The impact of a 50% increase in total debt also implies at LEAST a 50% increase in ANNUAL debt interest payments to £70 billion a year up from £34 billion for 2009-10, which also illustrates how clueless are those that argue the Coalition government is cutting too much too fast when the facts are that it is not cutting enough to have any impact on growing UK debt.
Coalition Government Flaws
There are two major flaws in the Coalition Government policies:
1. Socialist Frankenstein Coalition Government Targets Middle Class
Taxes - The Frankenstein coalition government is adopting far worse socialist measures that squarely targets the middle class to pay for the price for Labour's incompetence, far worse than that which the labour government had planned to do by effectively taxing the middle class to at least 70% of their earnings (40% Income Tax + 12% NI Tax + 17.5% VAT + 4.6% RPI Inflation (inflation is a stealth tax that the population has been conditioned to view as beneficial when it is actually an earnings and savings purchasing power destroyer) ).
Government Spending - The policies announced to date pay lip service to spending cuts on an out of control welfare state with the largest budgets that deliver no output for additional resources such as the NHS being ring fenced for growth. The consequences of this is that government spending will NOT be cut and instead continue to increase every year from £680 billion for 2009-10 to at least £739 billion for 2014-15.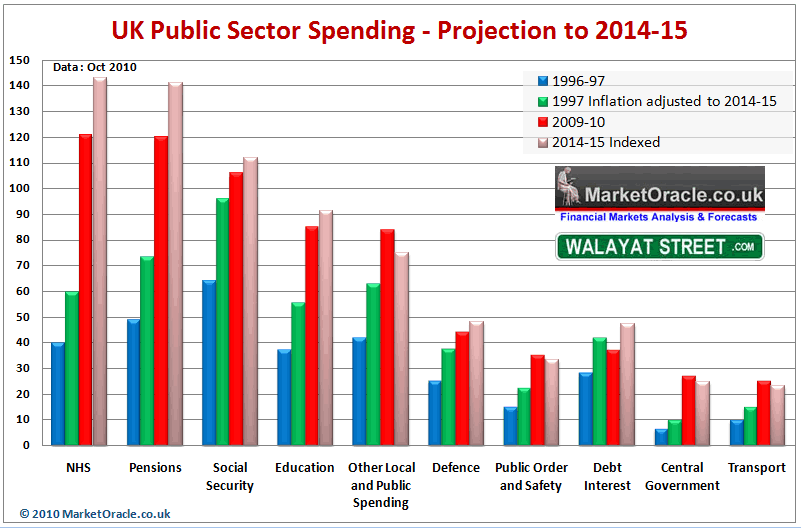 The coalition government has FAILED to implement ANY meaningful cuts in what remains as out of control Government spending.
Tuition Fees - The coalitions policy on tuition fees illustrates a government that is anti-education and destroying the ability for the country to generate future wealth.
1. Tuition Fees will rise from £3,300 to £9,000, saddling graduates with an estimated average debt of £40,000 with all of the consequences both psychological and financial in terms of credit ratings where the debt will impact on graduates for the next 30 years of their working lives.
2. That the debt interest will be at Inflation (RPI) Plus 3% (7.6%), against the current student loan interest rate of 1.5%.
3. Those that pay off their loans off early will be punished, and unpaid debt will be wiped out after 30 years.
4. Repayments will kick in for those earning at £21,000 rather than £15,000, which effectively punishes those that are more productive and acts as a disincentive to work harder, and every year workers delay working harder for higher pay means loss of potential tax revenue, which suggests that the Government is grossly over optimistic in what it expects these workers will earn in the future which is based on growth in graduate pay of the past 30 years when there were far fewer graduates who were NOT saddled and disincentivised to work with £40k of debt repayments. Which also means that perhaps as much as 50% of the monies loaned will never be repaid.
The overall effect is to make university education less palatable to all sections of the population as all will feel the financial and psychological pressure of being saddled with £40k of debt as soon as they leave University and get their first job, especially as the high interest rate ensures that the debt total will continue to soar.
Instead of turning students into debt slaves for life, the government should view graduates as the countries life blood who will go on to become higher rate tax payers and therefore they should incentivise to work harder for more pay and therefore pay more taxes, which is the exact opposite to the coalition governments policy
Key to the countries future is always in the quality of those that enter the Labour force, therefore education should be free so as to maximise the educated worker population pool that will maximise the higher tax payer base, after all middle class tax payers are taxed at an extortionately high rate of approx 70%.
2. Protecting the The Socialist Banking System
The Coalition (as did Labour ) have let off hook those who are responsible for the financial crisis i.e. the banking sector with the Bank of England at its head.
Many mistakenly jump to the conclusion that capitalism was to blame for the financial crisis. However it was not capitalism to blame but socialism, because if there was any doubt in anyone's mind that the banking system that operates in all of the western countries is socialist, then the bailout and protection of the bankster's and their bonuses should have put that to rest.
The power to print electronic money is delegated from the central bank by means of fractional reserve banking which creates the booms and boosts between alternating trends of out of control credit creation followed by credit destruction.
BoE governor Mervyn King has apparently also come to this conclusion recently :
"Of all the many ways of organising banking, the worst is the one we have today."
"What we cannot countenance is a continuation of the system in which bank executives trade and take risks on their own account, and yet those who finance them are protected from loss by the implicit taxpayer guarantees."
However what Mervyn King will never acknowledge is the fact that the Bank of England is THE PRIMARY REASON why the banking crisis occurred, because it lies at the heart of Britains fractional reserve banking system that allows bankster's to bank bonuses on the basis of fictitious profits and then dump the losses onto tax payers i.e. profits are privatised whilst the losses are nationalised.
The Bank of England will never allow real radical reforms to end the socialist banking system because that would result in an end to fractional reserve banking, and if there is no more fractional reserve banking then there is no need for the Bank of England to exist. Therefore Mervyn King is talking a load of nonsense that he does not even agree with as the Bank of England aims are to grab more power from Parliament so that more money can be fraudulently funneled into the hands of a few thousand bankster's that Mervyn King is literally the King of!
If the UK government were not in the back pockets of the Bankster elite then they would be taking powers away from the Bank of England instead of handing over more powers to the Bank to print money and inflate the wealth and purchasing power away of hard working citizens that have increasingly been turned into debt slaves, families now work twice as hard as they did 20 years ago with less purchasing power as a consequence of the theft of purchasing power by means of continuous money printing / credit creation (electronically) via the factional reserve banking system that continues to destroy the value of the currency in real terms as the following graph illustrates -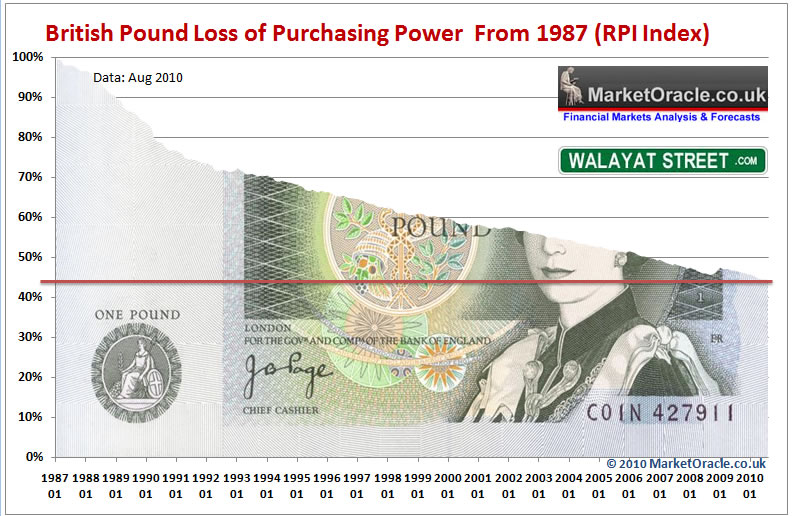 The only way to stabilise the value of money and prevent a future banking crisis (which is guaranteed) is to end fractional reserve banking so that Banks can only loan out what they have received in deposits.
Instead our current fraudulent banking system exists where the Bank of England prints money that is loaned out on leverage to the bankrupt banks so that they can go and buy government bonds on even more leverage, resulting in huge profit margins for near zero risk.
The Banks then treat these government bond holdings as assets against which they can create many multiple of times of electronic money in the accounts of borrowers, loaned out at exuberant interest rates in many cases X20 the rate of the base interest rate that Banks can borrow at from the Bank of England.
The system is designed to generate literally unlimited profits for the bankster elite, and if the banks lend too much then the socialist banking system ensures that the ordinary tax payers will be forced to step in and bail out the banks at any cost and ensure that all bond holders are protected at 100%. This is NOT capitalism, this is socialism. Capitalism is a mechanism for the allocation of capital towards whichever business is profitable, and as long as the business is profitable the business is financed, if the business stops being profitable then capital is reallocated to other ventures that could prove profitable. Capitalism is not conjuring money out of thin air that is loaned out to ANY business whether it is viable or not amidst a credit boom (as there is unlimited money), and then when the bubble bursts have tax payers step in and cover ALL of the banking sectors losses after bank officers have banked bonuses on fictitious profits, leaving hollow husks behind for the tax payers to cover the liabilities of. That is not capitalism, this is fraud on the tax payers of Britain, far greater than any mafia don could ever hope to achieve.
Interest rates are near ZERO so as to allow the bankrupt banks to maximise the amount of profits they can make as they borrow at 0.5% and then leverage it up by the fractional reserve banking system to between X10 and X20 then go on and buy government bonds at 3% which implies an instant profit 25% to 50% all courtesy of the Bank of England and Tax payers.
In America the tea party movement is rising up against the blatant frauds that are taking place such as Hank Paulson the ex CEO of Goldman Sachs effectively engineering a £700 billion theft from taxpayers to the bankster's. Isn't it time for the middle class of Britain to also wake up to the fraud of the socialist fractional reserve banking system that seeks to destroy the value of a life time of savings ?
David Cameron's coalition government is not showing any vision, instead it is magnifying the policies that the Labour government had planned to implement and even more eager to protect the Bankster Elite that many Conservative MP's hope to join on leaving office. So Britain does appear ripe for a Middle Class led Tea partyesk movement across Britain to cut taxes from 70% and out of control government spending and destroy the power of the bankster elite that the country remains firmly in the grips of.
Comments and Source: http://www.marketoracle.co.uk/Article24216.html
By Nadeem Walayat
Copyright © 2005-10 Marketoracle.co.uk (Market Oracle Ltd). All rights reserved.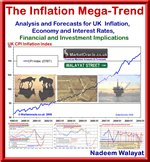 Nadeem Walayat has over 20 years experience of trading derivatives, portfolio management and analysing the financial markets, including one of few who both anticipated and Beat the 1987 Crash. Nadeem's forward looking analysis specialises on UK inflation, economy, interest rates and the housing market and he is the author of the NEW Inflation Mega-Trend ebook that can be downloaded for Free. Nadeem is the Editor of The Market Oracle, a FREE Daily Financial Markets Analysis & Forecasting online publication. We present in-depth analysis from over 600 experienced analysts on a range of views of the probable direction of the financial markets. Thus enabling our readers to arrive at an informed opinion on future market direction. http://www.marketoracle.co.uk
Disclaimer: The above is a matter of opinion provided for general information purposes only and is not intended as investment advice. Information and analysis above are derived from sources and utilising methods believed to be reliable, but we cannot accept responsibility for any trading losses you may incur as a result of this analysis. Individuals should consult with their personal financial advisors before engaging in any trading activities.
© 2005-2022 http://www.MarketOracle.co.uk - The Market Oracle is a FREE Daily Financial Markets Analysis & Forecasting online publication.
Comments
Rob
12 Nov 10, 22:34
University fees


Nadeem, an interesting post as ever. On the subject of fees, what is the genuine alternative - even at a maximum of £9k a year the rest of the world's best universities charge much more and give consequently better education. Are we not harming the state of universities to starve them of funds? That said, some of our best universities attract overseas students in numbers. My nephew, from Malaysia is at Imperial studying medicine. Fees are £45,000 per year. Puts our home student current fees at £3kish in perspective....



Nadeem_Walayat
13 Nov 10, 01:02
University Fees


They should have left the fees at £3,300 and perhaps increase them inline with inflation (RPI).

I am looking at whats best for Britain's future, and that is having an highly educated worker pool to maximise future tax revenue and growth, anything that reduces education is a negative and evidence of short-termism which is what this government is doing, they have not thought out the long-term consquences, which is more graduates will be imported from asia whilst those that are LESS educated here rot on benefits.

The ONLY thing Britain has that could compete with Asia is by having a HIGHLY educated worker pool. That is the only thing, as in Asia University education is NOT FREE, therefore limited to those that can pay.

And its no good the govenement dealing with them AFTER they have been on benefits for 10 - 20 years as that is LOST productivity that one can never get back,

If it was up to me education would be free! And taxes would be cut to HALF where they are today, then watch the economy soar !




Only logged in users are allowed to post comments.
Register/ Log in