Bernanke in Big Trouble, Global Investors Prepare to Dump Trillions of Dollars
Interest-Rates
/
US Bonds
Nov 17, 2010 - 08:01 AM GMT

Ben Bernanke is in trouble. Big trouble. Bigger trouble than any Federal Reserve Chairman has ever been in.
There is a cartoon video all over the Web that discusses "quantitative easing." It is a riot. This is very, very bad for Bernanke. When the public starts laughing at a senior government bureaucrat, he is in trouble.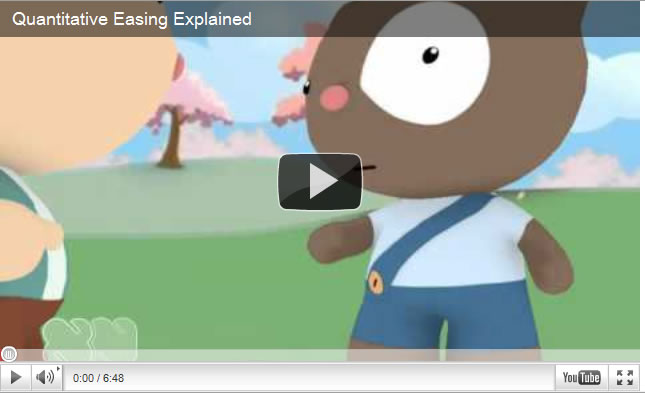 I will assume from this point on that you watched it.
The video was produced free of charge on a creative Website, www.Xtranormal.com. The site provides very simple cartoon images. You select from 28 different combinations of talking creatures. You type in a script. The site's software creates the cartoon. You have just seen an example.
The site claims that over nine million of these have been created so far. That is mind-boggling. That is an enormous amount of videos. There are millions of people out there who want to have some fun with scripts. The site has been online since March 2007. I have only recently begun to see cartoons created with the software.
The video gets to the point: Bernanke is an inflationist. It also makes the point that Goldman Sachs gets rich from its relationship with the FED. When a video makes this connection, the FED is in trouble, because Goldman Sachs has a bad press. It is not merely guilt by association. It is more like "unindicted co-conspirator."
The phrase "quantitative easing" was coined – the appropriate passive verb – by a British economist, Richard Werner, back in 1994. It has taken that long for central banks to substitute it for "inflation."
According to the Wikipedia article on quantitative easing, Werner's original use of the phrase was more restrictive than mere monetary inflation.
According to its author, he used this phrase in order to propose a new form of monetary stimulation policy by the central bank that relied neither on interest rate reductions (which Werner claimed in his Nikkei article would be ineffective) nor on the conventional monetarist policy prescription of expanding the money supply (e.g. through "printing money", expanding high powered money, expanding bank reserves or boosting deposit aggregates such as M2+CD – all of which Werner also claimed would be ineffective). Instead, Werner argued, it was necessary and sufficient for an economic recovery to boost credit creation, through a number of measures.

The FED's policy is specifically aimed at lowering mid-maturity Treasury bond rates. To achieve this goal, the FED must buy bonds. It must therefore increase the monetary base to do this. So, in terms of Werner's original idea, this is good old inflation, not quantitative easing. But central bankers and the financial media have substituted "quantitative easing" for "inflation," because it sounds more acceptable, less obviously the same old Keynesian and monetarist policy prescription.
THE LAUGHTER INCREASES
The original anti-Bernanke video was produced by graduate students at the Columbia Business School (CBS). It was based on a song by The Police. If you search Google for "video" and "Bernanke," it's the first entry. It was posted in April 2006, two months after he took over as Chairman. It proved to be amazingly accurate.
The media gave him a free ride, just as it has given every previous FED Chairman a free ride, until 2008. But when the economy went into crisis mode, and the FED began its policy of bailing out banks, there was the beginning of a reversal. Ever so mildly, the media began to question the FED's wisdom and Bernanke's leadership. The fact that Ron Paul raised tens of millions of dollars for his anti-FED presidential campaign also helped change the old tradition. Anyone who can raise that much money is no longer considered a kook. He moves into "phenomenon" category.
Then came Paul's bill to audit the FED. It had over half the House as co-sponsors, which meant Democrats. Barney Frank gutted it, as I said he would, but the media finally began to get the message. The FED became more vulnerable than ever before.
Then came the Republican victory on November 2. On November 3, Bernanke announced that the FED will buy $600 billion in T-bonds. This sent a message: "The economy is stalled. Nothing is working. The FED is desperate."
One sign of this desperation is Bernanke's insistence that the FED has measures in reserve to exit from this new policy. But he has been talking about these exit strategies for a year. Then he announces a $600 billion increase in the monetary base/balance sheet. This says, loud and clear, "I was faking it about an exit strategy – deflationary. Our only hope is additional monetary expansion." This says, "We do not know how to get unemployment down. So, we are going to inflate even more, despite the fact that a doubling of the monetary base failed."
Once the media go into skepticism mode, humor begins to take its toll. Why? Because the humor is released into a context of doubt. When it is humor against Establishment opinion, it is seen as fringe humor. But when it adds to the existing media skepticism, it gets leverage.
The general background noise today is a combination of hopefulness and doubt. But the older context – confidence regarding central banking – is now gone. That older context had been dominant throughout the post-World War II era. It has disappeared over the last two years.
In the present context, the humor has moved from friendly (the 2006 music video) to outright hostility (the Ben Bernank video). The Ben Bernank video suggests collusion between Goldman Sachs and the government. There has been collusion for decades. Goldman Sachs's former CEO, Robert Rubin, was Clinton's Secretary of the Treasury, but no one outside the far Right and far Left ever commented critically on this. Nothing was said about Rubin's successor – in both positions – Hank Paulson, when Bush appointed him. But now the connection is fodder for irreverent humor.
This indicates that there is a growing market for laughter. The economy is stalled. The government's experts have been unable to find a way to reduce unemployment. This lack of success is now undermining the confidence that the Establishment financial media used to have in the policy-makers. The media always gave them the benefit of the doubt. This has begun to fade. The media's talking heads and scribblers are now easy to quote skeptics. There are a lot more skeptics to quote.
Humor reinforces the existing climate of skepticism. This reinforcement aspect is what threatens Bernanke today. In the next Congress, Ron Paul will be able to extend the degree of skepticism.
RON PAUL'S NEW POSITION
Ron Paul is likely to become chairman of the House's Monetary Policy Subcommittee next year. This has received a lot of attention on the libertarian sites, but CNN's money site also commented on it.
Ben Bernanke has had his hands full since his first day on the job as Federal Reserve chairman nearly five years ago. It's about to get even tougher.

His harshest critic on Capitol Hill, Rep. Ron Paul of Texas, is about to become one of his overseers.
This is strong language for CNN to have used. This indicates that the Establishment media perceive a growing threat to the FED.
Paul doesn't think he'll be able to move his proposal to eliminate the Fed, or to allow Americans to use gold instead of paper money as currency. But he said he does intend to use his new position as "a mini-bully pulpit" to criticize Fed policy and call more attention to what he sees as its negative consequences. And he's confident that American voters are ready to delve into those monetary policy questions.

"Five years ago they wouldn't have listened. Now they will," he said. "We've gained a lot of credibility in making the Federal Reserve an issue since the market collapse."
He said that he will press for an audit of the FED. This is clearly a threat to the FED, because it would require an inventory of the gold held by the FED on behalf of the government.
"It will never be easy; the Fed has a lot of influence," he said of the audit legislation. "But there's a lot of life to it. We got further along than I ever expected."

What can the Federal Reserve do to block Paul? The article cites someone in the financial world.
While the Fed policymakers will try to resist pressure from Paul, they won't be able to ignore it, said John Silvia, chief economist for Wells Fargo Securities. And he said there's a potential for that pressure to influence Fed policy.

"The Fed has a more balanced, nuanced position on its dual mandate to promote growth and keep prices stable," he said. "Ron Paul probably doesn't."
He's got that right! The financial world wants the FED to be there to provide bailout money. That is what Wall Street regards as a balanced, nuanced position. It is not Paul's position.
"He probably just thinks I'm a nuisance rather than a nightmare," he said.

And Paul doesn't think he'll be able to reverse Fed policy or force Bernanke to resign, as much as he would like to.

"I think psychologically, Bernanke is incapable of changing his mind," he said. "It's probably unlikely [Bernanke will resign] under today's circumstances. But you don't know what it will be like a year or two from now."
That this article appears in the mainstream financial media is indicative of what Paul has been able to do since his run for President in 2008. He has uncovered the rock that the media had allowed to remain in place for a century. "Let's take a look at what's under here," he has said in effect. The Establishment does not want to take a look. It does not want the voters to take a look.
Now Paul will be able to ask Bernanke questions, unless the Republican leadership shields him. If it does, the Tea Party voters will be able to see that a sell-out is in progress. The Republican leadership is trapped. There are new House members who are not part of the Old Boy Network. The fact that Rand Paul won in Kentucky, despite the opposition of Mitch McConnell, sent a message to the Republican leadership. There is more to this than a fluke run for the Presidency by an obscure Congressman.
THE SPOTLIGHT IS ON BERNANKE
The general public knew nothing of the FED as recently as the summer of 2008. There was no Tea Party movement. Ron Paul went public with his campaign's criticisms as the recession was getting worse. He raised so much money that he got the attention of the Establishment. He was cogent in the debates. This is why Fox News finally banned him from the debates. The mainstream Media had not dared to do that until Fox did its deed. But by then, it was way too late.
Then came the crisis of September and October. That proved Paul correct. He had warned of this, and it hit in full view of the voters. It cost John McCain the Presidency.
The fall-out has been almost entirely negative for the FED. Academia is still behind the FED, but academia has been exposed as utterly incompetent. None of its Keynesian policies has worked. The voters know this. The unemployment statistics remain stuck well above 9%.
Bernanke is now a target. He can shrug off criticism from the Right, but if his policies are not followed by reduced unemployment, more exports, a reduction in the balance of payments deficit, economic growth, and a reduced Federal deficit, the popular media will start calling for more radical measures. He is not a radical man. He is a mild-mannered professor who had not been in the spotlight before 2008. Now he can't get out of the spotlight. He can run, but he can't hide.
He has no aura of invulnerability. Volcker had this. Greenspan had this. No one remembers Miller, whose term lasted only 18 months. How many reporters remember Burns? Hardly any. So, from the point of view of today's media, Bernanke is weak. Now he is getting hammered by events.
The President went to the two Asian economic summits in the way that a desperate man goes to Las Vegas with a small stake in the hope of winning big and covering his debts back home. He came up short. He crapped out. Yet he was acting as the agent of Bernanke. He went into the lion's den in the week that Bernanke had announced his new policy of buying T-bonds, a move so obviously aimed at weakening the dollar that the Asians rebuffed Obama as if he were the President of a banana republic. All he could do after striking out was to brag about some non-existent singles. There were no singles.
The world's central bankers used to hold Greenspan and Volcker in reverence. Bernanke commands nothing like this degree of respect. The world's central bankers are waiting for him to make mistakes. They give no sign of encouragement. They did not praise his November 3 announcement. They remained mute. The German finance minister said Bernanke is clueless. No major international financial decision-maker came to his defense.
CONCLUSION
Bernanke is going to come under fire from all sides: domestic, international, political, financial. Everyone wants the FED to remain the rock of Gibraltar, because the world is holding trillions of dollars' worth of Treasury debt. If the dollar falls, those who hold T-bills and T-bond will be exposed as suckers – lapdogs of the Federal Reserve. No one wants to be seen as anyone's lapdog, especially when he really is. Everyone is ready to run to the lifeboats if the Good Ship Bernanke is perceived as going to Davy Jones' locker.
The only question is this: Which lifeboats will float, if any?
Gary North [send him mail ] is the author of Mises on Money . Visit http://www.garynorth.com . He is also the author of a free 20-volume series, An Economic Commentary on the Bible .
© 2010 Copyright Gary North / LewRockwell.com - All Rights Reserved
Disclaimer: The above is a matter of opinion provided for general information purposes only and is not intended as investment advice. Information and analysis above are derived from sources and utilising methods believed to be reliable, but we cannot accept responsibility for any losses you may incur as a result of this analysis. Individuals should consult with their personal financial advisors.
© 2005-2019 http://www.MarketOracle.co.uk - The Market Oracle is a FREE Daily Financial Markets Analysis & Forecasting online publication.
Comments
gAnton
17 Nov 10, 20:29
Bernanke's Bullseye On Wrong Target


QE-2 is principally a strange and twisted effort directed by Obama's China obsession. The irony is that most of the excess money being generated by QE-2 is being invested in China and other emerging market countries. Thus all of Bernanke's goals for QE-2 will be realized, but in the wrong places (i.e. in China and other emerging market countries). The US economic problems that QE-2 is supposed to address (e.g. unemployment) will actually be exacerbated by QE-2!



John come lately
22 Nov 10, 18:13
life boats


I want to be on Johnny Depps Gold laden pirate boat. Not the QE II or the titanic




Only logged in users are allowed to post comments.
Register/ Log in