Ben Bernanke's Money Pump to Create New Market Bubbles
Stock-Markets
/
Stock Markets 2010
Dec 06, 2010 - 08:26 AM GMT


This morning global markets are mixed and US futures are down a few ticks before the open. Overnight US Federal Reserve Chairman Ben Bernanke announced that he was ready to buy up more bonds and he will undoubtedly formally announce such a decision at the next FOMC meeting next week on December 14th. As soon as he said this Asian markets ticked up a few points in hope that some of the hot money he creates will flow overseas to emerging markets. It probably will.
Over the past 15 years whenever the Fed has lowered rates and printed money it eventually ended up creating a bubble somewhere. In the late 1990's that bubble came in tech stocks. Then when that bubble burst the Fed lowered rates and kept them low for too long and created a bubble in real estate which resulted in the banking collapse, 2008 stock market crash, and economic problems the world faces today. They started lowering rates two years ago in response to that fallout and now are literally printing money out of thin air.

They haven't created a bubble yet, but all signs point to a bubble emerging. The big question is where? Where will the hot money go? The Fed hopes that banks will use the money to lend to American businesses and stimulate the economy, but banks are already sitting on over one trillion dollars in reserves and are not lending the money out in mass and are unlikely to do so.

But the money will go somewhere.

The most likely candidates are the asset sectors in the strongest uptrends and the economies of the world full of growth prospects and not burdened by debt clouds. With asset classes that means gold and commodities and with countries it means emerging markets such as Southeast Asia and the South American nations.

Yes the hot money has helped the US markets out. We saw the potential start of a new bear market emerge in May when the stock market peaked out and went into a mini-flash crash dive and the very bottom came exactly in June when Bernanke first floated the idea of doing a "quantitative easing" money pump jump. Then in August when he made it official the DOW, Nasdaq, and S&P 500 basically rallied straight up into the first FOMC meeting at which he began his money pump.

The market got overbought and people got a little too bullish at the same time so the market paused and corrected back down after that meeting. It then went sideways and started to turn up again last week.
At the beginning of the year I released a stock market forecast in which I said the market would go sideways for most of the year and then likely break the sideways trading range to make a big move. I didn't say I knew which way that move would be, just that the market would likely go sideways most of the year.

I also worried about this because sideways markets can be among the most difficult to trade and make money in, because they end up shaking people out and causing traders to churn their accounts over. It is easy to get too bullish at the top of sideways ranges and too bearish at the bottoms. In fact during sideways action the best thing is to do nothing and just be patient until you get near the end of it and it becomes clear which way the market is going to ultimately go, but this is nearly impossible for most people to do.

Now the market has gotten itself into an interesting position, because it has rallied back up to the top of the sideways range. It pulled back off of it, but has succeeded in holding up and is now near the long-term resistance of the top of the range - the 1220-1230 area of the S&P 500.

If the market can break through that range and rally up to the 1250 area then it will be in a position to make another big leg up into the 1300-1400 area. In other words if it can breakout here then it can put on a big rally that will likely last for several months and probably lead to another big manic top.

Such a breakout would cause anyone who is not already in the market to pile into it. What has happened is that many hedge funds and mutual funds have lagged the market this year, because they got caught up trying to trade the sideways action and lost money. If the market starts to breakout they will have to chase it higher or else their clients will take their money away from them. Investors don't mind if they lose as long as the market falls too, but if the market goes up and their money managers underperform they get angry and take the money away. That is why the stock market always has an upward bias and why hot money always ends up creating a bubble.

Sentiment according to investor surveys is already heavily weighted to the bullish side, but it can in fact get more bullish. According to Investors Intelligence the numbers of bulls in the market are at the levels seen last May and January, but the number of bears has not sunk to those lows yet.

The market is at a key pivot point. The S&P 500 is right below the 1230 area so it is at a point where it will either top immediately and turn down on everyone or else pause for a few days and then breakout to begin another big run that will last the rest of this year and probably into February or March.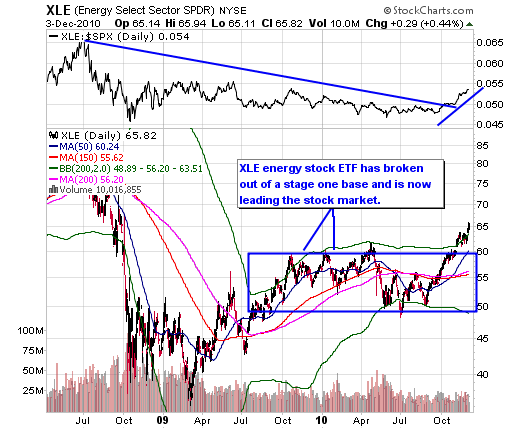 What would lead such a run are commodity stocks. Energy stocks in particular are in a good position to go higher, while silver stocks have been the number one sector in the whole market the past few months.

So if the market does manage to break higher and begin a new big run it will be commodities and energy prices that end up substantially higher a year from now from where they are now.

This will eventually translate into high gasoline costs, higher prices for food, and higher prices for everything.

This makes logical sense, because if there is more money out there in the economy than it should take more money to purchase goods.

The problem is that most Americans won't have more money. When the Fed prints money it gives it to banks and not people so in the end the banks will benefit while the people will suffer. Higher inflation will mean a lower standard of living for the average American probably forever.

This is the true cost of the bank bailouts and Fed quantitative easing. Yes it may make the stock market continue higher for a period of time. It will help banks and encourage stock market speculation and bring excitement from the talking heads on CNBC. But it will make most people you know suffer in the end. For you personally it depends on where you sit in the class structure. Will a 10% gain in your mutual funds and retirement accounts offset having to pay 10% more for gas, heating, and every day bills? Some do benefit from stagflation, but most don't.

Subscribe to my free weekly newsletter for more in depth analysis of the financial markets with a discussion of individual stock picks. To subscribe for free click here.
By Michael Swanson
WallStreetWindow.com
Mike Swanson is the founder and chief editor of WallStreetWindow. He began investing and trading in 1997 and achieved a return in excess of 800% from 1997 to 2001. In 2002 he won second place in the 2002 Robbins Trading Contest and ran a hedge fund from 2003 to 2006 that generated a return of over 78% for its investors during that time frame. In 2005 out of 3,621 hedge funds tracked by HedgeFund.Net only 35 other funds had a better return that year. Mike holds a Masters Degree in history from the University of Virginia and has a knowledge of the history and political economy of the United States and the world financial markets. Besides writing about financial matters he is also working on a history of the state of Virginia. To subscribe to his free stock market newsletter click here .
Copyright © 2010 Michael Swanson - All Rights Reserved.
Disclaimer - WallStreetWindow.com is owned by Timingwallstreet, Inc of which Michael Swanson is President and sole shareholder. Both Swanson and employees and associates of Timingwallstreet, Inc. may have a position in securities which are mentioned on any of the websites or commentaries published by TimingWallStreet or any of its services and may sell or close such positions at any moment and without warning. Under no circumstances should the information received from TimingWallStreet represent a recommendation to buy, sell, or hold any security. TimingWallStreet contains the opinions of Swanson and and other financial writers and commentators. Neither Swanson, nor TimingWallstreet, Inc. provide individual investment advice and will not advise you personally concerning the nature, potential, value, or of any particular stock or investment strategy. To the extent that any of the information contained on any TimingWallStreet publications may be deemed investment advice, such information is impersonal and not tailored to the investment needs of any specific person. Past results of TimingWallStreet, Michael Swanson or other financial authors are not necessarily indicative of future performance.
TimingWallStreet does not represent the accuracy nor does it warranty the accuracy, completeness or timeliness of the statements published on its web sites, its email alerts, podcats, or other media. The information provided should therefore be used as a basis for continued, independent research into a security referenced on TimingWallStreet so that the reader forms his or her own opinion regarding any investment in a security published on any TimingWallStreet of media outlets or services. The reader therefore agrees that he or she alone bears complete responsibility for their own investment research and decisions. We are not and do not represent ourselves to be a registered investment adviser or advisory firm or company. You should consult a qualified financial advisor or stock broker before making any investment decision and to help you evaluate any information you may receive from TimingWallstreet.
Consequently, the reader understands and agrees that by using any of TimingWallStreet services, either directly or indirectly, TimingWallStreet, Inc. shall not be liable to anyone for any loss, injury or damage resulting from the use of or information attained from TimingWallStreet.
© 2005-2019 http://www.MarketOracle.co.uk - The Market Oracle is a FREE Daily Financial Markets Analysis & Forecasting online publication.
Comments
scoremore1@gmail.com
08 Dec 10, 05:45
us jobs


If you look at those 1 million jobs created he speaks about, you will find the vast majority of them were in the retail, healthcare and fast food industry. In other words, service sector which is NOT a skilled job, nor does it require a college degree.




Only logged in users are allowed to post comments.
Register/ Log in