Dollar Devaluation Is Annihilating the Middle Class and Worse is Yet to Come!
Currencies
/
US Dollar
Oct 28, 2007 - 02:34 AM GMT


You Want to Know Why You Feel Like You are Struggling Financially?
Because the U.S. Dollar Has Just Been Devalued by a Third Over the Past Five Years.
And more devaluation is coming. Perhaps another 50 percent. The markets are convinced that the Fed is going to drop rates again on Halloween by another half percentage point. This means hyperinflation, and all markets moved accordingly Friday. The Dollar hit a new low, at 77.00, and is worth 53 percent of what a Euro is worth.
This is a massive currency devaluation right before our eyes. It means the cost of everything is going up, which the Master Planners figure will diminish the debt load as debt contracts are expressed in Dollars from the past that were worth more than they are now. Those debts can be paid back in the future with dollars that are worth less. But this thinking requires folks to get their hands on a greater quantity of these devauled dollars. This thinking is ludicrous, but reality.
When the Master Planners devalued the dollar over the past five years, they raised the cost of living for everyone. The Middle Class is getting annihilated from this silent event. Incomes are not keeping up. This was done because this administration "equates stock market success with economic success and has directed their efforts to drive up equities at literally any cost," to quote one of our subscribers. This is pure fallacy as market declines are proven to be beneficial to Middle Class investors who use the safe, time-tested investing strategy of Dollar Cost Averaging (occurring in 401(k)'s for example), where stock market declines can actually accelerate wealth generation. All this administration has accomplished is to ensure that Wall Street Banking Firms continue to make huge profits. This is not to bash Republicans, as this was not the case under Republican Ronald Reagan.
M-3 remains hidden by the Fed, so that We the People can't know what the Federal Reserve is up to, like supplying the PPT with money to buy markets. Where's the transparency Ben? We continue to monitor the monster charted below — it tells you all you need to know about what the Fed has been doing with M-3: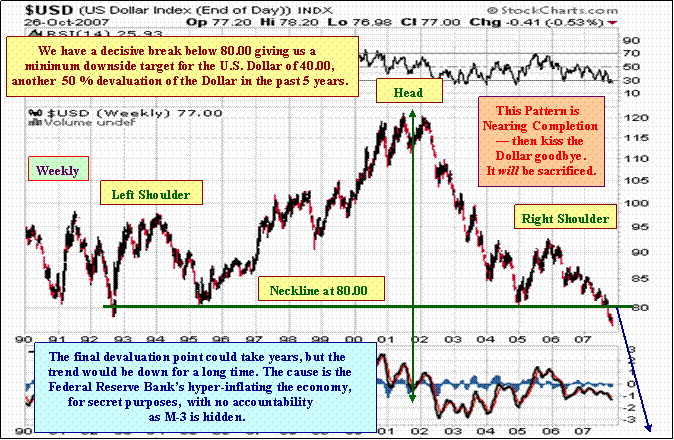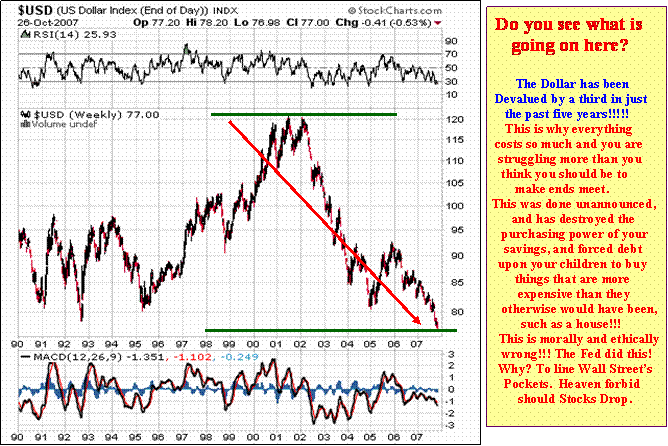 The situation has deteriorated as we see a decisive break below the neckline. The Dollar could drop faster than perhaps anyone thought. The pattern is a Head and Shoulders top. These patterns are highly reliable. It is now a "confirmed" pattern, meaning prices dropped decisively below the neckline, below 80.00 to 77.00ish. This means the probability of the minimum target of 40.00ish being hit is great. Now that the Dollar dropped down to 77.00, we are in a high risk situation of a devaluation of the dollar all the way down to 40.00. Remember, this mess started with the Dollar at 120.00 five years ago. 40.00?
Not all at once, but over the course of several years. Perhaps all at once, should the government elect to flat-out issue an edict that a dollar is now worth 50 cents. Would they? Maybe. Why? It is a way to repudiate half of all the debt in the United States. Why would they want to do that? Perhaps if a recession became a depression, or the risk thereof. Perhaps if Housing was to absolutely dive into the tank. It would be a way to relieve mortgage holders of a huge chunk of their obligations in lieu of mass foreclosures, and bailout financial institutions holding substantial portfolios of mortgage backed securities – IF households can get their hands on enough of these hyperinflated dollars.
However, the problem for the middle class, is will any of this monetary hyperinflation find its way into their checking or savings accounts? Will their incomes rise from this artificial economics policy? We don't think much of it will. The Master Planners figure if they give the money to Wall Street, enough of it will trickle down to enough of the small folks on Main Street to alleviate widespread economic distress. But how can this happen if folks do not own the equities that this master plan requires folks to own? No, Wall Street will get richer and that is about it.
If the plan is to monetize our nation's debt through extraordinary injections of money supply in exchange for Treasuries, if the plan is to support equities through injections of money into Plunge Portection Team Wall Street surrogates who then support stock prices, how does that help mom and pop with their debts? How does that help them pay for rising insurance premiums, and real estate taxes, and tuitions, and home repairs, and on and on? It won't.
If the Master Planners are going to devalue the Dollar another third or by even half, they better figure out a way to get all those freshly printed dollars directly into the hands of households.
This is all extraordinarly good for precious metals, the HUI Gold Bugs index, and other inflation defensive assets. But will Main Street be holding enough of them to keep breath above water?
We offer a paid subscription service where we write a daily market newsletter each evening, Monday through Thursday, with an expanded report over the weekend, available at www.technicalindicatorindex.com We currently are running a special, 6 months for the same price as a 3 months subscription, a mere $99. You can check us our with a FREE 30 day susbcription by clicking on the button at the upper right of the home page.
"Jesus said to them, "I am the bread of life; he who comes to Me
shall not hunger, and he who believes in Me shall never thirst.
For I have come down from heaven,
For this is the will of My Father, that everyone who beholds
the Son and believes in Him, may have eternal life;
and I Myself will raise him up on the last day."

John 6: 35, 38, 40

by Robert McHugh, Ph.D.
technicalindicatorindex.com
If you would like a Free 30 day Trial Subscription , simply go to www.technicalindicatorindex.com , and click on the FREE Trial button at the upper right of the home page. A subscription gains you access to our buy/sell signals, our Market Analysis Newsletters, Traders Corner, our model Conservative Investment Portfolio, Guest Articles, and our Archives.
Robert McHugh Ph.D. is President and CEO of Main Line Investors, Inc., a registered investment advisor in the Commonwealth of Pennsylvania, and can be reached at www.technicalindicatorindex.com. The statements, opinions, buy and sell signals, and analyses presented in this newsletter are provided as a general information and education service only. Opinions, estimates, buy and sell signals, and probabilities expressed herein constitute the judgment of the author as of the date indicated and are subject to change without notice. Nothing contained in this newsletter is intended to be, nor shall it be construed as, investment advice, nor is it to be relied upon in making any investment or other decision. Prior to making any investment decision, you are advised to consult with your broker, investment advisor or other appropriate tax or financial professional to determine the suitability of any investment. Neither Main Line Investors, Inc. nor Robert D. McHugh, Jr., Ph.D. Editor shall be responsible or have any liability for investment decisions based upon, or the results obtained from, the information provided. Copyright 2007, Main Line Investors, Inc. All Rights Reserved.
© 2005-2019 http://www.MarketOracle.co.uk - The Market Oracle is a FREE Daily Financial Markets Analysis & Forecasting online publication.

Only logged in users are allowed to post comments.
Register/ Log in