Rumours of America's Economic Death Are Exaggerated: Credit Crunch Was a Blip
Economics
/
US Economy
Mar 24, 2011 - 07:14 AM GMT


A good sign of impending economic death is when people stop lending money to you.
What's strange is that in some quarters conventional wisdom has it that America is on death's door with hyper-inflation just around the corner as a punishment for all the BAD money printing.
Yet the recent numbers from the Bureau of Economic Analysis suggests there is no shortage of "foreigners", or what US Immigration Authorities politely calls "Aliens", buying US debt.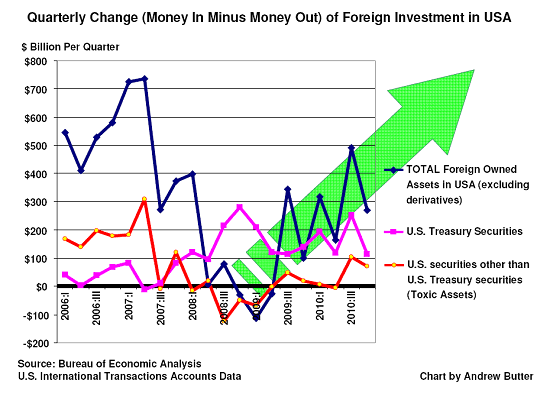 Looks like the trend-line is heading up towards the good-old days pre-crunch when Aliens could be relied upon to pump in $700 billion every quarter.
That money was and is mainly to help pay for oil and goods from China; seeing as America decided years ago to forget about the "old-fashioned" idea of paying for that stuff, with exports.
And sure, Bill Gross isn't buying US debt; he says it's much too expensive because he anticipates inflation around the corner and he says that the 10-Year "ought" to be 5% by now rather than 3.5%. Another popular guru, Meredith Whitney says that $200 billion of the $2.8 Trillion of Municipality Debt will default "sooner than later".
That of course is debatable:
http://www.marketoracle.co.uk/Article27011.html
http://www.marketoracle.co.uk/Article27034.html
Leaving aside the dynamics of America's addiction to expensive foreign oil and cheap goods destined for Wall Mart from China (those two added together are currently running at $400 billion a quarter (i.e. $1.6 trillion a year)), the dynamics of how America used to finance and currently finances those luxuries using debt, is revealing.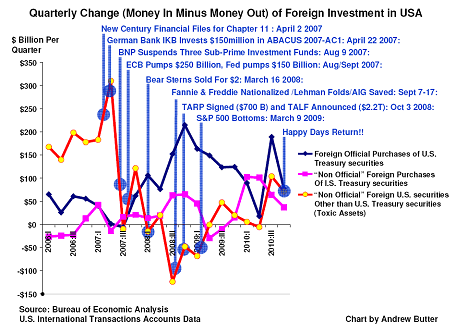 What kept America alive from 2000 up to Q-I 2007 was the wonderful job that God's Workers did selling toxic assets to not-very-smart Aliens, that's the red-line in the chart.
That's what made the "difference" and was what allowed America to shoot itself in the foot so perfectly, without even the direct help of its government, which at the time was preoccupied with shooting itself in the foot in Iraq and Afghanistan. It's so nice to see that some of the incompetence normally reserved for government has been passed across to private enterprise…could that be a sign of "progress"?
And then horror, the Aliens figured out that a collateralized debt obligation with a big AAA quality stamp on one cheek of its "Fannie", (to use the American colloquialism (no pun intended)) and a "Made In America with Pride" on the other cheek, was err…toxic.
So the Aliens stopped buying, and suddenly $4.5 billion of what European banks had until then proudly called "assets" on the "left" of the balance sheet, was err…not left (as in IKB paid out $150 Million to the deserving Mr. Paulson).
Ironically (seeing as they were clearly not very smart) , the realization that there was a "problem" was when BNP suspended three sub-prime funds, and the ECB pumped more money to let their not-very-smart bankers off the hook, than the Americans did at that point.
Notice how the timeline of the Credit-Crunch was predicated or even predicted by the reluctance of the not-so-smart Aliens to buy the "toxic".
Then when the tsunami hit there was a lot of finger pointing…"the Fed did it -Greenspan did it - the Debt to GDP did it – unfunded pensions did it – Fiat currency did it - Wall-Street did it – Sub-Prime African Americans did it". One good thing about the credit crunch is that it certainly provided enough soapboxes for anyone to grandstand their pet hates, like a sort of psychological "cleansing".
"Cleansing" apart, those all miss the point because as in determining "liability" the real test is the "but for" rule.
"But for"….the ability of unscrupulous bankers to sell structured debt, where the risks were carefully hidden from the buyers, there would not have been a housing bubble, because there wouldn't have been the money to fund it.
And sadly (for the Greenspan-bashers) that's got nothing to do with the base rate, the money you make manufacturing and selling "toxic" is the fees, and the Unique Selling Proposition is that debt pays more than an equivalent 10-Year or so Treasury. What happened to the base rate was immaterial because the base rate has minimal affect on the 10-Year.
Ironically, the do-nothing see-no-evil-hear-no-evil Allan Greenspan did have something to say about fraud as the ultimate destroyer of free-markets and free-enterprise (he was against it).
There is no question that the root of the "problem" was fraud on a huge scale, and although the FBI are diligently "investigating" to find scapegoats, it was nothing to do with Mary-Lou lying on her mortgage application form. The lies were carefully hidden in volumes of offering documents with AAA stamped on the front page.

How the confidence tricksters hid the risk is academic, there are hundreds of ways to fool the not-so-smart and God's Workers thought of some really creative ways to do that.
So, big deal – America and a bunch of not-so-smart foreigners got conned, BIG TIME…move on!!
It's worth remarking though that one BIG mistake was for the US Administration to step in and put a cap on the bonuses that the smooth purveyors of AAA rated toxic assets could get paid for seeking out the dumbest Alien in the room and selling him a bill of good.
Don't they know anything about marketing in USA? Absolutely the WORST thing you can do when you managing an operation selling garbage, is to cut the commissions!
Now the Good News!!
Ordinary Americans are trying to work out how come things are supposed to be getting better whilst the price of the three things they absolutely need to get by at that level, gasoline for their car (you can't live in America without a car), stuff from Wall-Mart, and medical care, are all going up in price.
Whilst the two things that need to go up in price, their wages so they can pay for their essentials, and the price of their houses so that they can flip out from being underwater without losing their credit score, are all staying doggedly down, because there is over-supply of those two commodities.
Guess what guys, you got conned by your elected government AGAIN!!
All that happened was that in a frantic effort to prop up house prices so that the value of the toxic held by the banks (and now the Fed) would go up the Fed managed to create a bubble in oil and commodity prices and create an environment where they pay more for those pesky imports that America can't do without, and so, guess what, they have to borrow more.
Importing inflation is always an option, and the good news is that you can blame the price hikes on Aliens.
The really good news is that a toxic asset is not strictly "pure" debt, because it's non-recourse. As in what the not-so-smart punter who bought that debt gets left with is not a lien on you donkey and your wife, all they get is the keys to a run-down suburban house in Detroit.
So in a way that's "equity", thus if no one pays the not-so-smart foreigners back the principle on the debt, you can count those $4.5 trillion of "goods" that were sold between 2000 and 2007 as "EXPORTS"!!
Of course the problem there is that in order to pay for more imports, now that the not-so-smart have "twigged", all that's left, is the government selling debt. Just like in the good old days before the wonders of securitization were invented.
Another option of course would be to re-start the securitization business, making sure that this time round, they buyers get to see all of the information that they need to see to be able to make rational investment decisions (unlike Version 1). But that looks as if it's much too hard and no one is even contemplating doing that, until they do then America will be obliged to pay for it's exports by selling it's birthright directly (as in heavily discounted real estate and the dregs of the "toxic" debt securitized by it, or by selling government debt.
It's either that, or they are going to have to start trading in their SUV's for Fiat Uno's.
By Andrew Butter
Twenty years doing market analysis and valuations for investors in the Middle East, USA, and Europe; currently writing a book about BubbleOmics. Andrew Butter is managing partner of ABMC, an investment advisory firm, based in Dubai ( hbutter@eim.ae ), that he setup in 1999, and is has been involved advising on large scale real estate investments, mainly in Dubai.
© 2011 Copyright Andrew Butter- All Rights Reserved
Disclaimer: The above is a matter of opinion provided for general information purposes only and is not intended as investment advice. Information and analysis above are derived from sources and utilising methods believed to be reliable, but we cannot accept responsibility for any losses you may incur as a result of this analysis. Individuals should consult with their personal financial advisors.
© 2005-2019 http://www.MarketOracle.co.uk - The Market Oracle is a FREE Daily Financial Markets Analysis & Forecasting online publication.

Only logged in users are allowed to post comments.
Register/ Log in