Stocks Should Bolt Higher, Now!
Stock-Markets
/
Stock Markets 2011
Apr 01, 2011 - 04:45 AM GMT


Where have all the the trillions gone? The Fat Boys have nicked them, one by one.

There are dark forces about.
They don't skulk in the shadows, but live in the light. They thrive in a time of ignorance, greed, sloth and complacency. They are seen as the light. The Illuminati. They are the chosen ones. They are our financial leaders.


The United States is being looted, raped and pillaged, just as the people of the middle east have been used and drained for years by their evil dictators.
Ask yourself why is the UN backing the rebels?
Why now? Why not all the other rebels, in all the other countries that suffer tyranny. Could it be they don't want a quick end to the rebellion and want it to spread to other countries?
Why would they want that?
The Fat Boys fear the Mid East instability, least the masses see it for what it really is. They spin it as a new birth of democracy. Nothing could be further from the truth. It is a fight against austerity.
If they can spin it into a fight for something the American people hold dear like democracy. The American panacea. Then the American people will not notice how the strife of the world's poor, mirrors they own decent into austerity. Brought by the tyranny of their own elected dictatorship.
Then maybe they will stay blind to the truth or see the truth, but refuse to believe it.
Make no mistake. They may hide in plain sight, but the result will be the same.
What is the truth?
The country's intelligentsia. The powerful. The elite. The strong ones that in a just society, would stand guard over the weak. Would lean down and give them a hand up.
Have become a dark force. They have turned on their own country and are devouring it.
If you are waiting for salvation from them, you will see some ugly, disappointing things and you will be waiting for a long time.
How does knowing this help our cause?
If a bartender is stealing whisky, he has to replace what he is taking with water, so the boss doesn't notice the draw down.
When a treasury is being looted, you have to put in filler, so no one notices the country's fundamental value disappearing. That is why Bernake wants higher inflation. That is the filler.
The stock market is going higher!
It is the canary in the coal mine. The Fat Boys will do whatever it takes to hide the devastation they are sowing around the world. The canary must be kept alive, at all costs.
That knowledge will make you rich if you act on it. You can not save the United States but you can save yourself. By following the Fat Boys as they pick the low hanging fruit, you can enjoy the same increase in wealth.
Below is a chart from a previous M.O. article that I wrote in January (
a safer time to buy stocks is coming
). In it, I suggested that due to the fact that March tends to be a strong low point cyclically, we would top out in February and fall into the middle of March. I didn't think we would fall below the 1200 level.
Please read the article and the follow up to it.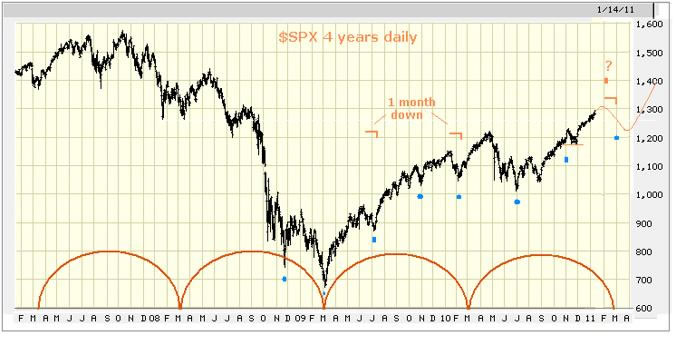 Below is what happened as we pulled down into the cyclical March low and the 4 month trading cycle low.
The little blue dots indicate the 4 month trading cycle.
Notice that cyclically, the 4 month low shifted to the right by 2 weeks. That is the blue S (shift).
I addressed that probability in a follow up article written on March 1. (
The stock market may plunge.)
It shows the power of the Ides of March timing as a dominant force. Often marking a low point.
There is a reason for it. We are in tax season and this is when the yearly tax exempt deposits flow into the hands of the pension fund's portfolio managers.
At the end of each month the same thing happens on a smaller scale. In anticipation of the flow, the Fat Boys make an end of month low. They do it to shake off the weak hands and fill their accounts at low prices. That way they have something to sell into the buying that the public contributions create at the beginning of each new month, but not before they ramp the prices higher.
The low in March is the same thing, but on a bigger yearly scale.
I have marked what happened since I wrote the first article in January, in red. I have also marked what usually happens after a March low, in blue. We now have most of the cycles in the ascendancy. As you can see, there should be a tradeable rally into the spring.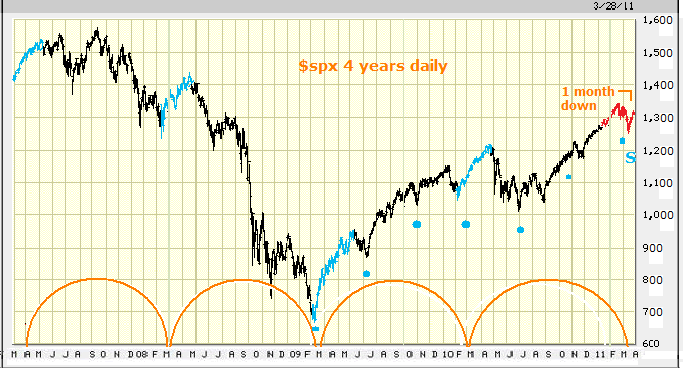 Bottom line
We have not seen a March to May period that didn't yield a gain in the last 4 years. This suggests that we should lean to the long side for the next two months. Remember we are in the third year of the Presidential cycle as well and that should add extra lift.
Fundamentally, the Fat Boys have a plan in place and the way to disguise it, is to keep the masses calm with higher stock prices.
They are papering over one crack after another and they need something to give the illusion of stability. Imagine the effect that a falling US stock market would have on consumer confidence right now.
There is always the chance that we fail as we try up from this 4 month low. I am expecting a normal top in approximately 2 months but we can fail prematurely. In cyclical analysis this is known as early translation. It is rare, but when it happens it is a bad sign for the longer term, more dominant cycles. Once we have established that the 4 month low is in place, if it is violated, it will be lights out until July. So we have to stay vigilantly bullish.
My first target is above 1400.

Are you discouraged?
If you are missing the moves. If you are reading everything you can to try and get an idea of what is happening, or what strategy to use.
If you are jumping from one analyst or blogger's opinion to the next.
Then maybe it is time to take control of your future.

Why don't you learn to do it yourself?
First read my archived articles. If you like my track record, then take my course or order my videos.
I have a structured approach to investing that has worked consistently for 20 years.
I teach you how to take tiny risks, to capture big gains.

Now I have pack a 5 video set with the trading method that works. How well does it work? I teach my course trading my own money. I have never had a failed student.
The Fat Boy can make you rich. Trade with them or be their victim.
Bob Clark is a professional trader with over twenty years experience, he also provides real time online trading instruction, publishes a daily email trading advisory and maintains a web blog at www.winningtradingtactics.blogspot.com his email is linesbot@gmail.com.

© 2011 Copyright Bob Clark - All Rights Reserved
Disclaimer: The above is a matter of opinion provided for general information purposes only and is not intended as investment advice. Information and analysis above are derived from sources and utilising methods believed to be reliable, but we cannot accept responsibility for any losses you may incur as a result of this analysis. Individuals should consult with their personal financial advisors.
© 2005-2019 http://www.MarketOracle.co.uk - The Market Oracle is a FREE Daily Financial Markets Analysis & Forecasting online publication.
Comments
GodOVERGovernment
07 Apr 11, 11:09
What is the purpose of this?


So... you talk about this group of rich elite that are pulling the wool over the people's eyes, then offer tips on how to profit in a world that by your own explanation is an illusion? Doesn't make any sense. Don't you think that when the bottom falls out, only these "Fat Boys" will be left remaining? If they are so smart that they have millions of people fleeced, don't you think they may have a plan that is going to rain down suffering on all who aren't part of their club? Just seem a waste of time to be investing in something that is an illusion and a monetary system that's as valuable as the money in my Monopoly box.

The investment people should be making is a spiritual one. I'm not saying we should TRY to make a living and that we should build a bunker with rations and ammunition... I'm just saying that the world is obviously being run by a dark force that is so good at deception that some of the most brilliant minds in the world are buying into it. When we die we don't get to take anything with us... But if we give our lives to God... there will be rewards and riches waiting for us that surpass any "investment strategy" we could dream of making in our imaginary stock market world. The only debt we should be worried about is the debt that each one of us owes to the Creator, and we should be accepting the payment He made himself by sending His son Jesus (Yeshua) to die for the sins of the world.

For God so loved the world that He gave His only begotten Son, that whoever believes in Him will not perish but have everlasting life. John 3:16

One thing is certain... we are all going to die...




Only logged in users are allowed to post comments.
Register/ Log in