Crude Oil Is Going Down And Will Bottom in November 2011
Commodities
/
Crude Oil
May 13, 2011 - 12:43 PM GMT


This is a continuation, after reflection, of an article posted last week which in turn was a reflection on an article posted two weeks ago, which said oil prices were likely to "reverse" sooner rather than later, (which turned out to have been pretty-much correct).
http://www.marketoracle.co.uk/Article27982.html
http://www.marketoracle.co.uk/Article27857.html
As expected those articles attracted a good deal of derision, particularly the one which suggested $64 oil "soon"; which is pretty far from "mainstream" thinking these days.
I must say that I do enjoy it when random strangers feel compelled to write to me and explain in condescending and (sometimes "hurtful"…boo-ho-sob) terms, that if I "knew the first thing about "Econ 101" then….my life would be "more fulfilling", or something along those lines.
Actually I can't remember so many hurtful comments on the wires since May 2009 when I posted an article saying the S&P 500 would head up pretty much in a straight line from 875 to 1,200 and then subsequently reverse by 15% to 20%, but not for long. That was when Roubini was still talking about dead cat bounces down to below 675, and Shiller and Smithers (and just about everyone else), were saying the market was over-priced, so I was distinctly in the minority.
http://www.marketoracle.co.uk/Article10604.html
And my take on that is that (a) if you say anything against "mainstream" to an audience that includes economists; expect a lot of "hurtful" personal insults in the mail, and (b) I must get around to having a look at this Econ 101 thing one of these days, particularly since so many important people, seem to swear by it, for example Alan Greenspan, and the Lemmings.
Anyway, here is a mentally-challenged-simpleton's view of the likely trajectory of the price of oil – soon: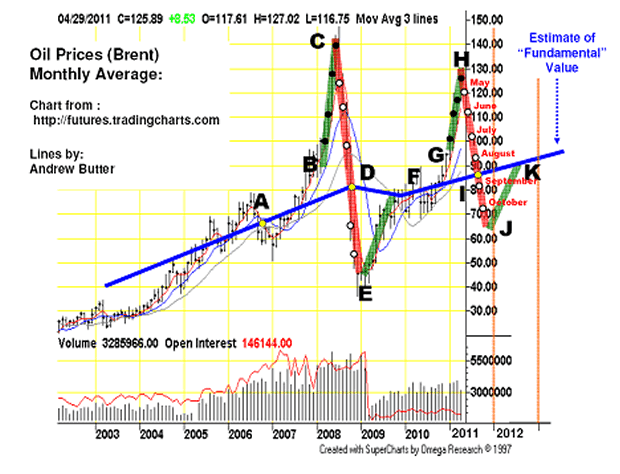 The "logic" is as follows; that's if you can call drawing pretty colored lines and filling in the "dots" on a chart, "logic" (it's certainly not "economics").
1: Most people agree that the upward trajectory of the price of oil in 2008 [B]-[C] was a bubble, although the jury is still out as to whether that was caused by (a) speculators, (b) price manipulation by OPEC, or (c) whether it was a "Zionist Plot," which was one of the views expressed by someone in Saudi Arabia. My view (for what it's worth) is (a).
2: Some people think the current dramatic rise in the price of oil is also caused by speculators. We won't discuss whether pouring freshly-printed dollar bills into the pockets of bankers had anything to do with that, as if it's "Good-for-America" to "stake" a collection of pathological gambling addicts with a track-record of breaking the bank (their own).
But that minority view is shared by some quite sensible people, for example a Saudi "Think-Tank" which reckons that at least $25 of the peak price was due to speculation. There is a good summary of that view (by a "real" economist – Dian Chu), here:
http://www.marketoracle.co.uk/Article28014.html
My simple-minded-view is that the "fundamental" price of oil now is a tad under $90 (Brent) and so yes that is a bubble, a big one, like 40% or so over the fundamental. That analysis (done in December 2010) was based on consideration of how much the users of oil can afford to pay for it (which I call Parasite Economics, where the "host" is Daisy the Cow who has a big-fat American flag painted on her rump). That thesis was confirmed by consideration of the immutable laws of BubbleOmiX (which say that the "fundamental" in a quick bubble/bust is the square-root of the "top" multiplied by the "trough").
http://www.marketoracle.co.uk/Article24849.html
Whether the bubble was caused by speculators or by any of the "old-favorites" is not something my limited intelligence is equipped to handle, so I won't comment on that.
3: Notice how the line of the four months leading up to the "pop" in 2008, is exactly mirrored by the trajectory of the line coming down, after the "pop" [C]-[D]-[E].
Simpleton Economics
OK so let's suppose that the trajectory of the bust in oil prices this time will follow the trajectory of the run-up to what is looking suspiciously like the "top", in the sense that after a 15% or so drop (even if followed by a bounce), historically oil prices only go one way.
That line is defined by [H]-[I]-[J] which says that the bottom ($127/1.4 = $64), will happen in about November.
The caveat is at what point in the future, oil starts to get priced according to how much it will cost (in today's money) to (a) find new supplies, and (b) bring them to market, to (c) replace 50% of the current supply, once that is exhausted; which could be sooner than a lot of people would like to think.
By Andrew Butter
Twenty years doing market analysis and valuations for investors in the Middle East, USA, and Europe; currently writing a book about BubbleOmics. Andrew Butter is managing partner of ABMC, an investment advisory firm, based in Dubai ( hbutter@eim.ae ), that he setup in 1999, and is has been involved advising on large scale real estate investments, mainly in Dubai.
© 2011 Copyright Andrew Butter- All Rights Reserved
Disclaimer: The above is a matter of opinion provided for general information purposes only and is not intended as investment advice. Information and analysis above are derived from sources and utilising methods believed to be reliable, but we cannot accept responsibility for any losses you may incur as a result of this analysis. Individuals should consult with their personal financial advisors.
© 2005-2019 http://www.MarketOracle.co.uk - The Market Oracle is a FREE Daily Financial Markets Analysis & Forecasting online publication.
Comments
youareinthematrix
14 May 11, 04:08
oil position


Hello Andrew,

I am just curious: Are you holding a short oil position? May be in the form of far out of the money options that will expire worthless in November?



Nitya
28 Oct 11, 00:28
Losses in crude


I have a short position for crude oil Nov contract expiring on 17th Nov.Do you believe it would go down below $80 before the contract expires. If u do, then I'll keep this position otherwise book losses now itself. Please suggest.




Only logged in users are allowed to post comments.
Register/ Log in