Gordon Brown From Stalin To Mr Bean
ElectionOracle
/
UK General Election
Nov 28, 2007 - 06:06 PM GMT

Vince Cable the acting Liberal Democrat leader encapsulated Gordon Browns fall during Prime Minister's Question's :"This House has noted the Prime Minister's remarkable transformation from Stalin to Mr Bean in the past few weeks."
Where did it all go wrong ?
* The Summer Floods ? ..... No
* Foot and Mouth Outbreaks ?.....- No
* Northern Rock Bank Run - Third Strike?... No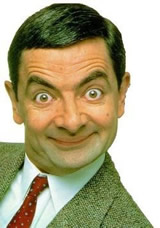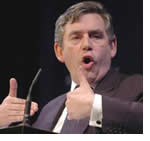 Where it starting going wrong was when Gordon Brown first hyped up the country towards an October General Election, then delayed and eventually bottled out of calling one. It was this event which shattered Gordon Browns image amongst the British people, ever since Gordon is increasingly seen as a Mr Bean figure stumbling from one crisis to another. It no longer matters that the crisis are not of Gordon's own making, for they just reinforce the image of incompetence and dithering.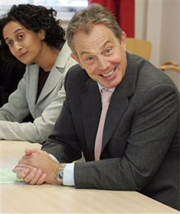 For ten years, the marriage between Tony Blair and Gordon Brown held the country in its iron grip. Teflon Tony, with his grinning face and absolute fanatical determination of what he stood for coupled with Gordon Browns prudent hands on the economic levers saw Labour trounce the Tories at election after election with little hope of the Tories ever getting in power whilst the dynamic duo were in charge. But with each year, Gordon grew more restless in his position as Number 2, wanting a shot at Number one job. Unfortunately what Gordon did not fully appreciate was the fact that he would have to go it alone, a single parent to the leadership of the country. That without the experience of being prime minister, without the ability to deflect bad news, without a Number two that was trusted to run the economy.
So Gordon entered the political arena as half a prime minister. At first his distancing from events such as the worst floods in 150 years was seen as a sign of strength the calm hand at work behind the scenes. But then Northern Rock came along, the first bank run in 150 years. Still people blamed Alistair Darling, not Gordon, but Alistair was always seen as No Gordon Brown, No Number two to carry the economy forward. It was all on Numero Uno - Riding high on the Party Conference, Gordon let rip his political hounds as election fever gripped the country. But everyone but Gordon talked ? Where was the Prime Minister ? Nothing.. Silence.. Increasingly people became more irritated by the silence.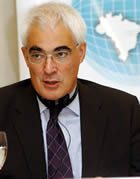 Next the Conservatives finally started to behave like a Tory party for a change and promised tax cuts, with a promise of a rise in inheritance tax allowance to £1 million. What did Gordon do ? He got his now weak chancellor, Alistair Darling to announce his own inheritance tax cut, but which quickly analyzed suggested it was more a slight of hand then a real cut in inheritance tax. Following this Labour's poll lead collapsed and Gordon Brown announced to the British Public that he did not have enough confidence in himself or in his policies to face the British Public. People now saw the difference between a decisive and determined Tony Blair and an indecisive weak dithering Gordon Brown.
Since which time, every crisis to hit the government has been directly harmful to Gordon Browns premiership, as Gordon Brown clearly has no Teflon coating !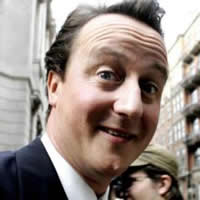 Now, following hard on the heels of the incompetent public sector losing the entire child benefits records of 25million people on two unencrypted cd-roms, we have possibly criminal conspiratorial third party donations to the labour party. Not only is this bad to occur after a year long investigation into cash for peerages, but Gordon Brown clearly is unable to fend off the ever confident assaults from the opposition leader, David Cameron. The Blairites still smarting from Tony's departure are now perhaps sharpening their knives for a potential leadership competition, perhaps not now, but another year of bad news and it may be Gordon's turn to step down before the next election !
A weakening economy, a slumping housing market, rising taxes - The only hope for Labour, with or without Gordon is to manufacture an pre-election economic boom going into the deadline for a 2010 election.
By John York
(c) http://www.marketoracle.co.uk 2007
© 2005-2019 http://www.MarketOracle.co.uk - The Market Oracle is a FREE Daily Financial Markets Analysis & Forecasting online publication.

Only logged in users are allowed to post comments.
Register/ Log in