Palladium Metal Investing Primer
Commodities
/
Palladium
Jul 30, 2011 - 11:56 AM GMT


Often lost in the shuffle and the talk about gold and silver as the primary precious metals is another metal, which has uses that rival that of silver, is brilliant in appearance and makes a beautiful coin. Its value has quadrupled since 2003 after seeing an all-time high in 2001, and potentially the best aspect yet is that the supply and demand fundamentals have never been better. Guess it yet? I'm talking about palladium. Over the next several pages, we'll take a look at the many uses for palladium, who the big producers and consumers are, prices, and most importantly, the future outlook. The purpose of this article is not to form specific recommendations, but rather to raise awareness of another of the semi-precious metals and to act as a primer for familiarizing people on its fundamentals.
By way of introduction, let me say first that palladium does not have a rich heritage as a monetary metal like gold and silver. Rather, it is akin to platinum in that you can buy coins (Maple Leafs and bars) rather easily, but they will not be as recognizable by and large as their gold and silver counterparts. The metal is more of an industrial metal, which one might immediately think is bad because by definition, it is susceptible to swings in economic output. This would be true, however, as is the case with energy and other products, we must keep in mind the interlocking nature of the global economy and that we need to be focused on aggregate demand as in global demand, not aggregate demand as in sub-regional or regional demand. Palladium is also not an effective inflation hedge. Looking at historical prices through 2006, you'll quickly notice that the peak was in 2001, hardly the pinnacle of dollar destruction. However, over the past several years, palladium, like most other commodities, has trended upwards as the dollar has come under increased attack.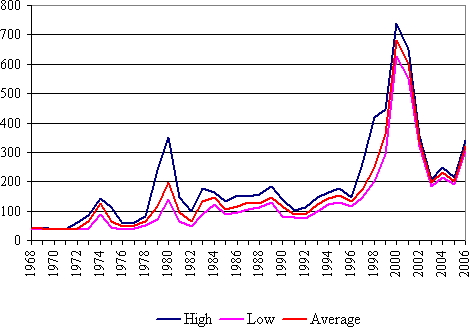 Palladium's Uses
Probably the most well known use of palladium is in autocatalysts or catalytic converters. These can be made of platinum as well, however, palladium has several advantages over its top-shelf counterpart. It is more resistant to oxidation, meaning it will last longer in catalytic applications, is softer and more ductile, and is generally cheaper than platinum. Auto-catalysts are by far the biggest use for palladium at the moment and such catalysts are even present in hybrid cars as well, meaning demand is not likely to be adversely affected even as many car owners switch to hybrids in the coming years. One possible risk to palladium demand would be a revolutionary breakthrough on the electric/solar/LNG side, which would make it feasible for a large amount of car owners to affordably switch to the new technology. There are certainly examples of these, but they are by no means a threat at this point and I wouldn't foresee such developments becoming an issue over the next several years at a minimum. These types of major changes are generally slow to occur. As of 2009, roughly 45% of palladium was used in autocatalysts. This number was down from over 53% in 2003, which bodes well for the diversity of uses for the metal.
A second popular use for palladium is in electronics. Its metallic characteristics make it a very suitable substitute for gold in plating of sensitive electronic components. The fact that it costs roughly half that of gold makes is a shining example of the substitution effect in practice. As of 2009, around 15% of palladium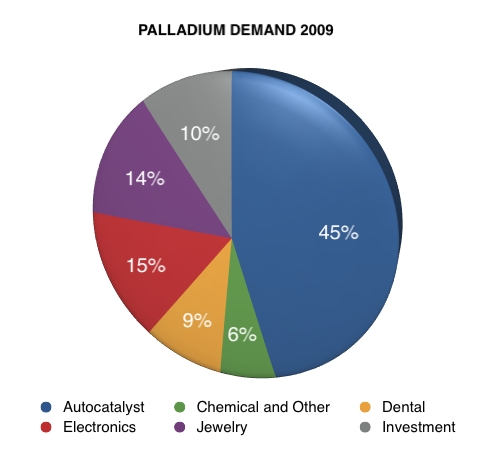 consumed went into electronic components. Jewelry accounted for roughly 14% of palladium used in 2009. Investment in the metal accounted for 10% of 2009 demand. This is very important because in the earlier part of the decade, investment in palladium was trivial at best despite the fact that the metal had very recently been at a record high. Interest has been multiplying significantly, however, most metals investors still have yet to make their first purchases of palladium.
Rounding out the balance of Pd's uses are dentistry and chemical refining, where it is used to develop raw materials for use in synthetic rubber, polyester, and nylon. It is also utilized in oil refining where it is present in several types of hydrocracking applications, photography, water treatment, hydrogen purification, and medicine. Like silver, there are many diverse uses for palladium and this fact alone bodes well in that it serves to insulate prices somewhat from the stagnating USEconomy.
Palladium Supply and Demand
As of 2003, the situation with regards to palladium was eerily similar to that of the rare earth metals in that much of the globe's resource base was concentrated into a very small oligopoly of producers. In that year, nearly 80% of global palladium production came either from the Russian Federation or South Africa. By 2010, Russia was largely tapped out of palladium. Its purported massive stockpiles were diminished to nothing and its three biggest mining projects were all in advanced stages of decline. Russia has been supplementing mine production from its Norilsk mining company with sales from Gokhran, the state repository (a stockpile), and the Russian Central Bank – obviously another stockpile. In early 2010 Anton Berlin, a director of Norilsk, stated that there would likely be no sales from the Russian repositories in 2011.
While the exact content of Russia's stockpiles is not for public consumption, Mr. Berlin did confirm that sales out of the stockpiles have been declining since early in the decade. At this point, the largest palladium deposit on earth exists in South Africa in the form of the Bushveld Complex. Currently, the only other producing nation that has significant upside potential in terms of production is Zimbabwe. However, it is a locale that is loaded with political risk among other things at this stage of the game. There are currently several projects going on in North America, the most promising of which exists at Thunder Bay, which could end up producing nearly 40 million ounces of palladium. It must also be understood that the projects in the Thunder Bay area are for the most part in their infancy and real production is likely several years down the road.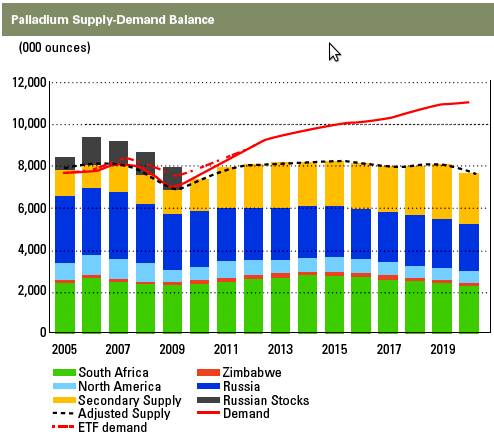 The market will need every ounce from these projects because light vehicle production is set to increase through 2016. If you're worried about a worsening of the US recession killing off demand, consider the fact that China is outpacing America in terms of putting new cars on the road. There are several other jurisdictions like India and Brazil where more stable economic environments will lead to growth in middle classes that will take to the road as well. Remember; consider aggregate demand, not just regional demand. Other factors that will provide upward pressure on palladium usage are increases in investment demand, medical uses, and, in particular, the petroleum industry as shrinking supplies of crude oil demand even more efficient refining techniques. Palladium has also been a part of many of the early work in fuel cell technology and while it is impossible to gauge what the impact will be at this stage, fuel cells will clearly be in focus as the world comes to grips with peak oil and seeks suitable alternatives.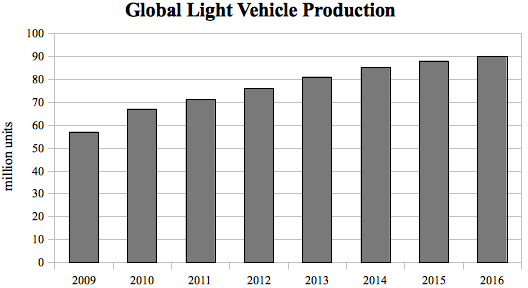 Summary and Outlook
Palladium has several big advantages over many of the other metals in the commodity space. First, it is practical in terms of holding a physical position should one desire. Compare it to copper, for example, where a $1000 position requires you to hold over 200 pounds of metal. Or consider oil where it is not practical for the average investor to hold a physical position at all. As I outlined above, supply and demand dynamics favor higher prices in the future, and while it was not the focus of this article, there are some very significant opportunities in the palladium mining space for those who wish to take advantage in that manner. The obvious risks to palladium are the same as the other industrial metals. Another severe global recession would likely dampen demand enough to keep prices in check. Such a recession/crisis, if it were to impact the capital markets as we saw in 2008, would likely impair mining firms (especially exploration/development types) from getting the necessary capital to fund their continuing operations. Innovation, especially in the automobile space, represents a risk to the current demand profile for palladium, but innovation also presents more potential uses for the metal as well.
The bottom line on palladium is that while it is certainly not the sole answer to protection against dollar destruction, there are some very compelling aspects to the market that make it worthy of serious consideration. It is yet another tool that we can use to operate in a world that is becoming increasingly wary of paper monetary instruments and will likely benefit as the world continues the quiet, but relentless push to 'get real' by acquiring tangible assets.
If you haven't taken an opportunity to download our free report entitled 'If You Have Paper Assets… There are Three Things You Must Consider', think about doing so now. As debt contagion swirls in Europe and now on our shores, it is more important than ever to take a protective stance towards the entirety of your assets. Simply Click Here to go to the download page. No obligations, no hassles, just common sense investing wisdom.
By Andy Sutton

http://www.my2centsonline.com
Andy Sutton holds a MBA with Honors in Economics from Moravian College and is a member of Omicron Delta Epsilon International Honor Society in Economics. His firm, Sutton & Associates, LLC currently provides financial planning services to a growing book of clients using a conservative approach aimed at accumulating high quality, income producing assets while providing protection against a falling dollar. For more information visit www.suttonfinance.net
© 2005-2019 http://www.MarketOracle.co.uk - The Market Oracle is a FREE Daily Financial Markets Analysis & Forecasting online publication.

Only logged in users are allowed to post comments.
Register/ Log in