Stocks Bear Market Deja Vu?
Stock-Markets
/
Stocks Bear Market
Oct 08, 2011 - 11:54 AM GMT

Another wild week on Wall Street. For the past two weeks the market had made the high for the week on tuesday, and then sold off for the rest of the week. This week, however, the market made a new bear market low on tuesday, and then rallied for the rest of the week. Markets, worldwide, were generally higher with the DJ World index gaining 1.7%. In the US the SPX/DOW were +1.9%, and the NDX/NAZ gained 2.9%. Economic reports for the week continued their downward trend with negatives outpacing positives 6 to 4. On the positive side: ISM manufacturing, construction spending, auto sales and non-farm payrolls. On the negative side: factory orders, ISM services, consumer credit, the monetary base, the WLEI and weekly jobless claims rose. The ADP index and the unemployment rate both came in unchanged. Next week the FOMC minutes, the twin deficits. and Retail sales highlight the economic agenda.
Secular Bear Cycles and Corporate Bond Risk
Before we get into the charts and counts, we would like to cover a couple of the topics that were being discussed in the OEW forum on friday. The first topic, and we think that most would agree, is that we are/have been in a deflationary Secular bear cycle that should last between 2000-2015/16. We have covered this cycle over the years in this blog. What we uncovered today is that these Secular bear cycles have three stages. We discovered this by comparing the last Secular bear cycle, 1967-1982, with the current. For comparative reference to the stock market, below is a chart we published in 2010.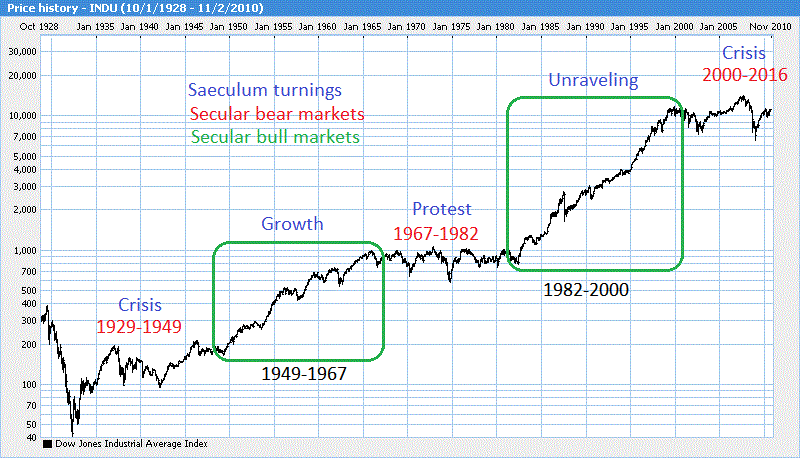 The following chart displays the inflationary 1967-1982 Secular bear cycle in CPI terms. Notice the first peak in inflation ended in 1970, this coincided with a recession and bear market. The second inflation peak ended in 1974, again coinciding with a recession and an even greater bear market. The third peak, which was the highest, kicked off a double dip recession, but the stock market did not plunge to new lows. It held above the 1974 low and effectively went sideways into 1982. We have discussed this charactertic of Secular bear cycles on stock markets before.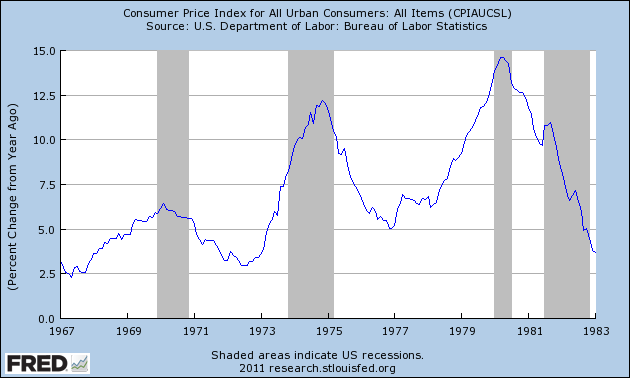 Next we review an up to date chart of the 2000-2015/16 Secular bear cycle in deflation terms. Notice the first low in deflation occurred in 2002, this coincided with a recession and a bear market. The second deflationary low ended in 2009, again coinciding with a recession and an even greater bear market. The third low, which may be the biggest, has yet to occur. Typically a Secular bear cycle hits its first peak/low stage 2-3 years after the cycle begins. The peak/low stage two occurs about in the middle of the cycle, and then the peak/low stage 3 occurs about 2-3 years before it ends. This projects another deflationary low should occur probably between 2013/2014, maybe even 2015. Since we are expecting the commodity bull market to last until 2014. This suggests the next deflationary low will coincide with a collapse in commodity prices after its bull market concludes. As for the stock market. The extreme price low in stocks occurs in the middle, or second stage of the cycle; i.e. 1974 and 2009. After that we have a short bull market, then a sideways to lower bear market lasting for several years; i.e. 1974-1976, and possibly 2009-2011 or a bit longer. These new findings appear to confirm the general Secular bear cycle scenario we have been tracking all along.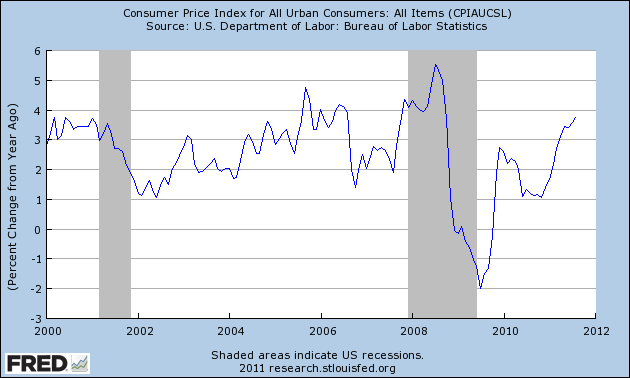 The second topic is of more immediate importance since it is relevent to today's market. Most of us are aware that the economy literally froze to a standstill in late 2008 due to counter party risk in the banking sector. Essentially, the major banks had so much bad debt on their books, that they could/would not price it effectively, and overnight lending between banks froze. The perceived counter party risk was extremely high. At the same time corporate bond risk also hit very high levels. We have been providing a chart of the 10YR Gov't Bond verses the DJ Corporate Bond index near the bottom of page 13 in our public charts: http://stockcharts.com/def/servlet/Favorites.CServlet?obj=ID1606987&cmd=show[s118829680]&disp=O. This chart was quite effective in measuring credit risk during the 2007-2009 bear market.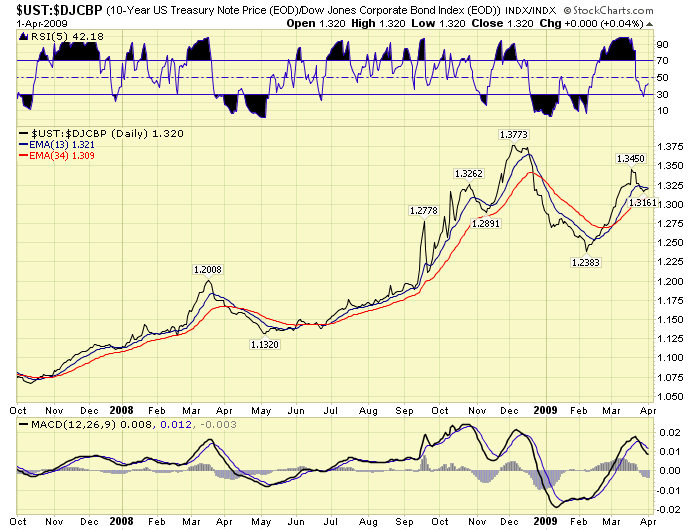 Notice in the chart above the ratio stood at about 1.07 in Oct07. It then rose to 1.20 by Mar08, which coincided with a wave A low at SPX 1257 in the stock market, see SPX weekly chart in next section. By May08 the ratio had dropped to 1.13, this coincided with the wave B peak at SPX 1440 in the stock market. After that the ratio shot up to 1.38 by Dec09, dipped to 1.24 by Feb09, and made a lower peak at 1.35 in Mar09. The stock market bottomed on the lower peak with a wave C at SPX 667. Then corporate bond risk collapsed.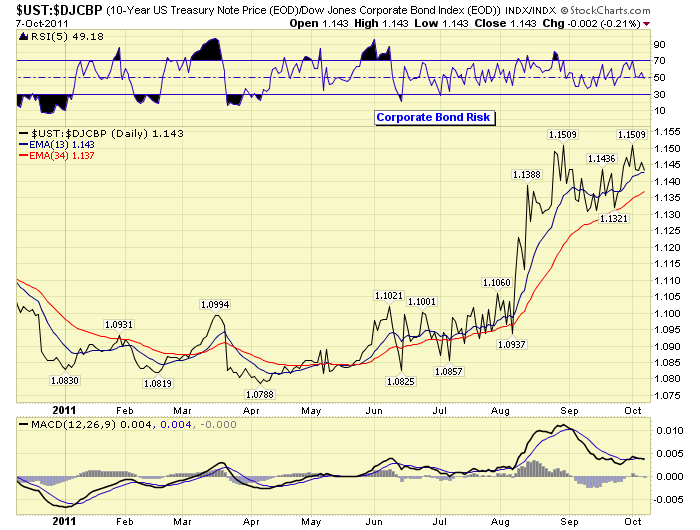 During this equity bear market corporate bond risk bottomed, on a failed double bottom, (see weekly chart using link above), in Apr11 at 1.08. Again a rise was underway. But notice how subdued it is compared to the Oct07-Mar08 rise. Then corporate bond risk rose from 1.07-1.20 in five months. This time around it has only risen from 1.08-1.15 in five months. Clearly, the chart pattern in the stock market may be similar. Which we will get to next. But the credit risk, which led to the collapse in the later half of the 2007-2009 bear market is not present. This could change, and we will continue to monitor it. For now, however, this supports our scenario of a moderate bear market. And, it fits the Secular bear cycle scenario as well.
One last point. Between the stage 2 inflationary peak and stage 3 peak of the 1967-1982 Secular bear cycle, the US avoided a recession. It was only at the peaks that the recession occurred. Since we had a stage 2 deflationary low in 2009, and we're not expecting another deflationary low until 2013/15, the US should avoid a recession until then. In summary, no recession, a moderate bear market with modest credit risk lies ahead.
LONG TERM: bear market highly probable
Deja vu? The 2007-2009 bear market started off innocent enough with a five wave decline from SPX 1576 – 1257 in five months. Each of the waves lasted about one month, the total decline was 319 points, and the fifth wave can be counted as ending with a diagonal triangle.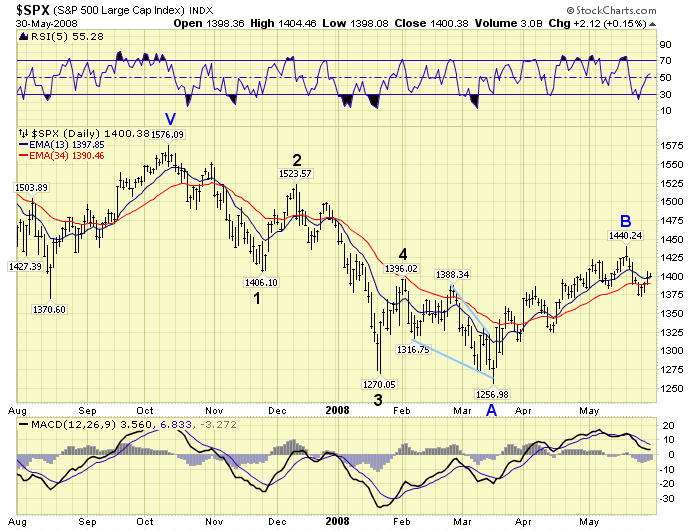 The 2011 bear market appears to have started off the same way. A five wave decline from SPX 1371 – 1075 in five months, with each of the waves lasting about one month. We currently have a total decline of 296 points, and the fifth wave can be counted as ending with a diagonal triangle.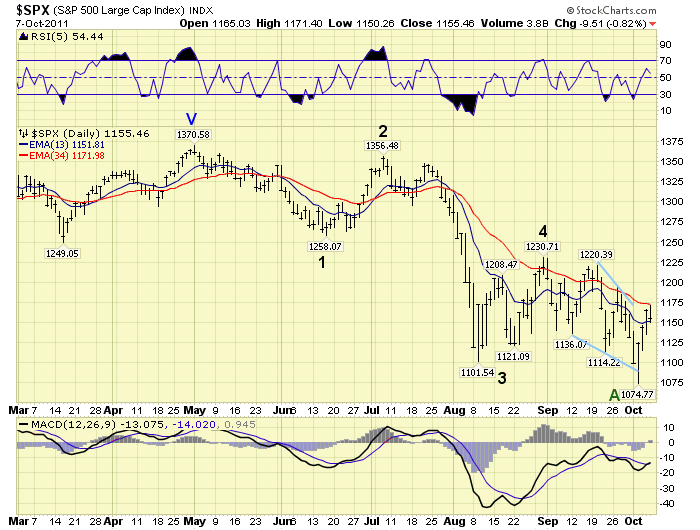 Even the rallies off the 5th waves low's look similar. In Mar08 the SPX rallied from 1257 – 1360, 103 points, in just four days. After tuesday's low at SPX 1075 the market has rallied to 1171, 96 points, in just three trading days. In technical terms we would call this a fractal: a wave pattern, repeating itself, separated by time.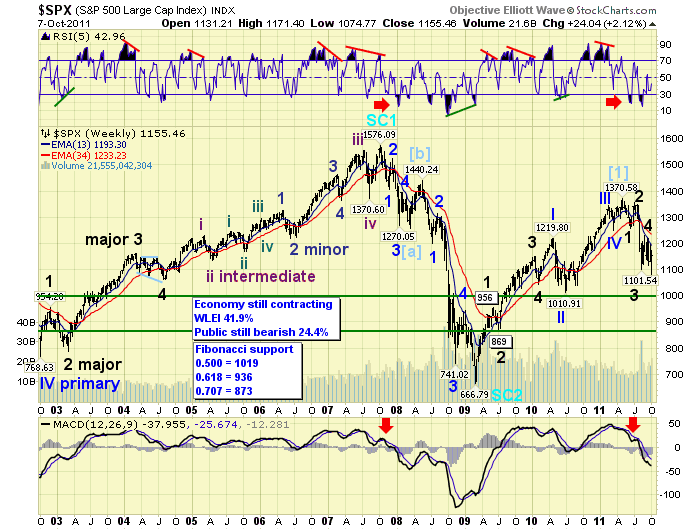 When we review the weekly chart we can see these two fractals separated by time. Now observe the B wave rally in 2008 lasted about two months, retracing 57% of the entire A wave decline, (1257-1440). This offered many the opportunity to exit/hedge equities before the C wave decline began. That was the good news then. The bad news is what followed the SPX 1440 B wave top. An extended 10 month C wave which declined to SPX 667 by Mar09.
There is good news this time around. We are again expecting a B wave rally, which could last about two months, and retrace between 50% and 61.8% of the A wave decline. This targets the Primary B wave rally to top between the two OEW pivots at 1222 and 1261 by November/December. Then we are expecting another five wave decline, lasting about five months, which should bottom in the spring of 2012 between SPX 869/873 and 1011/1019. With the most likely low at the 61.8% retracement level of SPX 936/956. These levels are all posted on the weekly chart as either a Fibonacci support level or a wave price level.
MEDIUM TERM: downtrend may have bottomed at SPX 1075
Ever since the SPX hit 1102 on August 9th the market has displayed a very choppy wave pattern in a volatile environment. The VIX, a measure of daily market volatility, has remained between 30 and 48 during this entire period of time. This indicates 2% to 3% price swings, and more, on a daily basis.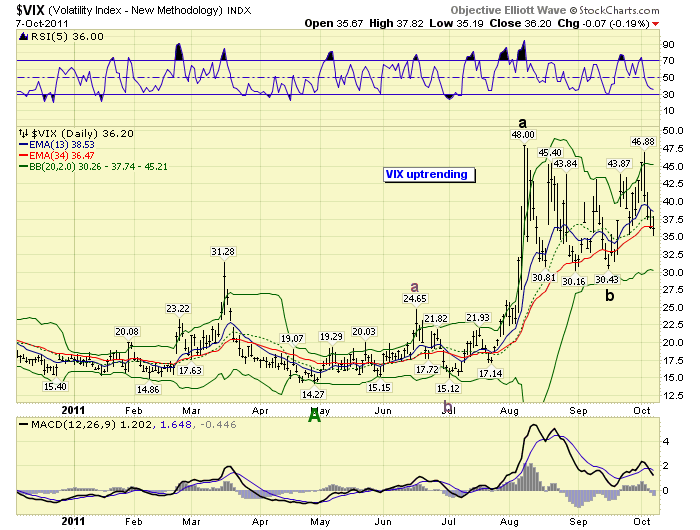 This has been a news driven stock market. And, the news has been generally bad. Except for the spurts of hope and potential solutions to the European sovereign debt crisis. This market is currently experiencing one of those hope/potential solution rallies.
Last week we covered the variety of wave patterns being displayed on the major indices, and some secondary indices. This week these patterns appeared to align at a significant new low in the bear market. This type of fragmentation is good longer term. Markets can move very quickly, in one direction, when wave patterns are in sync. This is good in a bull market, i.e. 2009-2011, and but not good at all in a bear market, i.e. 2007-2009. While this fragmentation and choppy market activity has unfolded it has offered a number of potential wave counts. Our main focus, however, has been with either an abA-B-abC type of bear market, or a 1234A-B-1234C bear market, as we awaited a clear pattern to emerge. We have carried both of these counts on the SPX/DOW charts since the bear market began.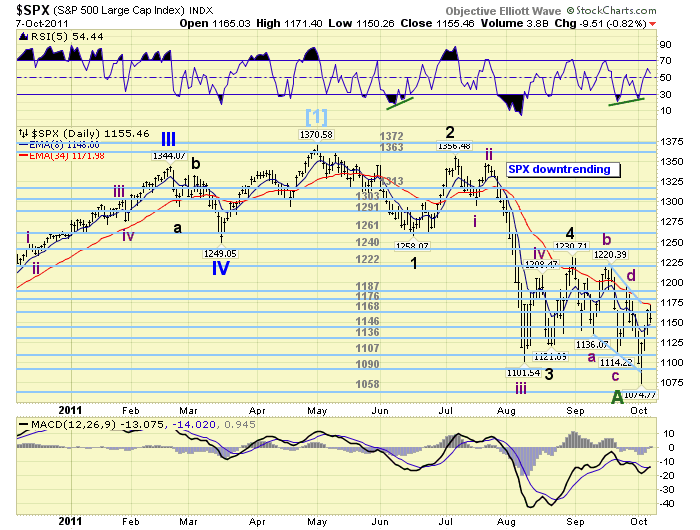 Currently the most probable count is posted on both the SPX and DOW charts. We are also tracking two alternative counts. We have posted these counts at the very end, page 20, of the public stockcharts. The link is at the end of this report. We will cover these counts in more detail should the need arise.
When we review the five waves down we find: Major 1 = 100+ points, Major 3 = 250+ points, and Major 5 = 150+ points. Since Major wave 5 was not the shortest, a rally to the previous 4th wave, (Major 4 at SPX 1231), or possibly the low of the previous 1st wave, (Major 1 at SPX 1258), would be normal for a retracement rally. Oddly enough, the wave A low during the 2007-2009 bear market was SPX 1257. Since this should be a counter-trend rally it should take the form of an ABC. The 2008 wave B counter-trend rally did that as well: SPX 1381-1326-1440. On the daily RSI this potential uptrend should get overbought, oversold, then overbought again. Thus far it has only risen to just past neutral.
SHORT TERM
Support for the SPX is at 1146 and then 1136, with resistance at 1168 and then 1176. Short term momentum hit overbought at friday's SPX 1171 high, and dropped to neutral during friday afternoon's pullback. From tuesday's SPX 1075 low we can count four waves up, possibly five: 1103, 1079, 1171, 1150, and possibly 1168. If friday afternoon's activity, (1150-1168-1155) was a 4th wave, then a rally to a higher high should set up a negative divergence on the hourly chart. After that we should see a larger pullback than the 21 and 24 points thus far during this rally.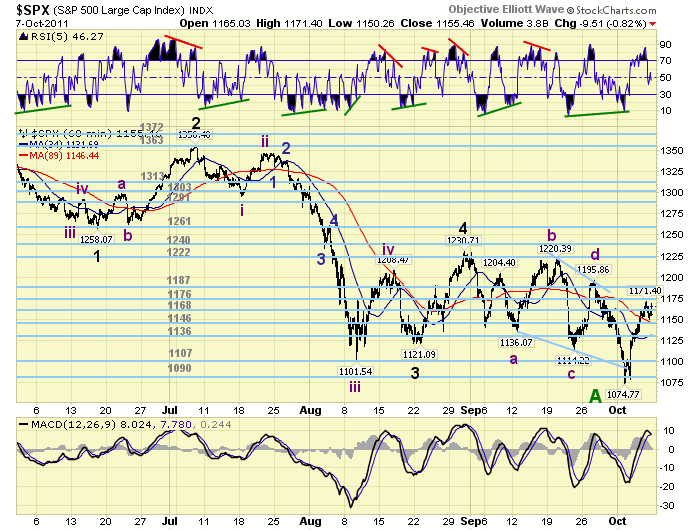 Short term the 1168/1176/1187 pivot cluster should be a difficult area to clear. A pullback into the 1136/1146 pivot cluster should probably provide support. While this rally has travelled nearly 100 points in just three trading days. The market should again get somewhat choppy if we are indeed in a new uptrend. Previous rallies, over the past two months have been: 84 points in 4 days, 95 points in 3 days, and 106 points in 6 days. So the recent rally of 96 points in 3 days fits the current volatile environment. Best to your trading!
FOREIGN MARKETS
The Asian markets were mixed for a net gain of 0.4%. No confirmed uptrends yet.
The European markets were all higher, and are leading, for a net gain of 3.2%. Switzerland has been uptrending, and now Spain has joined it.
The Commodity equity group were all lower for a net loss of 1.5%.
The DJ World index gained 1.7% on the week.
COMMODITIES
Bonds confirmed a downtrend this week losing 1.0%. This would appear to fit with a new uptrend in the stock market.
Crude rallied 4.9% on the week, with a positive divergence in place.
Gold gained 1.0% on the week. The rally off the September low looks a bit choppy so far.
The USD remains in an uptrend and gained 0.2% on the week. The downtrending EUR lost 0.1%.
NEXT WEEK
Tuesday kicks off a light economic report week with the FOMC minutes. Thursday we have weekly Jobless claims and the Trade/Budget deficits. Then on friday, Retail sales, Import/Export prices, Consumer sentiment and Business inventories. The FED has nothing scheduled at this time. Best to you and yours this weekend and week!
CHARTS: http://stockcharts.com/...
http://caldaroew.spaces.live.com
After about 40 years of investing in the markets one learns that the markets are constantly changing, not only in price, but in what drives the markets. In the 1960s, the Nifty Fifty were the leaders of the stock market. In the 1970s, stock selection using Technical Analysis was important, as the market stayed with a trading range for the entire decade. In the 1980s, the market finally broke out of it doldrums, as the DOW broke through 1100 in 1982, and launched the greatest bull market on record.
Sharing is an important aspect of a life. Over 100 people have joined our group, from all walks of life, covering twenty three countries across the globe. It's been the most fun I have ever had in the market. Sharing uncommon knowledge, with investors. In hope of aiding them in finding their financial independence.
Copyright © 2011 Tony Caldaro - All Rights Reserved Disclaimer: The above is a matter of opinion provided for general information purposes only and is not intended as investment advice. Information and analysis above are derived from sources and utilising methods believed to be reliable, but we cannot accept responsibility for any losses you may incur as a result of this analysis. Individuals should consult with their personal financial advisors.
© 2005-2019 http://www.MarketOracle.co.uk - The Market Oracle is a FREE Daily Financial Markets Analysis & Forecasting online publication.

Only logged in users are allowed to post comments.
Register/ Log in