Please Daddy-Cool Bomb Iran, Just One More War… And I Need The Money
Politics
/
US Politics
Jan 05, 2012 - 02:45 AM GMT


The first really big irony is when "we" were trying to persuade that lunatic Khomeini to stop beating the living daylights out of "our good friend" Saddam Hussein, no matter how much sophisticated ordinance and poison gas we sold him, there were two conditions for the lunatic to stop:
1: Saddam Hussein had to go.
2: There had to be some approximation of democratic elections in Iraq.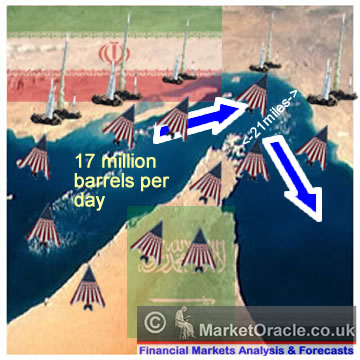 Naturally, those totally unrealistic and outrageous conditions were rejected out of hand. Instead we (the good-guys) started accidentally shooting down Iranian civilian airliners, and quite soon Khomeini got the message. That was in 1988.
The second big irony is that a quarter of a century later, the reason Saddam Hussein put up his elaborate smoke-and-mirror show that fooled the CIA and MI6 into thinking he had weapons of mass destruction, was that he was afraid the Iranians would invade again. And he wanted them to think he had a couple of bombs up his sleeve. So we-the-good-guys, did the right thing at last, and spent a couple of trillion dollars making sure that:
1: Saddam Hussein went.
2: There was some sort of an approximation of democratic elections in Iraq.
If that ain't Mission Accomplished, well I don't know what is?
Personally, I put the whole thing down to Congenital Geographic Dyslexia (CGD) which incidentally should not to be confused with Creutzfeldt Jakob Disease (CJD). My theory is that George Bush simply got Iraq mixed up with Iran, although it should be stressed that whether or not he suffered from both conditions, is still a matter of conjecture.
CGD is a serious problem in the Land of the Free, by way of example, the last time I was on Wall Street was in 2004. A client had some cockeyed idea that he could get funding for a project in some exotic corner of the world over there, so he asked me to go over and do a PowerPoint thing.
Even if I say so myself, everything went splendidly; because I knew that when you present to Americans, the first slide has to be a map of the world, so you can point out which part you are talking about. That saves a lot of confusion, like if you say "Paris" without putting up some visual aids, they look puzzled and say, "I thought that was in Texas", and you never say "London" you say "London-England".
Anyway, these guys (and gals) were real smart and they couldn't help telling me in the first One-Minute, a little breathlessly, that they had all gone to Harvard Business School and they were "Ex-Goldman". I was duly impressed, and of course I made it absolutely clear how privileged I felt that they had let a deadbeat like me, wearing a cheap suit and even cheaper shoes, into their hallowed space…to breath the same air as them.
Twenty slides later…I always keep my shows down to twenty, that's because I spent time in the Middle East, and if you ever tried to make a presentation at lunchtime in Ramadan, you know that if it goes over twenty then everyone falls asleep…literally. Twenty slides later, it was time for questions.
So I waited to see what questions the Harvard Business School ex-Goldman geniuses would come up with. I was thinking something esoteric along the lines of "How about if Fannie goes into conservatorship and Lehman goes down"? But no, in that moment I learned why people pay all that money for a Harvard Education.
"What if there is a war?"
Darn!! I never thought of that one, but I reacted well…"That's a GREAT question…DEFINATELY there is a real risk there. Mind you, the risk of course is that there isn't a war; that would have a negative impact on the cash-flow projections. But we feel very confident that one way or another someone will dream up a reason to have one, so don't you worry your pretty little heads about that one".
The thing is that wars are really good for business, if you are in the right place at the right time. Evidently of course, not if you or your family have been designated as a threat to world-peace, in which case you might as well sign up to be a suicide bomber, because one way or another, you know what's coming.
My money is definitely on Iran being the next great opportunity. All that's left is working out how to make money out of it.
The first step in that process is working out who will make money, and once you understand how well everyone is going to do, you will understand the inevitability of one more war on the lonely road to World Peace!! Here you go, the inside track on who to invest with:
1: Defense companies (obviously), even the threat of "something" has persuaded the Saudis to commit to spend untold billion buying complicated ordinance they will never be able to operate, from their best friend; much of it containing software developed by America's best friend (who incidentally is not best-friends with Saudi Arabia).
2: Oil companies, of course, they don't own any oil in the Middle East, but the value of what they got will skyrocket when oil goes to $300.
3: The next thing that will happen is that inflation will explode in USA and Europe, that's what happened the last time oil supplies got constrained (by the Iran/Iraq war). Think about that, for over three years central banks have been doing whatever they can with Q-This and Q-That to create inflation, but even with the best fluffers in the world they just can't get it up. $300 oil would do that nicely. And what would happen then? Well it's obvious, house prices in USA and Europe will go up!!
4: And who will benefit from that? Well anyone holding a dose of "toxic" lovingly crafted by God's Workers, because the value of the collateral will nudge up above the liabilities, and all the deadbeats will get let off the hook.
5: The crooks that control Iran now will also benefit, because the threat of war gives them an excuse to cite "National Security" as they work through their scams (just like how it works in the Land of the Free). What a lot of people don't realize is that the threat of war is what keeps people like Saddam Hussein, that little mad-man in North Korea (thankfully recently departed to the great democracy in the sky), and the nasty crooks who control Iran, in power. And the more enemies they can muster; the more power they can grab. And it's not as if America (or Israel) will actually invade Iran, so they will be quite safe.
Of course there will be some "collateral damage", but don't worry, where there is collateral damage, there is money to be made; I can hardly wait!!
Twenty years doing market analysis and valuations for investors in the Middle East, USA, and Europe; currently writing a book about BubbleOmics. Andrew Butter is managing partner of ABMC, an investment advisory firm, based in Dubai ( hbutter@eim.ae ), that he setup in 1999, and is has been involved advising on large scale real estate investments, mainly in Dubai.
© 2011 Copyright Andrew Butter- All Rights Reserved
Disclaimer: The above is a matter of opinion provided for general information purposes only and is not intended as investment advice. Information and analysis above are derived from sources and utilising methods believed to be reliable, but we cannot accept responsibility for any losses you may incur as a result of this analysis. Individuals should consult with their personal financial advisors.
© 2005-2019 http://www.MarketOracle.co.uk - The Market Oracle is a FREE Daily Financial Markets Analysis & Forecasting online publication.

Only logged in users are allowed to post comments.
Register/ Log in