Emperor Palpatine, Obama's State of the Empire Speech
Politics
/
US Politics
Jan 27, 2012 - 03:17 AM GMT


Eric Peters writes: The other night, Emperor Palpatine gave his State of the Empire speech. You know, the Sith Lord from Star Wars. He channeled his Dark Presence right into the Capitol Building, where he transmogrified into our soon-to-be Galactic Emperor. I am far from the only person who noticed this, which proves I was not hallucinating. See for yourself.
Palpatine, from the movie:
The clone troopers, and proudly wearing the name of Imperial stormtroopers, have tackled the dangerous work of fighting our enemies on the front lines. Many have died in their devotion to the Empire. Imperial citizens would do well to remember their example.
Palpatine (nee Obama) from the Capitol:
Together, we offered a final, proud salute to the colors under which more than a million of our fellow citizens fought – and several thousand gave their lives… We gather tonight knowing that this generation of heroes has made the United States safer and more respected around the world… Imagine what we could accomplish if we followed their example.
Palpatine, from the movie:
Imperial citizens must do their part. Join our grand star fleet. Become the eyes of the Empire by reporting suspected insurrectionists. Travel to the corners of the galaxy to spread the principles of the New Order to barbarians. Build monuments and technical wonders that will speak of our glory for generations to come.
Palpatine (nee Obama) from the Capitol:
The defining issue of our time is how to keep that promise alive. No challenge is more urgent. No debate is more important. We can either settle for a country where a shrinking number of people do really well, while a growing number of Americans barely get by. Or we can restore an economy where everyone gets a fair shot, everyone does their fair share, and everyone plays by the same set of rules. What's at stake are not Democratic values or Republican values, but American values. We have to reclaim them.
Palpatine, from the movie:
By bringing the entire galaxy under one law, one language, and the enlightened guidance of one individual, the corruption that plagued the Republic in its later years will never take root. Regional governors will eliminate the bureaucracy that allowed the Separatist movement to grow unchecked. A strong and growing military will ensure the rule of law.
Palpatine (nee Obama) from the Capitol:
The executive branch also needs to change. Too often, it's inefficient, outdated and remote. That's why I've asked this Congress to grant me the authority to consolidate the federal bureaucracy so that our Government is leaner, quicker, and more responsive to the needs of the American people… With or without this Congress, I will keep taking actions that help the economy grow.
Palpatine, from the movie:
The New Order of peace has triumphed over the shadowy secrecy of shamful magicians. The direction of our course is clear. I will lead the Empire to glories beyond imagination.
Palpatine (nee Obama) from the Capitol:
The state of our Union is getting stronger. And we've come too far to turn back now. As long as I'm President, I will work with anyone in this chamber to build on this momentum. But I intend to fight obstruction with action, and I will oppose any effort to return to the very same policies that brought on this economic crisis in the first place…. in this moment of trial, there is no challenge too great; no mission too hard. As long as we're joined in common purpose, as long as we maintain our common resolve, our journey moves forward, our future is hopeful, and the state of our Union will always be strong.
Palpatine, from the movie:
We have been tested, but we have emerged stronger. We moved forward as one people – the Imperial citizens of the first Galactic Empire. We will prevail. Ten thousand years of peace begins today.
Cue thunderous applause – in both houses.
We've grown so used to rule by executive fiat, to "we must" this and "we must" that - that it's not much of a stretch to hear the softly sinister tones of Palpatine's voice coming out of Obama's mouth.
Or The Chimp's before him.
Soon even the niceties of referring to "democracy," the "Constitution" and "protecting us" will no longer be necessary. We will see naked force in all its glory, strutting once more upon the stage of history.
And most of us will clap, too.
Watch the speech and see for yourself.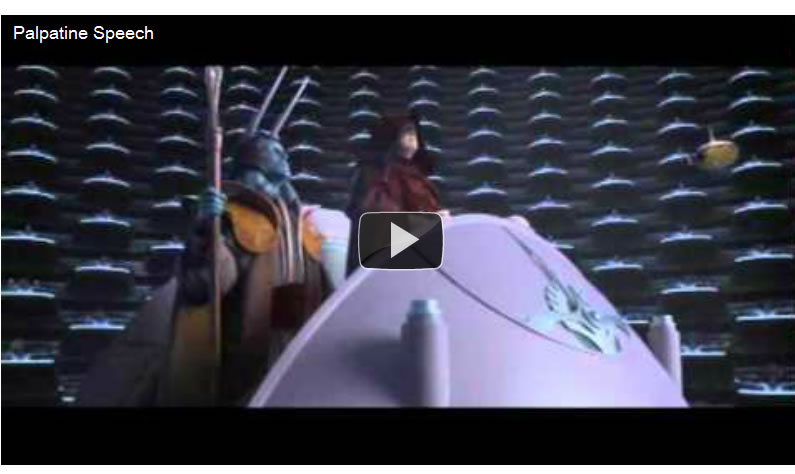 Eric Peters [send him mail] is an automotive columnist and author of Automotive Atrocities and Road Hogs (2011). Visit his website.
© 2012 Copyright Eric Peters / LewRockwell.com - All Rights Reserved
Disclaimer: The above is a matter of opinion provided for general information purposes only and is not intended as investment advice. Information and analysis above are derived from sources and utilising methods believed to be reliable, but we cannot accept responsibility for any losses you may incur as a result of this analysis. Individuals should consult with their personal financial advisors.
© 2005-2019 http://www.MarketOracle.co.uk - The Market Oracle is a FREE Daily Financial Markets Analysis & Forecasting online publication.

Only logged in users are allowed to post comments.
Register/ Log in