Gold Still Bullish Despite Early Signs of a Trend Reversal
Commodities
/
Gold & Silver
Jan 21, 2008 - 04:23 PM GMT

Someone once said " it was the best of times, it was the worst of times " or something like that. I guess this past week can be classified as one of those " worst of times ", at least for precious metal stocks. About now you're probably wondering what's happening? Let's get right to it then.
GOLD : LONG TERM
Gold only dropped 1.6%, it was the stocks that hit a wall of worry with losses in the 8% area for most major Indices. With such a minor drop (looking from a long term perspective) the charts and indicators have not changed any. The P&F chart still shows gold in the upward ( X ) direction while the normal indicators are all still very much in the bullish or positive mode. Gold price is well above a positive sloping moving average line and momentum is still well inside its positive zone. With Monday's high the long term momentum indicator even exceeded its previous high set during the price peak of early November so one can't even claim weakness in the indicator any more. For now the long term can only be rated as BULLISH .
INTERMEDIATE TERM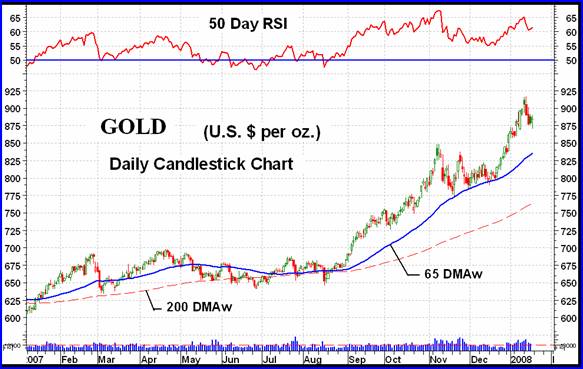 The past year has seen an eight month strength building period followed by a sharp rally, a shorter strength building and another rally. Are we into another strength building or are we getting set for a reversal of fortunes? We'll know which when it happens, until then we can guess.
Unlike the long term momentum indicator, the intermediate term one is showing a negative divergence at this latest price high versus the previous high in Nov. For those that are not familiar with momentum indicators, what this tells us is that the recent climb by gold to new highs had less strength behind the move than it had in the previous move. It DOES NOT mean we are reversing direction but just that the strength of the move is diminishing. Of course, if the strength of an upside move is diminishing one MUST be on guard for a possible reversal of trend for trends do not change on improving momentum but on diminishing momentum. What could be happening just as easily as a reversal is a lateral period. See the period at the beginning of the year, we had momentum diminishing and the price basically moving sideways. For a reversal of trend we go to other indicators for confirmation. The main one is the moving average. Here we are still well above a positive sloping moving average line for a positive reading. Momentum itself, although showing weakness, is still in its positive zone with a long way to go before it goes negative. So, all in all, although there are warning signs the intermediate term rating must remain BULLISH until the indicators say otherwise.
SHORT TERM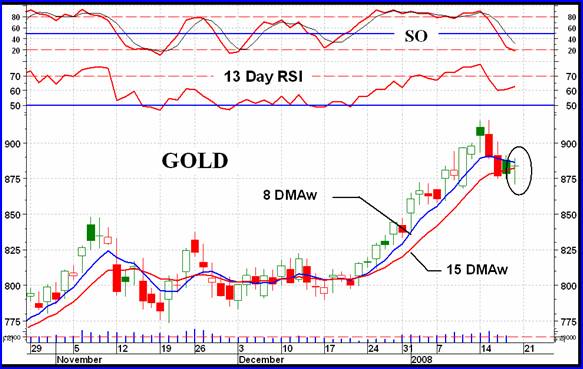 Gold took a couple of hard hits during the week but by Friday it looked like it had stabilized. That Friday action (highlighted) could be interpreted as a one day reversal activity BUT with a week-end anything can happen so I would not risk it all on just that chart. The potential for a reversal back to the up side is there but ----.
The short term moving average is still pointing upwards and the very short term average is still above the short term one so at this point in time we are still in a bullish short term trend despite the shock of Tuesday and Wednesday. The momentum indicator has dropped out of its overbought zone indicating weakness ahead but is still in its positive zone so no short term reversal yet. The more aggressive Stochastic Oscillator (SO) has entered its oversold zone but has not yet reversed back to the upside. It may do so on a day's activity (see previous moves into this zone). So, although we have had a couple of bad days for the gold price it has not yet reversed its short term direction. I would suspect that a close at or below $875 would turn the indicators negative and signal a reversal of trend. In the mean time the direction remains BULLISH .
NORTH AMERICAN GOLD INDICES
Today's major North American Index is the PHLX Gold & Silver Sector Index, probably the most popular of the gold Indices. The chart is typical of most of the major Indices with the move into new highs followed by a sharp sell-off. The high was accompanied by a negative divergence from the intermediate term momentum indicator. The other interesting feature of the chart is Friday's action. As with the gold chart we have what looks like a one day reversal activity by the Index. We'll see what Monday brings but usually with this kind of one day action we should see a follow-up on the up side. If there is no upside follow-up then the indicators will quickly turn negative. They are almost there now. Should the down side prevail then I don't think that the previous low will hold.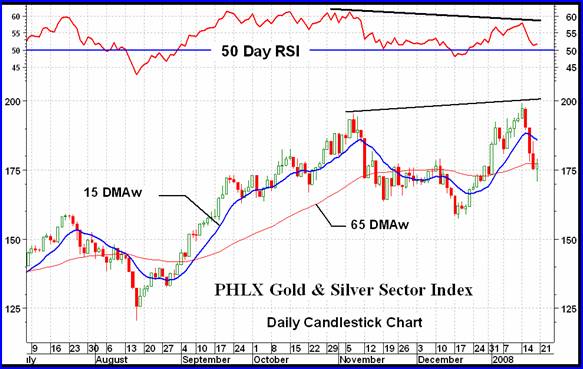 MERV'S PRECIOUS METALS INDICES
Although the Composite Index of Precious Metals Indices lost 7.3% of its value most of the component Indices were more like 8% losers. The loss did not change the basic bullishness of the Composite, at least not yet. More down side would be required to change its basic direction.
MERV'S GOLD & SILVER 160 INDEX
In keeping with all of the other Indices, the universe of 160 stocks had a loss of 7.8%. One cannot deny the lousy weekly Index showing, or all of the lousy Indices showing, unlike gold which had only a 1.6% loss. The universe failed in its attempt to exceed its November high thereby showing a general weakness throughout the sector. Looking at the various sector Indices only the QUAL Indices (gold and silver) had exceeded their November highs. The rest of the universe had been showing weakness.
Looking over the table of technical information and ratings we see that the winners versus losers was very much lopsided. There were only 13 winners on the week (that's only 8% of the stocks) while the losers numbered 143 or 89%. The rest of the 160 component stocks (4 of them) were unchanged. As for the summation of individual stock ratings, none of the time periods are in the bullish camp. The short term rating is NEUTRAL with neither bull nor bear in control yet, the intermediate term rating is a BEAR 56% and the long term rating is another NEUTRAL. Despite the weak ratings summations the charts and indicators are in somewhat better shape. Although both intermediate and long term momentum indicators have turned downward they are still in their positive zones. Both moving averages are still pointing upward with the Index still above them. Both time periods are still rated as BULLISH for now
MERV'S QUAL-GOLD INDEX : MERV'S SPEC-GOLD INDEX : MERV'S GAMB-GOLD INDEX
As could be expected all three of the sector Indices declined during the week with the Gamb-Gold taking the biggest hit at a loss of 9.6%. The Qual-Gold Index had the least decline at 6.8% and the Spec-Gold was in the middle with an 8.1% decline. Although the Gamb-Gold Index had the largest decline it was the best in the winners versus losers category. It had a fabulous 4 winners (out of 30 stocks) or 13% and 26 losers or 87%. Why this is so fabulous is that the other two Indices each had only one winner or 3% of their component stocks. The Qual had 28 losers (93%) while the Spec had 29 losers (97%). What an all around disaster. The summation of individual stock ratings for each Index moved further lower and now stands like this:
Qual-Gold: short term NEUTRAL, intermediate term BULL 60%, long term BULL 73%.
Spec-Gold: short term NEUTRAL, intermediate term BEAR 50%, long term BULL 50%.
Gamb-Gold: short term BEAR 60%, intermediate term BEAR 75%, long term BEAR 55%.
This has the typical scenario at market tops where the gambling stocks are the leaders and first to decline while the quality stocks are the laggards and the last to decline.
Looking at the charts and indicators they differ only slightly from the information in the tables and confirm the information above. Without going into details the indicators give us ratings for the intermediate and long term as follows:
Qual-Gold: intermediate term BULLISH, long term BULLISH.
Spec-Gold: intermediate term BEARISH, long term BULLISH.
Gamb-Gold: intermediate term BEARISH, long term BEARISH.
One thing that all this tells us is that this may not be the best time to be considering purchase of gold and silver stocks. They are either bearish or heading in that direction. Better times are still ahead, wait for them rather than risking capital.
SILVER
Silver once more out performed gold, if even on the down side. Silver lost 0.5% on the week versus gold's loss of 1.6%. This is a recent phenomena as silver was under performing gold for some time. Where gold had moved decisively above its November highs silver just barely exceeded its November high. Other than that the two continue to act in concert with one always besting the other in some respect.
MERV'S QUAL-SILVER INDEX : MERV'S SPEC-SILVER INDEX
This is one of those rare times when both the Qual and Spec Silver Indices closed the week with exactly the same performance, a loss of 8.0% each. The difference between the two, if we can call it a difference, is in the winners and losers area. All of the 10 Qual sector stocks declined during the week while the Spec-Silver Index at least had 3 winners (12%). There were 22 losers in that Index (88%). As for the summation of individual stock ratings, they looked like this:
Qual-Silver: short term BEAR 60%, intermediate term NEUTRAL, long term BULL 60%.
Spec-Silver: short term NEUTRAL, intermediate term BEAR 60%, long term BEAR 52%.
The charts and indicators give us a very similar story with only a slight difference. The results are:
Qual-Silver: intermediate term BEARISH, long term BULLISH.
Spec-Silver: intermediate term BEARISH, long term BEARISH.
Same general comment as for gold, not yet the time to risk capital. Of course the gambler can always find things to gamble on but that is for those who TRULY understand the inherent risks at this time.
Merv's Precious Metals Indices Table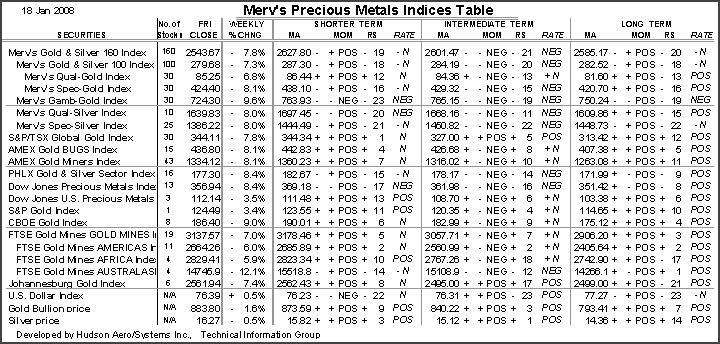 Well I think I'll call it another week. Let's hope things get better.
By Merv Burak, CMT
Hudson Aero/Systems Inc.
Technical Information Group
for Merv's Precious Metals Central
Web: www.themarkettraders.com
e-mail: merv@themarkettraders.com
Before you invest, Always check your market timing with a Qualified Professional Market Technician
For DAILY Uranium stock commentary and WEEKLY Uranium market update check out my new Technically Uranium with Merv blog at www.techuranium.blogspot.com .
During the day Merv practices his engineering profession as a Consulting Aerospace Engineer. Once the sun goes down and night descends upon the earth Merv dons his other hat as a Chartered Market Technician ( CMT ) and tries to decipher what's going on in the securities markets. As an underground surveyor in the gold mines of Canada 's Northwest Territories in his youth, Merv has a soft spot for the gold industry and has developed several Gold Indices reflecting different aspects of the industry. As a basically lazy individual Merv's driving focus is to KEEP IT SIMPLE .
To find out more about Merv's various Gold Indices and component stocks, please visit www.themarkettraders.com and click on Merv's Precious Metals Central . There you will find samples of the Indices and their component stocks plus other publications of interest to gold investors. While at the themarkettraders.com web site please take the time to check out the Energy Central site and the various Merv's Energy Tables for the most comprehensive survey of energy stocks on the internet. Before you invest, Always check your market timing with a Qualified Professional Market Technician
© 2005-2019 http://www.MarketOracle.co.uk - The Market Oracle is a FREE Daily Financial Markets Analysis & Forecasting online publication.

Only logged in users are allowed to post comments.
Register/ Log in