Student Loans, The Next Bubble?
Interest-Rates
/
US Debt
May 12, 2012 - 04:03 AM GMT


Since the housing bubble burst spectacularly in late 2007, many analysts have been actively seeking out the next likely explosion. Rest assured, it will be related to debt in some way. US Treasuries, credit cards, and potentially another disaster on Wall Street thanks to over-leveraging have all been mentioned as potential leading candidates. However, there is another bubble out there and it too is debt related. This one, in my opinion, has far greater consequences because it involves a group that is the least financially able to deal with the ramifications. I'm talking about student loans and the massive bubble that has been expanding for at least the past decade.
I can remember a time back in the 1980s when I had several relatives put themselves through state schools by working during the summer and on holidays. They either didn't carry student loans, or if they did, they were exceedingly small. Granted, these were not Ivy League institutions or anything like that, but it was possible to get an education without going bankrupt. If parents were able to kick in a few bucks, many kids could walk out of college either debt free or very close to it. Credit cards for college students were virtually unheard of.
Fast-forward a couple of decades and for college students who have credit cards, the average balance upon gradation is around $4,000 while the average debt of people in the 19-24 age group is nearly double that. It is not uncommon for a kid to leave college these days with $50,000 or more in student loans. That might not sound like much, but when you're talking about people who have nothing in the way of serious work history or experience to present to potential employers and a job market that resembles the aftermath of a major hurricane, $50,000 suddenly becomes a lot of money.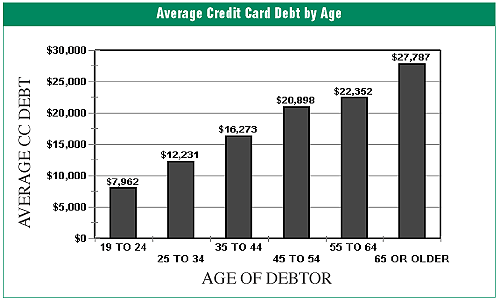 It has been common knowledge for many years now that the cost of a college education has been increasing at a significantly faster rate than most other costs. There has been grand speculation as to why this is the case, but I'm going to use a parallel example and simple economics to explain why this is so. First, our society has been somewhat conditioned to believe that a college education is a birthright of every American. Secondly, for years now we've been shown statistics on the lifetime earnings of people with college degrees versus those without. It is the natural 'next step' if you will once high school has been completed. I have spent a lot of time over the years working with young people and many have no idea what they want to do for a career, but are urged by parents, guidance counselors, and the universities themselves to explore their interests. In the 80s that might have been reasonable advice. However, now this advice is not only impractical, it borders on insane.
The Economics of Student Loans - 101
Simply put, we have a society that by and large feels a college education is both a necessity and an entitlement. This creates a huge demand. However, much of that demand would not be satiated were it not for government. The idea of guaranteed student loans has monetized virtually all of the demand. This guarantees income for universities and they similarly behave as if their cash stream is not dependent on performance, market factors or anything else. They treat their cash flows as an annuity in perpetuity. And unfortunately, we've taught them that they can raise their tuition at double or even triple the rate of the cost of living and all the seats will be full at the start of each year.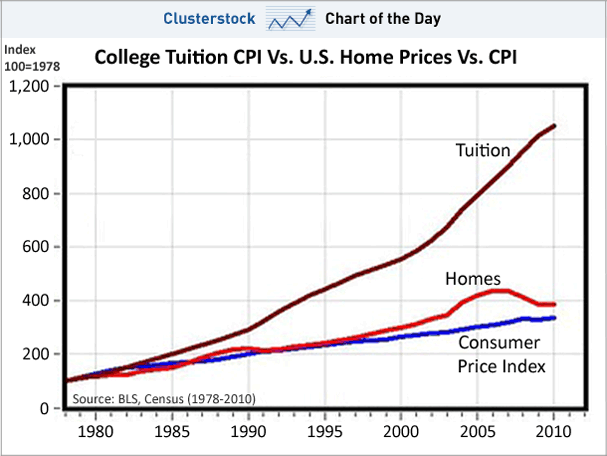 The above graphic depicts the cost of tuition versus housing and the CPI. Notice that housing has already retreated to 2003-ish levels. Notice also how the CPI is represented by an almost perfect straight line – an almost laughable impossibility over a 30-year period. Tuition, however, continues to rise and our kids continue to fall further into debt.
For comparative purposes, let's take a look at the situation in housing. Why did we have a housing bubble? Because mortgages essentially became guaranteed to virtually anyone that wanted one. We've been brainwashed to believe we're not living the American dream if we don't 'own' a home. And the government has once again stepped in and created entities to absorb all this misplaced demand. Where the housing market has Fannie Mae, the student loan world has Sallie Mae. The parallels are undeniable. Unfortunately, the dream of home ownership has become a nightmare for millions of Americans.
Similarly the panacea of having a college degree has also become a nightmare for millions of our kids. Many of them have been out of college for several years now and still can't find work in their field of study. They're waiting tables or performing other retail type labor. And with the job market saturated in many areas, they're being forced to compete against more experienced workers, who are willing to work cheap just to have a job to support their families.
The Implications of Student Loan Debt
What is likely the worst part of this bubble is that nobody really knows how big it is. Many private analysts peg the outstanding debt at over $1 trillion, while the NY Fed claims the outstanding debt is $867 billion, using Equifax data. While even the larger of the two numbers pales in comparison to the outstanding mortgage debt from our earlier example, remember that the debtors in the case of student loans generally have nothing in the way of savings or assets. For the most part they are 100% dependent on the labor market to provide a salary that not only covers their cost of living, but allows them to meet their debt obligations as well.
In increasing levels, students are finding this to be an impossible task. The graphics below depict default rates both in the aggregate and by state on federal loans only. Keep in mind that technically a student loan is not in default until the debtor is 270 days in arrears. So if a student makes a payment once every 9 months, the loan is technically not in default, although from the debtor's standpoint, it might as well be when penalties and interest are factored in.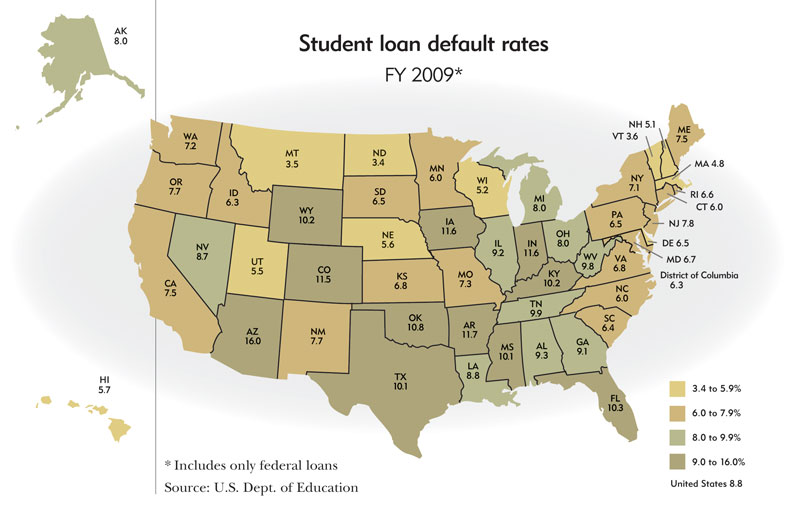 What are not oftentimes mentioned in the statistics are the implications of defaults on student loans as well. For all intent and purposes they might as well be taxes. They cannot be discharged through bankruptcy proceedings like most other types of debt, and are unsecured as well. The bank (now the government) can't repossess your other belongings to satisfy student loan debt. It is literally an albatross that cannot be escaped. Defaulting will make it much more difficult to get other types of credit too – at least at a reasonable rate. And the interest rates on certain types of student loans can be upwards of 15% if a parent or guardian isn't willing to cosign the note.
I am not an advocate of walking away from debts, so the best advice is to urge students to become as aware as possible of what they're walking into beforehand.
Some Helpful Tips
If you know of someone who is considering college as an option, there are a couple of tips you can give them in terms of guidance and whether or not college is a viable option.
1) What is the job market likely to be like in the field of study they're considering? It is important not to look at the market currently, but rather what are the medium and long-term prospects? Does it make good common sense that their career path has longevity? Granted, many folks end up in fields they never considered when they were 18 – yours truly is a prime example. However, given the tight job market and the fact that it is likely to remain so, today's entrants into the workforce had best be prepared to find a 'good job' and, if possible, stay put.
2) What type of education is necessary to enter into a particular field? Many times, students will opt for a 4-year degree when it is only necessary to have a 2-year degree to get a job. There are still employers who offer help with tuition. If you're one of those who only need an Associate degree, consider getting it and then finishing out your education with assistance from an employer or even taking a class at a time on your own.
3) Does the institution really matter? Many students improperly feel that they need a degree from a prestigious institution to get a job. That may be true depending on the field, but there are lots of examples where a state school education will get you a job just as easily as if you went to a private school. Again, researching your area of career interest will give plenty of direction in this regard.
4) A college education is an investment and must be treated as such. I have talked to many kids who want to chase their dreams and do it as a career. If it happens to make financial sense, then go for it. However, in many cases it just doesn't make sense. I'm not being a hard case here either. 30 years ago it didn't matter as much, but today a decision to embark on the pathway to a college degree has enormous financial implications. Many kids have found a career they like that will allow them to be financially secure while they pursue dreams (such as music or art) outside the work arena.
By Andy Sutton

http://www.my2centsonline.com
Andy Sutton holds a MBA with Honors in Economics from Moravian College and is a member of Omicron Delta Epsilon International Honor Society in Economics. His firm, Sutton & Associates, LLC currently provides financial planning services to a growing book of clients using a conservative approach aimed at accumulating high quality, income producing assets while providing protection against a falling dollar. For more information visit www.suttonfinance.net
© 2005-2019 http://www.MarketOracle.co.uk - The Market Oracle is a FREE Daily Financial Markets Analysis & Forecasting online publication.

Only logged in users are allowed to post comments.
Register/ Log in