The Time For Gold Is Now!
Commodities
/
Gold & Silver
Jan 29, 2008 - 02:04 PM GMT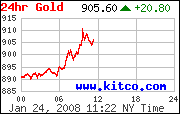 How about that gold price?
Right now it seems to be sticking around the 900 range. I wonder what's happening? Could there be "turmoil" in the financial markets? Let's see what the press has to say about present market conditions. Just what is happening in the financial realm around us?
"In a dramatic and surprising move that reflected serious concerns about a deteriorating U.S. economy, the Fed cut its target for a key interest rate by three-quarters of a percentage point to 3.5%, the lowest since September 2005." USA Today, 1-23-2008
Did we just read the words "…a deteriorating U.S. economy…"?
"The action followed a plunge in financial markets around the world, as foreign investors expressed alarm that tightening credit in the USA — largely stemming from the crisis in the mortgage industry — would stifle economic growth." USA Today, 1-23-2008
Well, well, well. Has there been a plunge in world financial markets? I believe there has.
"The recent financial turmoil has many causes, but they are tied to a basic fear that some of the economic successes of the last generation may yet turn out to be a mirage. That helps explain why problems in the American subprime mortgage market could have spread so quickly through the worlds financial system." The New York Times, 1-23-2008
Well, I missed Hillary at the coffee house. I walked in Thursday morning to my favorite coffee shop and the place was packed. A local city police car had pulled up right outside the door. According to her campaign staffers Hillary Clinton was due to arrive for a media event. But, alas, she never showed up and the crowd faded away. According to a friend of mine who is a reporter for the local news this is how she runs her campaign. Commitments made and then broken. Oh well, a foretaste of what waits should she win the White House.
I hope you're not one of these waiting for the dam to burst through before investing in your first gold related asset. The time to get into gold was loooong ago but better late than never. I really get tired preaching over and over the many virtues of gold but I suppose they are words that cannot be repeated often enough. Don't forget the inverse relationship we are dealing with here. As the general markets struggle and sink the gold market will correspondingly become stronger and stronger.
"Dobbs: Our leaders have squandered our wealth" "President Bush's assurances that we'll all be "just fine" if he and Congress can work out an economic stimulus package seem a little hollow this morning. Much like Federal Reserve Board Chairman Ben Bernanke's assurances last May that the subprime mortgage meltdown would be contained and not affect the broader economy." cnn.com, 1-23-2008
Lou, you mean…you mean we're really in deep financial doo doo? I thought the US had the perfect economy and could never fail. So, Lou, what do we do now?
"The irresponsible fiscal policies of the past decade have led to a national debt that amounts to $9 trillion. The irresponsible so-called free trade policies of Democratic and Republican administrations over the past three decades have produced a trade debt that now amounts to more than $6 trillion, and that debt is rising faster than our national debt. All of which is contributing to the plunge in the value of the U.S. dollar." cnn.com, 1-23-2008
OK, OK. I've got the message. Our economy is in deep and very serious trouble. So what conclusion do we come to?
"All Americans will soon have to face a bitter and now obvious truth: Our national, political and economic leaders have squandered this nation's wealth, and the price of this profligacy has just come due for us all." cnn.com, 1-23-2008
Jon Nadler, an analyst with Kitco makes some interesting observations about the immediate direction of gold.
Jon Nadler - "Look for gyrations in the Dow and the US dollar to continue to provide short-term direction for precious metals and rest assured that volatility will remain the primary feature of trading well into next week." Kitco .com, 1-24-2008
And the primary word here is "volatility." Another analyst, Doug Dillon, projects a potential price range for gold if the economy continues to go downhill.
Doug Dillon - "A flight from the dollar to gold is now expected by many observers and is even being covered by mainstream newspapers "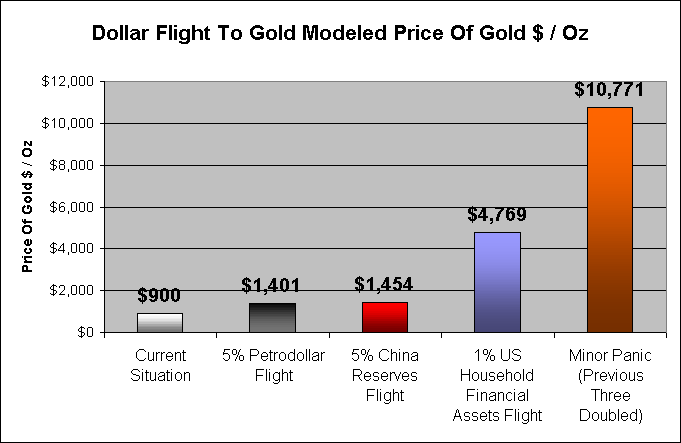 Doug Dillon provides a good creative picture of the future gold market and he emphasizes one most important characteristic. And that is that no one can successfully put a price on what gold will be both tomorrow and the year following.
It's not too late to invest in gold related equities to take advantage of their wealth generating attributes. We are living in the last days of cheap resources and cheap commodities. Gold Letter, Inc. reviews undervalued gold stocks poised to rise in this time of increasing demand.
Click here to order Gold Letter
Send me an email.
By David Vaughn
Gold Letter, Inc.
David4054@charter.net
© Copyright 2008, Gold Letter Inc.
"The Worldwatch Institute, an organization that focuses on environmental, social and economic trends, says the current rate of global demand for resources is unsustainable."
The publisher and its affiliates, officers, directors and owner may actively trade in investments discussed in this newsletter. They may have positions in the securities recommended and may increase or decrease such positions without notice. The publisher is not a registered investment advisor. Subscribers should not view this publication as offering personalized legal, tax, accounting or investment-related advice. The news and editorial viewpoints, and other information on the investments discussed herein are obtained from sources deemed reliable, but their accuracy is not guaranteed. © Copyright 2008, Gold Letter Inc.
© 2005-2019 http://www.MarketOracle.co.uk - The Market Oracle is a FREE Daily Financial Markets Analysis & Forecasting online publication.

Only logged in users are allowed to post comments.
Register/ Log in