NHS GP's Ignoring Cancer Symptoms, Putting Profit Before Patients
Politics
/
NHS
Sep 22, 2012 - 04:50 AM GMT


The National Cancer Intelligence Network reports that 1/4 of patients are only eventually being diagnosed when seriously ill in casualty which can have a disastrous impact on their survival chances.
Sara Hiom, of Cancer Research UK and one of the authors of the study states: "Our findings showing the sheer numbers of cancer patients first seen as an emergency are startling.
"Early diagnosis of cancer, when the most effective treatments are more likely to be options, helps improve a patient's chance of surviving their disease."
Professor Jane Maher, chief medical officer at Macmillan Cancer Support, added: "This route to diagnosis can have a disastrous impact on survival chances."
The reason why NHS GP's are not referring patients with cancer symptoms can be put down to GP's putting profit before patients as a Channel 4 Investigation during 2011 revealed (summarised below). The key problem is that following the implementation of NHS GP Consortia's, GP Practices primary twin focus is -
a. To only refer patients to healthcare providers that will profit the GP consortia's via commission payments.
b. To avoid /delay referrals so as to generate under spends in the GP consortia's so that these under spends can be paid out as dividends to Consortia partners (GP's). This even extends to patients being lied to that referrals have been made when in reality no referral has actually been actioned, with the GP practice hoping that the patient will eventually end up in A&E rather than the GP practice / consortia covering the costs for making the referral and resulting treatment.
Therefore the policy of putting profits before patients is resulting in GP's playing pass the parcel with patients so as to avoid spending budgets on treating patients. This is why cancer amongst many illnesses are not being referred by GP's but only being diagnosed on admission to Hospital A&E casualty units after illnesses have progressed towards the latter stages thus making the survival chances far poorer resulting in greater cost to the NHS and and poorer quality of life. Unfortunately this is indicative of a fundamental flaw at the core of the NHS that there is no competition for patients between GP's that continue to operate as protected local monopolies thus in a race to the bottom of who can generate the most profit by offering the least service to patients.
NHS GP Doctors Putting Profit Before Patient Care, Channel 4 News Investigation
During 2011 a Channel 4 News investigation charged NHS Doctors with the subversion of the the coalitions governments NHS reforms to result in NHS doctors pocketing all of the cash saved as a consequence of the NHS reforms, which matches my own analysis of a year earlier that the Coalition Governments proposed reforms were fatally flawed in that they allowed GP's to profit from patient care.
"Your doctor making a profit out of your health care, your GP Sending you to a clinic that he or she owns shares in, we are seeing the biggest shake up of the NHS in its history, Channel 4 news can reveal tonight that there is nothing on the legislation currently before parliament to prevent the outcome no one wants, doctors putting profit before the care of patients, in our special report tonight we show how the new arrangements will create fundamental conflicts of interest potentially harming the trust at the very heart of the doctor patient relationship". Channel 4 News
Channel 4 News investigation key points:
Serious flaws in the Governments NHS reforms legislation, it's failure to protect patients against fundamental conflicts of interest, it allows GP's to put profit before patient care.
All of the monies saved will go into the pockets of NHS GP's and doctors.
GP's during patient consultations factoring in the profit they will make on their diagnoses.
GP's referrals on the basis of how much commission they will earn from the heath institution.
GP referrals to health clinics that the GP's own shares in.
New private health clinics being set up with a view to making profits so that they can floated onto the stock market at huge profit for share holding GP's
GP's get access to dip their hands into the annual £80 billion pot of money meant for patient care.
GP's draw up the rules themselves on the conflict of interest, akin to writing 100 times, "I promise, I will not fiddle the patients"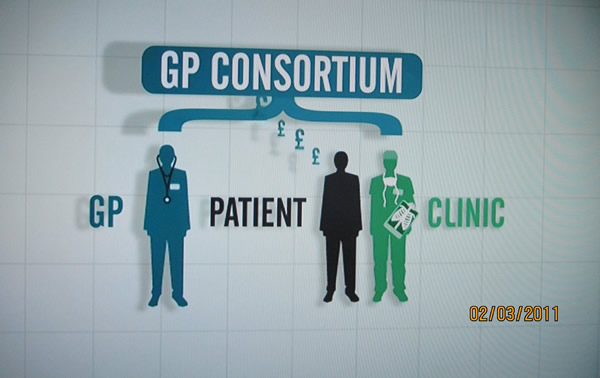 Under the previous Labour government patients were treated as credit cards to swipe in and out of door ways as fast as possible to maximise profits. Under the Coalition government patients will now become cash cows to milk to the fullest extent possible, what's best for the health of patients won't even factor into the thought process during GP consultations - "If I send Patient X to Clinic Y for Operation Z, my consortia will earn a commission of £2,000".
Sheffield NHS GP Consortia's Example
The city of Sheffield illustrates how the implementation of Coalition government reforms is proving to result in the exact opposite anti-competitive consortia's, as virtually all of the Sheffield NHS 92 GP Practices have signed up with one of of 4 geographically located GP Consortia's.
Central Sheffield Consortium
HASC ( Hallam & South Consortium)
North Sheffield Consortium for Health
Sheffield West Consortium
The NHS GP reforms being implemented are pushing towards the worst of both worlds, i.e. no market competition and unprecedented GP control over NHS funds that in significant part will be funneled into the back pockets of NHS GP's via Consortia profits being paid out as dividend to GP partners and eventual huge windfall profits as consortia's are floated onto the stock market.
The NHS Health Credit Card Solution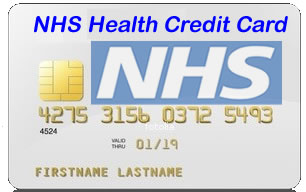 The race to the bottom can only be be ended if there is real patient choice, not only for GP's but also hospitals and other health institutions right across the country where treatment is sought which requires real reform of the whole NHS health care system from diagnosis to treatment of all patients . An important element would be to place the power to purchase healthcare into the hands of the patients by means of an NHS Health Credit Card system, that enables patients to purchase health services from any GP practice or hospital regardless of whether it falls under the NHS umbrella or is fully private, so that both patients and health practitioners would be fully aware of the financial transaction involved in the purchase of the health service, which is set against the current system where patients are made to feel that they may be wasting the GP's time so are easily put off by the practiced dismissive attitude of most GP's during initial consultations, which means the medical condition of patients reaches a far more serious state and this proved more costly for the NHS to treat.
Patients would have a choice of covered core treatments for illnesses or injuries, where they would have the option of paying to top up treatments with their own money depending on the institution that they seek to purchase treatment from, or for other extra's including IVF etc. This would have the effect of reducing the cost of the NHS whilst introducing greater efficiency into the NHS as the majority of patients would only choose those health service institutions that are ranked as delivering a good service. The NHS Health credit card would revolutionise the way healthcare is delivered in the UK, much as supermarkets revolutionised food delivery and choice during the 1980's, as heath supermarkets would spring up all across the country that would maximise efficiency and standardise quality of service delivery as they competed to offer a wider range of health services than anything a bureaucratic top down health care system could ever hope to provide.
The health care credit card system could be further enhanced by workers directly contributing to their health care plans that they can claim upon to purchase 'extra' services at a later date, much as workers today contribute into private pension schemes.
The impact of this would be to greatly REDUCE the cost to taxpayers whilst at the same time delivering better health services, a win, win outcome for the people of Britain as opposed the current system of an out of control unproductive £130 billion National Health Service that attempts to mask failure to deliver with phony statistics and propaganda of a "free for all service" that does not match real patient experience.
The bottom line is that patients are being forced to pay twice for healthcare, once through high extortionate taxes for their NHS GP practices and then again to pay for competent private GP consultations as the alternative would be to die prematurely. We will only truly find out the extent of what amounts to fraud perpetuated on tax payers many, many years from now just as it took many years for the banking sector LIBOR and other frauds to be revealed.
Source and comments - http://www.marketoracle.co.uk/Article36662.html
By Nadeem Walayat
Copyright © 2005-2012 Marketoracle.co.uk (Market Oracle Ltd). All rights reserved.
Nadeem Walayat has over 25 years experience of trading derivatives, portfolio management and analysing the financial markets, including one of few who both anticipated and Beat the 1987 Crash. Nadeem's forward looking analysis focuses on UK inflation, economy, interest rates and housing market. He is the author of three ebook's - The Inflation Mega-Trend; The Interest Rate Mega-Trend and The Stocks Stealth Bull Market Update 2011 that can be downloaded for Free.
Nadeem is the Editor of The Market Oracle, a FREE Daily Financial Markets Analysis & Forecasting online publication that presents in-depth analysis from over 600 experienced analysts on a range of views of the probable direction of the financial markets, thus enabling our readers to arrive at an informed opinion on future market direction. http://www.marketoracle.co.uk
Disclaimer: The above is a matter of opinion provided for general information purposes only and is not intended as investment advice. Information and analysis above are derived from sources and utilising methods believed to be reliable, but we cannot accept responsibility for any trading losses you may incur as a result of this analysis. Individuals should consult with their personal financial advisors before engaging in any trading activities.
© 2005-2022 http://www.MarketOracle.co.uk - The Market Oracle is a FREE Daily Financial Markets Analysis & Forecasting online publication.
Comments
Esp
22 Sep 12, 06:06
Cancer


This article is absolutely correct, and effects me personally, and I am livid!

My elderly mother has has been showing signs of illness for nearly two years,and more or less ignored by her GP.

A scan was finally done, with results in January, by her GP, which showed a blockage in the ureter, no follow up was made of this at the time.

Her symptoms worsened, and she was admitted to hospital in April, it was only then that the hospital ordered the more extensive tests, and in depth scans, and a very good consultant allocated.

She had many follow up appointments, for the investigations, and a biopsy, each time paying £30 in taxi fares to get to the hospital sometimes twice a week, out of her only state pension. She asked at her GP's about an ambulance, they said NO, as I think GP's have to take it out of their own budget.

Finally, after all this investigation since April, by may I say, a wonderful and kind consultant, she was told she has cancer, and as there are other problems, with breathing now with ? secondaries, she would be high risk, and probably not pull through and anaesthetic. Her only comfort, will be renal dialysis, and further scans, to see how fast or slow the tumour is growing, as the condition progresses, she is too tired and ill now, and has expressed the wish for no risky surgery to be attempted.

Her diagnosis was at least 18 months after it should have been, I wonder if it had been diagnosed earlier,and her GP's took notice of a 'compus mentus' old lady, her prognosis might have been better.

I am very sad for the mum I love so much.



DH
22 Sep 12, 06:48
cancer symptoms


I think one of the reasons why cancer symptoms are missed is because there are not enough resources put into early diagnosis. For example, having recently turned 60, I called the health centre where I am registered with a GP and asked whether I could have a "well man" check. "I'm sorry, we don't do those" was the negative reply.

As I am someone who very rarely needs to see a doctor, where do I go within the NHS to discover whether I have some invisible illness lurking inside my body?



M
22 Sep 12, 07:11
Cancer and GP's


Mmm a lot of similar stories , I was always at the GP for my terrible faigue & lumps under my arm, was told twice that the lumps were, just the lymph nodes coming up because I was run down with the continual colds I kept catching, lymph nodes do pop up at times but they seemed unconcerned about this as it was often, even asked "would you like me to refer you?" it should have been "I think I will refer you to check it out" Luckily I had a sensible head on and said "Yes please refer me" It was breast cancer one side & pre-cancer cells on the other, double whammy! with no other obvious symptoms apart from some stabbing pains, fatigue & lumps under the one arm, still recovering from surgery this time last year & chemo this year. You know I think it's really sad that this is going on in GP surgeries & hospitals, I think because I was in my early 40's, maybe I wasn't in the "Goverment Reccomended" age group for BC?!? Instead of using common scense they have to use guidelines for referring. Since my diagnosis the 2 doctor's called me a good few time at home and after surgey to see how I was, I just wondered if they were worried I might make a complaint. I just didn't want any more stress than I already had especially as I have 2 young kinds under 10, so I didn't complain, just kept positive thoughts going in my mind as much as I could, but, s!@t, there are too many similar stories that are just awful, NHS would do better if it catered for UK born tax paying residents only & no others....sorrry, but that's my opinion, I realise not everyone has same opinion.. I am in Scotland...somewhere. I don't want to name & shame surgeries or hospital, but those who do, I take my hat off to you !..

M



Nadeem_Walayat
23 Sep 12, 05:58
NHS Competition


The only real solution IS competition for patients. It does not matter if the NHS it is private or public, what does matter is that GP's and Hospitals are forced to compete for patients. Instead today they are treated as bleating lambs, have absolutely no choice or say over what happens to them if anything as the above examples illustrate.

Best

NW



fasteddie
24 Sep 12, 11:18
NHS and Private


My family & I have had very good service from the NHS on occasions. However the financial pressures on GPs do reduce the speed of referrals to Specialists and then the resource issues mean there are often long NHS waiting lists - and I know these could be very bad news if cancer diagnosis was consequently delayed.

As a counter example, when I developed Gall Stones, because I had Private Health Insurance I was able to get a Consultation within 3 days (after a very quick NHS Ultrasound) and a Gall Bladder Removal op within just less than a week (a friend on the NHS took 10 months for end-end GP visit to surgery).

p.s. I used a vouchercode (MTOMOFFR) to get a really good health cover offer with WPA. I think it's still valid.



Nadeem_Walayat
24 Sep 12, 14:16
NHS is a Fraud


Hi fasteddie

So what takes the NHS 10 months to achive can be down within 3 days privately illustrates that the NHS is a fraud, we are just paying lard arses waiting for patients to die rather than to treat them.

I have already exposed aspects of NHS GP fraud, as they seek to underspend (not treat) so as they can pay out the underspends as dividends to themselves.

Best

NW




Only logged in users are allowed to post comments.
Register/ Log in