Israel Military Implements Gaza War, Phase1 of Iran Nuclear Attack Plan
Politics
/
Middle East
Nov 17, 2012 - 02:24 AM GMT

It is no news that the Israeli Prime Minister Benjamin Netanyahu has been preparing the world for an attack against Iran all year, as illustrated by the PM's September visit and speech at the UN (Netanyahu Warns of Attack on Iran). In a continuation of the propaganda war, Channel 4 recently aired a fly on the wall documentary into the suggested thought processes that the Israeli Government, Military and Intelligence agencies were going through during September 2012 as they war gamed the consequences of a unilateral attack against Iran's air defence, missile and nuclear infrastructure, and how the aftermath could play out in terms of world reaction and Iranian military response.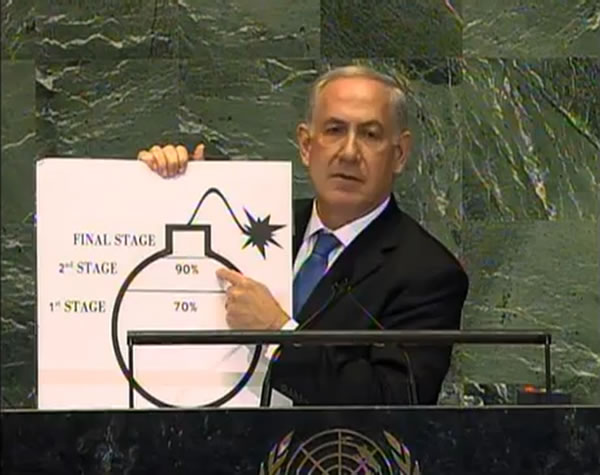 Whilst the programme reeked of propaganda for the camera's towards justification for an attack against Iran, as those involved were clearly attempting to talk the wider world into believing that the consequences of an attack against Iran would be contained i.e. that Iranian retaliation would be limited due to fears of drawing the US into the conflict.
However, one of the consequences that the Israeli war gamers could not mask in the aftermath of an attack on Iran would be the thousands of rockets and longer range missile attacks from Iranian proxies in Gaza and Lebanon who's numbers were more than capable of overcoming Israel's missile defence shield that could perhaps deal with upto 200 rockets per day rather than the prospects for peak attacks of probably over 2000 per day that would be in addition to any remaining Iranian longer range missiles that Israel hoped to degrade during the initial air war.
Therefore clearly at the forefront of the Israeli military planning for an attack against Iran has been towards engineering an scenario that would allow Israel to degrade the longer range rockets that could be fired out of both Gaza and Lebanon that would allow Israel's missile defences to be better able to deal with he aftermath of an air war against iranian military and nuclear infrastructure as it would take significant military capability for Iran to retaliate off the military map, as well as improving the probability of earlier US Military intervention in an air war against Iran, by allowing a scenario to unfold that would draw the US into the region under guise of being at the defence of Israel.
Phase 1 - Invade Gaza and Degrade Rockets Capability - November 2012
Israeli Prime Minister Benjamin Netanyahu, facing an election in January 2013 had clearly put the Gaza attack plans on low gear until after the US Presidential election, following which Israel virtually immediately embarked upon a series of military provocations including sending tanks into Gaza on November 8th that killed a Palestinian child, then 2 days later fired a number of shells into Gaza killing a 4 civilians and wounding 38 others. The trigger for Gaza retaliation was the targeted assassinations of Hamas military commander Ahmed Jabari who was killed by a missile that was followed by an extensive bombing campaign to inflame Hamas into retaliating with longer range rockets.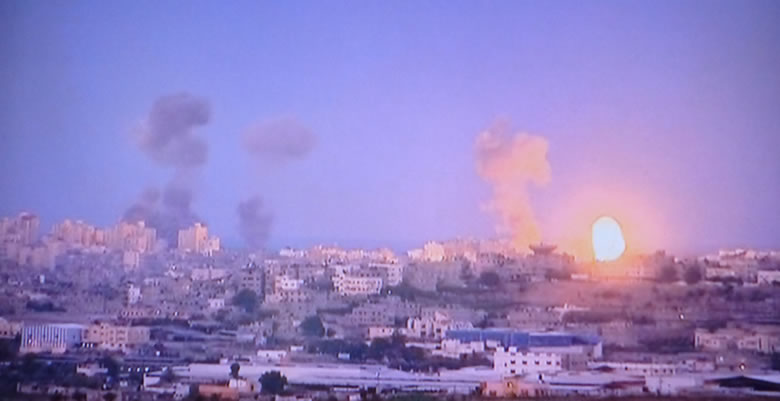 The Israeli Government is using Hamas retaliation as political cover for the justification for an all out air and ground assault against Gaza with the primary objective for seeking out and destroying much of Hamas's longer range rocket stock piles. Hamas by firing a dozen or so rockets at Tel-Aviv is following Israeli war planners strategy as it plays well to Israeli and western audiences that an assault upon Gaza is justified.

The Gaza War Phase 1 invasion now appears imminent, as already upwards of 100,000 Israeli troops have started to mass on Gaza's border as the bombardment continues to pave it's way for an invasion of Gaza.
The estimated consequences of Phase 1, if inline with the last Gaza war in the run up to the 2009 Israeli elections could see some 2000 Palestinian deaths against an estimated 30 Israeli, and likely to result in a short lived invasion of less than 1 month as Israel would soon require the troops for Phase2.
Phase 2 - Invasion of Lebanon, Degrade Hezbollah - December 2012
Following the destruction of Hamas's Gaza ability to retaliate following an attack on Iran, and Syria being out of the picture, the Israeli war machine will next eye Phase 2 for a similar programme of first provocation, then invasion and destruction of Hezbollah military infrastructure, which would include carving out a semi-temporary buffer zone in South Lebanon so as to prevent small range rockets and mortars from being fired into northern Israel.
Therefore Israel will towards the latter stages of the Gaza War (in a matter of weeks), provoke attacks from Hezbollah by using similar tactics of drone attack assassinations of the leadership of Hezbollah with the main objective for Invasion and ongoing occupation of southern Lebanon so as to diminish the capability for Iranian response via Hezbollah.
The estimated consequences of Phase 2, if inline with the last 2006 Lebanon war could see at least 1500 Lebanese deaths (mostly civilian) and an estimated 150 Israeli deaths (mostly military), with the occupation likely to continue until well after an attack against Iran is underway.
Phase 3 - Attack on Iranian Military and Nuclear Infrastructure - January 2013
It is highly likely that an attack against Iranian nuclear and military infrastructure would follow at the peak of Israeli incursion into southern Lebanon as that would have Hezbollah under maximum pressure, which suggests that such an attack could take place some time during January 2013, in the run up to the Israeli General Election.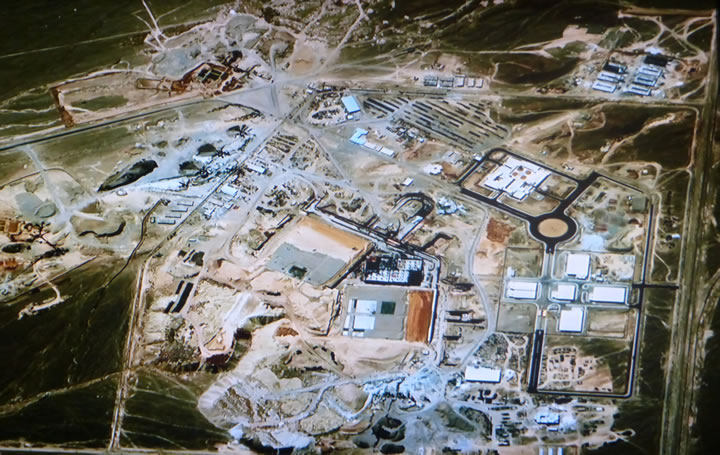 Given that much of Iranian nuclear infrastructure is deep under ground (under a mountain), limited Israeli ground forces may also be deployed, or tactical nuclear missiles used to vaporise deep under ground infrastructure.
Iranian Response
Iran will have also been under taking war gaming scenarios in which respect witnessing Israel diminishing its capability to respond following an Israeli air attack, Iran may conclude that an Israeli attack were imminent and therefore may choose to strike first before Israel attacks.
However the problem for an Iranian first strike following an Israeli invasion of Lebanon is that it would draw the United States into the unfolding war, in which respect Iran is effectively in a lose, lose situation as the outcome would be the same as Iran's air, missile and nuclear infrastructure would be greatly degraded. However, the advantage of a first strike would be that it would unite an increasingly rebellious population that are suffering as a consequence of hyperinflation behind the Iranian leadership.
There is also an alterative scenario that could scupper Israel's attack plans which is if Iran decided to comply with UN resolutions regarding its nuclear programme, for which there is no real sign unless behind the scenes negotiations are taking place, in fact Israel starting to dismantle Iran's capability to deter an Israeli air attack will likely result in an acceleration of the Iranian Nuclear programme as Iran attempts to detonate a series of nuclear tests as a warning against an attack, as we have seen countless times in the past such as at the height of the India / Pakistan confrontation of a decade or so ago.
The bottom line is that the Israeli Government had put its military plans on hold until after the US Presidential Election, following which it has now implemented it's 3 stage plan the ultimate goal for which is the destruction of Iran's nuclear infrastructure, towards which it is using the cover of actions in defence of attacks from Gaza that the Israeli elite has engineered as part of a series of war gaming scenarios and plans put together many months ago. These plans have now been put into action and the events in motion suggest that we will first see a Gaza invasion, then of Lebanon, followed by a strike against Iranian nuclear and military infrastructure, all within the next 3 months so as to chime with the January Israeli general election that Prime Minister Netanyahu aims to win.
In respect of the consequences for a region wide war, Israel has miscalculated in their rush to implement plans, as they see the country's security being underwritten by the United States therefore have ignored the wider middle eastern, Russia, and China dimensions to a conflict that they seem determined to instigate. For instance we could see that whilst the US is preoccupied in another war in the middle east, that China uses that as an excuse to seize the East China Sea Islands that it disputes with Japan and thus change the whole strategic balance of East Asia / Pacific that the US has dominated since the end of World War 2.
Current Probabilities
The probability of an Israeli ground invasion of Gaza - 90%.
An invasion of Lebanon - 70%.
An conventional attack on Iran's nuclear infrastructure before the end of January 2013 - 65%.
Use of tactical nuclear weapons on Iran's deep under ground nuclear infrastructure - 40%.
Probability that Iran will do a deal with the US / UN and disarm before being attacked - 20%.
Every war when it comes, or before it comes, is represented not as a war but as an act of self-defense against a homicidal maniac. - George Orwell

Source & Comments: http://www.marketoracle.co.uk/Article37585.html
By Nadeem Walayat
Copyright © 2005-2012 Marketoracle.co.uk (Market Oracle Ltd). All rights reserved.
Nadeem Walayat has over 25 years experience of trading derivatives, portfolio management and analysing the financial markets, including one of few who both anticipated and Beat the 1987 Crash. Nadeem's forward looking analysis focuses on UK inflation, economy, interest rates and housing market. He is the author of three ebook's - The Inflation Mega-Trend; The Interest Rate Mega-Trend and The Stocks Stealth Bull Market Update 2011 that can be downloaded for Free.
Nadeem is the Editor of The Market Oracle, a FREE Daily Financial Markets Analysis & Forecasting online publication that presents in-depth analysis from over 600 experienced analysts on a range of views of the probable direction of the financial markets, thus enabling our readers to arrive at an informed opinion on future market direction. http://www.marketoracle.co.uk
Disclaimer: The above is a matter of opinion provided for general information purposes only and is not intended as investment advice. Information and analysis above are derived from sources and utilising methods believed to be reliable, but we cannot accept responsibility for any trading losses you may incur as a result of this analysis. Individuals should consult with their personal financial advisors before engaging in any trading activities.
© 2005-2022 http://www.MarketOracle.co.uk - The Market Oracle is a FREE Daily Financial Markets Analysis & Forecasting online publication.
Comments
Frank_O
17 Nov 12, 13:39
Middle East


You might be interested in this theory, but let's hope it isn't right.

Frank



C1
17 Nov 12, 21:31
War Games


If these "war games" were realistic, they would go something like this:

1) Israel tries for decades to get the US to bomb Iran, and fails. It can't even get permission to fly over Iraqi airspace to carry out a mock attack, let alone a real one. It thus conducts practice raids over the Mediterranean to show what it would do if it were allowed to enter American-controlled Iraqi Airspace.

The Yanks aren't fooled -- they know that Israel would start the fight and step aside, leaving the US and Nato to finish it. They're happy enough to put a fleet in the Persian Gulf and make loud noises as a diversion from unfortunate economic events at home, to keep a troublesome "ally" of their back and to keep the campaign funds flowing. They aren't interested in taking on a project of this size -- It's just too big a war to start without a really good reason.

2) Israel attacks South Lebanon to try its luck against a small, Iranian-armed assymetrical force. It loses 60 tanks to peasants armed with soulder-fired anti-tank weapons, and runs home to conduct an enquiry into why the battle was lost. The defense chief is sacked and no more expansionist adventures in South Lebanon are conducted.

3) Netanyahu puffs his chest out and pretends that if the US wasn't holding him back, he would teach Iran a thing or two about what a few F16's and some refueling tankers can do to a country the size of Western Europe with the terrain of Afghanistan, that has been preparing militarily and culturally for an American invasion for thirty years.

The reality is that they will have to run back and forth thousands of miles, over other peoples' uncooperative countries, to rearm their fighter jets. They have no strategic bomber fleet, or aircraft carrier groups -- just light jets operating from fields inside Israel. Neither Turkey nor Iraq will allow them to use their airspace, let alone their airfields for such an operation. The US has already refused to allow them to use Iraqi airspace for this operation. In any event, the damage that their light aircraft can cause is not adequate to bring about any sort of a surrender. In short it's all bullshit.

Driving through Jordan or Syria, and Iraq to get to Iran with their tanks and trucks doesn't need comment.

The only thing they have that could cause any real damage (besides possibly getting the US to do their dirty work) is their nuclear arsenal. They will certainly not pre-emptively nuke Iran -- That would, of course, be silly.

This is all just posturing as a cover for the expansionism that is occuring in the name of national security in the West Bank. Nothing more and nothing less.

If Israel were to start a war by, for example, a repeat of the 9/11 tragedy or something similar, the results would not turn out as described in this article.

Iran's biggest fear is to get over-run by the US, get broken up, disarmed, and suffer centuries of backwardness, ignorance and poverty. You have to remember that they have been around for thousands and thousands of years and have seen many ups and downs and suffered this exact fate several times during this long history. They are fully aware of the possibility of this occurence and have no interest in allowing it to happen to them again.

They have repeatedly said that their best chance of avoiding this fate would be to immediately drag the US into the deep end of the fight. Their military leaders have very clearly stated that this would be their immediate action. To accomplish this, they have clearly stated that they would shut the Straits of Hormoz, hit the oil infrastructure and attack the US Fifth Fleet in the Gulf. These actions would be sufficient to drag the US into the fight. They would then have to go to ground and wait out the inevitable aerial bombing campaign, re-emerging when the bombs stop falling.

The US and it's allies would eventually have to put boots on the ground for many, many, years, and this is when their losses would mount up and the game would turn in Iran's favour. The very same shoulder-fired rocketry that showed the tank to be obsolete in South Lebanon would make this a costly and unwinnable war. The US is struggling in similar terrain in Afghanistan against a poorly armed militia with access to nothing more than home-made roadside bombs, rifles and suicide vests. It would have a harder time against an organised nation with thirty years of arms stockpiles and an active military force. If these same weapons were supplied by Iran to anyone else in the region who is up for a fight, the results would be a widespread conflict that would be very challenging to win on the ground -- Anything that can knock out a tank from a great distance can do the same to a fuel truck or whatever other assets are used to win and hold territory.

In short, the US would quickly win the air war, but probably lose the ground war. The US would quite possibly have to retreat from the entire region and conduct Dresden-style bombing raids and a massive drone campaign over a very large part of the map of the world. This would be hugely unpopular, lengthy, costly, and uncertain. The final outcome is not something to gamble on "because we like Israel". Many American (and Israeli) military experts have urged restraint for this very reason.

The UK would probably have to go along for the ride, again, but any government that bled the treasury dry on a war of this scale would struggle to justify its actions -- particularly after Iraq and Afghanistan. Support for Israel would eventually dry up, leaving them friendless in a tough neighborhood.

Meanwhile China and Russia would keep their eye on the ball and continue to develop economically and industrially, surpassing the US. They would probably supply just enough help to Iran to keep the distraction and cost going for as long as possible, smiling as the West wastes its resources and piles on the debt.



Cassandra
17 Nov 12, 23:33
War Games


Have you ever heard of country holding a war game where they lost?



MyComment44
18 Nov 12, 00:35
US War Games


I believe that there use to be wargames in the US where their side lost, until Congress got wind of a very dramatic loss when the Pentagon was testing a new grand strategy (based on the concept used for the FCS) and had their hat handed to them on the first turn by a wiley retired admiral. Believe it was during the Clinton years, or maybe early Bush, Jr.

So Congress passed a law making it illegal to conduct wargames that the US could lose. Can't get much dumber than that.



Nadeem_Walayat
18 Nov 12, 01:53
Iran Economic collapse could trigger World War


Hi

About 7 weeks ago, I speculated that an attack against Iran or imminent risk of attack against Iran would be enough to spark the next world war.

- http://www.marketoracle.co.uk/Article36832.html

This was as a consquence of the risk of econcomic collapse that is already underway leaving Iran with only one card to play - the war card.

Best

NW



C_Powell
18 Nov 12, 02:18
Israeli Assassinations To Avoid Hamas Peace Deal


An Israeli peace activist claims the assassination of Hamas's military leader took place as the Islamist group was considering a wider ceasefire.

Copied below -

Hours before Hamas strongman Ahmed Jabari was assassinated, he received the draft of a permanent truce agreement with Israel, which included mechanisms for maintaining the cease-fire in the case of a flare-up between Israel and the factions in the Gaza Strip. This, according to Israeli peace activist Gershon Baskin, who helped mediate between Israel and Hamas in the deal to release Gilad Shalit and has since then maintained a relationship with Hamas leaders.

Baskin told Haaretz on Thursday that senior officials in Israel knew about his contacts with Hamas and Egyptian intelligence aimed at formulating the permanent truce, but nevertheless approved the assassination.

"I think that they have made a strategic mistake," Baskin said, an error "which will cost the lives of quite a number of innocent people on both sides."

"This blood could have been spared. Those who made the decision must be judged by the voters, but to my regret they will get more votes because of this," he added.

Baskin made Jabari's acquaintance when he served as a mediator between David Meidin, Israel's representative to the Shalit negotiations, and Jabari. "Jabari was the all-powerful man in charge. He always received the messages via a third party, Razi Hamad of Hamas, who called him Mister J."

For months, Baskin sent daily messages in advance of the formulation of the deal. He kept the channel of communication with Gaza open even after the Shalit deal was completed.

According to Baskin, during the past two years Jabari internalized the realization that the rounds of hostilities with Israel were beneficial neither to Hamas nor to the inhabitants of the Gaza Strip and only caused suffering, and several times he acted to prevent firing by Hamas into Israel.

He said that even when Hamas was pulled into participating in the launching of rockets, its rockets would always land in open spaces. "And that was intentional," clarified Baskin.

In recent months Baskin was continuously in touch with Hamas officials and with Egyptian intelligence as well as with officials in Israel, whose names he refused to divulge. A few months ago Baskin showed Defense Minister Ehud Barak a draft of the agreement and on the basis of that draft an inter-ministry committee on the issue was established. The agreement was to have constituted a basis for a permanent truce between Israel and Hamas, which would prevent the repeated rounds of shooting.

"In Israel," Baskin said, "they decided not to decide, and in recent months I took the initiative to push it again." In recent weeks he renewed contact with Hamas and with Egypt and just this week he was in Egypt and met with top people in the intelligence system and with a Hamas representative. He says he formed the impression that the pressure the Egyptians applied to the Palestinians to stop shooting was serious and sincere.

"He was in line to die, not an angel and not a righteous man of peace," Baskin said of Jabari and of his feelings in the wake of the killing, "but his assassination also killed the possibility of achieving a truce and also the Egyptian mediators' ability to function. After the assassination I spoke to the people in Israel angrily and they said to me: We've heard you and we are calling to ask if you have heard anything form the Egyptians or from Gaza."

Since the assassination, Baskin has been in touch with the Egyptians but not with the Palestinians. According to him, the Egyptians are very cool-headed. They said it is necessary to let the fresh blood calm down. "The Egyptian intelligence people are doing what they are doing with the permission and authorization of the regime and apparently they very much believe in this work," he says.

"I am mainly sad. This is sad for me. I am seeing people getting killed and that is what is making me sad. I tell myself that with every person who is killed we are engendering the next generation of haters and terrorists," adds Baskin.



Fatema_F
18 Nov 12, 08:50
Nuking Iran


It almost sounds as though you investors welcome the nuking of Iran. After the devastation of Syria's rich cultural and historical heritage, thanks to the portfolios of your ?Saudi and Qatari friends who, I'm sure, bring brokers a great deal of benefits, you should be ashamed. It's your identity that's being eroded. And the more destruction, the less identity, including Jewish, because most of the tombs fo their prophets are actually in Iran - as many as 33. Don't think the rest of the world would get away, the fallout will kill over thousands of miles beyond. If that is what you want, go on publicizing it, because that's what the press has been doing all along.

Fatema F



Michael_S
18 Nov 12, 08:52
MO Newsletters


Hello Nadeen,

Firstly, let me say how pleased I am when I see your emails in my inbox.

You are the most intelligent commentator out there in regards to the world and its financial outcomes.

It is with pleasure that I read your Market Oracle Newsletters and I only wish to shake your hand personally one day when I am in London.

Even though I am a million miles away in Sydney, Australia ... your articles strike out loud and clear ... I thank you for all your time and writings.

--

Kindest Regards,

Michael S



Nadeem_Walayat
18 Nov 12, 10:03
Israel Targetting Iran


Hi Fatema

I am trying to weigh up what is the most probable outcome.

This article should make it clear that the current Israeli actions against Gaza were planned many months ago and timed to kick off AFTER the US election, which is contrary at least 90% of what we see in the mainstream press in the UK and US at least.

Probability suggests that Israel had planned to attack Iran early 2013, in which respect it will first destroy the missile stock piles in Gaza and then Lebanon.

I have also stated that Israel in its thirst for war has miscalculated for what the consquences will be just as EVERY WAR in HISTORY miscaclulates the consquences, US in Vietnam and Iraq, USSR in Afghanistan, Iraq in Kuwait, Germany in Russia, Japan at Pearl Harbour, the list is endless. Isrsel has mis-calculated for which we will only know the consquences in hindsight, I can guess at some such as China exerting its mulitary power in East Asia.

If you see an alternative scenerio than please free to post.

Best

NW



davidbaseone
20 Nov 12, 15:54
Nuclear Nadeem


Is this an analysis & forecasting section of the site or a thinly veiled hatred of Israel section?

You simply cannot extract an opinion that Israel has a 'thirst for war' based on anything vaguely historically true. Or that when Israel speaks it's 'propaganda' but infer if Iran considered a pre-emptve strike it would justified given your forecasting.

Much respect on the housing market opinion but 0 out of 10 for unbiased Middle Eastern views.

sorry mate.



Nadeem_Walayat
20 Nov 12, 17:03
Probability


Hi

I am surprised I have not recieved more such comments, I was prepared for about 10 fold more than there have been :)

This is an article that attempts to determine at the most probable outcome going forward. If as you suggest it is pro-iranian then the conclusion would not be that Iran is in a lose, lose situation where the logical step it can only take is to disarm before beign attacked.

For instance today it has been very,very facinating to watch the mainstream press propganda that a Israel and hamas peace deal is imminent when there is going to be NO PEACE, it is pure Israeli propaganda for the masses as PART of the PLAN for Gaza. I have seen it before, it is followign virtually th same script as 2008!

Peace smoke screen followed by invasion.

This is an article, it is limited in the scope that I am able to cover, for it excludes many, many underlying aspects such as that the Israeli people are ALSO victims!

They are the victims of not just Hamas rockets but the Israeli ELITE, it is the Elite and the Intelligence agencies that do their bidding that run the whole show!

The SAME holds true for Iran, US, UK....

It really is the people vs the Elite.

One day the Israeli peopple will be free ! ALL People will be FREE! Until then its a case of Elites using myths and supersitions to validate what are crimes against humanity.

You say 0/10, we'll we will find out, we shall see if Israel Invades Gaza and then Lebanon and then bombs Iran. And at the end of the day actions will speak louder than words.

Best

NW



davidbaseone
22 Nov 12, 17:28
Happy to be predictable!


For sure I think Israel will make the most of opportunities that land on its doorstep to secure some form of mid-term security for the state as it did back in 1973. You'd have to push it to see them as having a 'war thirst' then, more of a 'security thirst' that could affect their very living.

I don't think there's any country in the Middle East that would relish the thought of a nuclear equiped Iran with a chip on its shoulder about lost historical global influence?

Like I say - I'm a big respecter of your thinking but wouldn't want to see you as having an anti-Israeli bent - there's far too many of those out there as it is - a bit too common of an attitude to have?!

All the best mr

David



Parviz
22 Nov 12, 20:08
Nuclear Nadeem


In reply to davidbaseone, I must come to Nadeem's defence. If there is any media bias it is welcome, in my opinion, as a flyweight counterweight to the Zionist media rammed down our throats for 65 years.

If it were not for almost 40 U.S. vetoes of UNSC Resolutions that were otherwise unanimous, Israel would not have been permitted to torture, humiliate and dispossess the Palestinians for over 6 decades, not to mention its dumping of cluster bombs, white phosphorous and depleted uranium shells (all 3 banned by the U.N.) on the the Israeli-controlled Gaza Concentration Camp. Only a true Zionist could condone what Israel has done (with the full complicity of the U.S. which is an accessory to genocide).

And if any Zionists wonder at the causes of Islamic Fundamentalism and Terrorism they should take a good hard look in the mirror. The Zionist press focuses on the effects, the free-intellectual press on the causes.



Nadeem_Walayat
23 Nov 12, 06:48
Israeli's and Gazan's


This is the way I see the Israel / Gaza conflict, in fact all conflicts -

People are highly susceptible to manipulation. One day, I don't know when, but one day 99% of people will wake up to realise the truth, until then the killing goes on....




Only logged in users are allowed to post comments.
Register/ Log in