The Internet Just Became a Dangerous Place, as Governments Try to Seize Control
Politics
/
Internet
Nov 30, 2012 - 07:49 AM GMT


The Internet is more dangerous than ever before… and not because of "child porn" or Craigslist personal ads… it is because of governments. Within that sinister cabal of governments known as the United Nations, control-crazy members like China, Russia and the Arab countries, are trying to seize control of the free flow of information. As reported in the Wall Street Journal:

"Who runs the Internet? For now, the answer remains no one, or at least no government, which explains the Web's success as a new technology. But as of next week, unless the U.S. gets serious, the answer could be the United Nations.
"Many of the U.N.'s 193 member states oppose the open, uncontrolled nature of the Internet. Its interconnected global networks ignore national boundaries, making it hard for governments to censor or tax. And so, to sent the freewheeling digital world bck to the state control of the analog era, China, Russia, Iran and the Arab countries are trying to hijack a U.N. Agency that has nothing to do with the Internet.
"For more than a year, these countries have lobbied an agency called the International Telecommunications Union to take over the rules and workings of the Internet...U.S. Congressional resolutions...have focused on proposal by authoritarian governments to censor the Internet..."
I have to heartily agree with the Journal (a rare occurence) when they say, "Having the Internet wired by bureaucrats would be like handing a Stradivarius to a gorilla." But of course, that means nothing to governments who by their very nature (thieving monopolies on force) want control. They just can't let flourishing, self-regulating systems be. "The self-regulating Internet means no one has to ask permission to launch a website and no government can tell network operators how to do their jobs."
In 1995 the Internet was completely anarchic. There were zero problems. According to the government and its media whores, however, the Internet would just become a medium for exchanging child pornography, identity theft and selling designer knockoffs without the wise guidance of the state.
But in terms of eating away at privacy and freedom on the Internet, the Asians countries –particularly China, India and South Korea (that's right South, not North)–are setting the pace for the Western countries to match. Consider:
• In South Korea, Park Jeong-geun received a suspended 10-month prison term for retweeting North Korean propaganda posts to make fun of North Korea. North Korea and South Korea are still at war and South Korean law criminalizes praising North Korea...even as a Twitter joke, apparently. The court says Twitter's "widespread influence over society" on that there un-regulated Internet is why Park's actions "threatened national security." Park was lucky not to get the seven years in prison that goes with the offense.
• In China, Zhai Xiaobing's tweeted early this month that the next "Final Destination" movie would include the Great Hall of the People collapsing on Communist Party delegates. His Twitter account went conspicuously silent for days and when a friend went to search for him, she was told by family members that police had taken Zhai away and seized his computer. Zhai was being investigated for "spreading terrorist information", a charge which could land him in prison for five years.
• In India there have been many Internet-related arrests this past year, including a woman who posted a criticism of the city's response to a politician's death, as well as her friend for "liking" the comment; a resident of Chandigarh who complained on Facebook about Chandigarh police not doing enough to find her stolen car; a cartoonist who posted cartoons about central government scandals and corruption; a professor in Kolkata who forwarded an email with a cartoon that criticized the West Bengal chief minister.
And in the US, of course, various government enforcement agencies have already shown a keen interest in what people are putting on Facebook and Twitter. The trend is clearly in place. In fact, to avoid any problem with your government, you should get off of Facebook and Twitter entirely. We here at TDV are still on Facebook and Twitter because we are committed to openly fighting the state for as long as we live. I regularly say stuff in our blog and newsletter that will likely get me in trouble with one government or another –most likely the US or Canada– so I may as well say it on Facebook, too. You may or may not be so inclined to mouth off and get noticed.
We have as an organization have been and will continue to work on privacy and internationalizing all of our systems from our Web hosts...from banking to email, getting off Skype, email encryption and much more. Most of our systems all are or soon will be outside the US. We have also been working with TDV contributor, Pete Kofod, on a fantastic new product which will give the utmost in online security. It's called The Sixth Flag and it offers a complete, encrypted desktop throughout multiple jurisdictions. Users will be able to conduct all their desktop computing in a virtual jurisdiction of their choice while maintaining zero data on their personal system. This means complete anonymity and privacy.
More features and details will be coming on that soon as the product will soon be ready for launch.
THE INTERNET HAS JUST BECOME A DANGEROUS PLACE
For years you'd always hear the media and the brainwashed sheeple that parrot what they see on their TV programming try to make the Internet out as a dangerous place. But facts are facts. To this date, no one has been killed on the Internet. No one has been assaulted. Some people have been robbed but in the majority of those situations, they are usually reimbursed by sites like Ebay, Paypal or their bank if their credit card number was stolen. So, even here, the Internet is preferable to real life. The government certainly doesn't reimburse you if a pickpocket takes your wallet as you walk down their public street.
Yet now it is becoming very dangerous. Just ask the father of a 9-year-old girl in the US who had his house raided by armed men in costumes because his daughter downloaded a pop song. They demanded money and absconded with her Winnie the Pooh laptop.
"I got the feeling that there had been people from the mafia demanding money at the door," the girl's father explained. He's right, that's exactly what happened. The only difference between the mafia and government is size.
The real reason governments across the globe want more control over the Internet is because they are now finally realizing that the Internet will result in the end of statism. There is a reason there are no Murray Rothbard nor Ludwig von Mises books in public schools… if people heard these ideas they might realize that government is an unnecessary evil.
And, don't think that they won't even go so far as to try to "turn off" the Internet. While 13-year-old hackers around the world will always stay one-step ahead of the state, the state can still make it almost impossible to access for the majority of non-techies. Just ask Syrians, who at 10:28am this morning found that out.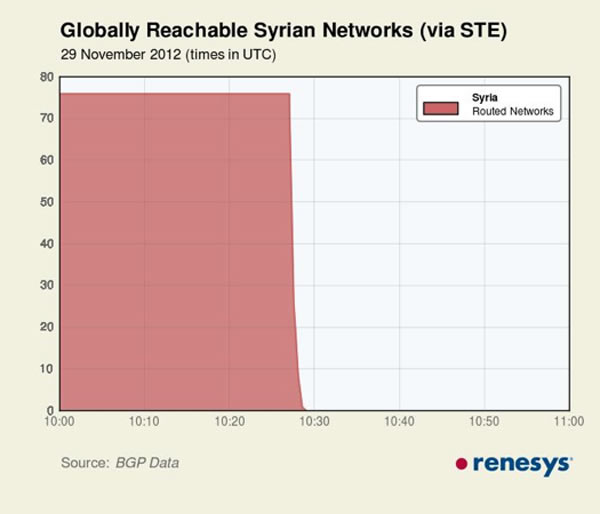 So, a tranquil, safe, empowering anarchic environment is now fully under attack worldwide. Be careful what you do out there and look to use technologies in self-defense against all their depredations. We can't wait for The Sixth Flag to be launched because it will create solutions to almost everything we've just talked about. Look to move towards Bitcoin for transactions as those too are secure and cannot be commandeered by the state and, of course, buy gold and silver and hold it outside of your own jurisdiction or at least hidden from it. And, of course, as is our theme here at TDV, internationalize all your affairs so as they cannot be under the control of any particular government.
Regards,
Jeff Berwick
Anarcho-Capitalist. Libertarian. Freedom fighter against mankind's two biggest enemies, the State and the Central Banks. Jeff Berwick is the founder of The Dollar Vigilante, CEO of TDV Media & Services and host of the popular video podcast, Anarchast. Jeff is a prominent speaker at many of the world's freedom, investment and gold conferences as well as regularly in the media.
© 2012 Copyright Jeff Berwick - All Rights Reserved Disclaimer: The above is a matter of opinion provided for general information purposes only and is not intended as investment advice. Information and analysis above are derived from sources and utilising methods believed to be reliable, but we cannot accept responsibility for any losses you may incur as a result of this analysis. Individuals should consult with their personal financial advisors.
© 2005-2019 http://www.MarketOracle.co.uk - The Market Oracle is a FREE Daily Financial Markets Analysis & Forecasting online publication.

Only logged in users are allowed to post comments.
Register/ Log in