Experts: Global Food Shortages Could 'Continue for Decades'
Commodities
/
Agricultural Commodities
Feb 22, 2008 - 01:36 PM GMT


Global inventories of grains are nearing historic lows, while twenty percent of the U.S. corn crop this coming year will be used for ethanol production. Meanwhile wheat, rice and soybean prices have reached all-time highs and corn prices have jumped to a 12-year high.
Demand for grain continues to increase adding upward pressure on the price of agricultural products. We expect this trend to continue. Recent developments in the sector, found in various publications, include:
For decades, the industrialized world enjoyed the luxury of producing far more milk, butter and wheat than its citizens could consume. The surplus was exported or was destroyed. Some experts expect this luxury has now come to an end. Europe 's mountains of butter have been depleted, its grain silos emptied and its lakes of milk drained.

"The era of overproduction is behind us,"

says Stephane Delodder, an agricultural specialist with Rabobank in the Dutch city of Utrecht .
For the first time, we are seeing the emergence of a global agricultural market driven by the growing demand for grains and a scarcity of supply. Wheat inventories, for example, have reached a 30-year low. In one year inventories in the European Union have plummeted from 14 million to one million tons. The fact is that arable land cannot be increased at will. Over the past three decades, the amount of arable land worldwide has stagnated at about 1.5 billion hectares (3.7 billion acres).
While new agricultural lands are being added in Russia and South America , more and more land is lost to residential and industrial development in Asia and Europe . In China , eight million hectares (20 million acres) of land under cultivation have vanished within a decade. For comparison, just under 12 million hectares (30 million acres) of land are currently used for agriculture in Germany . These spatial limitations would be tolerable if the world's population wasn't growing at such a breathtaking pace.
How long will the agricultural boom last? Michael Schmitz, an agricultural economist and professor, used databases to forecast how far trends would last when global conditions change like they have recently. The professor says that the current shortages and price hikes are not a phenomenon that will end in a few months -- or even in a few years. Schmitz predicts: "This could continue for two or three decades." (Spiegel Online)
The world faces a serious food crunch

"that is not getting nearly enough attention from global leaders"

the head of the world's biggest fertilizer producer warned last month. Global grain reserves are "precarious" at only 1.7 months of consumption according to Bill Doyle, CEO of PotashCorp. Profiting from world agricultural demand, he noted

"we believe that in many ways we are just getting started and the best is yet to come."

As hundreds of millions more people in China , India and elsewhere attain higher-protein diets, Doyle expects global production of grains and soybeans will fall further behind demand.
World food security, as measured by grain inventories, has slumped to its lowest since records began in 1960. Just 50 days of grain inventories are available, compared with 115 days in 2000. Julian Cribb, a professor from Sydney 's University of Technology , predicted the oil and credit crises rattling world economies will be

"nothing compared to the threat from emerging global food shortages."

(Courier-Mail)
• The U.S.D.A. released a report last month that highlighted; (1) how few additional acres have been planted globally in the last decade, even as world population and economic growth continues forward, and (2) how rapidly the global grain inventories have declined. A summary of the report is set out below. (Table from U.S.D.A. website)

Scarcity of water and arable land means that the boom in food prices could last longer than most expect, warned a study issued last month. The report, published by the UK-based consultants Bidwells Agribusiness, said the agricultural boom – until now fuelled by rising demand from emerging countries and the biofuels industry - would be exacerbated by supply constraints. Water and land scarcity, together with slow improvement in agronomics, will be key factors limiting food production. (Financial Times)
From 1961 to 1970, the price of crude oil was static at about $1.80 per barrel. Based on the quality of wheat produced in Saskatchewan during that 10-year period, average price received by farmers was $1.58 a bushel.
A barrel of oil and a bushel of wheat were about the same value back in the 1960's. Today wheat might surpass $8 a bushel for this crop year, but a barrel of oil sells for around $90. A bushel of wheat has gone from being on par with a barrel of oil to being worth less than a tenth as much. (Star Phoenix ( Canada ))
La Nina conditions now pose a significant risk to U.S. corn production in 2008, says Iowa State University meteorologist Elwynn Taylor. By late December those La Nina conditions had met specific guidelines that point to the possibility of drought in 2008.
"At this time the combined risk is a 68% chance of a below trend U.S. corn yield," says Taylor . This risk is increased by scant subsoil moisture, the 19-year drought cycle, and existence of drought in the area of South Carolina . (Farm Futures)
Throughout history people have eaten more meat and protein as they have become richer. This is called the nutrition transition and it's now happening, very quickly, in the two most populous nations on the planet – India and China .
Hundreds of millions more people are now rich enough to eat meat compared with 10 years ago. Tim Lang, professor of food policy at London 's City University , notes 'I've been expecting this for two years. The food system is entering a period of very significant restructuring, the first since the years after the Second World War. We may look back at the second half of the last century as an era of cheap food. It'll be like the Hundred Years' War, as we were taught it in school: a seminal moment in human history that's gone and will not return.'
Food is - for the rich world, at least - astonishingly cheap. The average British household spends 13 per cent of its income on food – fifty years ago that figure would have been 30 per cent. (Guardian Unlimited)
Although we are coming off a record corn harvest, if elevated price levels do not subside the impact would be staggering according to some experts. For example, current grain prices imply that land rents in Iowa and the rest of the Corn Belt should increase by a factor of about 2.8.
As land rents go, so too do land prices. Iowa State University 's annual land price survey showed that in 2005 the average acre of farmland in Iowa was valued at $2,914. Multiplying the 2005 land value by 2.8 suggests average land values in excess of $8,000 per acre. (Cattle Network)
Deutsche Bank last month predicted 2008 will be another year of strong commodity price gains, most notably in the agricultural and precious metal sectors. Michael Lewis, Global Head of Commodities Research at Deutsche Bank, found that rallies in the agricultural sector are

"still in their infancy."

Deutsche Bank expects new price highs to be achieved across the sector, with corn, cotton and soybeans especially attractive. (Wall Street Journal)
Last month 10,000 Indonesians demonstrated outside the presidential palace in Jakarta after soybean prices soared more than 50 per cent. While the social unrest has not yet spread to other Asian nations, consumer frustrations are mounting. World soybean prices climbed to a record last month, partly because farmers in the US and Asia have instead been growing crops to supply the biofuel industry. Bad harvests in Latin America and rising Chinese demand have added to the price pressure. (Financial Times)
The pressures in global food markets have grown so intense that, for the first time in its history, the United Nation's World Food Program is finding it hard to procure supplies of essential commodities. In particular, countries in the emerging world were now placing so many export controls on items such as wheat to conserve them for their own populations that they have refused to release supplies to the U.N. "We have never seen this before" according to senior officials at the World Economic Forum in Davos. (Financial Times)
•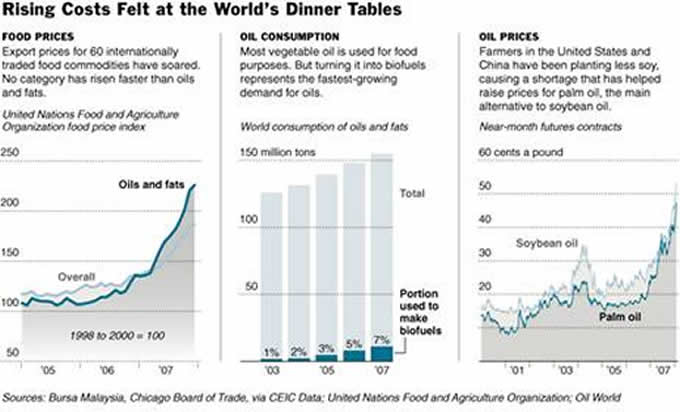 A simple calculation points out biofuel's less-than-stellar potential. To fill the roughly 100-liter (26-gallon) tank of an SUV, an ethanol producer has to process about a quarter of a ton of wheat.
This is enough wheat for a baker to bake about 460 kilograms of bread, which has a total nutritional value of about a million kilocalories -- enough to feed one person for a year. (Spiegel Online, New York Times)
Charles Munger and Warren Buffett both note that a good business environment – one where a company can earn reasonable margins and expand – is one of the main elements that has been present in their best investments.
We think the agricultural and energy sectors present the best business environment investors will find. In the end these long term positive trends will serve our investors well.
By Joseph Dancy,
Adjunct Professor: Oil & Gas Law, SMU School of Law
Advisor, LSGI Market Letter
Email: jdancy@REMOVEsmu.edu
Copyright © 2008 Joseph Dancy - All Rights Reserved
Joseph R. Dancy, is manager of the LSGI Technology Venture Fund LP, a private mutual fund for SEC accredited investors formed to focus on the most inefficient part of the equity market. The goal of the LSGI Fund is to utilize applied financial theory to substantially outperform all the major market indexes over time.
He is a Trustee on the Michigan Tech Foundation, and is on the Finance Committee which oversees the management of that institutions endowment funds. He is also employed as an Adjunct Professor of Law by Southern Methodist University School of Law in Dallas, Texas, teaching Oil & Gas Law, Oil & Gas Environmental Law, and Environmental Law, and coaches ice hockey in the Junior Dallas Stars organization.
He has a B.S. in Metallurgical Engineering from Michigan Technological University, a MBA from the University of Michigan, and a J.D. from Oklahoma City University School of Law. Oklahoma City University named him and his wife as Distinguished Alumni.
© 2005-2022 http://www.MarketOracle.co.uk - The Market Oracle is a FREE Daily Financial Markets Analysis & Forecasting online publication.
Comments
pat
22 Feb 08, 23:45
food shortage


remember the starving children in China?



Scheel Shenoy
13 May 08, 01:27
FOOD SHORTAGE


Are we going to be engaged in discussions or is there any inclination to reverse the trend of food shortages?

Are we ready for a radical change?

Like demolishing concrete structures if need be and plant crops? Or are we going to be after bottom lines which translated into reality mean only worthless paper if resources are not available?



Mr Popodopolous
19 Jan 09, 13:53
We should have kept the surpluses


Scary stuff!

We in Europe should have kept those surpluses, destroying them what a ridiculous move!




Only logged in users are allowed to post comments.
Register/ Log in