Gold Parabolic Trend Targets $1500 as US Dollar Destined for Financial Oblivion
Commodities
/
Gold & Silver
Mar 12, 2008 - 02:18 AM GMT

When a ball is thrown into the air, the speed of that ball decelerates until gravity becomes the more powerful force. Balls, when thrown into the air, do not suddenly rise at a faster rate. Such is the way physics works, and the way markets work. Were this not true, the sky would be filled with balls and the NASDAQ would still be above 5000. $Gold, as wonderful as it is, is not immune to financial gravity.


U.S. dollar may be destined for financial oblivion, but we note that the British pound still has value. The acceleration of Gold's rise, as shown in this week's chart, has brought smiles to faces of many and greed to the hearts of others. Again, a parabolic move with accelerating slope in a market is a yellow flag, not a sign of encouragement. What might cause the break in Gold's parabolic rise?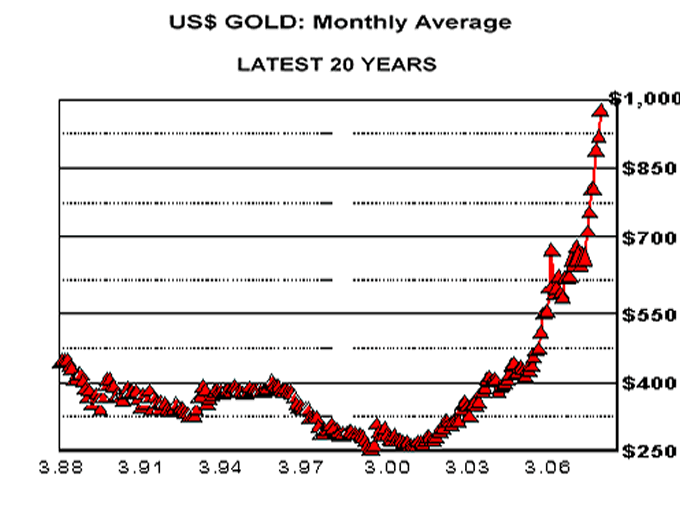 What if buyers of real Gold are on strike? Arabianbusiness.com reported on 9 March that in Abu Dhabi February sales volume of precious metals was off by 20% . Commodity News for Tomorrow , on 4 March, reported that India's imports of Gold in February were 11 tons, down 81% from year ago. India, per the same article, has not imported Silver since October, and may reexport 700 tons plus sell 300 tons of domestic Silver production.
Turkey's importation of Gold for jewelry in February was down 30%. Yet the paper Gold market continues to march upward while cash buyers are turning away from Gold due to price. Speculative funds have become the heart of the market on the belief that someone else will provide them a profit. Federal Reserve's expansion of targeted lending to $400 billion might mean that this approach may be preferred to broad interest rate cuts. Market participants, especially dollar bashers, may be disappointed next week by size of any U.S. rate cut. While longer term target for Gold is approaching US$1,500, some skepticism in the short term may be appropriate.
By Ned W Schmidt CFA, CEBS
Copyright © 2008 Ned W. Schmidt - All Rights Reserved
GOLD THOUGHTS come from Ned W. Schmidt,CFA,CEBS, publisher of The Value View Gold Report , monthly, and Trading Thoughts , weekly. To receive copies of recent reports, send an email to valueviewgoldreport@earhlink.net But note, we do not respond to email spam prevention programs.
© 2005-2019 http://www.MarketOracle.co.uk - The Market Oracle is a FREE Daily Financial Markets Analysis & Forecasting online publication.
Comments
Simon
27 Apr 08, 08:01
gold parabolic curve


my prediction is that gold will hit 1500$ in less than 2 motnhs and hit 2500$ by year end......the recession is just to great and the rice in food commodities prices simply beyond any countries control...it is inevitable that gold will hit super-parabolic status....given inflation is already kicking in early, people have less money, there will be more bankrupcies...and in those times...money is becoming less worthy....people will always turn to gold..and when the greed really kicks and the gold bulls set the bear trap...gold goes super-parabolic. oil at 118 is not sustainable...the price (of oil) is, but we cannot sustain our current living prices, standards, and cost..everything we use and eat(food prices, costs, inflation,) has to go up. i think property will go down much further not only in us but globally also, due to less global liquidity and loss of jobs. i think george soros and marc faber are very accurate..this could be the greatest recession ever...but everyone outside USA is saying "what recession"..such is the shock due to come.




Only logged in users are allowed to post comments.
Register/ Log in