Falling UK House Prices Point to April Rate Cut
Housing-Market
/
UK Housing
Mar 28, 2008 - 12:41 PM GMT

House price growth slows to lowest level in twelve years
Clear change in consumers' housing market sentiment
Outlook more downbeat, but within forecast range
MPC expected to bring rate cut forward to April
| Headlines | March 2008 | February 2008 |
| --- | --- | --- |
| Monthly index * Q1 '93 = 100 | 360.5 | 362.6 |
| Monthly change* | -0.6% | -0.5% |
| Annual change | 1.1% | 2.7% |
| Average price | £179,110 | £179,358 |

* seasonally adjusted
Commenting on the figures Fionnuala Earley, Nationwide's Chief Economist, said:"House prices fell for the fifth consecutive month in March. The price of a typical house fell by 0.6% during the month, bringing the annual rate of house price growth down to 1.1% - its lowest rate since March 1996. A clear change in sentiment since the late summer has led to the sharp slowing in house price growth, even in the less volatile 3-month on 3-month series. Prices on this measure are now 1.5% lower than three months ago. The price of a typical house in the UK is now £179,110, only £2,027 more than this time last year. However, prices are still 11% higher than two years ago and 47% higher than five years ago - the equivalent of a price rise of more than £30 per day for the last five years. "
MPC still has a difficult path to tread
"Conditions in the financial markets became more difficult during March, making the MPC's interest rate decisions no easier. On the one hand, inflation remains stubbornly high. The CPI measure increased to 2.5% in February and retail sales were surprisingly strong. On top of this, one of the major factors of concern to the MPC, consumers' inflation expectations, picked up to 3.9% - their highest level since the survey began in 1999. On the other hand, the likelihood of a US recession is increasing and UK consumer confidence and credit conditions have weakened. Although retail sales are surprisingly strong now, it seems highly unlikely that this will continue. So, with consumers likely to spend less and a greater reluctance on the part of banks to lend in the current environment, at least some of this inflationary pressure will be dampened.
"The minutes of the March MPC meeting were relatively dovish and while recognising that the MPC still had a difficult path to tread, were perhaps more accepting of room for a cut in rates sooner rather than later. The minutes acknowledge that a back-to-back cut in rates in March may have given an overly strong signal that growth, rather than inflation, had become the priority. This barrier has now been removed and, since the last meeting, the collapse of Bear Stearns and the fallout from false rumours of problems in a major UK bank may have helped to shift the focus of the MPC to the need to loosen conditions in the financial markets. We think these latest developments, along with the continued weakening in the housing market, will mean that the MPC will bring forward its rate cut to April.
Clear change in housing market sentiment since the summer
"Confidence is a very important factor in the housing market and much of this confidence is determined by expectations of the future path of house prices. When consumers think prices will rise there is a greater incentive to enter the market, thus supporting demand. On the other hand, if prices are expected to remain static or fall, the urgency disappears and demand will fade. Expectations of higher house prices will have undoubtedly encouraged some speculative demand in the housing market over the years, but with lower house price growth expected now and in the future, the effect will work the other way, causing at least some of this demand to fall away.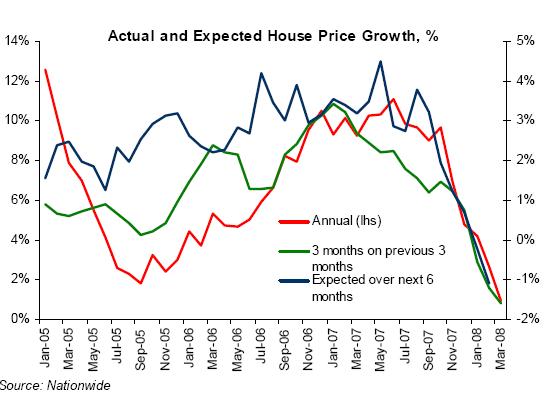 Nationwide's Consumer Confidence survey captures information about expectations of future house price growth. It is clear from the 3-month on 3-month actual house price growth series that deteriorating affordability, higher interest rates and slow earnings growth were beginning to affect the rate of house price growth early in 2007, but these factors did not seem to affect house price expectations. Since September however, consumers' expectations of house price growth in the next six months have been falling sharply. This fall coincides with turmoil in the financial markets and is likely to have been compounded by the problems at Northern Rock, but it also reflects the signs of slowing in the more visible annual rate of house price growth and house purchase approvals data. House price growth expectations responded dramatically to all of these factors.
"While consumers' estimates of the precise rate of future house price growth has not been a good measure of turning points in the market, nor a good predictor of the actual rate of price movements, once a general trend in expectation has been formed its effect is likely to be highly influential on both transactions and price levels. This happens, first by removing the urgency to move and second by giving buyers a bigger incentive to drive a harder bargain in order to hedge against any possible falls in prices.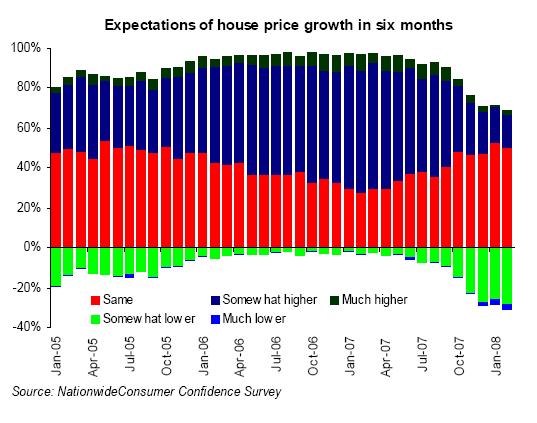 "The overall impact this will have on the housing market will depend on how much consumers think that prices will change. The latest data suggests that those consumers willing to quantify their expectation, on average, expect an annual fall of around 3% in six months time1. However, these numeric estimates are very volatile and consumers' more general expectations probably tell us more about their overall mood. Current data suggests that while there has been a big change in sentiment, more than two thirds still believe that prices in six months' time will be the same or higher and only 3% believe that prices will be much lower.
Outlook more downbeat, but within forecast range
"The outlook for UK house prices is clearly more downbeat than at the time of our November forecast. Some of the downside risks we identified then have become a reality – most notably the continued turmoil in the financial markets. However, the path for house prices in 2008 still looks set to remain within our forecast range. We expect a modest fall in house prices during the year, but such a fall should be seen in context. If prices were to fall in line with consumers' expectations, they would still be higher than two years ago. A moderate fall in prices at this stage should not be unwelcome and should help to ensure greater stability in the market going forward."
Fionnuala Earley
Chief Economist
Tel: 01793 656370
Mobile: 07985 928029
fionnuala.earley@nationwide.co.uk
Kate Cremin
Press Officer
Tel: 01793 656517
kate.cremin@nationwide.co.uk
Notes: Indices and average prices are produced using Nationwide's updated mix adjusted House Price Methodology which was introduced with effect from the first quarter of 1995. Price indices are seasonally adjusted using the US Bureau of the Census X12 method. Currently the calculations are based on a monthly data series starting from January 1991. Figures are recalculated each month which may result in revisions to historical data. The Nationwide Monthly House Price Index is prepared from information which we believe is collated with care, but no representation is made as to its accuracy or completeness. We reserve the right to vary our methodology and to edit or discontinue the whole or any part of the Index at any time, for regulatory or other reasons. Persons seeking to place reliance on the Index for their own or third party commercial purposes do so entirely at their own risk. All changes are nominal and do not allow for inflation. More information on the house price index methodology along with time series data and archives of housing research can be found at www.nationwide.co.uk/hpi
© 2005-2019 http://www.MarketOracle.co.uk - The Market Oracle is a FREE Daily Financial Markets Analysis & Forecasting online publication.

Only logged in users are allowed to post comments.
Register/ Log in