UK Housing Market Weakness Stretches into April
Housing-Market
/
UK Housing
Apr 30, 2008 - 03:39 AM GMT

House prices fell for the sixth consecutive month in April
The price of a typical house is now 1% lower than this time last year
The Bank of England bond exchange scheme should help to improve financial market liquidity
More than 5 million borrowers have benefited from Bank of England rate cuts
| Headlines | April 2008 | March 2008 |
| --- | --- | --- |
| Monthly index * Q1 '93 = 100 | 355.5 | 359.4 |
| Monthly change* | -1.1% | -0.7% |
| Annual change | -1.0% | 1.1% |
| Average price | £178,555 | £179,110 |
* seasonally adjusted
Commenting on the figures Fionnuala Earley, Nationwide's Chief Economist, said: "April was another difficult month for the housing market. Falling levels of market activity meant that prices fell by 1.1% during the month and ended up 1% lower than this time last year. April's fall in prices continues the trend of the last six months and reflects the weakening sentiment in the market brought about by poor affordability and tighter financial market conditions. This is the first year-on-year fall in prices since March 1996 and brings the price of a typical house to £178,555, £1,759 lower than at this time last year."
Weaker housing market likely to weigh on economy and lead to additional rate cuts
"The latest fall in house prices follows from the steep decline in house purchase transactions over the last half year. As a result of falling demand from first-time buyers, higher mortgage rates and tighter lending criteria, the number of mortgages approved for house purchases has fallen to record lows. The fall in transactions has pushed up the stock of unsold property on the market and improved the bargaining power of buyers, thus pushing down on prices.
"Although retail spending has so far been remarkably resilient as the housing market has faltered, lower house prices are likely to weigh down on the consumer over time. In recent years, rising house prices appear to have boosted overall consumer sentiment and made housing equity available for consumer spending. With house prices no longer rising, consumers are likely to become more cautious in their spending habits, contributing to a weakening of the overall economy. As the economy slows, inflationary pressures should moderate over time and allow the Bank of England to make additional interest rate cuts. However, the risk that the current strength of oil and food prices could feed into wages means that the MPC will probably prefer to cut rates at a more gradual pace than homeowners might prefer.
Special Liquidity Scheme should help to stabilise the wholesale financial markets
"In addition to April's rate cut, the Bank of England announced measures to restore liquidity to the wholesale financial markets by offering an exchange of mortgage backed securities for government bonds. The scheme appears well thought out and should help to stabilise the markets which have seen significant volatility in recent weeks. However, the scheme is unlikely to mean that house prices and mortgage lending will return to levels seen at this time last year. Weakening housing market sentiment and demand, unrelated to the financial market turmoil, will mean that we should expect slower market conditions. However, the Bank's measures should help to restore a more orderly transition and ultimately bring about a more stable market.
How are borrowers affected by the turmoil?
"One of the effects of financial market difficulties has been that cuts in the Bank Rate have not been reflected in wholesale money market rates which, along with the need for lenders to manage the volume of demand, has prevented like for like cuts in the cost of new mortgage products. However, it is easy to forget that the majority of borrowers are not taking out loans today. Indeed most mortgage borrowers have either not been affected by recent market events or have directly benefited from cuts in the Bank Rate.
"In January 2008 fixed rate loans accounted for about one half of the overall stock of mortgage loans. Even taking into account loans that have come off deals in the first quarter of 20081, this means about 5.5 million borrowers will not yet have seen an impact on their mortgage rate this year. The remainder of borrowers are on variable rate products, and the majority of these are on tracker products which are linked directly to the Bank Rate. Tracker loans account for about 27% of the overall mortgage stock. About 3.1 million borrowers will therefore have benefited from the 0.75% cut in the Bank Rate since December. A further 17%, or just over 2 million borrowers, are on a standard variable rate product and a further 5%, or 700,000 borrowers, are on a capped or discounted product. The majority of these two groups of borrowers are also likely to have benefited from cuts in the Bank Rate.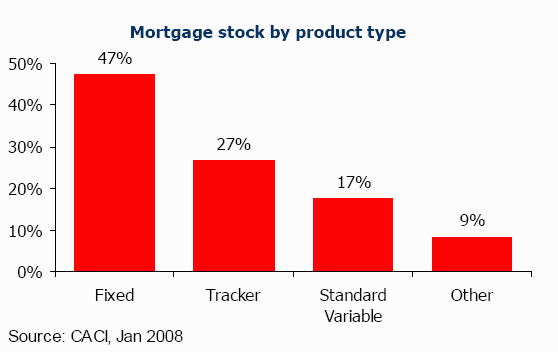 "Those borrowers who will be most affected by higher mortgage rates are those whose deals are set to expire. The CML has estimated that 1.4 million borrowers will be coming off relatively cheap fixed rate deals over the course of 2008. In addition, we estimate that a further 400,000 borrowers will come to the end of tracker or discount deals over the whole of 2008, and these borrowers may also face a fairly significant payment shock. However, the total number of deals expiring in 2008 represents only about 15% of outstanding mortgages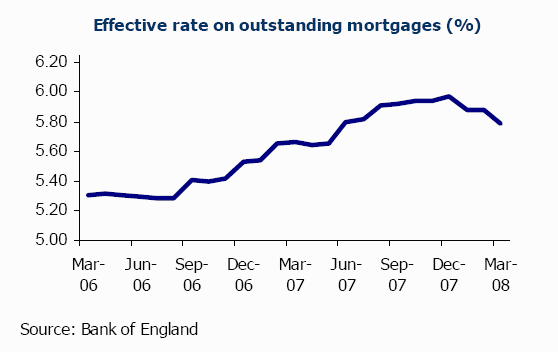 "Overall, some groups of borrowers will certainly feel the effects of higher mortgage rates, but around 85% of borrowers will be seeing no impact or will benefit directly from reductions in the Bank Rate this year. This is good news for the overall stability of the housing market and is a significant factor that differentiates the housing market of today from that of the late 1980s and early 1990s. Back then a much higher proportion of loans were on variable rates and as a consequence were hit very quickly by the sharp increase in the Bank Rate in the late 1980s. This was a major factor behind the collapse of the market in the 1990s. Even after fixed rates became more popular in the early 1990s, by 1994 87% of all borrowers still had a variable rate mortgage.
"In contrast, today about half of the stock is on a fixed rate and so not affected by changes in the Bank Rate, while a large proportion of remaining borrowers are benefiting one for one from cuts in the official rate. This means that as the MPC has cut rates, the effective interest rate on outstanding mortgages has fallen since the end of 2007, even though some rates on new business may have risen. The underlying conditions for most mortgage borrowers are therefore more positive than some would suggest."
Fionnuala Earley
Chief Economist
Tel: 01793 656370
fionnuala.earley@nationwide.co.uk
Katie Harper
Media Relations Manager
Tel: 01793 656215
katie.harper@nationwide.co.uk
Notes: Indices and average prices are produced using Nationwide's updated mix adjusted House Price Methodology which was introduced with effect from the first quarter of 1995. Price indices are seasonally adjusted using the US Bureau of the Census X12 method. Currently the calculations are based on a monthly data series starting from January 1991. Figures are recalculated each month which may result in revisions to historical data. The Nationwide Monthly House Price Index is prepared from information which we believe is collated with care, but no representation is made as to its accuracy or completeness. We reserve the right to vary our methodology and to edit or discontinue the whole or any part of the Index at any time, for regulatory or other reasons. Persons seeking to place reliance on the Index for their own or third party commercial purposes do so entirely at their own risk. All changes are nominal and do not allow for inflation. More information on the house price index methodology along with time series data and archives of housing research can be found at www.nationwide.co.uk/hpi
© 2005-2019 http://www.MarketOracle.co.uk - The Market Oracle is a FREE Daily Financial Markets Analysis & Forecasting online publication.

Only logged in users are allowed to post comments.
Register/ Log in