U.S. Congress Has Guaranteed the Secular Stocks Bear Market is Not Over
Stock-Markets
/
Stocks Bear Market
Dec 13, 2014 - 05:03 AM GMT


The cyclical bull market that began in 2009 has not ended. Enjoy it while it lasts because the long-term secular bear market that began in 2000 has also not ended.
Secular markets are very long-term trends within in which cyclical market moves take place. The last secular bull market ran for 18 years, from 1982 to the peak in 2000.
Within it, as is typical, periodic cyclical bear markets took place, including the 1987 crash, the 1991 bear market, and the 1998 mini-crash. In a secular bull market, cyclical bear markets are only temporary. The market recovers and climbs ever higher.
In a secular bear market, such as that of 1965-1982, periodic cyclical bull markets take place. Each one carries the market back up to its previous peak or above, convincing everyone that all is well again. However, another cyclical bear market soon takes place, taking the gains away, and the market returns to its long-term sideways secular bear market.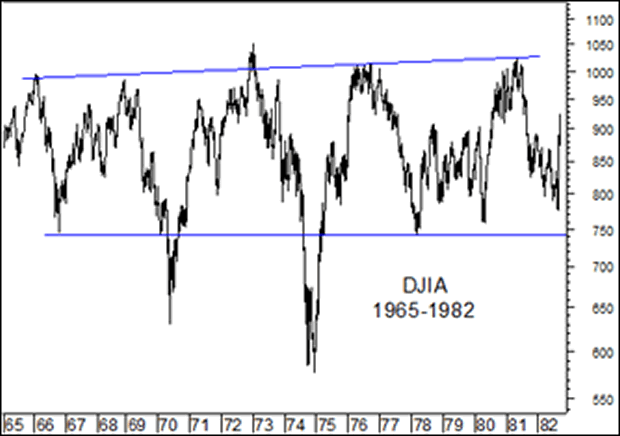 With the cyclical bull market that began in 2009 having taken the market back up to its previous peaks and then to new record highs, many believe that means the secular bear market that began in 2000 is over, that we are now in the next long-term secular bull market.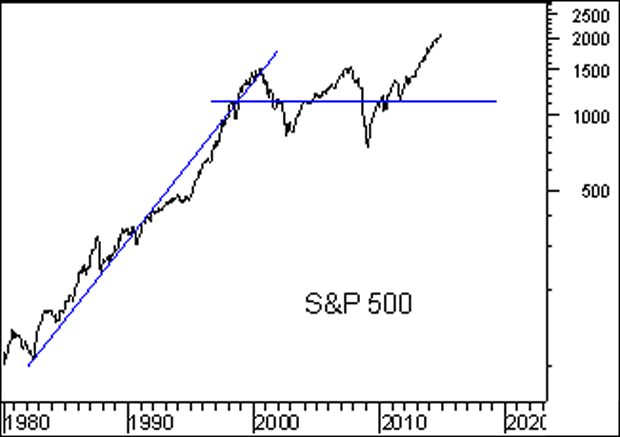 Here are some reasons why we can know with some certainty that the secular bear market is not over.
On the historic side, the secular bear markets of the last 120 years lasted an average of 17 years.
In warning of a secular bear market being imminent in 1999, Warren Buffett also spoke of 17 years, saying, "The next 17 years will be quite unlike the last 17 years. It might not look much better than the dismal 1965-1982 period."
Dr. Med Jones, economist at the International Institute of Management, was not talking about secular bear markets in his reference to 2017 in his 2006 academic study 'U.S. Economic Risks 2007-2017', but said. "The next decade is probably the most critical for U.S. socio-economic prosperity."
However, does the fact that the current cyclical bull market has broken out to higher highs indicate that this secular bear market ended in 2009, only nine years after it began in 2000?
To believe that it is already over, we would first have to believe the two recessions and two cyclical bear markets between 2000 and 2009 took care of all the previous excesses, that there are no serious leftover economic problems left.
We know that it took 17 years of repeated cyclical bear markets in previous problem periods, like during the secular bear markets of 1901-1921, 1929-1949, and 1965-1982, before all the excesses of the previous good times were worked out of the system and the economy and surrounding conditions were returned to normal.
Even more dubious, we would have to believe that the government's massive efforts to rescue the economy from the 2008 meltdown did not create additional excesses and abnormalities.
Yet we know for example, that among other distortions the easy money policies and rescue efforts created a massive debt bubble. Federal debt is at all-time record levels. And thanks to its massive QE programs, the Federal Reserve itself has more than five times the normal amount of assets and liabilities on its balance sheet, now at $4.4 trillion.
Then we need to realize the basic problems that created the 2008 crisis, excessive greed and risk-taking by major 'too big to fail' banks and financial institutions, have certainly not been corrected.
That will apparently take yet another scare.
Congressional investigations after the 2008 crisis led to serious proposals to bring financial institutions under control. However, financial institutions knew from experience over many decades that investors have short memories. All they had to do was delay, make the right sounding promises, and wait for the market to come back. As soon as investors were making profits again, all talk of 'We're mad as hell and not going to take it anymore' were forgotten.
So here we are, still waiting for financial reforms. The promising Dodd-Frank reform act was significantly watered down before finally being signed into law in July 2010.
Furthermore, a number of its most important aspects have yet to be implemented. For instance, major banks have requested, and regulators are considering, delaying implementation of the so-called Volcker Rule for another six years. The rule prohibits banks from proprietary trading and restricts their investments in hedge funds and private equity firms.
More recently, Wall Street firms have lobbied Congress hard to water down the provision that restricts big banks from trading in 'swaps' and derivatives, the very activity that led to the 2008 financial collapse when sub-prime mortgage derivatives collapsed. And in the final hours of its budget battle this week, Congress added a rider to the budget bill, totally unrelated to the budget, which eliminates the derivatives restriction.
There were already enough problems and excesses, particularly related to the debt bubble, to ensure that the secular bear market that began in 2000 still has more downturns ahead before its work is done.
The actions of regulators and Congress, delaying action, or restoring the tools for major financial institutions to wreak their havoc again, virtually guarantee that to be so. Yet another scare will be needed to hopefully bring those needed reforms.
Enjoy the cyclical bull market as long as it lasts. But don't become confident and complacent as in 2000 and 2007, convinced that all is well again. The secular bear has not ended yet.
Sy Harding is president of Asset Management Research Corp., and editor of the free market blog Street Smart Post.
© 2014 Copyright Sy Harding- All Rights Reserved
Disclaimer: The above is a matter of opinion provided for general information purposes only and is not intended as investment advice. Information and analysis above are derived from sources and utilising methods believed to be reliable, but we cannot accept responsibility for any losses you may incur as a result of this analysis. Individuals should consult with their personal financial advisors.
© 2005-2019 http://www.MarketOracle.co.uk - The Market Oracle is a FREE Daily Financial Markets Analysis & Forecasting online publication.

Only logged in users are allowed to post comments.
Register/ Log in