The German 10 Year Bund Effectively a Call Option at 30 Basis Points
Interest-Rates
/
Eurozone Debt Crisis
Feb 01, 2015 - 11:21 AM GMT


Bonds are not Stocks
On Friday the German 10 Year Bund yield touched the 0.30 mark or 30 basis points, yeah that`s right the same instrument that was yielding 90 basis points in November of last year, a 140 basis points last May 2014, and 195 basis points at the beginning of 2014. It has gotten so ridiculous in the bond markets that I think investors have forgotten what bonds actually are as an asset class, they trade based on price appreciation like stocks, and this perverted mentality has completely ignored the risk component of what bonds represent as debt obligations.
German Core CPI expected to be 1.1% in 2015
But the case of the German 10 year Bund has gotten so idiotic that all finance logic has been thrown out the window. Excluding food and energy, consumer prices are expected to increase by 1.1 percent year on year in Germany for 2015. Yes energy has dropped 50% and so the comps are skewing everyone`s inflation readings to the downside, this is the rationale for focusing on the core inflation readings historically because of the high volatility of these two categories. Once the bad year over year comps start coming out of the energy components all the inflation readings will start spiking up again late next year, but remember the German Bund yielding 30 basis points is for the duration of 10 years, not 3 months!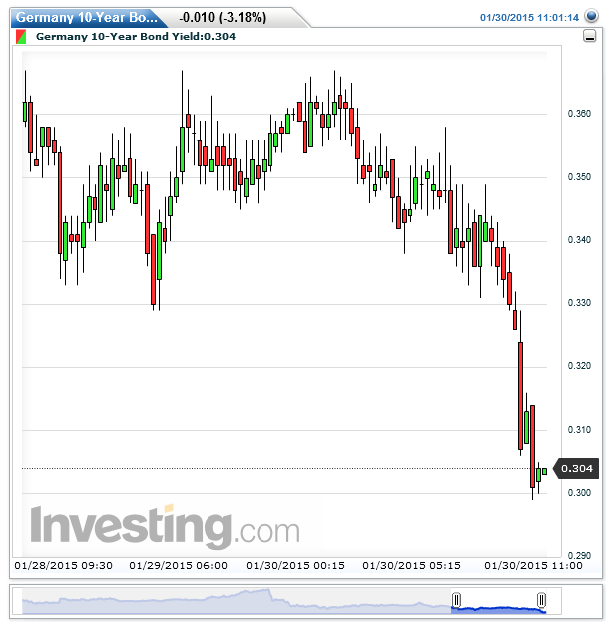 Read More: The Bond Market Has Reached Tulip Bubble Proportions

Bund Yields in the Financial Crisis
There is talk about slow growth in Europe responsible for these low yields, but during the financial crisis of 2008/2009 the German 10 year yield was between 3% and 4%, and this was a time of the global recession where oil was trading as low as $33 a barrel, things were much worse during the financial crisis compared to today.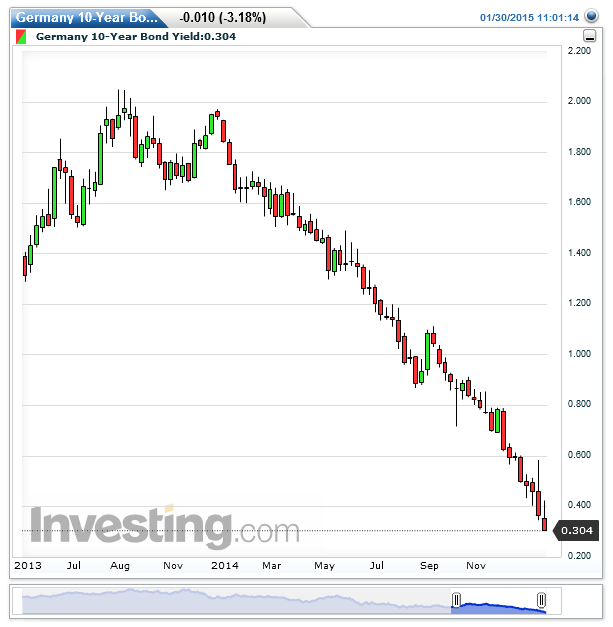 ZIRP is the Elephant in the Room
The real reason the German 10 year yield has dropped so dramatically is the abundance of cheap money in the financial system, all the big financial institutions are basically borrowing at ZIRP levels from government central banks, levering up their balance sheets, and taking advantage of this delta or difference in abnormally low borrowing costs and government bond yields, without any concern or notion of the risks associated with this strategy.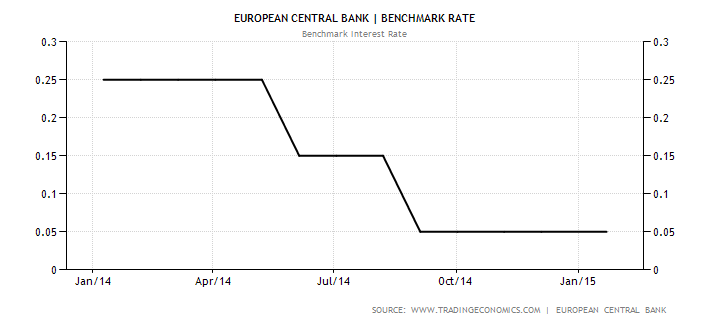 Read More: The Fed Has to Sell Treasury Holdings Back to Marketplace

Remember these are 10 year bond durations we are talking about, and not 3 months! Do the central banks themselves think these are wise investments for financial institutions to be taking on their balance sheets at these prices and yield levels? They have to know, we can see the direct correlation of the ECB`s equivalent Fed Funds Rate dropping from 0.25 to 0.15 to 0.05 and the yield crashing in the German 10 Year Bund. But again this is for a duration of 10 years, for instance just 6 short years ago the ECB main borrowing rate was set at 3.75%.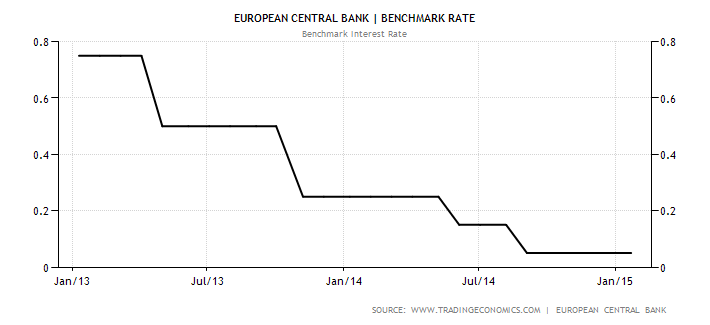 Unintended Consequences
Does the ECB realistically think about the long term consequences of these financial institutions levering up their balance sheets with German 10 year Bunds trading with a 30 basis points yield? They have to realize that their policies are directly incentivizing this insane, irresponsible investing behavior with fallout being far more detrimental to the entire financial system of the European Union than a Greek exit, or a slow growth environment.
All of these European Bonds are going to be extensively underwater from current price and yield levels for any holders at anywhere near these valuation metrics 5 and 10 years from now. This is like buying real estate in a hot real estate market, with no down payment loans, no documentation loans, and at zero percent borrowing costs with no borrowing limits, it is the housing crisis on steroids.
Read More: The 5–Year Bond is Emblematic of Careless Risk Taking in Bond Markets
I have heard the response that these financial institutions believe that the ECB will buy these underwater bonds in a bailout scenario so they don`t really worry about traditional bond valuation metrics. Really the ECB is going to be able to buy all these bonds from them without steep haircuts? Why would any rationale central bank even go down this road in the first place, kicking the can down the road is one thing, going full boar into a suicide financial implosion is another matter entirely?
Out of the Money Prices versus Risk under Normal Mean Reversion of 10 Year Average
At 30 basis points yield, a short on this German Bund via the futures market is basically a call option on the utter destruction of this Massive Yield Chasing Strategy on behalf of financial institutions that has taken place over the last few years.
Seriously what is the downside risk of this trade, does the German Bund go down to yielding only 15 basis points? And what after the deflationary cycle the inflationary, or even hyper-inflationary cycle takes off? Remember it isn`t like Germany doesn`t remember the hyper-inflationary cycle. So what is the upside of this trade, it really is off the charts for the next 10 year period from a risk reward standpoint.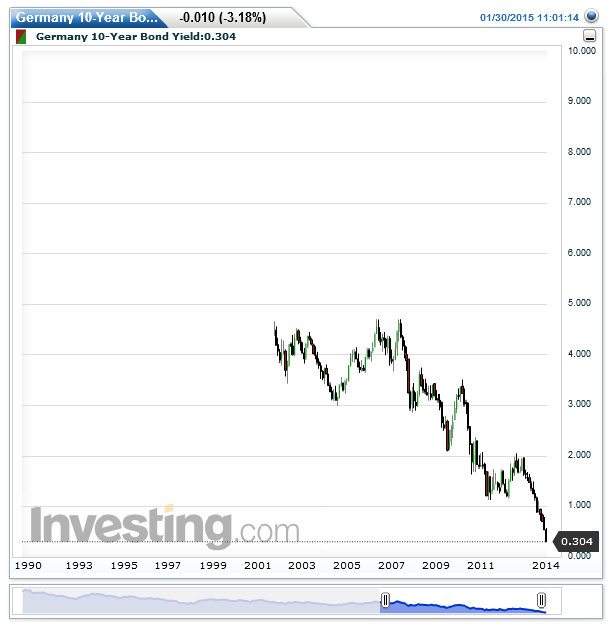 Just to put some rough numbers here let`s say 15 basis points risk, and 400 plus basis points reward on this trade scenario over the duration of this 10 year bond. Actually the sound investment for financial institutions is exactly the opposite of the one they are so aggressively seeking out at the moment in the bond markets. Remember these positions often sit on financial institutions balance sheets for years if not decades in some cases. I can just imagine the write downs on these Yield Chasing Trading Positions at the large financial institutions in the future.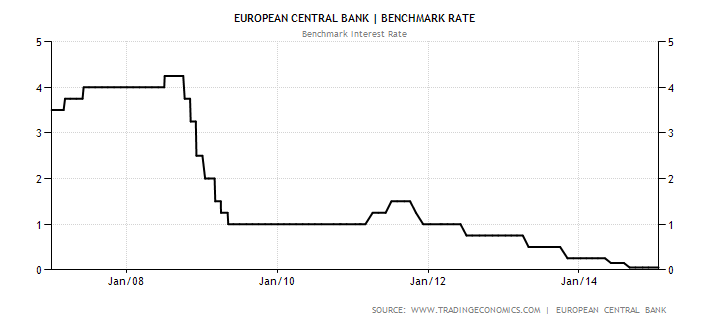 There is no way in hell the German 10 Year Bund is trading at 30 basis points in five years' time, let alone in ten years. When bond yields become so compressed that they represent far out of the money call option`s prices, but are not even premium priced for a normal reversion to the mean of the last 10 year average yields of the bonds, this sets up the entire financial system for systemic risk on a grand scale that central banks better start focusing on right now. We have a problem central banks, and it isn`t the problem you are worrying about, forget sluggish growth, we have the biggest financial bubble brewing right now in the largest financial asset class in the world, and the German 10 Year Bund yielding 30 basis points is a disaster waiting to happen for any investor levering up their balance sheets with this ridiculous bond investment.
By EconMatters

The theory of quantum mechanics and Einstein's theory of relativity (E=mc2) have taught us that matter (yin) and energy (yang) are inter-related and interdependent. This interconnectness of all things is the essense of the concept "yin-yang", and Einstein's fundamental equation: matter equals energy. The same theories may be applied to equities and commodity markets.

All things within the markets and macro-economy undergo constant change and transformation, and everything is interconnected. That's why here at Economic Forecasts & Opinions, we focus on identifying the fundamental theories of cause and effect in the markets to help you achieve a great continuum of portfolio yin-yang equilibrium.

That's why, with a team of analysts, we at EconMatters focus on identifying the fundamental theories of cause and effect in the financial markets that matters to your portfolio.
© 2014 Copyright EconMatters - All Rights Reserved Disclaimer: The above is a matter of opinion provided for general information purposes only and is not intended as investment advice. Information and analysis above are derived from sources and utilising methods believed to be reliable, but we cannot accept responsibility for any losses you may incur as a result of this analysis. Individuals should consult with their personal financial advisors.
© 2005-2019 http://www.MarketOracle.co.uk - The Market Oracle is a FREE Daily Financial Markets Analysis & Forecasting online publication.

Only logged in users are allowed to post comments.
Register/ Log in