Stock Market Correction Coming?
Stock-Markets
/
Stock Market 2017
Feb 28, 2017 - 06:33 PM GMT


The correction in the markets is coming. The markets will correct in the short term, which will allow them to move much higher in 2017. The short-term indicators of market momentum are overbought. The trend indicators are clearly still BULLISH!
President Trump's cuts and his pro-business attitude have been sending U.S. stocks into new record high territory. This is a clear indication that investors are looking to the White House for inspiration. The SPX Index, Dow Jones Industrial Average and Nasdaq Composite Index are trading at all-time highs. They are extending the rally that began when President Trump was elected.
"Buy The Dip"?
My version of Elliott Wave Analysis points to a short-term market correction ensuing. The details have been posted to members of our TMTF service.
After it has completed WAVE 5, the SPX will commence its' short-term correction. The correction comes in the form of a move in the opposite direction of its' impulse primary move. It is a counter-trend that is made up of 3 corrective waves "A-B-C".
Sentiment Indicators:
Mr. Michael Hartnett, Bank of America Merrill Lynch's Chief Investment Strategies, is bullish on risk assets based on the banks' forecasting model. As the stock market continues to climb, in the face of political uncertainty, it is "not dangerously euphoric yet, this situation has not played itself out yet," he concludes in a February 7th, 2017 report titled "Are we there yet? No."
Mr. Hartnett and his team believe that current conditions are perfectly situated for a "10% melt-up" in stock prices. They see the "stock market continuing to plow ahead, but by most of its' measures the runway is not unlimited in length". The extremes observed in the market are not extreme enough. The Bull & Bear Indicator, (BAML), the broadest measure of investor sentiment, is currently at a 6.1 reading on a scale of 10. This is significantly off the 2.0 reading during Brexit and the anomaly 0.0 reading during the February 2016 stock market lows. It still is not above the 8.0 reading which indicates investors are too emotional to the upside.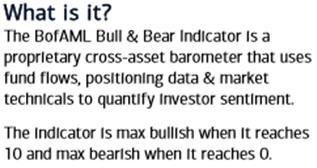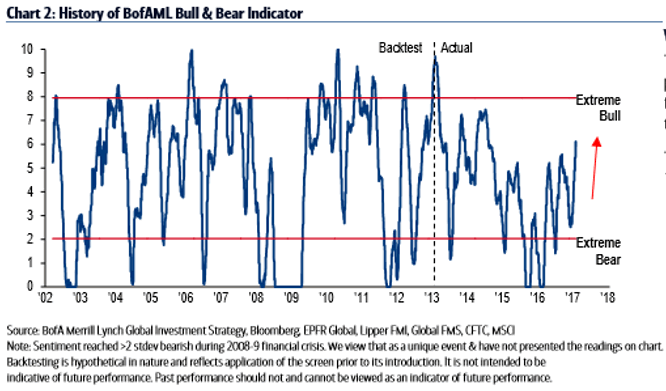 The SPX Marches To 2550!
The SPX Technology Sector, XLK rose to a new record high last Friday, February 17th, 2017. This sector is on a winning streak. The last time that technology stocks enjoyed a massive winning streak, it led to much higher gain in the markets. This sector will make the NDX-100 the strongest index and the SPX the second strongest. My next measured target for this move is at $60.00.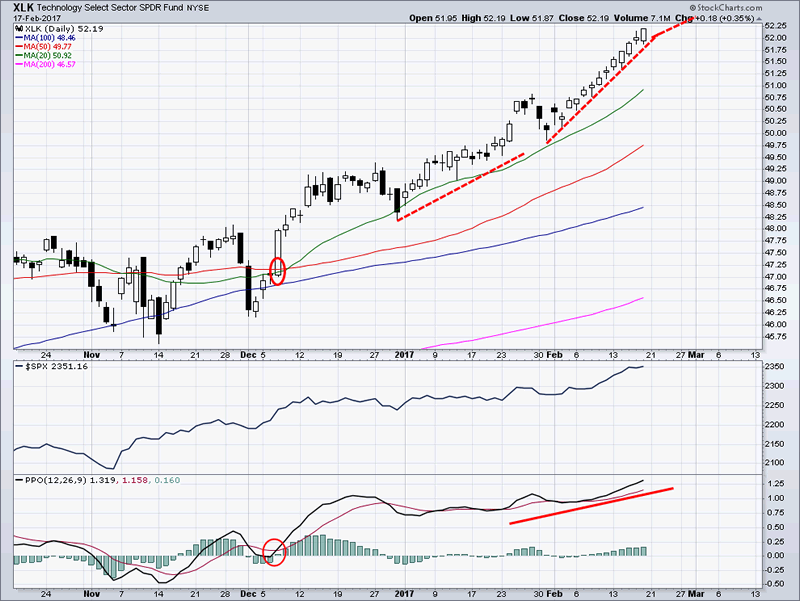 With the accommodating Federal Reserve saying: "Yellen To Congress: We'll do Something Someday". We should prepare for never before seen new highs in all U.S. markets, especially the technology heavy Nasdaq (https://www.wsj.com/articles/yellen-says-fed-will-consider-raising-rates-at-coming-meetings-1487084405). Chairwoman Yellen's has this unique ability to say "absolutely nothing while pretending that she's got everything under control. There was no further information on the overrated Fed Funds rate hike issue — overrated because it is both meaningless and a distraction to the real problems at hand". Her testimony is best summed up as: "I'm not sure, we'll just have to see." The Federal Reserve has elected to keep "kicking the can down the road", even further!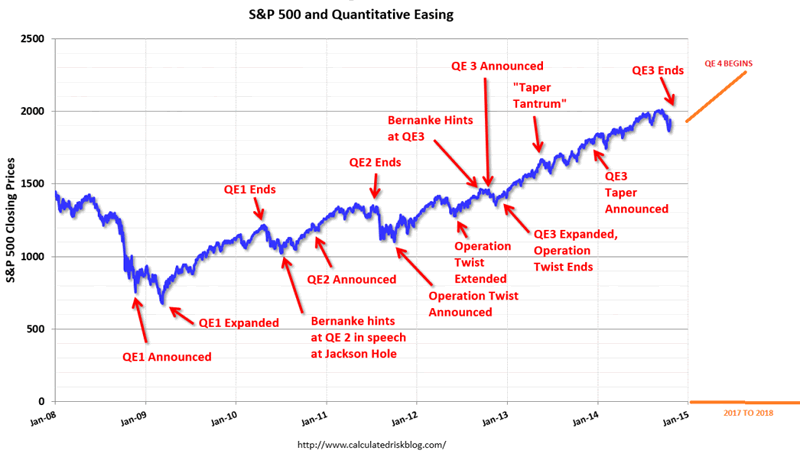 President Trump said that he would add another $5 trillion to the $19.9 trillion public debt: (http://www.usdebtclock.org/). In the meantime, he is devoted to balancing the budget within ten years, not cutting Social Security or Medicare, ramping up defense spending and passing a tax cut. President Trump's New Economy Challenge is to create 25 million new jobs over the next decade. Additionally, President Trump's proposed tax and eliminating costly red tape will provide a welcome relief to small business owners who employ 78% of Americans and which will create 74% of all net new jobs within a decade.
Quantitative Easing, (QE) has bought time, since "The Great Recession of 2008" for our financial/monetary wizards to keep the can on the road, thereby perpetually kicking it further into the abyss through QE. Solutions are being discussed amongst policy makers, behind closed doors (http://www.un.org/press/en/2014/gaef3417.doc.htm). A part of the U.N. resolution states that, "Recognizing the need to create a legal framework that facilitates the orderly restructuring of sovereign debts, allows the re-establishment of viability and growth without creating incentives that inadvertently increase the risk of non-compliance and acts as a deterrent to disruptive litigation that creditors could engage in during negotiations to restructure sovereign debts."
Our current fragile financial global monetary system does not allow public debate regarding significant changes or it would risk implosion. Capitalism will survive!
The New Era of Trading:
Trade for a living; win like the Professionals! This is a very exciting time to be a trader and follow my core strategy which allows me to perform in true form! The markets will extend its' rally into 2017. Every week, there are new actionable trade ideas. Avoid what I refer to as "Herd Mentality", which is always putting you on the losing side of the trades.
The next BIG TRADE is setting up. You should take advantage of my hard work and expertise to make you short term profitable trades. Protect your financial future by getting my market and trade alert reports every week. Your portfolio should involve a proven strategy which I provide.
We have just entered a new commodity trade (UGAZ) Feb 21 as its forming a bottoming pattern. We have locked in 10% in 36 hours and hold the remaining for much larger gains. Do you want to be in the next trade of the Next Hot Stock setup? My subscribers banked a 112% in a swing trade with NUGT (Dec 16 – Feb 8th). All the trades are based on my Momentum Reversal Method (MRM) trading system.
Another trade this month was ERX, in which we took a nice profit of 7.7% in less than 24 hours after entry. All risks are well contained.
Follow my lead and start making money every month with www.ActiveTradingPartners.com
John Winston
Co-Author: Chris Vermeulen
www.ActiveTradingPartners.com
Chris Vermeulen
Chris Vermeulen is Founder of the popular trading site TheGoldAndOilGuy.com. There he shares his highly successful, low-risk trading method. For 7 years Chris has been a leader in teaching others to skillfully trade in gold, oil, and silver in both bull and bear markets. Subscribers to his service depend on Chris' uniquely consistent investment opportunities that carry exceptionally low risk and high return.
Disclaimer: Nothing in this report should be construed as a solicitation to buy or sell any securities mentioned. Technical Traders Ltd., its owners and the author of this report are not registered broker-dealers or financial advisors. Before investing in any securities, you should consult with your financial advisor and a registered broker-dealer. Never make an investment based solely on what you read in an online or printed report, including this report, especially if the investment involves a small, thinly-traded company that isn't well known. Technical Traders Ltd. and the author of this report has been paid by Cardiff Energy Corp. In addition, the author owns shares of Cardiff Energy Corp. and would also benefit from volume and price appreciation of its stock. The information provided here within should not be construed as a financial analysis but rather as an advertisement. The author's views and opinions regarding the companies featured in reports are his own views and are based on information that he has researched independently and has received, which the author assumes to be reliable. Technical Traders Ltd. and the author of this report do not guarantee the accuracy, completeness, or usefulness of any content of this report, nor its fitness for any particular purpose. Lastly, the author does not guarantee that any of the companies mentioned in the reports will perform as expected, and any comparisons made to other companies may not be valid or come into effect.
© 2005-2018 http://www.MarketOracle.co.uk - The Market Oracle is a FREE Daily Financial Markets Analysis & Forecasting online publication.

Only logged in users are allowed to post comments.
Register/ Log in