Turkey's President Wins Sweeping Powers in Cliffhanger Vote
Politics
/
Turkey
Apr 17, 2017 - 05:41 PM GMT


In an apparent cliffhanger victory, with challenges from the opposition still outstanding, the ruling Justice and Development Party (AKP) and President (and now party leader) Recep Tayyip Erdogan are claiming a hairline victory in a decisive referendum that will greatly empower the presidency. Some 48 million of 55 million eligible voters cast ballots on a raft of 18 constitutional amendments that will fundamentally alter the Turkish government, taking effect in the next scheduled election in 2019. With nearly all votes counted, the "Yes" vote garnered 51.34 percent of the vote with the "No" vote coming in close behind with 48.66 percent of the vote, according to state-run Anadolu Agency.
Though the main opposition Republican People's Party (CHP) is not conceding the vote and is contesting at least 37 percent of the votes counted, the AKP is claiming victory. Still, the poll has shown just how deeply polarized the Turkish electorate has become: Erdogan has eked out a victory despite losing the three largest cities in the vote — Istanbul, Ankara, and Izmir. The AKP's razor-thin lead is a big reason why Erdogan feels compelled to resort to extraordinary measures to consolidate power.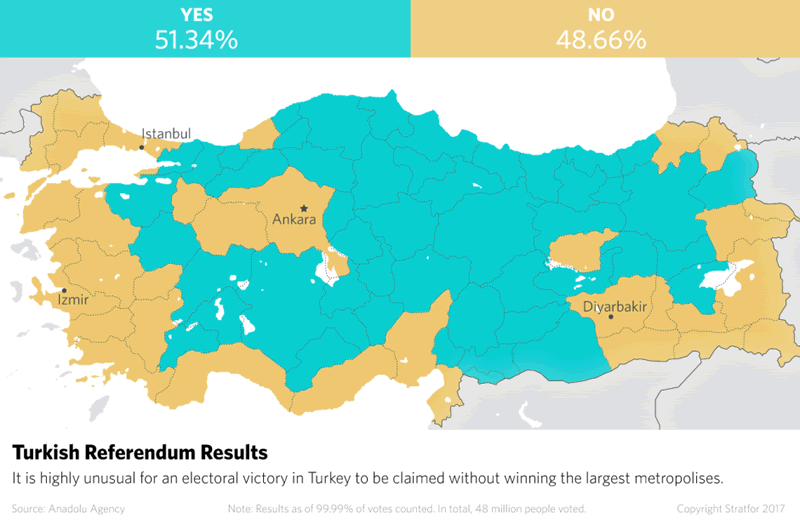 Constitutional referendums are common in recent Turkish history, with six notable polls having taken place since 1961. The tug of war between granting powers to the parliament, the judiciary, the executive and the military is a decadeslong struggle in Turkey. But the April 16 referendum enables the most sweeping changes yet to the division of power between the executive and legislative branches, heaping additional powers on the president in an unprecedented way in Turkey. The vote is a culmination of a yearslong effort by Erdogan to formalize some of the powers he had already encroached upon as president. He will absorb the powers of the now-eliminated prime minister — historically the more powerful of the two positions — and will be able eschew nonpartisan rules and lead his own political party, dismiss parliament, choose judges that were once selected by their peers, announce a state of emergency, and enact some laws by decree. Overall, the legislative and judicial branches of the Turkish government will have diminished oversight on the presidency. The changes also allow Erdogan to run for two more terms, setting him up for possible rule until 2029.
It is highly unusual for an electoral victory in Turkey to be claimed without winning the largest metropolises. Istanbul and Ankara have been reliably in the AKP camp for years and Izmir, once an opposition CHP stronghold, has been trending toward the AKP in recent elections. According to results from state-run Anadolu Agency, in Istanbul, the "No" vote led with 51.34 percent against 48.66 percent "Yes;" in Ankara, 51.14 percent "No" to 48.86 percent "Yes;" and in Izmir, 68.78 percent "No" to 31.22 percent "Yes." The "No" vote was unsurprisingly ahead in predominantly Kurdish districts in Turkey's southeast, but the margin was smaller than expected. In the Mediterranean city of Antalya the results were: 59.06 percent "No" to 40.94 percent "Yes" and in Mersin, 64.01 percent "No" to 35.99 percent "Yes." Meanwhile, in overseas voting, 59.06 percent voted "Yes" while 40.94 percent voted "No," according to Anadolu Agency.
While "No" campaigners are casting suspicion on Turkish Electoral Board's decision to count unsealed ballots, this has been a common occurrence in recent Turkish polls. Opposition parties supporting the "No" vote, CHP chief among them, publicly doubt the legitimacy of the polls. Considering the state of emergency in place since last July's coup attempt in Turkey, there was concern among "No" voters that the government would use its institutional influence to secure victory in the April 16 poll. Should the ruling party feel the need to take a stronger hand in quelling opposition to the results, it could also leverage the ongoing state of emergency. Turkey's National Security Council is expected to decide on whether to extend or end the state of emergency shortly after the poll. It has been renewed in three-month increments since last July.
Turkey's shift toward a more authoritarian system under Erdogan will no doubt elicit further condemnation from the European Union, but European powers also understand that they still need Turkey's cooperation in containing migrant traffic and in keeping a check on Russia. Turkish Prime Minister Binali Yildirim said last week that the government will revisit the stalled issue of EU visa liberalization for Turks and further threatened that Turkey's government could reassess the migrant deal with the bloc after the referendum. A more emboldened AKP following the vote will mean more friction in Turkey's already fragile negotiation with the European Union. As weather conditions improve and migrant traffic picks up, this will be a pressing concern for the European Union to manage with Turkey.
While the vote points to dramatic change for Turkey domestically in the long term, Turkey's foreign policy will remain largely unchanged. Regardless of a victory or defeat in the referendum, Turkey will still deepen its focus and presence in northern Iraq and Syria in an effort to contain Kurdish expansionism and face off with Iran in a broader proxy battle.
"Turkey's President Wins Sweeping Powers in Cliffhanger Vote is republished with permission of Stratfor."
This analysis was just a fraction of what our Members enjoy, Click Here to start your Free Membership Trial Today! "This report is republished with permission of STRATFOR"
© Copyright 2017 Stratfor. All rights reserved
Disclaimer: The above is a matter of opinion provided for general information purposes only. Information and analysis above are derived from sources and utilising methods believed to be reliable, but we cannot accept responsibility for any losses you may incur as a result of this analysis.
© 2005-2019 http://www.MarketOracle.co.uk - The Market Oracle is a FREE Daily Financial Markets Analysis & Forecasting online publication.

Only logged in users are allowed to post comments.
Register/ Log in