Nether Edge By Election Result: Labour Win Sheffield City Council Seat by 132 Votes
ElectionOracle
/
Sheffield
Jun 23, 2017 - 12:03 AM GMT


The Labour party managed to cling on to their Nether Edge and Sharrow Sheffield city council seat on a reduced majority as the Lib Dems split the opposition vote thus depriving the Green party of their 5th city councillor as the results illustrate:
STEINKE Jim - Labour Party 2641
UNWIN Rob - Green Party 2509
ALI Shahid - Liberal Democrats 722
One of the key issues that gave the Green party a good chance of winning the Nether Edge seat was the Labour city council's blind disregard for Sheffielders widespread anger at what the Labour council had tasked Spanish firm Amey as part of a £2 billion PFI contract that was resulting in the felling thousands of Sheffield's biggest and most beautiful trees, a literal chainsaw rampage across the city that had galvanised tens of thousands of Sheffielders to set up protest groups across social media networks.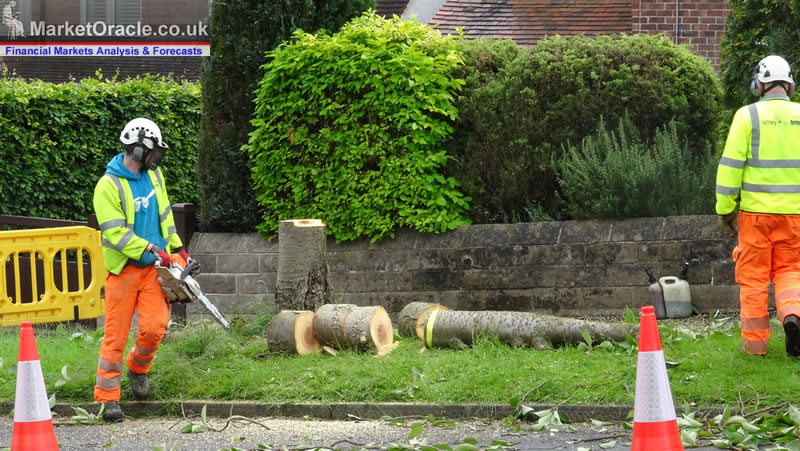 Late 2016 even saw the city council send the police into Nether Edge, on Chippinghouse Road to arrest residents protesting against the trees in the local area being cut down as the following video illustrates: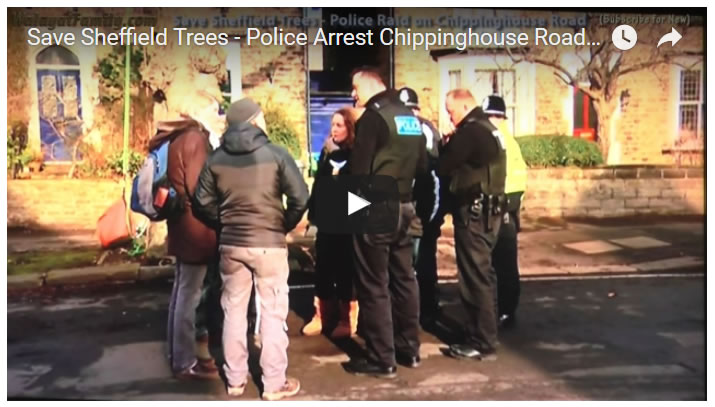 Of course the Green Party with just 4 councilors, winning another council seat would still have had no chance of coming anywhere near taking control of Sheffield City Council that requires a minimum of 43 councilors for a working majority.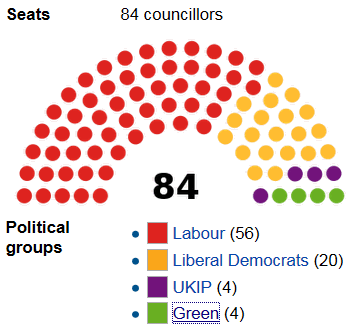 Whilst Labour current stands on a very strong tally of 56 councilors against the rest on 28, a huge working majority of 26 which translates into the Labour controlled council's blind disregard for a string of disparate issues from lack of school places to the felling of thousands of Sheffield's biggest trees, where both issues have sparked tens of thousands of Sheffielders to set up protest and campaign groups across social media. For instance STAG (Sheffield Tree Action Groups) has mushroomed to more than 6,500 members. Whilst the Nether Edge Trees action group where Thursdays byelection was held has more than 1000 members, significant enough to influence the outcome of the by election result in favour of the Green party candidate that just failed to achieve success this time around.
Nevertheless the Green party does not need to achieve power by means of an overall majority to control the balance of power and thus implement Green policies.
For instance for the past 2 decades Labour has been playing pass the parcel over control of the council with the Lib Dems, with Labour seizing control in 2011, some 7 years ago, which implies that Labour are ripe to lose many seats to the Lib Dems. The key point here is for there to be an enough critical mass of third party councilors to prevent either Labour or the Lib Dems from having an overall majority. To achieve such an election outcome then the Green party would need to increase their council seats from the present 4 to at least 7. As the 2018 local elections are likely to see Labour lose a dozen or so seats to the Lib Dems thus reducing their majority to about 44. However, if the Green's can win just 3 more seats, which would put the council into no overall control :
| | |
| --- | --- |
| Labour | 41 |
| Lib Dem | 32 |
| Green | 7 |
| Other | 4 |
Thus the only workable majority would be Labour with Green party support (41+7) which would give the balance of power to the Green party who in exchange for their support of a minority Labour council would demand a greater emphasis on Green policies most notable of which would be to bring to a halt Amey's chain sawing of thousands of trees that continues to outrage tens of thousands of Sheffielders who already number more than enough for the Green party to achieve critical mass and to control the balance of power in 2018.
Here's another example of Labour / Amey's blind disregard for Sheffield that the Labour party will pay a heavy price for at the May 2018 local election: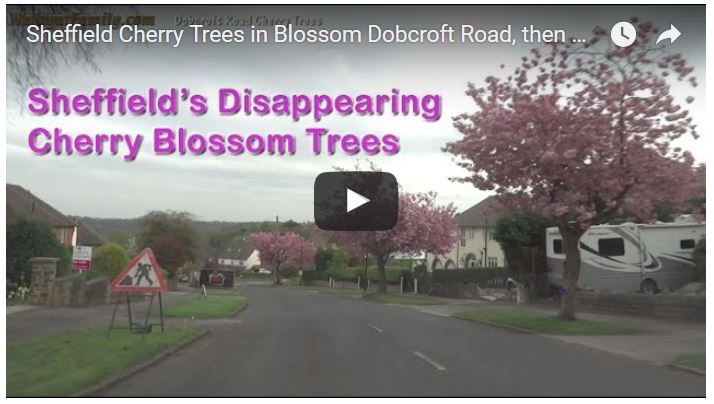 By Nadeem Walayat
Copyright © 2005-2017 Marketoracle.co.uk (Market Oracle Ltd). All rights reserved.
© 2005-2019 http://www.MarketOracle.co.uk - The Market Oracle is a FREE Daily Financial Markets Analysis & Forecasting online publication.

Only logged in users are allowed to post comments.
Register/ Log in