Freddie Mac's Loss is Gold's Gain
Commodities
/
Gold & Silver
Aug 22, 2008 - 01:27 PM GMT

Sometimes people are so caught up in short-term action that we don't look at the long-term picture.

I have said it before: gold goes up not because of inflation (defined as money supply growth), but because of a loss of confidence of in the paper money system. Loss of confidence can occur for several reasons, from creeping up cost of living, rising commodity prices (aside from gold), or feelings that the integrity of the money system is compromised.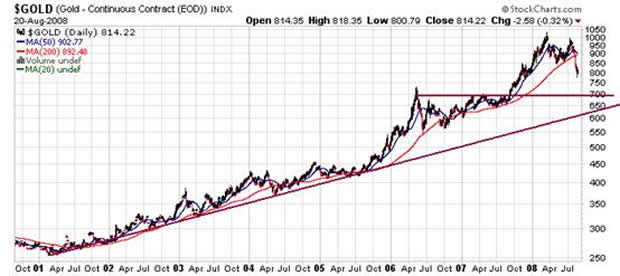 I have seen how people refuse to acknowledge the demise of GSE's when it was written on the wall in 2007 (see my Nov 2007 article "Freddie's insolvency ": http://www.goldmau.com/marketupdatenov23.php ).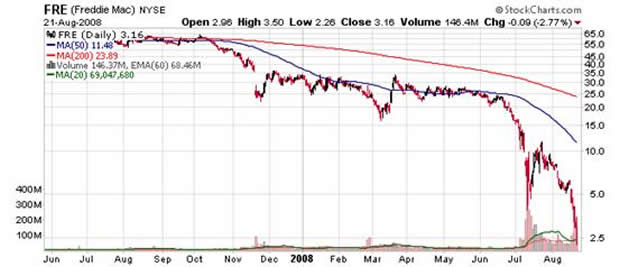 For those holding Freddie since Oct 2007, their stupidity has cost them 95% of their money as the stock has gone from $65 in Oct 2007 to $2.60 today.
I believe the same thing is happening now regarding gold, but in the opposite direction. People are refusing to believe that the dollar has lost its status. Furthermore, they think the Euro is the new reserve currency and that gold is expensive at $800. All those beliefs will be turned upside-down in 2009. When lending giants like Fannie and Freddie go down, and the government having to guarantee trillions of dollars of their collateralized debts at par which are currently selling at steep discounts, there are moral hazards to the extreme. I wrote extensively about this topic last November in an article titled "Subprime Mortgages Lead to Subprime Currency": http://www.goldmau.com/marketupdatenov13.php
Technically, gold ran ahead of itself in late 2007 as it raced from $650 to over $1000 in late 2007. This was panic buying from smart money that understood the problem with the dollar and GSE's. Gold needs to climb above $850 to start the next wave. When is it going to happen? It could be September, later this year or not until next year. I have ceased trying to time the market. The smart money investors have already positioned themselves in gold. And when gold rises again over $850 and above the 200 DMA (red line), this will signal the start of the retail wave and it will be panic buying from the stupid money who buy gold because everyone else is. The way Freddie went down with a sudden rush could easily be the way gold goes up in a phase of manic buying.
John Lee, CFA
johnlee@maucapital.com
John Lee is a portfolio manager at Mau Capital Management. He is a CFA charter holder and has degrees in Economics and Engineering from Rice University. He previously studied under Mr. James Turk, a renowned authority on the gold market, and is specialized in investing in junior gold and resource companies. Mr. Lee's articles are frequently cited at major resource websites and a esteemed speaker at several major resource conferences.
© 2005-2019 http://www.MarketOracle.co.uk - The Market Oracle is a FREE Daily Financial Markets Analysis & Forecasting online publication.

Only logged in users are allowed to post comments.
Register/ Log in