The Real Big Storm About to Hit the United States is Cantarell
Commodities
/
Crude Oil
Sep 04, 2008 - 04:04 AM GMT


Sean Broderick writes: The oil industry along the Louisiana coast got off lightly from Hurricane Gustav. While 1.3 million barrels of oil and seven billion cubic feet of natural gas per day stopped pumping temporarily, most of the oil infrastructure escaped harm. And oil prices plummeted on that good news.
However, there's a much worse problem threatening oil production around the Gulf of Mexico ...
Unlike a hurricane, this problem is not short-term, and in fact it will only get worse over time. I'm talking about the steep, sharp drop in production at Mexico's biggest oil field, Cantarell.
I am getting increasingly frustrated by how little attention Americans are paying to this major crisis brewing in their backyard. So, I think maybe the mainstream news should start treating Cantarell the same way they do a hurricane. Maybe that would generate some attention!
After all, Cantarell's decline has already cost us — 1.2 million barrels per day — the same amount we lost from Gustav.
The only difference: The Cantarell losses are permanent rather than temporary.
Look ...
Mexico Is the World's #6 Oil Producing Nation;
Cantarell Provides Nearly 60% of Mexican Crude Oil Output
In July, output at Mexico's largest oil field, Cantarell, was off 37% from the year earlier period, dropping to 974,000 barrels per day (bpd). What's more, Cantarell's production has already been cut by more than half from its 2004 peak of 2.113 million barrels per day.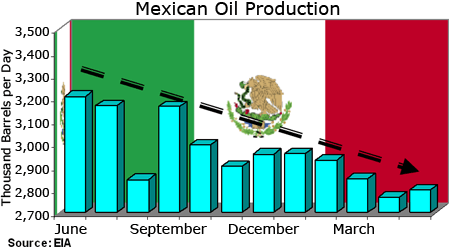 Why is Cantarell's production falling so quickly? It's a victim of its own success. When the field's oil flow first started falling over a decade ago, Pemex began injecting nitrogen to maintain reservoir pressure. This ramped up crude oil production from 1.083 million barrels per day in 1996 to the peak in 2004. But that just means we've gotten the oil in Cantarell out faster ... which means the final decline is coming on fast and furious.
Since Cantarell is the biggest Mexican oil field by far, it is dragging down that country's production overall. Combined with Mexico's rising fuel consumption, the amount of oil that Mexico has to export to the U.S. is dropping like a stone.
I can't overstate the importance of Cantarell to global oil production and U.S. oil imports ...
Cantarell is a "supergiant" — as big as combining the four biggest oil fields ever found in the U.S. side of the Gulf.
As of June (the latest EIA statistics available), Mexico was the third-largest supplier of oil to the U.S. — behind Saudi Arabia and Canada — but that might not continue.
Here's why ...
Mexico's crude oil production dropped 10% in the first seven months of 2008 to an average of 2.845 million bpd.
Meanwhile, oil exports in the January-July period dropped 16.3% to an average of 1.443 million bpd.
In other words, Mexico's oil exports are dropping much faster than its production.
In June, I told you about something called the Export Land Model (ELM) . This is a theory proposed by Jeffrey Brown and others associated with TheOilDrum.com, an excellent site for information on the oil crisis.
The ELM says that, after a country's oil production peaks, it will decline at a 5% annual rate at the same time that local consumption increases by 2.5%. Add them together and you learn that it will take nine years after peak production for a country's net exports to reach zero. After that, the former exporter becomes an importer.
Mexico is a great example of the ELM in action. Sure enough, even as its production is peaking, Mexico is using more and more of its own oil. Part of that is due to rising incomes, which allows more people to buy cars.
A senior Pemex executive said in July that output at Cantarell would drop to just 600,000 bpd by 2012. At the current rate of decline (37%), Cantarell will probably hit that production level at the end of next year.
And the Real Disaster for Mexico Is What Happens After It Stops Exporting Oil
Currently Mexico gets almost 40% of its budget from oil revenues. Pemex is paying taxes through the nose — an effective tax rate of 61%!
In 2006, despite nearly identical sales of $100 billion, Pemex paid $54 billion in taxes compared to $36 billion by Venezuela's state-controlled oil company.
This money has gone to poverty reduction programs, and greatly improved the lives of many Mexicans. Just since 2000 ...
The percentage of the population below the poverty line has decreased from 27% to 13%.
The infant mortality rate has fallen from 26 to 19 deaths per 1,000 live births.
Mexico's life expectancy has jumped from 71 to 76.
However, the Federal government is already feeling the pinch of declining oil revenues, leading President Calderon to call for "an urgent reduction in public spending to reduce the enormous dependence on oil revenue."
If social programs are cut, poor Mexicans will have nowhere to go but north. About 450,000 Mexicans already emigrate to the U.S. every year, half of them illegally.
If Cantarell's production plummets, and Mexico's oil revenues follow, that flow of illegal immigrants across America's southern border will likely turn into a gusher.
Can Mexico turn things around?
What About Tantalizing Deposits in Deep Water?
Seismic tests indicate there could be huge deep-sea oil deposits in the Mexican Gulf, but Mexico doesn't have the money to develop them.
Heck, Mexico is rifling the couch cushions for money to buy pipe for its current projects, and it certainly doesn't have the capacity to do deep-water drilling.
Plus, Mexico's constitution bans foreign companies from investing in or profiting from the nation's oil. There is a bitter battle going on to change that law, with President Felipe Calderon leading the charge for liberalization. The proposed change in the law would allow foreign partners to drill in Mexico's deep-water oil prospects.
Even if the effort is successful, it will probably be too little, too late.
Mexico doesn't have the money to go after deepwater oil deposits ...
There is already a shortage of deep-water rigs and trained manpower in the Gulf of Mexico. Mexico would be queuing up at the end of a long line.
The best-case scenario for bringing on new U.S. deep-water deposits is seven years. I don't see how Mexico could move any faster than that, and it would probably move slower.
In other words, by the time deepwater oil is pumping, Mexico's oil exports will already have slid down the slippery slope of disaster. Looking down the road, top officials within Pemex say that without radical reform, Mexico will exhaust its reserves in less than seven years.
But no matter what happens, you can protect yourself ... and profit ... by buying select energy companies now!
After all, the market capitalization of the major integrated oil stocks is only 9.5 times expected earnings for the sector in 2008, and only 8.5 times expected earnings for 2009. Since the P/E is lower for 2009 than 2008, you could draw the conclusion that 2008 is not the earnings peak for energy stocks.
One of my favorite industries right now is oil exploration and production. These are the kind of companies that do deepwater exploring in the Gulf of Mexico.
Even if oil just stays around $100, these companies stand to make a killing as the major oil companies drill-drill-drill for new resources. And if oil eventually goes much higher, these companies stand to make a killing in the longer term.
The pullback in oil prices has hammered these stocks mercilessly. But that's only a good bet if you think oil prices are going down and will stay down.
If you believe, as I do, that oil prices are in a correction mode and will head higher, the pullback in oil prices has made these stocks dirt-cheap.
You can find a lot of those stocks in the iShares Dow Jones US Oil & Gas Exploration and Production ETF (IEO). It holds a bunch of companies that should do very well as the price of oil climbs higher — companies like Anadarko Petroleum, Apache, EOG Resources and more.
Yours for trading profits,
Sean
This investment news is brought to you by Money and Markets . Money and Markets is a free daily investment newsletter from Martin D. Weiss and Weiss Research analysts offering the latest investing news and financial insights for the stock market, including tips and advice on investing in gold, energy and oil. Dr. Weiss is a leader in the fields of investing, interest rates, financial safety and economic forecasting. To view archives or subscribe, visit http://www.moneyandmarkets.com .
© 2005-2019 http://www.MarketOracle.co.uk - The Market Oracle is a FREE Daily Financial Markets Analysis & Forecasting online publication.
Comments
Jonathan Callahan
03 Oct 08, 18:43
Mexico production/concumption time series


For a longer term look at Mexico's production and consumption trends you can visit:

http://mazamascience.com/OilExport/

It is clear from the Mexico chart that Cantarell's current rate of decline will cause the production levels to fall to or below consumption levels in the near future.

Dire days are ahead for Mexico.




Only logged in users are allowed to post comments.
Register/ Log in